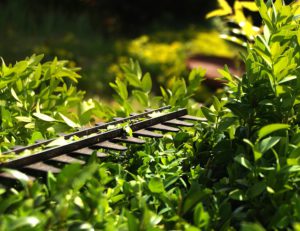 A quality hedge trimmer is an excellent tool to help speed up your yard work. With no cord to watch out for and no gas to mix, the
best battery powered hedge trimmers
are quickly becoming the most popular options for home owners in 2023.
Having the right battery operated hedge trimmer can help you actually enjoy trimming your bushes, tress, and hedges. I'll show you what you need to consider when making your choice – after, you'll see my top picks for the year.
I'm sure by the time you're done reading you'll see a battery powered hedge trimmer that you love.
Ready?
How To Choose A Battery Powered Hedge Trimmer
If you're reading this post, you've already determined that you're done with power cords. You're done with mixing gas and smelling fumes. You're done with using hedge clippers for hours or paying someone ELSE to take care of your landscape needs. You're ready for something light, efficient, sharp, and yet, powerful. A battery operated trimmer is all that and more.
But when you start shopping around, you discover that there are a LOT of different models… how do you narrow down your hedge trimmer selection?
There are basically just 3 things you need to consider: 1) Battery Strength, 2) Size of Blade, and 3) Cutting Capacity.
1) Battery Strength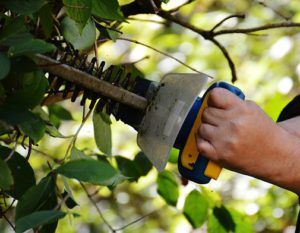 Ok, let's start with the biggest and probably most important consideration: the battery. It's what makes your tool
work
, after all, so you'd better be happy with it. A few quick notes first:
All of the battery operated tools that you purchase require rechargeable batteries, and when you buy one, it generally comes with a charger designed for that battery.
All tool brands have their "own" batteries, and these batteries are interchangeable with those from that same brand. What this means is that all Black+Decker 20V tools, for example, can use the same battery; if you have a B+D 20V battery powered leaf blower or a 20V drill even, you can skip purchasing a battery for your 20V hedge trimmer.
Batteries from other brands, even if the same size, can NOT be interchanged. So it's not a bad idea to zero in on one (or two) brands for your entire tool collection to save some money.
What Do The Numbers On The Battery Mean? 
You'll see 2 different sets of numbers on the battery:  Ah and V.   Ah basically refers to the amount of amperage (current) that the battery delivers in a one hour time frame. A higher number means a higher energy charge. Voltage (V) in basic language, is the power that pushes the current through the battery. Here too, the higher the "better".
You need both the Ah and the V to find the "Watts". And what is a "Watt"?  Again in basic terms, it's the size of the battery's "fuel tank". A bigger "fuel tank" (with energy being the fuel), the higher the energy you can know the battery has.
Unfortunately the companies do not list Watts – they usually list Ah and V though. If you want to compare the strength of different batteries, you need to compare the Watts.  To do that, multiply the Amp Hours by the Voltage.
Example:
Battery A:   2.0 Ah x 18 V =  36 Watt
Battery B:   2.5 Ah x 56V = 140 Watt
In this example, you can see how Battery B has a significantly higher energy capacity than Battery A. This means that you can in theory expect Battery B to run the hedge trimmer almost 4x as long as Battery A, OR that Battery B could the hedge trimmer 4x faster or with more power than Battery A for the same length of time.  (See more.)
All this is great to know, especially if you are wanting a battery powered trimmer with a very strong, powerful battery that will keep you working longer between recharging. However, not everyone will need the strongest battery as not everyone will be doing the same chores with it. Don't feel you NEED to get "the best" (which comes of course with a higher price tag) if you're not going to be using it regularly.
2) Blade Length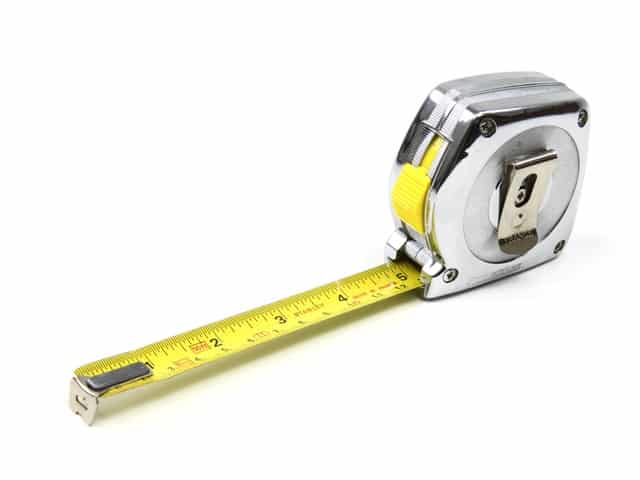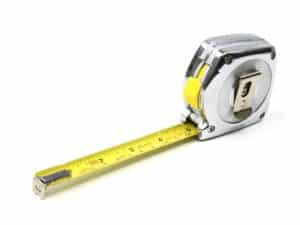 There is really no "perfect" blade length. The majority of battery powered trimmer blades are 20-24″ long (in fact, all on this "best of" list fit into that range).
What size do YOU need? A simple rule of thumb is to opt for a blade that's only slightly wider than the width of the hedge you're trimming. The majority of people do find 20 inches to be sufficient for most of their yard work, so don't feel you need to spend more on a longer blade.
In general, the longer the blade, the faster it will cut… but the more difficult it will be to control as well.
3) Cutting Capacity
The cutting capacity (or "blade gap") refers to the space between the distance found between the teeth of the blade. This will be the max branch circumference that the blade can handle. The majority on our list are 3/4″ – the VonHaus has the largest at 13/16″.
Let's take a look at the top picks for 2023 now.
---
Best Battery Powered Hedge Trimmers 2023
(As an Amazon Associate I may earn a small commission from qualifying purchases made through links on this page, at no additional cost to you. Full Disclosure.)
1.

Troy-Bilt CORE TB4400 Cordless Hedge Trimmer Kit

*Best Battery | Best Overall*
Company: Troy-Bilt
Rating: 4.8 / 5 stars
Blade Length: 22″
Battery: 40V
Cutting Capacity: 3/4″
Price: $$$$
The battery powered hedge trimmer by Troy Bilt is my top pick for 2019. Aside from being a high quality, sturdy, commercial grade trimmer, it comes with a fantastic battery that has the highest power of all of the hedge trimmers featured here – which means lots of torque without the need for gas.
Here are some of features you'll like:
It cuts at 3,300 brush strokes per minute (which is really fast for a trimmer), meaning your job will be done nice and quickly, and the blade will just slice through tough branches.
The motor is designed with Troy-Bilt's patented CORE technology, which concentrates the power where and when it's needed – meaning you'll have less snags on tough spots.
The 22″ blade is chrome plated, which is rust, stain, and chip-resistant, able to last you many years.
It's comfortable to use, with good weight and balance, and it has an ergonomic grip handle that lets you hold the trimmer comfortably and safely while you work. Reviewers say you can even perch it comfortably on your hip (which is good as it's a fairly heavy battery/trimmer compared to some).
You get a heavy plastic blade cover to slip over the sharp blade for storage, which you'll very much appreciate if you have some smaller children who like to explore the garage (like I do).
It's easy to use, with no assembly required other than popping in the charged battery and flipping the trigger to "on".
You get a (limited) lifetime warranty on the motor, meaning you can have confidence that it'll keep working well for years to come. (There's also a 3 year warranty on the battery and 5 years on the tool too!)
I'd consider this the best battery powered hedge trimmer for those of you who want something with serious power, a fast-moving and sharp blade, and a battery that lasts a very long time between charges. It IS, however, heavy compared to some of the other trimmers in this list, and definitely on the higher end of the price range (mostly because of the battery). There are many other great options that are cheaper and lighter if that's what you're looking for though.


---
2. EGO Power+ HT2402 Lithium-Ion Cordless Hedge Trimmer
Company: EGO Power+
Rating: 4.7 / 5 stars
Blade Length: 24″
Battery: 2.5 Ah, 56V
Cutting Capacity: 3/4″
Price: $$$$
This next hedge trimmer is a product that a lot of you will love: it's another high power, high quality trimmer with great customer reviews by a company with a large line of highly reviewed yard tools sharing this battery.
Here are some features of this hedge trimmer:
You get a long 24″ dual-action reciprocating blade made out of hardened steel, with a 3/4″ cutting capacity, running at 3,000 strokes/minute… you'll get some clean, fast cuts done with this blade!
It has a built in electronic brake that stops the blade very quickly, making it a safer tool for you to use.
The trimmer is designed to be weather-resistant, which is important if you are needing to have something that you can use outside rain or shine (i.e., landscapers)
The 56V battery that comes with this blower is powerful enough to run the EGO Power+ battery operated lawn mower as well… it'll give you some serious juice.
You'll be pleasantly surprised by how quietly this trimmer runs!
There is a two-part trigger as a safety feature, which means you can't accidentally start this trimmer. (Some may not see this as a plus, as they like wielding a trimmer one-handed… you'll want to move on to another trimmer if this is you.)
Because this is a higher end hedge trimmer with a seriously powerful battery, it's going to cost a little extra to purchase. Do I think it's worth it? Possibly not for a home owner who does a bit of trimming here and there to manicure his or her front garden. But, for someone who regularly trims some lengthy hedges or bushes, or for a small landscape company owner, this one is a great choice.


---
3. DEWALT DCHT820P1 Hedge Trimmer
Company: DEWALT
Rating: 4.7 / 5 Stars
Blade Length: 22″
Battery: 5.0 Ah, 20V
Cutting Capacity: 3/4″
Price: $$$
Dewalt is a company known for its line of quality tools, and this yard tool is no exception – in the over 600 reviews at Amazon, 90% of customers rated this machine a full 5/5 stars.
If that's not assurance enough that it's a great choice, here's a bit more about it:
The dual action blades are designed to give less vibration as they cut (compared to non-dual action blades… some of the cheaper models do not have dual action). Less vibration meaning less fatigue on your arms.
You can control this hedge trimmer with just one arm if that's your preference – it has a single trigger start.
It comes with a sturdy protective blade cover for safe storage in your shed or garage.
It comes with a powerful 20V lithium ion rechargeable battery (and charger) that will give you plenty of run time to do your landscaping work.
One of the great little extras you get with Dewalt is that besides the 3 year (limited) warranty, they offer 1 year free servicing and a 90 day satisfaction guarantee; something that can help avoid buyers remorse. Although from the huge amount of positive reviews, very likely you won't have any remorse with this sturdy, sharp tool in your arsenal.


---
4. BLACK+DECKER LHT2436 High Performance Cordless Hedge Trimmer *Most Popular*
Company: Black+Decker
Rating: 4.6 / 5 stars (over 2,000 ratings)
Blade Length: 24″
Battery: 2.0 Ah / 40V
Cutting Capacity: 3/4″
Price: $$
This next battery operated trimmer is one of the most popular options available online, mostly because it combines a good battery with a quality tool at an affordable price. It's currently Amazon's top recommendation for "cordless hedge trimmer" out of all of the options out there.
Here are some features you'll like:
A mid/mid-high range lithium battery, giving you plenty of run time as a homeowner trimming your bushes (B+D claims it can cut up to 6,000 sq feet of actual hedge on a single charge, and reviewers claim it's definitely a good battery).
It's a very versatile battery, as B+D has a huge line of products that can share it – and it charges in about an hour.
A dual action 24″ shearing blade with a 3/4″ cutting capacity (dual action gives you less vibration, which is important especially with a longer blade)
The full wrap-around front handle (with enough space for a gloved hand!) lets you grip the trimmer whichever direction you want, which is great for those odd angles which inevitably come.
It has a stroke speed of 2,400 spm, which is slower than the ones we've looked at before, but is still fast enough to cut smoothly and cleanly.
The motor has Power Drive transmission, giving that extra push to get through tough branches without stalling.
It's a light weight trimmer, weighing under 7lbs with the battery installed, light enough to be carried by just one hand if you prefer.
This hedge trimmer is a quality product for a good price. If you need more convincing, check out the over 2,000 reviews on Amazon – they are overwhelmingly positive! If you want to see what they are saying, click through to see for yourself!


---
5.

VonHaus Dual Action Cordless Hedge Trimmer
Company: VonHaus
Rating: 4.8 / 5 stars
Blade Length: 20″
Battery: 2.0 Ah / 40 V
Cutting Capacity: 13/16″
Price: $$
The VonHaus is a relatively new trimmer on the market, and so far it has some really great reviews! This is the trimmer with the largest cutting capacity (13/16″), so if you know you'll be trimming thicker branches on a regular basis, take a good look at this one.
Some other aspects that you'll like are:
It's a lightweight and ergonomic trimmer, with comfortable soft-rubber grip handle; you'll be able to go for quite a while before your arms tire
If safety is your number one concern, you'll appreciate the two-stage trigger, which completely takes away the risk of accidental starts, and you'll like that it comes with a thick protective blade cover for easy storage
The charger that comes with it has a "rapid charge" time of 75 minutes, and includes a handy LED light indicator on it so you can see how far along the charge is.
It comes with a good, user-friendly manual with tips and techniques on getting the most out of your cordless hedge trimmer.
VonHaus has a whole line of 40V garden tools, so if this is your first VonHaus purchase, you can add to your collection and use the same battery!
Overall this is a smaller, lighter hedge trimmer, but one with good power and a decent battery. It's slightly slower when it comes with strokes per minute than some of the others (oscillates at a 1200 RPM), but still more than adequate and efficient for trimming your bushes.


---
6. Makita XHU02Z LXT Lithium-Ion Cordless Hedge Trimmer
Company: Makita
Rating: 4.7 / 5 stars
Blade Length: 22″
Battery: 4.0 Ah, 18V
Cutting Capacity: approx 3/8″
Price: $$$
Makita is a well known brand name when it comes to tools – there's even a good possibility you already have the required battery!
This particular trimmer is known for running on the quiet side compared to other cordless trimmers (87 dB-A), which you (and your neighbors) will appreciate, no doubt.
Here's more to like about this Makita:
It's designed with a strong focus on anti-vibration so your arms and hands can handle trimming longer. There are actually 5 cushions in the motor housing to help with this!
The battery and charger, should you buy them with the trimmer, have a handy battery capacity warning system that first turns on an indicator light and then shuts off the motor when it's time to recharge. This helps preserve and prolong your battery's life!
There is an electric brake for quick stops, which is a fantastic safety feature you'll appreciate
It requires 2 hands for operation – the

motor runs only when the switch and top handle are both engaged. (You will either LIKE dual trigger starts, or not – it's a safety feature, but can be frustrating if you like to trim with one hand on occasion).

If you ever want to change the blade or get it sharpened, the Makita (unlike many other models) has designed it to be able to be done fairly easily – you don't have to completely open up the housing.
It has an ergonomic design (reviewers say it's great for RIGHT handed people, heads up lefties!) at 38″ long, and it's also fairly light at 7.4lbs with the battery.
Overall, Makita is known for solid, durable products, and I don't think this battery powered hedge trimmer is any different. Makita also has a good reputation for excellent customer service, and decent warranties (this one is 3 years limited on tool and battery), so it's a pretty safe purchase. 


---
7. Poulan Pro PPB40HT Cordless Hedge Trimmer

Company: Poulan Pro
Rating: 4.4 / 5 stars
Blade Length: 24″
Battery: 2.0 Ah / 40V
Cutting Capacity: 3/4″
Price: $
This next battery powered trimmer is by Poulan Pro, another bigger name in yard tools. It's one of the more economical options, so if you're looking to save a few bucks but still get a nice long blade and a decent battery, this may be the one for you.
Here are some features you'll like:
It has a rotating rear handle, which lets you adjust your grip to your exact preferred angle. This is a fantastic feature if you make vertical cuts or do some sculpting as it lessens the strain on your hand and wrist.
The "Instant Start Button" makes it very easy to start, and reviewers say it cuts powerfully and smoothly.
It's another fairly quiet model so you won't disturb the neighborhood
It has a long blade that gives great reach, and a wide cutting capacity at 3/4 inches – it's one of the bigger tools featured on this list, yet is still compact and lightweight.
The battery has a charge indicator light on it so you can know how much juice is left in it during your yard work
It comes with a nice cover to protect the blades and yourself during storage
Overall, the Poulan Pro checks off a lot of boxes. Good price, long blade, decent enough battery, large enough cutting capacity, good warranty (4 years on tool, 2 years on battery) and plenty of very positive reviews. Overall, a solid buy.


---
8. Weed Eater WE20VH Lithium-Ion Rechargeable Battery Powered Hedge Trimmer
Company: Weed Eater
Rating: 4.6 / 5 stars
Blade Length: 20″
Battery: 20V
Cutting Capacity: 5/8″
Price: $ (reg $80)
This next hedge trimmer is the "budget friendly" entry on this list. If you are just needing a simple trimmer to do some light clean up around the yard, if you don't really need a huge battery with tons of power to get your tasks completed, this may be the one for you.
Here are more details on the Weed-Eater Hedge Trimmer:
You get about 30 minutes of battery run time per charge according to the specs (which translates into approx 20-30 in real life).
It weights just a fraction over 5 lbs including the battery, so you don't need to be worried about lugging a heavy tool with a moving blade.
It comes with a 20 inch dual action stainless steel blade – one of the shorter blades in this list, but again, adequate.
That blade runs at 2,400 cut strokes per minute, which is really fast even compared to some more expensive models – it'll get you some nice, smooth cuts.
The unit is designed with a wrap-around handle that lets you hold the trimmer however it feels most comfortable and safest to you.
Even for this "cheaper" model, you still get a warranty of 4 years on the tool, and 2 years for the battery/charger, so the company is standing behind their product in that it's not a "cheap" trimmer that will break on you soon after buying it.
The Weed-Eater Hedge Trimmer is a small, lightweight trimmer that packs a surprisingly impressive punch. And it's at a price that almost anyone can afford. So, if you have just light to moderate trimming to do, and not a whole lot of it, definitely check this one out.


---
9. BLACK+DECKER LHT321FF 20V Lithium POWERCOMMAND Powercut Hedge Trimmer
Company: Black+Decker
Rating: 4.7 / 5 stars
Blade Length: 22″
Battery: 1.5 Ah / 20V
Cutting Capacity: 3/4″
Price: $$
You already saw the Black+Decker 24″ 40V option and now it's time to take a look a smaller model by the same company – the 22″ 20V.  These two products are pretty similar other than blade length and that the 20V battery doesn't quite perform like the 40V.
Here are some top features of this one:
It has a PowerCut button you can press to help you power through through the jams that come – reviewers LOVE it.
The 20V battery is interchangeable with any of the B+D dtools in the 20V MAX System (there are many!)
The dual action blade, the ergonomic grips, and the low-vibration motor all help make it a tool you can use comfortably. (Heads up it's not your lightest tool option though – it's a sturdy approx 8 lbs.)
It does NOT have a trigger "lock", so you do hold it down if you want to keep the motor running (a good safety feature).
Black+Decker is a well known tool company that has a huge fan base. This tool is a another good one – if you aren't sure, click through to check out the hundreds of customer reviews for yourself: 95% of them on Amazon currently rate it 4 or 5 stars out of 5 (83% 5 star). That's a VERY positive response.


---
10. Greenworks 22-Inch 24V Cordless Hedge Trimmer
Company: Greenworks
Rating: 4.3 / 5 stars
Blade Length: 22″
Battery: 2.0 Ah / 24V
Cutting Capacity: 5/8″
Price: $
This next unit here by Greenworks is another popular, lower-priced option. It's actually noted to be Amazon's Choice for "battery operated hedge trimmers", which means Amazon considers it to be of excellent value and also a very good quality product. (Companies can not pay to be recommended by Amazon, so it's an outside honor.)
Here's what you'll like about this trimmer:
It has a 180 degree rotating rear handle that lets you easily trim from many different angles, as well as a wrap-around auxiliary handle – you can literally adjust it to fit your exact preference.
It comes with an aluminium rail cover (sleeve) for the blade, not simply light plastic that may crack over time.
There is no trigger lock, which automatically makes it safer as you have full control over when the sharp blades are moving.
If you're looking for something really long for some wide hedges, this trimmer has an optional pole attachment available, which adds an approx 10 inches to the 22″ blade!
Greenworks has a range of tools that can use the same battery, so you may be able to find some savings on your tool purchases.
With a 4 year warranty on the tool and 2 years on the battery, you can know you'll get your money's worth from the trimmer.
At a price point that most can afford, this is another "good value for a good product" option. Check out the reviews and see for yourself what others are saying!


---
11. Worx WG255.1 20V PowerShare 20″ Cordless Electric Hedge Trimmer

Company: Worx
Rating: 4.5 / 5 stars
Blade Length: 20″
Battery: 1.5 Ah / 20V
Cutting Capacity: 9/16″
Price: $
This next trimmer is a smaller, lightweight trimmer (just over 5 lbs including the battery) – and is another good choice if you need something easy to handle, something for some smaller jobs around your house. (If you want a powerful, commercial grade trimmer, this one isn't for you though.)
Here are some of it's features:
It has a D-grip front handle (with a nice, soft grip) that lets you cut from the top or either side, whichever you find a more comfortable hold.
The blade is made of hardened steel and it's dual-action, meaning it cuts with has less vibration (less arm fatigue for you).
It comes with an aluminium blade cover that is sturdy and easy to clean; it will keep your trimmer blade well protected when in storage so it'll last a long time.
There is no trigger lock, so you can trust it won't turn on accidentally, nor will it stay running in the event that you drop it while it's on.
Worx has a range of 20V Power Share tools, so you can share batteries and never run out of power!
This battery powered Worx hedge trimmer is a lightweight trimmer that will get the job done. It won't get through any thicker branches, but if you just need to do some bushes, no problem with this one. It's speedy, smooth cutting, and great for some quick trims.


---
Some Video Reviews
---
Enjoy Hedge Trimming This Summer!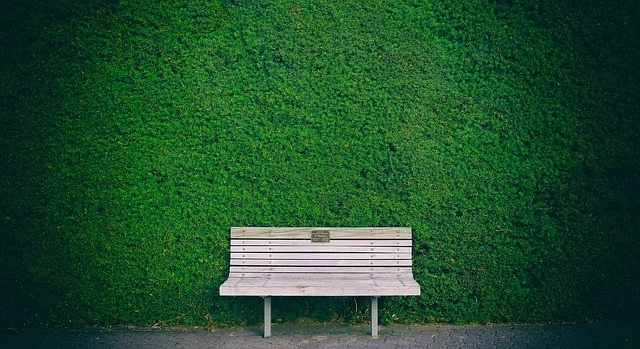 Having a battery operated hedge trimmer in your tool collection is something you're going to enjoy! No more gas fumes, no more cords to constantly watch out for… the portability is fantastic!
Hopefully you found one of these 11 best battery operated hedge trimmers of 2023 to be a perfect fit for you. There's a range of battery sizes and strengths, as well as blade sizes and materials – something for every budget and preference.
Let me know in the comments below if you have any questions or feedback! And wishing you an enjoyable yard work season!
---