Thinking of purchasing a wood pellet grill? They are relatively new yet in the world of grills and smokers, but are gaining in popularity at an incredible speed. If you want to join in the revolution, you may be interested in looking at these
Best Pellet Grills of 2023
!
There are definitely a few things to consider when selecting a pellet grill, so let's take a quick look at what's important before diving into the reviews of the top rated pellet grills and smokers.
Ready?
(I know all about pellet grills already – let me jump to the reviews.)
How To Choose A Pellet Grill
This video here is one of the best overviews I've found that covers the important things to consider when picking out a grill. It's produced by the BBQ Guys, a company that knows grills. Check it out!
Fairly simple, right? Ok, perhaps there IS a fair bit to consider.
Here's what I think is most important:
The Size (Cooking Area, and Hopper Size) You Need
The Type of Temperature Control (Computer) You Want
Components and Special Features You Get
Warranty and Customer Service You Hopefully Won't Need
As far as size goes, bigger is usually better when it comes to pellet smoker grills. A large hopper means a longer time you can cook without needing to refill your fuel source. A bigger grill size means more room for a variety of meats or side dishes. Look for at least 700 sq inches of cooking space (that can include the upper rack as well – remember, these units work like convection ovens.)
Pellet grills have electronic temperature controls that (should) keep the heat consistent. Top quality pellet grills can maintain temperatures within 5 degrees or less for hours at a time, with the auger releasing pellets as needed into the fire box to do so. A consistent temperature means less guess work and fantastic food! (If you read words like "heat zones" or "baffle", that means that you'll need to be playing with the heat to keep it consistent… so steer clear of those!)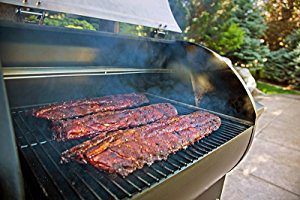 Although fancy gadgets are nice, you are best off choosing one made of top quality materials – look for lots of
stainless steel
especially INSIDE the grill if you want it to last for years to come.
If you DO like fun extras though, some interesting and appealing things you'll find in various units on this list are Ash Cleanout Systems, Pellet Clean Out Chutes, Sear Boxes, Flame Broilers, Built In Meat Probes, Wifi capabilities and smart phone apps, and more.
And of course, it's definitely a plus when the company that makes your grill includes a multi-year warranty and top notch customer service. Pellet grills are finicky compared to gas or charcoal grills simply because there are so many more parts that require electronics or that have electrical components… which means there is a fair bit more that can actually go wrong or require service at some point.
If you want to read more on pellet grilling, see here (wiki article) or my full length article that looks at "What Is A Pellet Grill Smoker".
Now that you know what to think about when making your purchase, let's look at my top picks for 2023.


---
Best Pellet Grills of 2023: Reviews
(As an Amazon Associate I may earn a small commission from qualifying purchases made through links on this page, at no additional cost to you. Full Disclosure.)
1. Camp Chef SmokePro DLX Wood Pellet Grill  
Company: Camp Chef
Rating: 4.8 / 5 stars
Cooking Space: 570 sq. in.
Hopper Capacity: 18 lbs
Price: $$
The Camp Chef SmokePro (With New Gen 2 PID Digital Controller!) is a product that everyone should consider, whether you're new to pellet grilling or an old pro. This product is well worth it's cost as every part, and every part of the design, is carefully crafted.
What makes it stand out from the crowd is that it's the only pellet smoker grill on the market (so far) that has an ash cleanout system… no more hauling out your vacuum to the patio to suck out the ashes when it's time to clean out your grill! You just need a small cup… and with a simple turn of a small lever, the ashes drop out! You'll LOVE this feature!
Some other top features include:
It also has a pellet clean out chute (which not many grills do), so you can change up the flavor of your pellets really easily; no need to scoop out with a cup.
You get simple and reliable temperature settings, and simple and reliable smoke… every time. That's because it comes with the

updated version

of the PID controller… the newly added Gen 2 controller takes the guesswork right out of your cooking.
The large capacity hopper can hold up to 18lbs of pellets, and it has an automatic auger dispenser, meaning you can trust your grill will be running for HOURS and HOURS before needing refilling! Head out for the day if you'd like… it'll still be running (perfectly, at the temperature you set it at) when you get home!
It comes with a dual LED temperature readout that shows both the internal cooking temperature AND the food temperatures (yes, 2 meat temperature probes are included).
Although it is a smoker, you can also easily use it as a regular grill for any type of meat or food. It can reach temperatures of up to 500 degrees.
It's a nice large grilling area, fully capable of doing a 15lb brisket, 4 racks of ribs (3 on grill, 1 on upper), 2 chickens… the t

otal rack surface area is 570 sq. in.
I wouldn't consider the Camp Chef SmokePro cheap but you don't want a cheap pellet grill.  That's just going to lead to issues and a miserable time. Consider this one mid range. You want to make sure you're getting quality, for a good price, and that's exactly what you'll get here. And with the 3 year warranty, you'll have the time to make sure your unit works exactly as you desire.


---
2. Z Grills Wood Pellet Grill & Smoker (2020 Update Model)
Company: Z Grills
Rating: 4.5 / 5 stars
Cooking Area: 513 sq. in. + 187 sq. in. warming rack
Hopper Capacity: 20lb
Price: $$
This pellet grill & smoker is a fantastic option for you if you're looking for a mid-range grill that'll do it all: grill, smoke, bake, roast, braise, sear, and bbq!
It's a "set and forget" grill with Smart Smoke Technology and an automatic electric feed system… you'll being able to walk away from your grill and enjoy the day without worrying about feeding it pellets. And you can also trust that the temperature will stay where you want it (range of 180ºF to 450ºF)!
Some other great features are:
The cart has locking caster wheels, and an enclosed storage cabinet that's perfect for bags of pellets and grilling gear.

It comes with a 3 year warranty, meaning your investment is nicely protected! (This also includes a 30 day money back guarantee!)

It's a nice sized grill for backyard grilling (513 sq in main rack & 187 sq in warm rack), and has a big hopper (20lb capacity) for long and slow cooks.

2020 saw some new upgrades – the newly updated electric digital control board is really easy to use, taking away guesswork, and they fixed some known issues with the pellet feed control system.
It comes with a heavy-duty waterproof grill cover designed to fit it perfectly, so you don't have to waste time and money playing the frustrating "will this cover fit" game.
This grill doesn't have an ash cleanout system, but apparently it's a simple job with a handheld vacuum and a small dust pan & broom set. Nor does it come with a meat probe. But those aren't expensive to add… likely you already have a meat thermometer that'll do the trick!
This is a well priced item, I think. Not exactly cheap, but you get a lot for your money. And if you buy it right on the ZGrills website, you can take advantage of the free shipping, free included cover, and their registered 3 year warranty!

---
3. REC TEQ RT-700 Wi-Fi Enable Electric Pellet Grill
Company: Rec Teq Grills
Rating: 4.8 / 5 stars
Cooking Area: 702 sq. in.
Hopper Capacity: 40 lbs
Price: $$$
This Rec Teq Wood Pellet Grill, the RT-700 is one of my favorites, and is probably the best quality grill on this list. What really separates it from the crowd is that you can notice just how much care and attention went into every detail – it's a SERIOUS grill for serious grillers/smokers.
If that describes you, you'll love that this pellet grill also comes with:
A HUGE hopper (located behind the grill) that can fit up to 40lbs of pellets so you can trust that you won't run out during a long low and slow cook. It'll last you well over 24 hours from one fill.
A heavy duty, top quality build from the bottom to the top: you'll be impressed with how sturdy absolutely every part of it is… the wheels, legs, bolts, stainless grates and grease pan, etc. (Fans call it "The Beast"!)
A design that's a bit on the fun side, with chromed horn-shaped handles, and an angry steer logo.
It comes with digital Smart Grill Technology™, which you'll love if you're wanting to maintain precise temperature – it holds temperatures from 180ºF to 500ºF withing 5º increments. It's super easy to use too!
The grilling area is huge! 19.5″ x 36″ cooking area (702 sq in.), so get ready for a big party!
It has a front folding shelf that comes with it, as does 160lbs of premium pellets and a proper fitting, well-made grill cover… everything you need other than the meat to get grilling!
If you love a LOT of smoke, it has an Xtreme Smoke setting!
This pellet grill does NOT, unfortunately, come with either an ash cleanout system or a meat probe.
There's so much about this grill to love, but one aspect that gets RAVE reviews is the customer service. Rec Tec has pretty much the best customer service in the industry. First off, there's a 6 year warranty, meaning, they expect every part of their product to perform long term. But in the unlikely case that you have issues, their customer service is incredibly fast to respond, is available even on the weekends, and believe it or not, the owners themselves will even help you through a problem when you're stuck. Incredible!
Because this is a higher end pellet grill it's going to cost a little extra to purchase. Customers shout out over and over that it's worth every penny but it's certainly not a budget special (the high cost is the only reason this grill is listed as #2 on our list here). On Amazon, where it's listed, the shipping costs right to your door are included, (as are the extras mentioned worth $200), so their price overall is a good one.
See my full Rec Teq RT700 Wood Pellet Grill review for much more info. Or, if you need more convincing on this grill, make sure to check out the reviews on Amazon – almost all are overwhelmingly positive. If you want to check out what they are saying about the Rec Teq RT-700, click here:


---
4. Weber Grills SmokeFire EX6 Wood Fired Pellet Grill Company: Weber Grills —  Now Available!

Company: Weber Grills
Rating: 4 stars
Cooking Area: 1,008 square inches of dual grilling space
Hopper Capacity: 20lbs
Price: $$$
As this pellet grill was just recently released to the public, there's a lot of talk about it. The hype about this new pellet grill by Weber has been HUGE, so I'm going to tell you a bit about it and if you're interested, you can click through and read more about it and check out any reviews that have started coming in by the time you read this.
Weber does some of the best gas grills around, hands down. They have several that made my "best gas grills of 2023" list. And now with this EX6 (and smaller EX4) they are starting in on pellet smoker grills, and if they are willing to put the Weber name on a product, you can bet that it has been designed by the best, and tested thoroughly to make sure the quality fits the brand.
Here's some info about it, gleaned from sources all over the web:
This pellet grill smoker can hold temperatures from

200-600°F – that means you can smoke low and slow, or sear quickly! Anything you can do on a grill or in an oven can be done on the SmokeFire, actually… even bake pies! It's very versatile.

There's a LOT of grilling space because of the dual grill grates (one on top of the other, a total of over a thousand square inches). And because the heat moves around the interior evenly, the food on the top and bottom cook evenly.
It has the SmokeFire's exclusive easy-clean system that makes it really easy for you to clean up the residual ashes and grease. It drips/funnels into a drawer, that you simply remove and clean. No disassembly or vacuuming required to clean it out.
Weber grills are known for their stainless steel Flavorizer Bars that catch grease drips and sizzle them, turning them into flavor boosts for your food. Weber also incorporated them into the SmokeFire! Besides adding flavor and channeling excess grease down to the drip drawer, they also help with preventing hot and cold spots inside the grill.
If you love the taste of wood-fired, smokey foods, you can select the Smoke Boost feature before your cook – it adds extra smoke by smoldering the pellets at 165-200 degrees.
You can watch the progress of your cook on your smart phone, and even get step-by-step grilling advice if you're new to pellet grilling. The Weber Connect app and the LED Display on the grill are both easy to read and easy to use to make adjustments to temperature and time.
Assembly, according to Weber, is quite uncomplicated – a rep there says that if you're relatively handy, you can have this grill together in 1-2 hours max.
Unlike some other pellet grills, there are no special probe holes, but it does come with a temperature probe. The wires for it either can go under the lid, or through one of the small holes in the back of the grill beside the hinges.
If you want to change out the pellets for another flavor, it's quite simple to do so through the small hatch/plug on the bottom of the hopper.
The controller unit has full PID controls for the motor, augers and fans. There was a lot of thought put into the design of the auger engine especially in order to have the fewest jams possible.
The body of the SmokeFire has the same high quality as other Weber grills, with porcelain enamel finish that keeps it looking great for years. The sides of the cookbox are double-walled, the lid and lower part of the cookbox are single-walled.
Weber consistently makes high quality grills, there's no contesting that. The hype that led up to the SmokeFire EX6 and EX4 tows was pretty big, and reviewers are all pretty much in agreement, that it was for good reason. You'll want to check this one out for yourself.


---
5. Traeger Grills Lil Tex Elite 22
Company: Traeger
Rating: 4.5 / 5 stars
Cooking Area: 418 sq. in.
Hopper Capacity: 18 lbs
Price: $$
Traeger is the company that created the original wood pellet grill, so they have a loyal fan base and are the number one selling brand! This is one of the top selling grills of their line, so it's definitely worth a close look.
The Lil Texas Elite 22 is a fairly basic pellet grill that still gives you lots of versatility: you can grill hot and fast, or smoke low and slow, you can bake, braise, roast, or bbq all sorts of food to juicy perfection! Just like an oven, you set the temperature and the Integrated Digital Elite Controller keeps the temp within +/- 20 degrees F for as long as you need it!
Some other top features include:
It's the perfect size for an at-home cook: 418 sq. in. of grilling space (all on 1 rack)

There's an LED display that makes getting a read on your internal temperature clear and easy.
The heat range goes form 180 to 450 degrees, perfect for all types sorts of cooking! You won't need your gas grill anymore!
Fantastic customer service!
The non stick porcelain grill grates are easy to clean after smoking a saucy rack of ribs or bunch of juicy burgers!
Turning it on is as easy as turning a knob (to desired temperature) and pressing the power button!
Although the Lil Texas Elite is a smaller grill on the Traeger line, it still gives you the same fantastic smoking and grilling capabilities… and is more portable, which can be a definite plus. (See more recommended small pellet grills here)


---
6. Z GRILLS Wood Pellet Grill and Smoker with Digital Temperature Controls 

Company: Z Grills
Rating: 4.2 / 5 stars
Cooking Area: 700 sq. in.
Hopper Capacity: 20 lbs
Price: $$
The Z Grills Wood Pellet BBQ Grill & Smoker is a product that a lot of grillers will love and one that any person who grills and smokes a lot should consider. It'll do the job consistently well and you'll love the fabulous food you cook on it. (Another quick plus? It's a large grill for a lower price.) This particular model was last updated in 2018.
This grill is a 7-in-1 model that has temperature range from 180 – 450 degrees F, so you can bbq, bake, grill, sear, braise, roast, and of course, smoke your foods.
If that's not enough, you'll also like that this grill comes with:
A large grilling area (19.5 x 26″ cooking area, with a 7.5 x 26″ second removable shelf you can cook on, giving a total 700 sq in. cooking area); large enough to cook for a crowd.
A 20 lb hopper capacity with automated electric feed system that minimizes your need to babysit the grill during a low and slow cook.
A top quality waterproof grill cover to protect your investment.
Bright digital readout panel, with easy temperature control.
An access hole in the side of the grill for a meat probe wire, should you want to add one (none included), so you won't need to close the lid on a wire.
A 3 year limited warranty (including a 30 day money back guarantee) from the manufacturer. Z Grills is known to have fantastic customer service, so you can rest easy that should you have a problem, they've got your back!
Unfortunately there is no pellet shoot to replace a different type of pellet, and no clean-out system for the ashes. But if you're looking to save a bit, budget-wise, the price (including shipping) for this great quality grill is pretty fantastic.


---
7.

Traeger Grills Renegade Pro
Company: Traeger
Rating: 4.5 / 5 stars
Cooking Area: 380 sq. in.
Hopper Capacity: 18lbs
Price: $$
This smaller wood pellet grill is one of the most popular of the smaller Traeger grills. With a cooking area of 380 sq in. cooking area, it's a great choice for use at home, as it can cook enough for a large family, but not quite for a crowd (approx 2 chickens or 3 racks of ribs, or 12 burgers).
Some aspects that you'll love are:
It's as easy as turning a dial to set your temperature, and the integrated "Digital Pro Controller" keeps temperatures within +/- 15 degrees F the whole time you're cooking.

You can do a lot of different styles of cooking on the Renegade; smoke "low and slow" at 180 degrees, or grill "hot and fast" at 450 degrees… or anywhere between!

It's built to last, with heavy duty steel, porcelain grill grades (porcelain is easy to clean), and large wheels that will allow you to move the smoker easily. And there's a handy lift bar on the side that will give you that extra bit of security during transporting.
It has a simple to use hopper clean-out system, which lets you change pellet flavors easily.
The sawhorse chassis is sturdy (and sleek looking, no?)
It comes with dual meat probes to let you keep a perfect "blind" eye on your food.
The price of the Renegade is, I think, fair for what you're getting. And with the Traegar brand name (they are the original makers of pellet grills), you can be sure you're getting a good buy. Want to see more, or compare the models? Click below:


---
8. Camp Chef Woodwind WIFI 24 Pellet Grill with Sear Box 
Company: Camp Chef
Rating: 4.1 / 5 stars
Cooking Area: 811 sq. in.
Hopper Capacity: 22lbs
Price: $$$
Camp Chef is a company that makes some really good pellet grills (see our #1 top pick), and this massive one is also a great option that comes with a lot of the "toys" that many serious grillers will love.
You get a Sear Box on the side of the grill that 

reaches temperatures up to 900° F so you can get a crisp, caramelized sear. The Sear Box runs on propane and comes complete with stainless steel flavorizer bars and a cast iron grate.

It comes with their new PID and WIFI enabled controller, which lets you change the temperature, set timers, and receive notifications when your meat reaches your set temperature—all from the palm of your hand.
You get 811 sq. inches total, divided into upper and lower grilling grates (382 sq. in. upper and 429 lower respectively) – that's a LOT of grilling space!!
You get the exclusive and very much loved Ash Cleanout System that eliminates the need to pull out your vacuum cleaner. Just pull a lever and let the ashes fall into a cup!
You get Smart Smoke Technology; the digital temperature control and automatic auger feed pellets as required to maintain the heat you want, and produce the amount of smoke you want… just set & forget!
You get a Pellet Cleanout Chute that makes it a breeze to change pellets when you want a different flavor!
You get a meat probe and internal digital thermometer readout so you'll know exactly what's going on with your food during the cooking process.
You get a very wide temperature range so you can cook however you want: 160 to 500 degrees F!
You get 4 wheels including 2 locking caster wheels for easy transporting.
The Camp Chef Woodwind is a bit more expensive than some of the other options we've just seen, but you do get a TON of great features that I think make it well worth the extra investment. And if you buy directly from Camp Chef, you get great warranties and there are often extra deals tossed in.

---
9. Green Mountain Grills Davy Crockett Pellet Grill
Company: Green Mountain Grills
Rating: 4.1 / 5 stars
Cooking Area: 219 sq. in.
Hopper Capacity: 9 lbs
Price: $
Here's another smaller, portable pellet grill that is perfect for people wanting a great wood pellet grill to use at home or away, or for those who want to try out a decent wood pellet grill at a decent price:
One of the fun features this grill offers is that it's WIFI enabled (controlled or monitored through an iOS or Android app). Sense-Mate, a thermal sense that constantly monitors the grill temperature, keeps you up to date on the status of your grill and your food! The digital controlling really lets you micro-manage your cooking, as you can adjust it a degree at a time. You can also program a series of temperatures and then sit back and enjoy your day while your food cooks! (Yes, you can also control it manually as well.)
Some other aspects that you'll like about the Davey Crockett pellet grill include that:
It comes with a meat probe, a peaked lid (for cooking foods like beer-can chicken or for setting up rib racks), a convenience tray with utensil hooks, and an open flame technology grease tray.
The portable, foldable legs actually double as handles.
It comes with adaptors for 3 power options (it can run on

110V

, 12V or 120AC). This makes it perfect for home or camping, tail-gating, hunting, house-boating, music festivals or anywhere you can take it!
Green Mountain Grills offers a 2 year warranty on all parts and grill elements.
The Davy Crockett model has a temperature range of 150-550, so you can smoke, grill, and do all sorts of cooking with it!
What's also really great is that the price isn't too bad and that most people will be able to afford this product. If you're not convinced yet you should check out the reviews on Amazon. There's hundreds of them and most are overwhelmingly positive. If you want to see what other customers are saying about the GMG Davey Crockett, click below:


---
10. Pit Boss 71700FB Pellet Grill with Flame Broiler
Company: Pit Boss
Rating: 3.9 / 5 stars
Cooking Area: 700 sq. in.
Hopper Capacity: 18 lbs
Price: $
Pit Boss is a brand name well liked by many who do a fair bit of grilling, and this more budget-friendly unit gets fairly solid reviews all around.
This grill stands out from the others because it's the only one that has an innovative Flame Broiler. The Flame Broiler is a simple cast-iron slide-plate which allows you complete control for direct flame grilling or excellent indirect cooking. You can really master your steaks with this one!
Some other features you'll like in this grill:
It has an easy to operate Digital Control Center that gives you complete control from 170 Fahrenheit to 600 Fahrenheit (hottest of all the grills here).
You can also cook on the upper rack because the heat shield and fan/exhaust system are designed in a way that pushes the heat, convection-style, through the whole grill.
It has a large cooking area (total of 700 sq in.) but if you want even more space, you can get the same grill also in 820 sq inch as well
It's easy to change the pellets or clean out the hopper as there's a small door at the back that you can unscrew to access the base.
It comes with a manual that includes a cooking guide and some recipes, so if you're new to pellet grilling, you'll have some information and ideas right out of the box!
Overall, customers report that it's a heavy duty, well made unit. Nicely designed, easy to assembly, and creates some fabulous food. If you're looking for a budget friendly option, this Pit Boss Pellet Grill should definitely be a contender for you.


---
Are You Ready To Fire Up A Pellet Grill in 2023?
If you want to enjoy some fantastic meals this year, cooked low and slow in a smoker, or have that wood-fire flavor in your grilled food, you'll definitely want to pick up a pellet grill sooner than later.
Want to learn more about pellet grilling? Click here to Learn The Science behind pellet grilling.
We've looked at a variety of pellet grills here, from luxury models to budget friendly grills, and we've seen units that offer some special features (Ash Cleanout, Sear Box, Flame Broiler…).
Which one do you love?
---