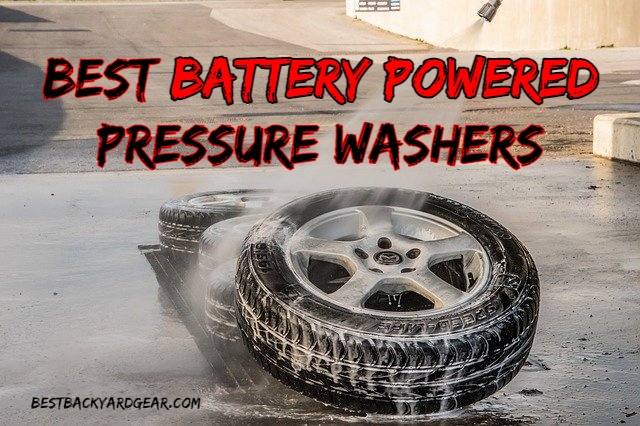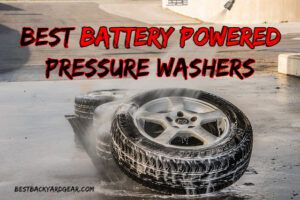 Battery powered pressure washers are incredibly handy tools to own, especially if what you want to clean isn't near a power outlet or an unlimited water source.
These versatile tools are still relatively new however, so there's a significant range of quality in the ones available on the market today. We'll be taking a good look at the 10 best battery powered pressure washers of 2023 today, and I'm sure by the time you're done reading you'll find a cordless pressure washer that you'll love.
First a super quick recap of cordless vs electric, then on to the reviews.
---
Benefits of Battery Powered Pressure Washers
If you aren't sure whether or not to go for a battery powered pressure washer vs an electric pressure washer, the single most important thing to think about is what am I aiming to use my tool for?
First off, you need to know that you simply will NEVER get as much pressure or power with cordless as what you'll get using an electric model. You just won't. Even with the best battery out there. And power is what you need if you plan to use a pressure washer to scour off a patio or deck that's covered with grime, blast mildew off of high up siding, or clean off a filthy, debris-covered driveway in one go.  If tasks like these are what you're buying the tool for, go electric – especially if you have a power source easily available.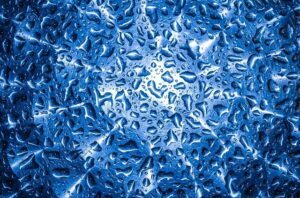 However, if you are thinking more of cleaning jobs like the following, one of the best battery powered pressure washers reviewed below will be adequate in most cases: cleaning outdoor furniture, bikes or motor bikes or cars, swimming pool liners, screens and windows, patio steps, awnings, rain gutters, apartment balconies, boats and RVs, getting the salt off snow blowers and more.
Battery powered tools also have the convenience of course of being able to be brought TO the job. Apartment or condo dwellers will appreciate this perhaps more than someone with a backyard or driveway or hose available beside the house. Being able to lug a pail of water and a cordless pressure washer to wherever you want to do the cleanup job is very handy. And so is not having to play with a long cord.
As far as batteries go, yes, there is a significant range of quality available. If you want to read up on what makes a good battery, I've written up an extensive bit on tool batteries already – check it out here in my article on the Best Battery Powered Leaf Blowers.
Let's get to the reviews!
---
Best Battery Powered Pressure Washers of 2023
(As an Amazon Associate I may earn a small commission from qualifying purchases made through links on this page, at no additional cost to you. Full Disclosure.)
1. 

Sun Joe SPX6001C-XR 1160 PSI Max Cordless Pressure Washer Kit
Company: Sun Joe
Rating: 4.2 / 5
Battery: 4.0 or 5.0
Max PSI: 1160

Max. water flow rate: 1.0 gpm

Price: $$$$ (5.0)
This battery powered pressure washer by SunJoe is one that a lot of people will love. It has one of the highest psi capabilities of the items listed here, making it that much closer to a gas model.
Here's the info you need to know about this unit:
It comes with 4 different easily-attachable spray tips plus a special soap tip, so you can customize the spray coming from the wand to the match the job you're doing, instead of just blasting everything in site.

(The options are 0°, 15°, 25°, and 40°)

You can either fill the 5.3 gallon detachable bucket that gets attached to the washer, or connect it to a garden hose for a continual water source.
The unit has a built in Total Stop System, which turns off the (self-priming) pump the instant you release the trigger – this saves your battery energy and lengthens the life of the pump as well.
The 5.0 Ah battery will run for between 30-45 mins max, per reviewer comments, so you may find yourself charging the battery more often than you'd like if you have large jobs to complete.
You can select the pressure output to fit your chore, but don't expect the max pressure listed on the box: This unit, with the 40V battery and the powerful motor (600 watt) together achieved a max CSA rating of 1160 psi max. But in reality, when you use it, you will have three pressure levels to select from when you use it: 500 psi, 650 psi or 800 psi, plus the effects of the different spray tips. These levels are adequate for most jobs around the home though, per many reviewers comments.
It comes with everything you'll need for cordless pressure washing: the 34-inch extension wand, a 20-foot high pressure hose, garden hose adapter and needle clean-out tool, bucket, and spray tips.
Sun Joe (which along with it's twin company Snow-Joe, is company known for offering excellent quality items) offers a great, no questions asked warranty for two years after original purchase, regardless of where you got it, so you can rest assured your purchase will be covered if there's a problem down the road.
This is a great choice for you if you're looking for a lighter duty pressure washer to hose down your deck, boat, cabin, RV, or things around your house that you don't necessarily want stripped of paint. The power in this SunJoe is excellent for these things, but definitely not at the level of a large, gas-powered pressure washer. If you keep your expectations realistic, you'll be very happy with this SunJoe, I think.


---
2. 

WORX WG630.2 20V 4.0Ah High Flow Hydroshot 
Company: WORX
Rating: 4.1 / 5 stars (506 ratings)
Battery: 4.0 Ah, 20V
Max PSI: 350

Max. water flow rate: 0.92gpm

Price: $$
This next model is somewhat different than the bucket & hose model we looked at with the Sun Joe. It's a more handheld option, comes with some great accessories, and I'm not alone in thinking it has some very appealing things about it (over 500 people gave it a 4+ rating over at Amazon).
Here's what's to like (and what's to know) about this one:
It's nice and lightweight (only just over 5 lbs), yet still delivers greater pressure than your typical garden hose (although it advertises 5x the pressure, reviewers claim maybe double or triple at best).
It comes with the following accessories: A 13.5 soap bottle & rotary cleaning brush (to tackle those messy spots that just won't blast away), 5-in-1 multiple spray nozzle (so you can select the style of water stream), a 19 ft. hose, a bottle cap connector (connects to most 2L bottles for a quick portable water source), and an automotive power scrubber.
It does NOT come with a bucket – you'll need to supply that yourself. It pulls water from buckets, pools, lakes, whatever fresh water source you have nearby.
You can choose from two different speed options to get the power you want for a specific job.
It's compact and easy bring with you to the cottage, tuck into your boat or RV storage, or store in your garage while not in use.
WORX has a large line of battery operated yard tools that can share batteries! If you have other tools with the same 4.0 Ah 20V battery, you can save yourself some money and just buy the tool, or keep one on the charger while you work with the first.
Note: You can save approx $30 and get this same pressure washer without the high flow option (it comes with a smaller battery too), but this option is nixed throughout the reviews as being not worth the savings. The larger battery (the 4.0 Ah) gives you significantly longer life and pressure.
This battery powered pressure washer is not going to replace your large gas powered model, as it just won't perform the same. However, for smaller jobs or where you can get close to your target, or where you need some portability and patience to refill often, it will perform for you surprisingly well, I believe!


---
3.
BERGWERK Cordless Pressure Washer, 3x40V Battery Power Cleaner
Company: Bergwerk
Rating: 5 / 5 stars
Battery: 3 x 40V
Max PSI: 520
Price: $$$
This next higher end cordless pressure washer may not have the most familiar brand name out there, it certainly has a very high customer rating (as do similar pressure washers by Bergwerk). Bergwerk calls it an "upgraded version of a lightweight and compact cordless pressure washer", and I think that really makes sense when you take a look at this one closely: there is a TON packed into this small tool.
Here are some of the points you need to know:
If you know that your outdoor chores are more extensive than the average person's, this combo includes 3 batteries (and a charger), meaning you can keep working steadily to get the job done without being forced to take a break while one recharges.
While it includes 6 different spray modes (similar to other higher end washers), it ALSO has an extension lance and a rotatable spray nozzle

(180°&360°) to help you clean hard to reach or awkward areas (like dirt on the roof of a car or shed, or the insides of wheels). 

It comes with everything you need to get a variety of jobs done – besides the batteries, charger, and spray gun, this kit also includes a 20 foot hose (drop one end in a water source and get working), soap bottle attachment, and 2 filters.
If you have small, inquisitive children around, you'll appreciate the safety lock on the trigger.
You can switch between AUTO (high pressure) mode and ECO (light pressure) mode to preserve water and/or match the pressure needed to the job you're tackling.
This is definitely a higher end cordless pressure washer, so if you're looking for something with a bit more substance, this is one to consider. Currently there's a clickable coupon available for $20 off the pressure washer over at Amazon, so if you're interested in buying one, now is likely a good time to get a deal.


---
4.
VARSK Cordless Pressure Washer, 20V 4.0Ah Max 380 PSI Portable Pressure Washer
Company: Varsk
Rating: 4.9 / 5 stars
Battery: 4.0 Ah 20V
Max PSI: 380
Price: $
This next unit is more of a budget friendly choice. It has a lower PSI output than some of the other options, but if you aren't looking to do any cleaning that requires super high pressure (ie., if you are looking more for portability and convenience for things like washing your car or boat down than for heavy duty pressure grime elimination), then it may just do the trick nicely as a portable pressure washer.
Here's what you'll like about this one:
You can adjust the nozzle head to give you 6 different spray patterns, including just a light shower (think for flower beds). You can also adjust the pressure from high to low, allowing you to save water and battery life as needed.
It comes with a soap bottle attachment to let you get some good suds on whatever you're washing, a 20 foot hose to access your water source, and a filter to help make sure your washer doesn't get clogged with debris should you need to use an impure water source like a lake or pond. They even include a 13L collapsible bucket for those times when the water source is too far, and a mesh storage bag so you can keep all of the pieces together.
There's a handy security feature that lets you lock it in "off" position, so that no small child can get ahold of a heavy water source accidentally.
There's a convenient button you can press to see how much battery power you have left (and charge your spare accordingly?)
This is a lightweight pressure washer, coming in at only 3.7 pounds, making it a great choice for those of you who will benefit from not having to lug around a heavier tool, or who need to be able to use it with only one hand/arm.
For the price of about half of the cost of the more expensive models on our chart, this cordless pressure washer is, I think, a fantastic deal. Again, that's if you're being realistic about the pressure you'll get from it. 380 psi isn't super high, but if you don't need super high, this should do the trick very nicely.
---
5.
mrliance Pressure Washer 40V Cordless Power Washer M5233 Power Washer Cleaner
Company: Mrliance
Rating: 5 / 5 stars (15 ratings)
Max PSI: 960
Battery: 40V
Price: $$
This next model is another very highly rated cordless washer, one with a nice, high max psi – meaning this is one of the units that will get you the hardest pressure. It has a max 1.2 gpm, which is really good for a battery operated model. So if you're looking for cordless convenience but don't want to sacrifice the pressure to get it, this is a good one to look closer at.
Here are some of the other specs you'll like:
Like other models it comes with a multi-function nozzle (6 in 1), but this nozzle has been upgraded from their prior model to allow you to also widen or rotate the spray area. It also has the adjustable pressure option to save water and battery life, and an extension lance.
It's lightweight (about 5lbs), compact, and quiet to use!
There's a safety trigger to help you make sure your little ones can't accidentally turn it on.
This pressure washer comes with a one year warranty so you can buy with peace of mind that your purchase will be exactly what you expect.
If you're someone who knows you have larger jobs to be done, this package comes with 2 batteries so that you can have one on the charger while you work, and then keep going immediately once the first battery has run out.
You're able to use a variety of water sources, including lake water, as there is a filter that makes sure the water going through is clean.
What's really great is that this higher end product is available for a very fair price, and has some great ratings. It's still a relatively new product over at Amazon, which means the reviews and ratings are recent and you're reading about how it really is. It's worth checking out.


---
6.
WORX WG625 20V Hydroshot Cordless Portable Power Cleaner, Black and Orange
Company: Worx
Battery: 20V 2.0Ah
Max PSI: 320 psi
Rating: 4.0 / 5 stars (1875 ratings)
Price: $
This next battery operated pressure washer is an extremely popular option, likely because not only is the price is very attractive, but the brand is proven to be full of excellent yard tools. Many people already have another Worx 20V tool in their tool arsenal, and they like either having a spare battery on hand, or saving some money and not needing to purchase a new battery.
Here's what you'll want to know about this tool:
Worx claims this pressure washer has 5x the pressure of your typical garden hose nozzle. Yes, that's not nearly as powerful as an electric or gas power washer, but it gets most jobs done well, such as cleaning cars, windows, patio furniture, boats, window screens, muddy tires, etc.  Comments from many customers claim that if you have a really good yard hose/nozzle already, it's about the same pressure, maybe a bit more, but its portability makes it a practical item. If you're primarily looking for something to blast away grime from your deck or driveway, this may not be the best choice for you.
It's seriously light weight, at only about 4 lbs, which is great if your arms tend to get tired half way through a job.
It's ridiculously portable. Besides the easy "drop the 20′ hose into a pool or lake or bucket" you can attach it to a garden hose, or get this… you can literally attach a 2 L soda bottle filled with water to your tool for an on the go water source! There's a quick connect adapter, a bottle connector, and more – you'll really appreciate how versatile this one is, if you're looking for something you can bring where there's no water source.
The 5-in-1 nozzle gives you a variety of pressure settings, so you can go from hard jet down to a simple watering setting, depending on what you're looking for.
There are optional accessories available if you're interested as well; look for squeegees, scrubbers, turbo nozzles, buffers, and more!
What's really great is the price isn't too bad and most people will be able to afford this product. If you're not convinced yet you should check out the reviews on Amazon. There's hundreds of them and most are overwhelmingly positive. If you want to see what other customers are saying about the Worx Hydroshot Cordless Pressure Washer, click below:


---
7.
Goplus Cordless Pressure Washer

Company: GoPlus
Max PSI: 1160
Battery: 40V 4.0 Ah
Rating: 3.9 / 5 stars (7 ratings)
Price: $$$
This next cordless pressure washer looks a bit different than many of the others, in that it's not a portable, hand held option, but rather a power washer machine complete with its own water tank. It's also different in that it has a LOT more power available than the gun style washers – up to 1160 PSI in fact.
Here's what you'll appreciate about this washer other than the greater power:
You can select which mode you'd like to use to get a greater or lesser power for the job at hand (0.6/0.8 GPM)
It comes with a brushless power motor, which makes it both quiet and longer lasting.
The battery is one of the bigger, more powerful batteries on this list, and it should get you approx 30 mins of run time. The charger takes about 1.5 hours, which is seriously quick compared to many chargers (which average 4-5 hours to recharge a battery).
It comes with its own 5.3 gal/20L bucket that you can fill and use as the water source, or you can connect to another water source (and use the handy auto-suction function). It also comes with a 26′ hose and reel, an adjustable nozzle (4 spray options), brush, and soap bottle.
The pump is self priming, so you don't have to work hard to get it going – just turn on and start spray washing!
Even though when unpacked it's fairly large, it's easy to move around (4 universal flexible wheels and a trolley handle). You'll also be impressed with how smartly it was designed for storage (the washer fits inside the tank, there's a handy hose reel, and an inserting area on the back for all of the accessories).
A safety lock on the pressure gun eases any concerns about leaving this unit around smaller, inquisitive children.
The GoPlus is a cordless pressure washer that's a bit more on the pricier side compared to some of the smaller options. If you're wanting a battery powered washer with higher pressure and the convenience of an attached water bucket, however, I think it's worth the extra cost.
If you're curious how this one works compared to other models, there are some really well done infographics on Amazon here (through link below) that might help answer more of your questions.


---
8.
Caraid Portable and Foldable Pressure Washer with Built-in Rechargeable Battery, Car Washer with Water Tank
Company: Caraid
Max psi: 260 psi
Rating: 3.9 / 5 stars (48 ratings)
Price: $$
This next one is at first glance a bit strange looking, but on second look, it's a brilliant design for space saving. The foldable water tub is obviously the main thing that sets this next one apart from the others. A "squashable" tank like this one both allows for a decent amount of water to be pulled to where you want it (9.25 gallons), but also means less space for storage is needed – and storage is often at a premium.
Here's what else you'll want to know about this one:
It has multiple power options, so you don't HAVE to just use the included 4.0 lithium battery power if you want to keep working while the battery recharges. You can connect to your car lighter AUX port (plug included) or power it via electric current through a home converter (not included).
This is NOT a high pressure power washer – don't expect to be "blown away" by this one. Think garden hose, but maybe a bit more pressure. Its portability and versatility of use is its value.
The hose reaches up to 23′, but you can extend the brush further using 1, 2, or 3 of the 3 included 18-in wand extensions, to get it just where you want it.
The soap dispenser in the brush handle makes giving a good soapy wash to your car, bike, boat, or patio furniture really simple.
It has the Total Stop System that immediately shuts off the pump when you release the trigger so that you don't waste water or battery power.
A few things about the foldable bucket: The bucket does NOT have a sealable lid, so don't plan on driving over a full bucket in the back of your car without spills. Also, there is no real "handle" on the bucket – you pull it with a durable nylon strap.  You'll also need to be sure you fill it with clean water only – no lake or pond water.
It comes with a 1-year manufacturers warranty plus CarAid also promises to Amazon customers an additional 2 years of warranty extension, so you can purchase with ease of mind knowing your product is covered for 3 years!
One of the things I really appreciate about this is that it is CLEARLY advertised about what it is, and what it isn't. It's NOT a super high powered model, but rather a decent, lightweight, portable, and definitely affordable battery powered pressure washer. It's not going to blast grime off of a patio, but if you buy it for the purpose of doing some lighter cleaning outdoors, you'll get what you need here, I think.


---
9.
WORX WG644 40V Power Share Hydroshot Portable Power Cleaner (2x20V Batteries) with Optional Accessories
Company: Worx
Rating: 4.0 / 5 stars (867 ratings)
Max psi: 450
Weight: less than 7lbs
Price: $$
Next on our list is a more traditional "wand style" model from Worx, a VERY popular brand of yard tools. Worx has it's hands in all sorts of yard tool lines – and as it does well in pretty much all of them, with good reviews and lots of continued sales, you're pretty safe to assume Worx has done it again here. Sharing the battery & charger between their tools is a great money and space saver for you as well.
This is the IMPROVED Hydroshot model. While the first one was good… this one is BETTER. 130psi better, to be specific. Which means more power, and the ability for you to get your items that much cleaner, that much quicker.
With this pressure washer, here's what you're looking at:
Good pressure. 450 psi is more than several of the others on this list, so if you're looking primarily for something that's significantly more powerful than your garden hose, you can check that off on this one.
There is a simple switch that allows you to move it from high to low pressure when you have a lighter cleaning task. Low pressure is 290 psi.
With 4 different nozzle settings, from direct to a wide radius, you can tackle quite a variety without needing to stop to switch out tools.
You'll appreciate the handy "fuel gauge" built into the tool that lets you know instantly how much power you have left on the battery.
It comes with a 2 slot battery charger, as the tool requires two 20V batteries – you'll save time being able to charge both at the same time.
You can source water from anywhere the 20′ hose can reach, not just a bucket, so you really can take it anywhere with you.
This popular portable pressure washer really does have everything you'd want – including a 2 year warranty (which you can extend by a year if you register it with Worx). It has nearly a thousand review, most of which are really positive – take a look for yourself by clicking through below.


---
10. Realm BY-PW01-B2Z-050T ion 40V Cordless Pressure Washer
Company: Realm
Max psi: 1200
Battery: 40 V / 4.0 Ah
Rating: 4.0 / 5 stars (59 ratings)
Price: $$$
This last pressure washer on our list here is another of the higher pressure options. At a max of 1200 psi, it can clean a lot of gunk off in a hurry, although those of you who have tried an electric pressure washer will still see it as a lesser pressure. Depending on what your needs are, however, it can easily do the trick.
Here's are some of its top features:
It has a great battery (40 V / 4.0Ah) – it will last you longer between charges so you can finish your chores quicker.
It's nicely portable and designed with storage in mind – you'll find the tool fits into the tank very easily. You can also take the tank off for easier transporting.
Reviewers say that it's quiet and lightweight (approx 20lbs)
The tank that comes with it holds 5 gallons of water, but you can also use any source of water nearby instead (selecting the auto-suction function)
With high and low settings you can tackle hard or light tasks around your house.
There are several accessories that you can choose to add on to customize your machine, including telescopic wands, extension hoses, special patio cleaner heads, and more.
One of the things reviewers complained about most with this pressure washer is the lack of variety when it comes to the spray patterns: there aren't any. Just one setting – a straight jet, which makes washing a larger area a bit time consuming.
Although this battery powered pressure washer is a quality item, I believe, if you're looking for a tool that you can use for sharing batteries, this may not be your best choice. Unlike many others on this list, Realm doesn't have an extensive garden or power tools line.
This is not a cheap item, but the practicality of the tank and the impressive battery make it a pressure washer that should likely be on your list to check out, if it isn't already.


---
Clean Well With One Of These Best Battery Powered Washers of 2023!
There you have it – the 10 top battery powered pressure washers of the year. I've done my best to select a range of types, prices, and styles, so hopefully you were able to find one that connected well with you. All of the choices have good reviews and if you make sure you're not expecting the power of an electric washer, all of the choices SHOULD wow you.