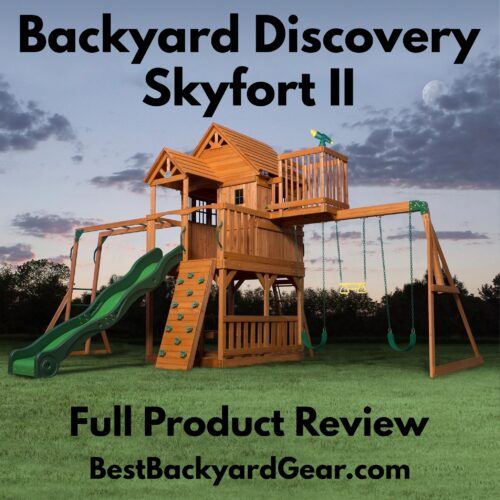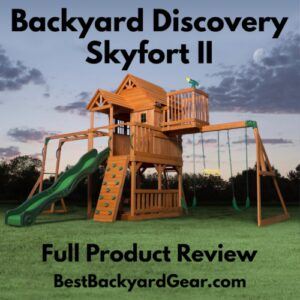 All parents want their kids to be active and creative, play outside, and burn off energy in a safe and engaging way.  It's why many parents invest in a play structure or swing set for their backyards. But there are so many choices out there! We're going to do a deep dive with a review of the Backyard Discovery Skyfort II Cedar Wood Playset for you today, so that you can get the low-down on this particular model.
The Backyard Discovery Skyfort II is a popular swing set with both parents and kids as it seems to hit all of the desired notes:
It's a good size – kids will be able to play for more than just two or three years on it before they outgrow it physically
It includes several stations that encourage physical activity (swings, monkeybars, etc)
There are areas for creative, imaginative play as well (crows nest, playhouse with picnic table)
It's attractive and looks both substantial and sturdy.
BUT… after combing through literally hundreds of comments from actual customers, I feel the need to give you a few serious words of caution before you spend the big bucks on this one. 
In this review, we'll look at the product specs, what customers have to say about the quality, assembly, and safety of it. You'll see what customers really DO NOT LIKE about this swing set, and I'll end with whether or not I actually recommend the Backyard Discovery Skyfort II for my readers.
Ready? Here we go!
Backyard Discovery Skyfort II – Product Specifications
Design Details
The wooden swing set has 3 main areas: The central playhouse complete with upper and lower forts, a balcony, and a unique "crows nest"/lookout (complete with spyglass), and the two side wings (one that is for monkey bars and other for 2 belt swings and a trapeze).
It also comes with a movable child-sized wooden picnic table, and two different entry climbing apparatuses (rock wall and ladder), plus a 10 foot wavy slide.
You can choose to convert the lower playhouse area into a small sandbox. The lower area is 6′ x 6′, but if you decide (like most people) to keep the small picnic table and wood floor section in there, the area of the sand box is only about 6′ x 2′
What Owners Say About The Design
The crows nest is a huge hit. Kids love it, it's easy for them to get into, and it's a big factor in why many parents ended up choosing and loving this set design.
One complaint that came up over and over however, was the fact that the monkey bars are really, really high off of the ground for a child.  One parent said that even a 6′ adult would have to jump a bit to grab the bars while standing under them. This is likely because the design plans for the child to swing him/herself right into the upper fort.
Another complaint was that the swings are fairly close together. While this is no issue for smaller kids, it can be a bit of a problem for bigger ones.
How Big Is The Skyfort II?
The Skyfort II is 22′ 7″ wide x 16′ 8″ deep x 12′ 5″ high. This does NOT account for a safety zone, however. The official recommendation is an added 6′ in each direction, so yes, you will need a fairly large yard for this.
What Are The Weight Limitations?
The Skyfort II has a total weight capacity of 1,350lbs, or 9 individuals at the same time each weighing up to 150 lbs.
What Is The Target Age Range?
According to owners, this set seems to loose interest for kids once they hit age 10 or so. Particularly because the swings are quite close together.  This fits with Backyard Discovery's suggested age range for this playset being ages 3-10.
What Other Models Are There?
While Backyard Discovery has a whole range of wooden swing sets, the Skyfort line includes the Skyfort II and Skyfort III currently.  The Skyfort III removes the monkey bar section and adds on a tube slide in its place. See it here.
What Kind of Wood Is The Skyfort II Made From?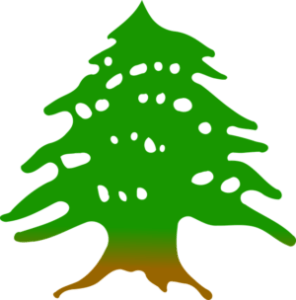 The Skyfort II and most of the other Backyard Discovery playsets are made from 100%
Chinese Cedar
Wood. Interestingly enough, Chinese Cedar is not technically a cedar at all, but rather a fir. It can still be listed and sold as cedar grade, however.  Chinese cedar has many of the same general qualities as true cedar, but is
significantly cheaper, and of a significantly less impressive quality
.
Backyard Discovery shares that it selected cedar because it thrives in damp climates and can therefore withstand all sorts of weather conditions, and because under testing it was shown to be rot resistant and also highly resistant to decay. All good stuff, right?
If you are a cedar purist, however, you'll be disappointed in the wood that you see when you open the box. It is NOT North American Western Red Cedar. It looks and feels significantly "cheaper".
The wood comes from China, but it is cut and packaged in the United States.
Does The Wood Come Pre-Treated?
No. It comes with a red tinted, water-resistant wood stain, but it does NOT come pre-treated (with a waterproof sealant).
As with all wooden structures, the sooner you add a layer of waterproofing sealant to the wood, the longer it will look new and the longer the wood will retain its luster.
Some owners recommended sealing all the wood prior to assembly as the easiest method that first year, but several gave a loud "heads up" to use a clear sealer so as not to cover up the identifying stamps on the pieces (for assembly purposes)!
Who Is The Manufacturer?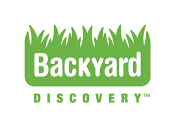 Backyard Discovery is an American company that operates out of its headquarters in Pittsburgh, KS, and employs over 300 people across North America.  They claim to be everyday parents and skilled craftsmen working to provide great products for families everywhere.
They have been in business over 35 years, and much of what they sell is built from wood. They sell ready-to-assemble wooden play sets like the Skyfort II, but also pergolas, gazebos, grill gazebos, wooden patio accents and more.
The Backyard Discovery wooden swing sets feature several times on our "Best Heavy Duty Swings Sets For Older Kids" review post.
What Kind Of Safety Specifications Does It Have?
The Skyfort II was engineered to meet or exceed the ASTM standards (code F1148-19) and is listed as for residential use only.
Backyard Discovery did pay attention to many small details that parents will appreciate, such as adding handgrips and guard rails at every entry point, by the slide, and along the edge of the sun deck.
They also use exclusive safety fused locking nuts and washers that greatly reduce the possibility of your kids' clothing getting snagged.
And there are fixed metal anchors that come with the kit that help make it the structure very secure.
What Owners Say About Safety
As far as design goes, the only "safety concerns" were that very small kids would be dropping from rather high monkey bars, and that there was a great potential for slivers or worse (wood snapping) if you don't do the required maintenance on the wood each year.
Is This Swing Set Durable? What Do Owners Say?
Many owners aren't all that happy about the durability of this swing set. The main factor seems to be the wood – Chinese Cedar wood isn't as high quality as Western Red Cedar. It is both weaker and more susceptible to rot and wear and tear.
Here are a few comments (summarized) from owners:
Unless you do ALL of the annual upkeep AND initially waterproof it, it can look and feel pretty run down, pretty quickly.
The wood is "soft and cheap", and splits easily if you accidentally screw the pieces in too tightly.
The slide is lightweight; just a few thin pieces of plastic that you attach together.  Most "better quality" backyard slides are one solid piece.
Is the swing set durable? Overall, the answer is yes. Yes, IF you do the regular maintenance required, according to the manual. And there's a fair bit of it.
Care and Maintenance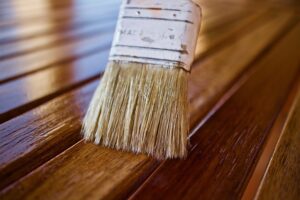 So what is involved in the required annual upkeep?
The following is rather important to know before you buy it, as you'll literally void your warranty if you do not perform the required care! 
If you want the swing set to continue to look great year after year, you need be regularly checking the whole set for loose hardware that needs tightening, moving parts that need lubrication, and any protective coverings that need replacing and fixing.
Annually, you'll need to check all of the wood for splinters and deterioration, and then sand (where needed) and re-seal the entire wooden structure. Yes. Re-sealing is a lot of work. But if you don't do it, you'll notice your swing set looking and feeling old very quickly… AND you'll void the entire warranty!
If you live in an area that dips below 32 degrees in the winter, Backyard Discovery recommends taking off plastic parts during the winter season.
Is There A Warranty?
IF you do the required maintenance, there is a 5 year limited warranty. Per the assembly manual,
"All wood carries a five (5) year warranty against rot and decay from the original purchase date. Backyard Discovery warrants this wooden play product to be free from defects in materials and workmanship for a period of two (2) years from the original date of purchase. Regular maintenance is required to ensure maximum life and performance of this product. Failure by the owner to maintain the product according to the maintenance requirements may void this warranty."
Assembly Of The Backyard Discovery Skyfort II 
First, and I HUGELY recommend this, download the BILT app and access the 3D interactive instructions – they are very much easier to use than a booklet with 2D drawings.
When you first receive the four large boxes of pieces (weighing approx 700lbs total), the best thing to do is patiently lay them out and organize them by alpha-numerical order. Take a quick peek BEFORE starting at how the instructions reference the pieces… this will lessen your frustration greatly later on!
The wood comes pre-stained, but not pre-treated. If you can fit it into the time you have allotted for the build, doing your waterproofing/sealing prior to assembly was often recommended by owners, but be super careful not to cover up the identifying stamp on the piece of wood!
What Owners Say about Assembly
Make sure your swing set is on level ground, or you'll notice odd creaking later on.
DEFINITELY use the metal stakes that come with the set.
Consider switching out the wood screws that come with the set for two big boxes of 1 and 2 inch deck screws – you'll find them a lot easier to use.
Put the bay window and roof on last, no matter what the directions say!
You'll need a basic set of tools from your own garage to build the Skyfort II – what follows is gleaned from a few different owner's comments about the exact tools you'll need, if you plan to assemble this yourself:
A 24″ level
A square
A Phillips Screw Driver
A Tape Measure
A Claw Hammer
A Drill (Cordless or Electric), with a Variety of Drill Bits
A Cordless Impact Driver ("you'll wonder how you ever lived without one!)
Rubber Mallet (optional)
A Drive Rachet
A Variety of Standard and Deep Sized Sockets
A Ladder
An Adult Assistant or Two!
Can You Change Which Direction It Faces?
If you wanted to make some changes, such as swapping the ladder and climbing wall, or moving the monkey bars beside the slide, or any other swapping, the answer according to owners is pretty much always yes, and according to the Backyard Discovery rep answering the same question, "no – it will void your warranty". So, if you don't care about the warranty, and are a bit of a savvy builder, go at it!
The following video is also worth a watch:
Is There Anything Owners Do NOT Like About It?
Absolutely.
They do not like all of the work it takes to keep this wooden swing set in good shape!
The fact that you have to seal it already before using it the first year! Owners found it a bit deceiving that Backyard Discovery claims the wood is "all weather resistant" but then requires immediate water proofing to make the warranty not void.
The awkward height of the monkey bars
The swings being "too close together" for bigger kids to enjoy
The slide doesn't seem all the sturdy or strong.
Do I Recommend The Backyard Discovery Skyfort II Playset?
Short Answer:  If you are really set on a WOODEN playset, then yes.
Longer Answer:  Both Yes and No.
As far as wooden playsets go, I do think this one is one of the better ones out there.  By "better", I mean in terms of likability, design, and value.
On Amazon, nearly 600 reviews give it an average of 4.4/5 stars – 70% of reviewers were happy enough with it to give it the full 5 stars.
However, I found an uncomfortable number of complaints in the reviews on multiple websites discussing the poor quality of the wood, and the huge amount of labor required to maintain this swing set for multiple years of beauty and use.  Yes, overall it still is a very well liked playset. But I feel I can't totally recommend this set fully to my readers without the warning that in order for you to be happy with this set, you'll need to PLAN ON it taking some work.
If you are a bit scared off now by the work involved with keeping up a wooden swing set, why not take a look at some of the best metal swing sets, which are basically a one time set up job, and then… zero maintenance.
Where To Purchase This Playset
While I've found a few places that sell this swing set, the cheapest price is currently on Amazon! With free shipping, and regular sales there too, it's a reliable and popular place to order these from.
---