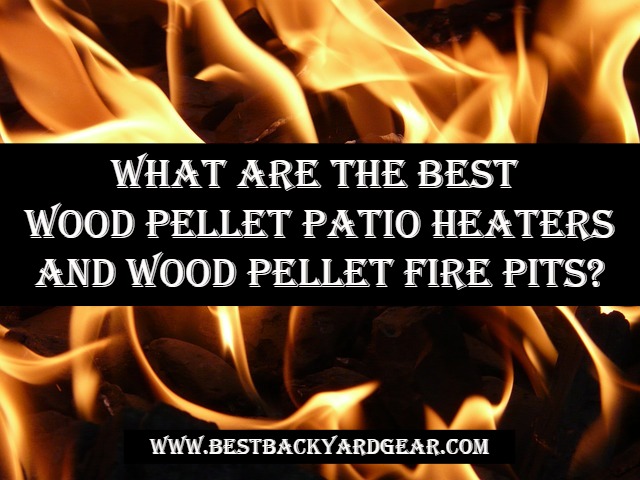 Outdoor wood pellet patio heaters and wood pellet fire pits have been gaining serious momentum in the past few years. These heaters and fire pits use
wood pellets as fuel
instead of natural gas, propane, or even chunks of fire wood.
While they are still relatively new products, with the popularity of wood pellet grills and the growing understand of how easy, clean, and environmentally friendly wood pellets are to use, it's no wonder that these wood pellet burning patio heaters and fire pits are getting a lot of attention and very high reviews.
Let's take a deeper look at the 3 best wood pellet patio heaters and the 3 best wood pellet fire pits on the market today.
---
Outdoor Wood Pellet Patio Heaters vs Propane
Pellet heaters are quickly gaining attention as they put out considerably more heat than do propane patio heaters. This is because propane heaters put out heat from the top only, while with pellet heaters, the heat radiates from the fire pit low to the ground, all the way up the "pipe", and out the top.
Besides being more efficient at heating the surrounding area, pellet heaters are also cheaper to run than propane, with a $5 bag of pellets easily able to run your heater for 3-4 hours, and a low carbon alternative that just makes sense.
A quick overview video, if you still need to be convinced that they are warmer and more "worth it" than propane:
Wood Pellet Patio Heater Reviews: 3 Best Pellet Heaters
Here are reviews of the top 3 pellet patio heaters of 2023. What is the best outdoor pellet heater? I'd go with #1, easily. But the other 2 are well worth your consideration as well:
1. "Big Timber" Wood Pellet Outdoor Patio Heater
This first wood pellet heater is my top recommendation when it comes to pellet patio heaters. The mechanical design is sound, it looks good, it's priced right, and most importantly, it puts out great heat from the top to the bottom.
Here's some info you'll appreciate about this heater:
It runs at 90,000 BTUs… about double that of the best propane patio heaters on the market today, giving off warm, inviting heat to a 10′ radius (approx 450 square feet)! You can keep a lot of people comfortably warm in that area, especially considering the radiant heat comes from the entire height of the heater, not just the top part (like propane units do)!
Even though it's a wood (pellet) burning fire, you don't have to deal with smoke. The pellets are gravity fed into the firebox, and the chiminea-style drafting action means that there's pretty much no smoke that comes out of it. Yes, this means no smelly clothes and hair, no neighbors complaining about the smell of smoke lingering.
You can trust that it's very well designed – these Timber Stoves are designed by Tyson Traeger, whose family pretty much invented pellet grills. (It's also an American made product, by the way!)
The stainless steel hopper holds up to 30lbs of pellets, which translates into approx 5 hours of heating time on high. With a 40lb bag costing about $5, this is a very economical heat source.
As far as cleaning up inside it after that full length burn, you'll be amazed at how efficient it is, as you can expect only about 1 cup of ash total. (And yes, it's easy to remove the ashes.)
To start, you just light the pellets in the fire box using lighter fluid and a match, and it's even easier to turn off – just insert the handy shut off key, and give it 5 mins to burn off remaining fuel. You'll also need 20 mins for cool down after that though.
You can control the heat to get as much or little as you want using the damper control knob.
It has a great visual appeal. You can see the fully enclosed flames from three sides of the unit, and who doesn't enjoy watching flames dance?
It's non-electric, meaning you don't have to worry about lugging an extension cord to wherever you want it set up – and yes, it's portable, so you can definitely move it around your patio, deck, dock, or campsite quite easily.
Several reviewers claim that the instructions for assembly that come with it aren't all that great – mostly pictorial. Apparently there are some fantastic videos on Youtube that make assembly really easy though, so if something doesn't make sense when you're assembling it, check them out.
Overall, the Big Timber is easily one of the very best wood pellet heaters on the market today. I think it's great value, and it has lots of high reviews (the only "negative" being with regard to the somewhat vague assembly instructions).


---
Variations on the "Big Timber"

Wood Pellet Outdoor Patio Heater
The "Big Timber" that we looked at above stands as currently one of the top options out there. But it's worth high-lighting that it has a few variations that you might find equally interesting:
You can make the Big Timber a statement piece on your patio, as well as protect younger hands from touching the fire box by adding a stainless steel stove pipe safety cage.
The pyramid shape safety cage is great for at home but also on restaurant patios to provide that extra layer of safety for your patrons. It comes at an additional cost of approx $750 (at the time of writing).
The Big Timber Elite
The Big Timber Elite is the heavy duty big brother to the original Big Timber. Everything about it says industrial, powerful, and serious.
It's made from a thick stainless steel and works very much the same as the Big Timber, putting off the same heat and requiring the same amount of pellets to run. In truth, it's pretty much EXACTLY the same as the Big Timber, but with one main difference… that it has a the cool looking safety cage built around it. (This adds to the overall weight as well – it's a total of 120lbs, good to know if you plan to be moving it often.)
The Lil Timber
The Lil Timber is the younger brother of the Big Timber, with the same mechanical and aesthetic design, the same quality parts… it's the same except just smaller.
With the Big Timber putting out approx 450 square feet of heat (12′ radius), the Lil Timber puts heat out to approx 300 square feet (has a 10′ radius).
The hopper holds 12 lbs of pellets, which will get you a run time of approximately 3-4 hours.
It'll save you approx $250 to downsize to the Lil Timber.
As you can guess, the Lil Timber Safety Cage fits the Lil Timber. It looks exactly like the Safety Cage for the Big Timber, just smaller.
Here's a video showcasing the Big and Lil Timber Wood Pellet Patio Heaters. Check it out:
---
2. Even Embers Pellet Fueled Patio Heater
Rating: 4.5 / 5 stars
Heat Radius: 100 sq feet
Hopper Capacity: 25 lb
Height:
Price: $$$
This newer to market pellet patio heater doesn't have a ton of reviews on Amazon yet, but those that they do have show that the product has been well received.
Two of the designs on this wood pellet patio heater that people appreciate are 1) the glass doors (one on either side of the heater) that allow those sitting nearby to enjoy the soft lighting and ambiance that flames create. And 2) the easy 2-step ash cleanout system, that makes emptying and cleaning up the base simple, clean, and quick.
Here is some other info you'll want to know about the Even Embers Pellet Heater:
This pellet heater does not require any cords or electricity to kickstart it (unlike how pellet grill smokers work). You simply need to douse a small area of the pellets and light them with a lighter or match.
You can easily adjust the amount of heat coming from it through adjusting the pellet flow.
It is quite portable, in that it has two built in rollers on the base.
It "only" puts out 70,000 BTUs max. This IS significantly higher than many propane patio heaters, but a fair bit less than the other options on this list.
The hopper capacity isn't all that large – it can fit 25lbs of hardwood pellets (heads up, don't buy the cooking grade pellets), and that only lasts about 4 hours on high. With pellets really cheap though, compared to propane, it's still an economical choice even if you need to refill it regularly.
The Even Embers wood pellet heater for the patio is a solid choice, but definitely comes in second on my list to the Big Timber models. That being said, sometimes Even Embers has them on sale for a sweet deal – in that case, don't hesitate to snap one up.


---
3. Q-Stoves Wood Pellet Outdoor Heater, Q-Flame Portable Eco-Friendly Patio Heater
Rating: 4 / 5 stars
Heat Radius: 10 feet
Hopper Capacity: 20lbs
Height: 79″
Price: $$
If you've decided that you want a wood pellet patio heater for sure, but can't quite fit the cost of the Timber Stoves models into your budget, this unit by Q-Stoves comes in at about half the price, and I think it's pretty great value for your money.
Here are this one's top features (and how it compares to the Big Timber models):
It too has no need for electricity. And this unit is slightly more portable than the Big or even Lil Timber, even having some sections that can detach to make it fairly easy for you to take with you on the go.
It runs at 106,000 BTU, which is slightly higher than the Big Timber, but the design does limit the heat somewhat… the product specs claim an approx 10 feet radius, and there are a significant number of reviewers, who mention that they thought it would give out way more heat than it does, unfortunately. There's also some mention of the heat mostly generating from the top of the unit, as opposed to the from top to bottom of the Big Timber. (Note: I did find several people sharing how they found using soft wood pellets such as Douglas Fir, and completing the break in process exactly per the instructions makes the heat really excellent.)
There are several interesting accessories that you can add on to your Q-Stove, such as the Q-Flask, which can heat up water or other liquids  (up to 3/4 gallon), Q-Hopper Extenders, which turn your 3 hour burn time into up to 10 hours, the QBQ, which you guessed it, is a BBQ extension that you put at the top of the stack to turn your pellet heater into a something of a pellet grill, and more.
It has adjustable feet that allow you to make sure your Q-Stove is standing perfectly upright – you wouldn't want a hot, fire-burning stove to tip!
One challenge that this unit has is that it doesn't let you control the amount of pellets that move from the hopper to the fire box – it's "all or nothing" basically when you open the gate.
Overall, the Q-Stove is an efficient and cost-effective way to heat your outdoor space, and it's easy to operate & refuel. If you're looking for a decent, more budget friendly heater, you will likely be content with this one.


---
Best Outdoor Wood Pellet Fire Pits 2023
The outdoor living market continues to grow, and many consumers are looking for reliable and appealing fire products to enhance backyards – giving heat and beauty at the same time. These best pellet fire pits do both.
1. Flame Genie Portable Smoke-Free Inferno Wood Pellet Fire Pit 
Company: Flame Genie
Rating: 4.1 / 5 stars
Size: 19″ or 13.5″ diameter
Price: $
This first wood pellet fire pit that we're looking at today is the Flame Genie. It's quite a popular alternative to a traditional bonfire pit, a sustainable, environmentally conscious choice as the pellets that feed the fire are made from compressed recycled sawdust – not chopped down trees.
Aside from that, here's what you'll like about this fire pit:
There's little to no smoke! Although some people will argue that without the smell of smoke on your clothes and in your hair you haven't really had a bonfire, many of us will appreciate that with the Flame Genie, you can enjoy the dancing flames and wood fire heat without the smoke. (There is a small amount of smoke during the light up process, but within a few minutes it goes away completely.)
It's available in black (galvanized steel with black powder coat paint) or a stainless steel finish, whichever look you prefer. (If you go with black, know that it should be covered and stored to prevent rusting, but the stainless steel option can be left outdoors without fear of it rusting or discoloring.)
It's a product that is really easy to bring with you anywhere you'd like to have a bonfire as it's lightweight and not all that big and the pieces nest together. You'll also like that the fuel (a bag of pellets) is much easier, cheaper (approx $5 for 40lb bag), and neater to take along than traditional firewood.
You'll appreciate how safe it is – there are no sparks that fly out, there's no spontaneous combustion after it has burned out, and the specially designed ash pan catches all of the ash below the unit.
It's a beautiful, mesmerizing flame to watch!  The air holes at the top and bottom are designed to feed oxygen to the fire in a way that makes those flames dance!
Although there's a lot that's great about this wood pellet fire pit, it's worth noting that it does take a bit more babysitting than a traditional bonfire does. Reviewers comment that it can take a bit of time to get the hang of when and how to best add pellets to keep the fire burning nicely. If you wait too long or add too much, you'll have smoke. (If you don't mind the idea of tending/nursing a fire though, and plan to sit around it while it's on most of the time anyways, this shouldn't be too much of a problem for you.) 


Here's a product video to give you a bit more info:
---
2. Blaze Stainless Steel Pellet Fire Pit
Company: Blaze
Rating: 4.5 / 5 stars
Price: $$$
This next pellet fueled fire pit is a rather unique stainless steel beauty, a real statement piece that'll fit in nicely on a classy looking patio. It's somewhat a combination of pellet patio heater and pellet fire pit, as the location of the fire is lifted off of the ground, and with fire and heat that are channeled up and out of the opening at the top of the pyramid.
Here's what's to love about this pellet fire pit:
Blaze is a product brand known for it's high end, extremely well crafted stainless steel units, be they gas grills, kamado grills, outdoor cook tops, and more. You can be sure this fire pit is crafted equally well – it's made from premium 304 stainless steel, which is durable and weather resistant.
You are able to use any type of wood pellets, so you can select your preferred type of wood and enjoy it's scent.
There are 4 heavy duty, locking casters that allow you to move this fire pit around however you like, whenever you like (even while lit!), which really adds to how unique this fire pit is!
With the pellet area filled to capacity, the fire will burn cheerily (bright orange flames) with no need for further attention for about 3 hours. After this, the flames will slowly sink down into the pyramid, and begin burning out – you'll see a cool blue flame through the cut outs on the side at this time. After it's burned out, you'll be surprised at how little ash there is – clean up is really easy.
You can remove the pyramid top for cleaning or for adding pellets, and it comes with a lid that covers the pyramid top to protect it from rain, debris, etc.
It measures 27 " H x 29 " W x 29 " D, and it weighs approx 100lbs.
I love how this fire pit has dual purpose – a patio heater that'll extend your enjoyment of the outdoors when the season begins to change and evenings get cooler, and also a beautiful flame to sit around with friends, one that needs no babysitting and leaves no smoke smell or sparks that fly. Win win.
Want to check out a video to show you how it works?
---
3. Blue Sky Outdoor Living Portable Pellet Fire Pit
Company: Blue Sky
Rating: 4 / 5 stars
Size: 15″ or 24″ diameter
Price: $
This last pellet fire pit is what I'd consider to be a great "economical" choice on this list.
Here are some of its top features:
It's really easy to set up and get going, as well as durable and light for transporting, so it's a good choice if you're looking for something to bring with you on the go, but don't want something pricey because of that.
You can sit as close as you like and enjoy the fire's heat without fear of sparks, ash, or smoke spoiling your experience – this unit is designed not to give it off.
The Blue Sky pellet fire pit has specially designed rings and cutouts that make the fire really visually appealing as the air plays with the flames.
You can assemble it with no tools required, and disassemble it and clean it really easily (pellets produce a very small amount of ash overall) – and it comes with a carrying bag that fits it perfectly.
A pellet fire pit like the Blue Sky makes it really easy to have a clean, smoke free, safe backyard fire. There's nothing extreme that stands out with this product either for good or for bad, which I think is what makes it, I think, a decent buy for the price.


---
Enjoy Your Backyard Longer With An Outdoor Wood Pellet Patio Heater
If you'd like to extend your enjoyment of your outdoor space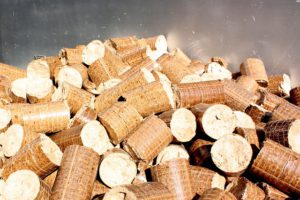 a bit longer into the cold season, a wood pellet patio heater or a wood pellet fire pit would be a fantastic addition to your outdoor collection. Hopefully among these 3 best pellet patio heaters and 3 best pellet fire pits you found something just right for you.
For more information on how pellet smokers and pellet grills work, check out: What Is A Pellet Grill Smoker?
If you have any questions, feedback, or comments in general, please feel free to comment below!
---
(As an Amazon Associate I may earn a small commission from qualifying purchases made through links on this page, at no additional cost to you. Full Disclosure.)