Picnic tables are social gathering places, functional pieces of outdoor furniture, and necessary for your family's casual outdoor dining experience.  If you're looking to add one of the best wood picnic tables to your backyard, we can help.
There is a large range of wood picnic tables available. We'll share with you what's important to consider when you buy, and help you make sure you're picking the best wooden picnic table for you and your needs.
By the time we're through, we're sure you'll have found a picnic table you'll just love!
Skip the Buying Guide: Jump directly product reviews
Choosing A Wooden Picnic Table: A Buying Guide
Here are basically a couple of things to keep in mind when you're picnic table shopping, so you can be sure you'll be happy with your selection in the end:
Material / Type Of Wood
Size and Capacity
Design
Assembly and care
Material
You're here because you're looking specifically for wood picnic tables. Do you have a preference of the type of wood? The most popular woods for picnic tables in this "best of" list are cedar (white and/or red) and pinewood. Both cedar and pinewood are absolutely excellent types of wood if you're looking for a seriously solid picnic table.  Both will require staining and/or weather-proofing/sealing if you hope to have the wood remain looking beautiful over time.  While a wood picnic table looks stunning and classic, no matter the wood it will require some work (annually/bi-annually) to stop it from looking rotten and old prematurely.
If you aren't really interested in the maintenance end of things but simply love the wood look, there are 3 picnic tables near the end of our list that LOOK like wood, but are actually made of various types of plastic. The advantages here are that no preventative or ongoing maintenance is required and you won't have to ever worry about splinters or cracks. Disadvantages are that you are passing up on the feels, smells, and beauty of natural wood.
Design of Table and Seating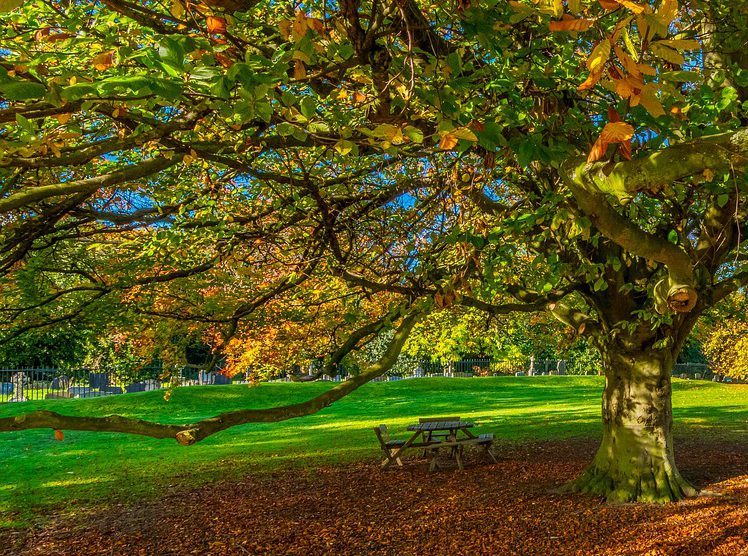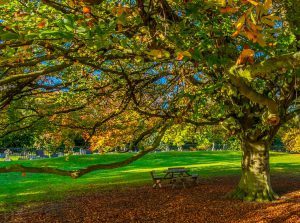 What style do you like best? Do you want the benches attached or removable? Do you want one that folds up for easy storage? Do you have a shape preference? In our list of the 14 best wood picnic tables, we highlight the best of 5 different types – you'll find what you're looking for in one of these categories:
Size and Capacity
You'll want to consider how many people you'll be inviting to sit with you at your picnic table. Most of the 6′ tables (72″) hold 6 adults easily – note however that a few of the "top 14" are shorter than 6′. And, some of the table tops are wider or narrower than others – read the specs carefully as pics can be deceiving.
Assembly Required
Pretty much every wood picnic table will require you to do some assembly work. The table tops and bench tops normally come pre-assembled, but the legs and frames come loose, along with the required hardware for your specific picnic table. Instructions will be included in your packaging, no fear. (Tip: If you do get stuck or are missing the instructions for some odd reason, check out YouTube with the product name and the word "assembly" – sometimes you'll get lucky and there'll be a video showing how it's done.)
Now that you know what to look for, let's take a look at the best options out there.
Best Wood Picnic Tables: Traditional One-Piece 
(As an Amazon Associate I may earn a small commission from qualifying purchases made through links on this page, at no additional cost to you. Full Disclosure.)
1. Cedarlooks Log Picnic Table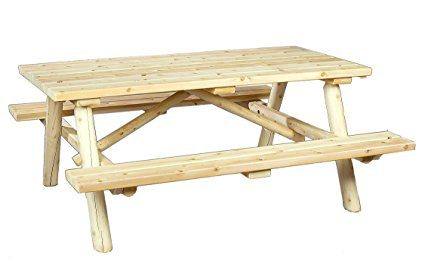 Company: Cedarlooks
Rating: 5 / 5 stars
Price: $$$
If you're looking for a beautiful, solid wood "log" style traditional picnic table for your backyard, we think you'll love this one!
Material: 100% White Cedar.  Cedarlooks picnic tables are built to last, from all-natural eastern white cedar (Thuja occidentalis), which is renowned both for its beauty and for its durability. There are no chemicals or preservatives used in the making of their furniture, and none are needed as white cedar is naturally resistant to insects and to decay, and is splinter free.   Cedar is also lightweight and smells great – both huge plusses!
Another thing we love about this picnic table is that white cedar does not need to be treated – if you leave it as is, your picnic table will simply "mature" into a beautiful silver-gray color. You can stain it the color of your choice, however – either way, it'll be a stunning piece of backyard furniture.
(Read more on the Cedarworks company and on white cedar, by clicking here.)
Size: 68″ L x 62″ W x 29″ H   (62″ W includes seats – table top is 31″ W). It will nicely seat 6 adults, but more may be making it a bit too tight.
Features: This is a "log style" picnic table, meaning the legs are not smooth-cut, but more natural looking, following the knots and grain of the wood. The benches and table top are smooth-cut wood, but the supporting beams say "this is a solid, rustic wood picnic table".
The design has the benches able to flip up so that mowing your lawn under the table is easier.  Love that!
Capacity: This picnic table is just under 6′ long – it'd be very comfortable sitting 4 adults, but 6 should be doable too.  


---
2. Rectangular Standard Wooden Picnic Table
Company: Northern Tool & Equipment
Rating: 3.9 / 5 stars
Price: $
Many people are looking for just a basic, traditional "one piece" wood picnic table for their backyard or patio. This is the one for you. We think it's a really great deal for great looking and sturdy picnic table.
Material: Pinewood, unfinished. You'll want to stain or treat this picnic table, and as it comes pre-assembled, that's the time when you'll want to pick out your preferred stain color and go to work. (It's easier to stain the wood prior to assembling… and you'll do a neater job.)  Pine is naturally insect and weather-resistant, so it's a great choice for a table that will likely be seeing a great variety of weathering.
Size: 72″ L x 60″ W (includes benches) x 27 1/2″ H. This table will comfortably sit 6 adults.
Assembly: You do need to assemble this picnic table – hardware is included. Several of the reviewers on various websites where this is sold mentioned that the product came with incorrect or "weak" screws/bolts and that they simply replaced the hardware themselves in order to complete the assembly. The assembly was not difficult, though, from what they write.
The company offers a 1 year limited warranty, so you can buy with confidence!
We think this picnic table (once stained to bring out the lovely grain, and assembled) will be both beautiful and functional in your backyard! And for the price, you almost can't go wrong!


---
3. Outdoor Living Today Western Red Cedar Picnic Table
Company: Outdoor Living Today
Rating: 3.6 / 5 stars
Price: $$$
This picnic table is another excellent option for those of you who want a classic style picnic table made from a beautiful and solid wood!
Material: Western Red Cedar.  This is a popular wood for outside furnishings, fences, and more – it's naturally resistant to decay and insects. While it can be left untreated, you can also stain or finish it with a variety of options to keep the beautiful red tones – if left untreated, it'll turn a silvery gray. (Here's some fantastic info on how to keep red cedar wood looking great.)
Size: 72″ L x 34 1/2″ W (60″ from bench to bench). It will comfortably seat 4-6 adults.
Assembly: According to the company website, this picnic table can be assembled in about two hours, and you don't need to be a handyman to do so. They do supply all of the hardware and pre-cut, pre-sanded wood. You will need to supply the stain if you so desire (cedar does not require it), and your job will be much easier if you have the following tools: a drill, 1/8-inch drill bit, a 7/16-inch wrench, a level, a screwdriver, pliers, a tape measure, a wood clamp and work gloves.


---
Best Wood Picnic Tables: Round or Octagonal
1. Western Red Cedar 61″ Octagon Top Picnic Table w/Easy Seating
Company: Dan's Outdoor Furniture Mfg. Co. LLC
Rating: 5 / 5 stars
Price: $$$$
If you're looking for an octagonal wood picnic table, this one is a fantastic choice! Although the price is not cheap, we believe it's worth the investment due to it's beauty and fine craftsmanship. It's no slap-together, flimsy piece that'll snap or fall apart on you, that's for sure!
This table has a pre-cut umbrella hole and 4 seats that each will comfortably sit 2 adults. We love the shape of the table benches – the openings allow for easy seating, with no need to climb over the bench to get in and out. With only 5 points in total touching the ground, you'll find it fairly easy to mow around too, if it's set up on your lawn.
Dan's Manufacturing has been in business for over 34 years now, and ships to 47 states. According to their website, this is their best selling wood picnic table. It's hand-made in their warehouse, and like all their products, is stunning!
Material: Western Red Cedar – which is naturally insect and rot resistant. The lumber is milled, sanded, and the edges are nicely rounded. The planks (milled completely from 2x6s) have beautiful variations in the color tones, which adds to the look, we think!
Size: 88″ L x 88″ W x 30″ H  (table top is 61″ across), seats 8 adults (and their weights are not an issue. These things are strong.)
Assembly: This octagonal picnic table comes partially assembled. Check out this video to watch Dan and his employees complete the assembly of one of the tables, the same way you would. Doesn't look all that difficult at all!  It takes his guys 19 minutes, and he expects it would take you approximately 40.  (By the way – can you just imagine how GREAT it would smell in that big warehouse full of cedar? Cedar smells fabulous!)


---
2. Best Choice Products Outdoor 6 Person Wood Picnic Table Set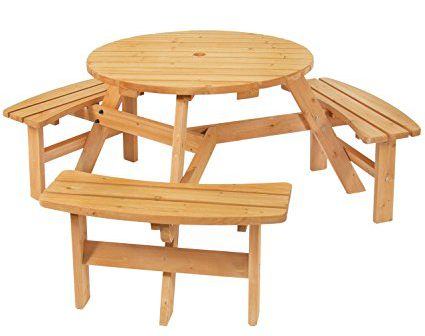 Company: Best Choice Products
Rating: 4.2 / 5 stars
Price: $
If you love the social aspect of a round picnic table but are a bit hesitant to spend the bigger bucks on a serious piece of craftsmanship like the one above, you'll likely be very happy with this option! Less than 1/4 of the price of the option above, but still with great reviews.
This wood picnic table is a slightly different design from the first, with its round table top as opposed to the octagonal shape. It has 3 benches, seating a total of 6 (max 500lbs). Note that 6 adults together are usually more than 500lbs, so we're assuming a few of those 6 are children.
This picnic table is one piece once it's put together. You can't remove or flip up the benches. There is a pre-drilled umbrella hole – if you look closely at the picture here, you'll see that you don't need to purchase an umbrella base if you'd like shade – you can rest your umbrella in the triangular "hole" created by the assembled frame.
Material: Wood (unspecified)
Size: Table Dimensions are 35″(dia) x 27"(H), Seat dimensions are 31″(L) x 16.5″(H)
Assembly: This picnic table comes partially assembled (the seat tops and table top are already put together). You'll need to assemble the rest using the pre-drilled holes and included hardware. According to reviewers, it's fairly easy to put together, and the predrilled holes line up nicely!


---
Best Wood Picnic Tables With Detached Benches of 2023
1. White Cedar Log Picnic Table with Detached Benches
Company: Furniture Barn USA
Rating: 5 / 5 stars
Price: $$$
This is a charming and rustic looking wooden picnic table that will be a gorgeous addition to your backyard, patio, or gazebo!  It's no slapped together piece… it's a made-to-order solid picnic table, proudly crafted by the Western Pennsylvania Amish… you know it'll be top quality and last for years and years to come!
You are able to custom order your table if you so desire – just make contact with the seller and they'll happily help you out! Unfortunately they have decided not to offer umbrella holes in their white cedar table tops any longer – apparently they were consistently frustrated with how the holes were finishing.
Size: Table is 72" long, 27" wide, 30" high. The 2 benches: 72" long, 12" wide, 16" high. You can comfortably seat 6 adults
Material: White Cedar, which is naturally resistant to decay, rot, insects, and weather damage! It is beautiful naturally unfinished, but you can stain it if you prefer that look. Left unfinished, it will turn to a silvery white/grey in time.
Assembly: This log picnic table comes partially assembled – it'd be good to count on about an hour to put the rest together. Hardware is included.
Note: Solid cedar wood often will "check" after being used in furniture building. "Checking" is a natural process that occurs when the logs slowly dry out and develop long cracks or splits in the sides. It does NOT affect the structure integrity of the logs. 


---
2. Bowman Wood Picnic Table Style Outdoor Dining Set with Bench Seats
Company: Christopher Knight Home
Rating: 4 / 5 stars
Price: $$$
Here's something a little different… a picnic table set that comes finished already, a beautiful rustic brown stain with a clear seal coat. The table tops are wood, the legs steel.
If you're eyeing this one for your backyard, head's up that this is a wooden picnic table probably best kept under a roof somewhere as heavy rain and sun will make the wood look weathered rather quickly. If your backyard space doesn't have a roof option, you can try either put a heavy duty weather sealer on it or purchase a picnic table cover.
Size: This table fits 3 adults very easily on each side. The table is 71″ L x 35.50″ W x 29″ H and the benches are 63″ L x 14.50″ W x 17.30″ H.  (Unfortunately the benches don't slide perfectly underneath the table for storage… they are just too long to fit!) 
Material: This picnic table has a wooden top on the table and benches. The wood is acacia hardwood, stained a medium brown. While the wood sort of looks rustic, it is finished completely, not rough or "splintery" at all.
The legs are not made of wood but of steel, painted a dark espresso color.  (Apparently the steel has held up fantastically against rust over time.) There are caps on the bottom of the legs to protect your patio floor against scratching, which is a nice extra.
Assembly: Apparently this is an incredibly easy table to assemble! The legs for both the table and benches are on hinges – all it takes is some bolts put in! One reviewer wrote: "The table legs are on hinges! About ten easy-to-install bolts and 10 minutes later, the table is fully functional. Same goes for the benches. The legs are on hinges, you just install the cross bar with two bolts, put a few bolts with washers in pre-drilled holes and you're done. All in all, the whole setup took about 20 minutes!"


---
3. Unfinished Amish-Made Pine Picnic Table with 2 Detached Benches
Company: Furniture Barn USA
Rating: 4.5 / 5 stars
Price: $$
This in a detached picnic table set that is simple, with clean lines. It's all you need in a picnic table for 4 people – it's perfect for meals, games, and visiting around it. While not overly fancy, with a beautiful stain it could really be a lovely piece of outdoor furniture!
Size: The table is 44″L x 27″W x 30″H and the benches are 44″L x 11″W x 17″H – the overall width is 60″.
Material: This picnic table with the detached benches is made of solid pine wood.
Assembly: Crafted by the Pennsylvania Amish, you can be reassured it's quality furniture! It will come boxed up, and the company website says that you'll need about 25 minutes of minor assembly work (other than staining if you so desire) before you're ready to enjoy your wood picnic table! (If you want an umbrella hole, they can do that for you – just let them know with your order!)


---
4. Giantex Beer Table and Bench Set: Folding Wooden Top Picnic Table

Company: Giantex
Rating: 4.3 / 5 stars
Price: $
This is another one of the best wood picnic tables that has only the table and bench tops that are wood. It's an excellent option for those who want a nice looking wood picnic table set – table and benches – but don't need a permanent option. They want to be able to fold it up, store it away, or move it where they want it with ease.
Size: This set doesn't take up a lot of space, which is great if that's what you need. Please note that it's significantly narrower than a traditional picnic table top, hence the "beer table" description. The size works a bit easier for serving snacks and appetizers with a few drinks than a full meal (apparently you can't even really put two dinner services nicely across from each other… it's that narrow!)
The table is 70" L x 18" W x 30″ H, and the benches are 70"L x 9″ W x 18″ H.   You can fit 6 comfortably at the table, but the weight capacity for each bench is 500lbs (so perhaps not all 6 can be adults!).
Material: The wooden table top and bench tops are made of high class Chinese fir wood, which is both solid and smooth. The wood is nicely sealed, so you shouldn't need to coat it before assembling. The frames are made of heavy loaded iron (painted black), making it a heavy and sturdy table when it's in use! It's not flimsy and won't tip over easily (despite the thin look of the legs).


---
Best Interchangeable Wood Picnic Tables / Garden Benches of 2023
1. Best Choice Products 2 in 1 Outdoor Interchangeable
Company: Best Choice Products
Rating: 4.3 / 5 stars
Price: $
If you have limited space in your backyard, you might find these interchangeable wood picnic tables the best thing ever! In one easy motion you can flip this light-weight wooden piece from a garden bench into a small picnic table and then back again! How great is that?
Size: When set up as a table, it's 57"L x 54"W x 30.25"H – it can seat 4 at the most (but more likely 3, as one bench is shorter than the other by a few inches).  When converted to a bench, it's 54"L x 27"W x 33"H – great for 2 individuals to share.
The maximum weight capacity is 380lbs for either set-up – so when they say  "4", we're guessing they don't mean 4 adults… although many reviewers do say 4 is just fine!
Material: This product is made of an unspecified unfinished wood – you'll want to seal it (and stain it if you like that look) if you want to leave it in a place unprotected from the elements and keep it looking great.
Assembly: This interchangeable wood picnic table / garden bench comes partially assembled – the planks are attached to the wood beams, but the the legs, seat, backrest and supports do require assembly together. Instructions and hardware are included, and apparently it's fairly simple to accomplish!
This picnic table/garden bench has a pre-cut 1.5″ diameter umbrella hole (standard size) that can be used when the piece is set up as a picnic table – you won't even notice it on the back of the "garden bench" though!
Basic summary: You'll love this picnic table/garden bench, especially if you're short on space and want both options!


---
2. Merry Garden Interchangeable Picnic Table and Garden Bench

Company: Merry Garden
Rating: 4.1 / 5 stars
Price: $
This is another option for an interchangeable wood picnic table and garden bench. Like the option above, it changes in one smooth, easy motion from bench to table and back again.
These interchangeable tables/benches are perfect for small backyards or patios – perfect for when you don't necessarily need a picnic table all the time, but like the idea of eating outdoors occasionally.
Size: 57″ L x 54″ W x 30″ H inches. It can handle 4 adults, with a weight capacity of 1000lbs!
Material:  This picnic table / garden bench is made from kiln-dried Asian fir wood with natural stain. You can alter the color stain by adding additional stain – it comes to you a light brown and you can select what color stain to put on it… or just use a clear sealant to maintain the unfinished look.
This wood picnic table/bench combo by Merry Gardens is a decent option, but between the two choices we've shown, we do recommend the former, simply due the customer ratings and a few too many comments on unfortunate quality issues they had. 80% of reviewers gave it a 4 or 5 star rating – which still makes us consider it a good product overall for the price point – especially as it comes with a 1 Year Limited Manufacturer Warranty.


---
Best Wood-Look Picnic Tables of 2023
1. Highwood Liberty Picnic Table, Mocha
Company: Highwood
Rating: 5 / 5 stars
Price: $$$
This beautiful mocha colored wood-look picnic table would be a beautiful and practical addition to you backyard space!
Size: 72" L x 69.5" W x 30″ H, and it officially seats 6 adults.
Material:  This wood-look picnic table is not made of wood, but of marine-grade recycled plastic. It's durable, extremely sturdy, fade-resistant, and unyielding to rot, deterioration, and splinters. This unique material repels dirt and grime and doesn't absorb moisture, so your clean-up will be a breeze – just hose it off or wipe it down!
Assembly: Some assembly is required – but customers on various websites where we found this product say it's very easy to complete, and that the directions are clear. Hardware is included.  A little note on delivery: this being a larger item, expect it to ship LTL as the boxed components are delivered on a pallet.
Here's something great… Highwood is so confident in their product that they offer a 12-year residential / 1-year commercial product warranty!
We think this is a great option for those who love the wood look for picnic tables, but don't love the maintenance and the deterioration over time. It's a stunning table! While it's reviewed and sold on various websites, Amazon does have the best price. This one is worth checking out.


---
2. White PVC Picnic Table

Company: Dura-Trel
Rating: 4.1 / 5 stars
Price: $$
Here's another great option for those of you who want a traditional looking picnic table, this time in a wood-look (with white paint) that is actually PVC. It's the classic one-piece design, and would be a lovely piece of yard furniture!
Size: This table is 72″ (6′) long, a standard length for a standard table that comfortably sits 6 adults. It's 60″ across (5′) from bench to bench.
Material: The table is made from PVC with solid wood inserts. PVC is easy to clean – just hose it or wipe it off if there are spills! PVC also is very weather-resistant. From snow to salty-air, from rain to heavy sun, it'll handle it all and still look great years later, according to customers!
If you're looking specifically for a picnic table with an umbrella hole, this one does not have one, nor can you add one due to the material.
Assembly: This picnic table does require some assembly. Hardware is included, as are pictorial instructions. Apparently you'll need approx. 2-3 hours to assemble it.
If you're wanting a durable, heavy, easy-to-clean, traditional "wood-look" (painted) picnic table, this one is a great option!


---
3. Lifetime Wood Grain Picnic Table and Benches, 6 Feet

Company: Lifetime Products
Rating: 4.0 / 5 stars
Price: $$
Lifetime picnic tables are simply excellent. This company is known products with exceptional quality, that do "last a lifetime". This picnic table is one worth considering if you're looking for a great wood-look picnic table.
These picnic tables are designed with "easy access" to the benches – you don't have to climb over anything but the frame bar on the ground to sit down. (Compare this to the benches in the above model, where you do have to climb over the frame.) This is nicer for seniors, and for people wearing dress clothes (ladies in skirts)… plus, it allows you to squish a few more kids onto the bench!
This picnic table also has the added bonus that you can fold it for storage when you aren't using it, or in the winter season. Plus, it DOES have an umbrella hole – with a cap to cover it up if you aren't using it!
Size: This picnic table is 72″ long (6′). Folds flat for easy storage and transportation; folded dimensions- 72″ l x 57″ w x 4″ H.
Material:  The picnic table top and benches are made of a high quality, high density Polyethylene, UV-protected and stain resistant.  They are extremely easy to clean – just wipe or hose off!  The color is brown with a wood-grain texture, and the folding frame is bronze 1-5/8″ round.
Lifetime Products offers a 2 year limited warranty on this product, so buy with peace of mind!


---
There's nothing that says "let's go sit outside for our meal" better than a picnic table. Having one in your own backyard or on your patio makes eating outside a simple and enjoyable thing to do.
Kid sized picnic tables are fun to have as well, but a classic wood picnic table never goes out of style, and if you care for it properly and regularly (if required based on your selection), you should be able to enjoy it for decades.
It's our hope that this overview of the best wood picnic tables of 222 has helped you make a selection that you'll be happy with and proud to show off to your family and friends. Time for a dinner party or outdoor picnic lunch, right?
As always, if you have any questions, comments, or feedback, feel free to comment below! We love hearing from you!