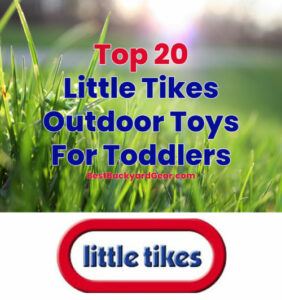 There are many popular, well loved Little Tikes outdoor toys for toddlers available today. The company, simply put, makes fantastic products that appeal to both parents and children alike. Many of the toys in their product line have tens of thousands of super positive reviews, catch a parent's eye due to how bright, colorful, and fun they look, and also bring up a feeling of "nostalgia" as they trigger memories of one's own childhood.
Below you'll find a collection of 20 of the most popular, best Little Tikes outdoor toys for toddlers. Have fun browsing and start planning for active, imaginative fun with your little ones! 
Little Tykes T-Ball Set
Would your little one want to be a big slugger like his daddy (or mommy)? Start them onto a love of the game while they are young and get them hitting homers of their own with this plastic T-Ball set. Comes with 5 plastic balls, a bat, an adjustable height "T", and a stand that doubles as a convenient storage kit. 
Age Range: 1-6   |   Price Range: Under $20
Little Tikes Easy Score Basketball Net
This toddler sized basketball net is a super fun toy that will lead to hours of fun "shooting hoops". The height adjusts from 2.5′ to 4′, the rim is oversized compared to the 3 junior sized "basketballs" that it comes with (which leads to greater success) and the base can be weighted down with sand or water.
Age Range: 1.5 – 4   |   Price Range: Under $40
Little Tikes Spiralin' Seas Waterpark Play Table
There are very few toddlers who can resist a water table like this one. Colorful, interesting, and just their size, this station will keep them busy for hours! It comes with a scoop and 5 "character balls" which kids can move throughout the table features. 
Age Range: 2 – 6   |   Price Range:  Under $50
Little Tikes Snug 'N Secure Swing 
Very few toddlers don't want to be pushed in a swing for hours upon end. If you yourself don't mind doing the pushing "for hours on end", you can't go wrong with this plastic bucket swing with adjustable straps. It can clip onto pretty much any swing set, supports up to 50lbs (can convert into a swing seat), and comes in a pink option as well.
Age Range: 9 m – 4 yrs   |   Price Range: Under $30
Little Tikes Toddler Slide (multiple options)
Little Tikes makes a variety of plastic indoor/outdoor slides for toddlers. This slide pictured is the "Little Tikes First Slide", and is 28″ tall. There are a variety of different sizes and colors, all of which fold up nicely for storage, and are sturdy and fun.
Age Range:  1.5 – 6    |   Price Range: approx. $40
Little Tikes Jump 'N Slide Inflatable Bouncer
If you want to encourage an active playtime (aka, if you want to tire out your little ones so they sleep really well), this inflatable bouncer – which comes with everything you need to keep it upright including a heavy duty blower, stakes, and a repair patch – is an absolutely awesome play center. This particular one is rated "best bounce house" on Amazon, and has nearly 10,000 positive reviews.
Age Range: 3 – 8   |   Price Range:  Under $200
Little Tikes Go and Grow Lil' Rollin' Giraffe
Isn't this one of the cutest ride on bike ever? Your toddler will love scooting around the patio or driveway on this rollin' giraffe. This three-wheeler has an oversized back wheel which gives it added stability, and an adjustable seat which lets your little one grow with his ride-on pal.


Age Range: 1 – 3   |    Price Range:  Under $40
Little Tikes Cozy Truck Ride On
Available in multiple colors, this is a perfect ride on toy for a toddler who loves trucks! With a removable floorboard and a drop down tailgate, it can adapt as your child grows in size and ability. Only the driver side door opens, and it's meant for just one child – but that one child is going to love it.
Age Range: 1.5 – 5   |   Price Range:  Under $100
Little Tikes Easy Store Jr. Picnic Table
Kids love to have a table their own size – this junior sized picnic table with umbrella is perfect for snacks, picnics, and even doing outdoor, messy crafts! Wipeable, collapsible, and resells well once your kids outgrow it. See other kids picnic tables.
Age Range:  1.5 – 5   |   Price Range:  Under $100
Little Tikes Cape Cottage Playhouse (Blue)
Available in a bunch of different color schemes, a playhouse like this turns into a central point for all sorts of imaginative play. With windows and doors that open and close, a working mail slot, and lots of cute details, this is an outdoor toy worth the investment. Floor plan is approx 3′ x 4′.
Age Range: 2 – 6   |   Price Range: $100 – $150
Little Tikes Tree House Swing Set
This swing set is a perfect fit for a young family that needs a
swing set for a small backyard
. With a climbing wall, climbable tree trunks, a lookout deck complete with steering wheel, slide, and spots for 2 swings (yes, you can swap in a baby swing), this swing set will entertain your kids VERY well until they are ready for something bigger.
Age Range: 
 2 – 6   |   
Price Range:
+/- $600
Little Tikes Cozy Coupe Car
Very few adults have never seen this car before (or one very similar to it), because it's one of Little Tikes' most popular and long lasting items. It now comes in a variety of colors, not just this classic red/yellow. The product image here shows the child's feet moving the car along, but it does come with a "floor" you can put in, for the really young ones out there… and Dad/Mom can push the car using the plastic handle on the top in the back.
Age Range:  1.5 – 5   |  Price Range: approx $60 
Little Tikes Perfect Fit 4-In-1 Trike (Teal)
Also available in blue or pink, this trike can grow and change along with your little one from a parent-pushed "stroller" style trike, to a toddler-peddled trike, with 2 steps in between! It has plenty of features that will appeal to parents (accessory tray, storage bucket, pedals that can be disengaged, an adjustable handle, etc). Pictured at Stage 3. 

Age Range:  9 m – 4   |   Price Range: approx $100
Little Tikes TotSports Easy Hit Golf Set
Would your little one get a kick out of golfing "just like Daddy" (or Mommy)? With a putter, a driver, 3 plastic golf balls, an all surface putting hole, and a sturdy, wheelable golf cart, this set will have your child developing his/her hand-eye coordination while getting introduced to the fun game of golf. 
Age Range: 1 – 5   |   Price Range: less than $25
Little Tikes Rocky Mountain River Race Inflatable Slide Bouncer
On a hot day, your little ones won't be able to resist this bouncer! Inflate, hook up your garden hose, and let the fun begin! With a climbing wall, two water slides, and a splash pool base, this will attract more than just your little toddlers. But your little toddlers will be ecstatic when they see this set up in their back yard, no doubt. Max combined weight: 350lbs
Age Range: 3 – 10   |    Price Range: approx $500
Little Tikes Push and Ride Racer
This riding toy doubles as a walking push toy. Built with the high quality you expect from Little Tikes, this sturdy riding toy will last well beyond just one child. 
The low seat makes it easy to climb on and off, and the handle is just the right size for a little one learning to walk.
Age Range: 9 m – 3   |   Price Range: approx $30
Little Tikes Hide And Seek Climber
The #1 bestseller in the "playground climbers" category, this toddler sized play center can be thoroughly enjoyed outdoors, but also brought into the playroom when the weather gets cold. It comes with an easy rock climbing wall, gentle slide, peek through windows, a "tunnel" underneath to climb through or turn into a fort. Super fun, super popular gift for toddlers.
Age Range: 1 – 4   |   Price Range:  under $80
Little Tikes Lil' Wagon
A toddler sized wagon is perfect for pulling stuffies, toys, and dolls around. It's also ideal for making chores or trips to the park even more fun! Lightweight, able to move smoothly over both indoor and outdoor surfaces with very little work, and with a movable handle, your toddler will claim this as his/her own and have lots of fun with it.
Age Range: 1.5 – 4   |   Price Range: under $30
Little Tikes Easy Score Soccer Set
All you need to introduce your small child to the game of soccer is here. A bright toddler sized soccer goal with netting attached, a small (lightweight/easy to kick) soccer ball and a pump. Kicking a ball is a tricky concept for many little kids, but once they get it, they LOVE it!! And when they "score" on you, the pride on their faces will be priceless. (
More backyard soccer goals
.)
Age Range: 2+   |    Price Range:  under $30
Little Tikes T-Rex Truck
If you were out and about and saw a kid in this, would you not think it was the BEST thing you'd seen today? The smile on that child's face would be ridiculously large and super proud of their cool ride. 
Note the push handle… this can transition between a kid-powered ride on and a parent push/pull wagon. 
Age Range:  2 – 5   |   Price Range: approx $100
Little Tikes Magical Unicorn Carriage
Your princess loving, unicorn loving young one would be gasping in delight if given one of these adorable toys as her own! 
The unicorn horn actually lights up, the driver door opens, there's a water bottle holder, and a floor that can be removed to turn this carriage from a parent pushed wagon to a child-powered ride on. 
Age Range:  2 – 5   |   Price Range: approx $140
And there you have it. 20 of the most popular, best Little Tikes outdoor toys for toddlers available today. No doubt the designers over at Little Tikes are already working on the next cool outdoor toy, and no doubt your child will love it, but in this list of 20 awesome toys, I'm sure you can find at least a few that would fit your price range and your child's interests. 
Have I missed any favorite Little Tikes outdoor toys that should have been on this list? Let me know in the comments below and I'll be sure to add them. 
Nate.