If you're tired of cleaning your pool floor and walls yourself, if the idea of a robot doing the work FOR you is 
more than just a little appealing
, you need one of the 
best robotic pool cleaners for inground pools
 working for you. They are pretty much the greatest thing since sliced bread.
There are many robotic pool cleaners on the market, in a huge range of prices, although none of them are what anyone would call a steal. Which ones are actually worth the price tag? I can help.
Today we're looking at the top rated pool robots of 2023 to help you chose a robotic pool cleaner for your inground pool that you'll love.  The 8 we're reviewing are in the chart – click to jump to a specific one.
The 8 Best Pool Robots Of 2023 Quicklist
Best Robotic Pool Cleaners For Inground Pools 2023
(As an Amazon Associate I may earn a small commission from qualifying purchases made through links on this page, at no additional cost to you. Full Disclosure.)
---
 1. Dolphin Nautilus CC Plus Robotic Pool Cleaner

(Best Overall)
Company: Dolphin
Rating: 4.7 / 5 stars
Pool Size: Up to 50 Feet
Price: $$
The Dolphin Nautilus is a robotic pool cleaner that a LOT of people love and rate as the best option for their inground pool. It's currently Amazon's "Best Selling Robotic Pool Cleaner", and has the highest customer rating of any of the models I've studied.
Here are some top features of the Dolphin Nautilus Plus:
It includes CleverClean Technology: most robotic pool cleaners move in random patterns covering the pool surface, but the Nautilus scans the size and shape and determines the most efficient path around your pool ("learns your pool"), and does 3-point turns instead of soft turns, ensuring it truly "gets" every area.
You can set a weekly timer and have it automatically clean your pool when it works for you! With a machine like this one, you can head out on holidays and not have to return to a dirty pool that needs work! You can simply select what works best for your pool – an automatic "every day", "every other day", or "every 3rd day" cleaning cycle.
It has an extra-large top load filter system – you'll love this as it stops the gunk from your pool escaping back into the water as you remove the unit. You simple slide the large filters out, rinse and reload, and that's it!
It runs with 2 full sets of filters (fine and ultra fine) and dual scrubbing brushes meaning your pool water will be super clean, and your floor sparkling!
It will scrub, vacuum and filter all pool surfaces (designed for walls, floor, and waterline) in just 2 hours, which is compared to other robots, quite quick!
You won't have to untangle or unkink the (60 ft) cord over and over again as the Nautilus has a patented swivel cable that rotates 360 degrees.
The Nautilus CC Plus works completely independently from your pool's pump and filtration system, meaning it will be a fraction of the energy (and cost) to run it! And because it also filters the water, your pool filter won't be as clogged!
It comes with a 2 year warranty (parts and labor) – and also knowing that should parts be needed after that, they are easily available and at very affordable cost.)
Check out this video of the Nautilus Plus in action… it's pretty amazing:
So, overall, the Dolphin Nautilus CC Plus is a robotic pool cleaner that's a cut above the others… and priced extremely well. It's my top pick by far. Best Value, Best Rating.  Check out what others are saying about it and see if it's for you too by clicking here:


---
2. The 2018 (prior model) Dolphin Premier Robotic In-Ground Pool Cleaner
Company: Dolphin
Rating: 4.2 / 5 stars
Pool Size: Up to approx. 50 ft (60 ft cable)
Price: $$$$
The Dolphin Premier is the "top of the line" robotic pool cleaner for Dolphin/Maytronics. It has all sorts of bells and whistles, so if you like that sort of thing and want a "premier", high end robot, this one may really interest you. If not, feel free to skip to the next.
The most impressive thing about it, I think, is that it's a multi-media device, meaning you get to chose which type of media the robot will use on a particular clean, for your particular pool, during a particular time of year. You can select and use micro-filter cartridges (dust, algae), standard cartridges (regular clean) or an oversized debris filter bag (fall or spring cleanup). All 3 options come with it, and you also can add a 4th by purchasing disposable filter bags that'll make cleanup a snap… they will also work with this robot.
Here are some other top features of the Dolphin Premier:
It uses m

icroprocessor controlled Smart-Nav™ software that scans your pool to determine the shape and size, and then it choses the best path for the best and quickest clean.

You get Dolphin's patented underwater 360 degree robotic swivel cable that eliminates tangles and the frustration you get when you notice your robot is all tangled up.
The motor is highly efficient and state-of-the-art (commercial grade DC motor that reduces energy use by up to 87%)! It costs you only about 5 cents an HOUR to run, so you can feel at ease programming it to run whenever you feel there's a need.
There are dual scrubbing brushes and a vacuum to quickly suck away the guck scrubbed up, leaving you with less to do.
This robot is a high end model, one with a price tag that perhaps not everyone will be able to handle. Is it worth it? I think so, and the reviews are very good for this one (click through to see for yourself what people are saying). With the accompanying 3 year warranty, you can feel pretty safe knowing your investment will be worth it. But if you're wanting something a bit cheaper, there are plenty of other options.


---
3. Solar-Breeze NX2 Robotic Solar Pool Cleaner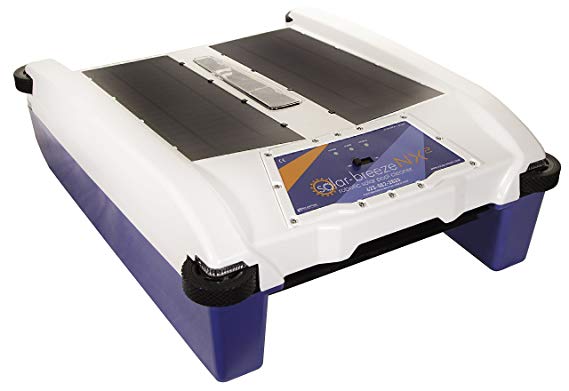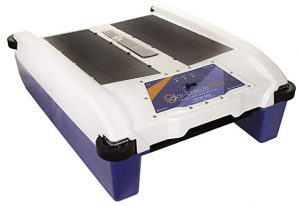 Company: Solar-Breeze
Rating: 4.3 / 5 stars
Pool Size: Unlimited
Price: $
This robotic pool cleaner is a bit different than the first two we've looked at for a few reasons. First, it's a top-skimmer, not a bottom cleaner. This robot floats around the top of your pool, sucking up all of the debris floating on the top of your pool.   No more standing beside the pool, skimming the surface slowly with a net, scoop by scoop.
Secondly, it's SOLAR POWERED. It does all of the skimming, filtering, and sanitizing (with the on-board chlorine try that holds two 3-inch trichloro tablets) using only FREE solar energy, and it needs no cords or hoses. The solar charge is strong enough for it to work through the night, and it's nice and quiet! And yes, it does also run on cloudy days… just not as long into the night.
Other key features you'll want to know about:
There are rotating wheels on the front of the robot that propel it through the water and move it around. If you are worried about it getting stuck on something or tucked in a corner in your pool, don't worry – it will back itself out eventually once it senses no more movement. Reviewers say this new model (the NX2) seldom gets stuck.
The Solar-Breeze is good at handling dog hair, helicopters, dust, leaves, pollen, and more
The filter basket is easy to remove, empty/clean, and replace.
Using a top skimmer like this extends the life of your expensive pool pump too – it can reduce it's run time by up to 2 thirds!
Overall, a robotic pool cleaner like the Solar Breeze is great for people who want as close to hassle-free pool maintenance as possible. Pools will never be totally hands off (unless you hire someone), but this can help you get a lot closer to a clean pool whenever you want to jump in! And if you combined with this a bottom cleaning robot, you'd be singing.


---
4. Polaris F9550 Sport Robotic In-Ground Pool Cleaner
Company: Zodiac Polaris
Rating: 4.0 / 5 stars
Pool Size: Up to 60 ft (cable is 70 ft long)
Price: $$$
If you have a large or irregular shaped inground pool, you may want to take a close look at this robot. It's a pretty incredible 4-wheel drive robotic cleaner that has a super long cable.
Here are some top features:
There is a 7-day programmable timer so you can keep your pool in a maintenance schedule even if you aren't physically present.
It also lets you select from pre-programmed cleaning patterns (floor, floor & wall, or waterline only), so you have control over what areas get the strongest focus. (Reviewers do say that stairs are a challenge for this robot, so if you have stairs or ledges you want it to clean, perhaps keep looking.)
It comes with a hand-held remote control so you can direct it from your deck chair if you want it to go into a certain area of the pool, or you can use it to turn the robot around if the cord gets tangled.
It uses something called Vortex Vacuum Techonology, which lets it suck up bigger debris while maintaining suction, and has a forceful rear water propulsion system that lets it clean under your stairs and get in tight corners (something other pool cleaning robots have trouble with).
The Polaris 9550 comes with a high quality caddy for easy transporting of the robot.

You'll find it very easy to remove and clean the top-loading filter (no messy bags to deal with).
The Polaris 9550 is another inground pool robotic cleaner that's a little on the pricey side. Nothing too crazy but a little more expensive than other products on this list. If you have just a small pool, you may not need a model this complex, but then again, that remote is pretty appealing, isn't it?


---
5. Hayward RC9740 SharkVac Automatic Robotic Pool Cleaner
Company: Hayward
Rating: 3.9 / 5 stars
Pool Size: Up to 40 ft (50 ft cord)
Price: $
The Hayward SharkVac is a robotic pool cleaner that has been around a while, but this particular model (the RC9740) has been recently updated and is the newest in the TigerShark line. This is also a more economical option for you than some of the above, but it still packs a punch.
Here are some of its top features:
It's very easy to use – just plug it into your power source, put it in your pool, and watch the cleaning begin as it follows the preset pattern (no scanning technology in this one).
Cleaning after the cycle is easy: just remove the robot from the pool and clean out the filters (the fine filters are top loading – so you aren't dealing with messy bags).
It's cheap to run – the energy it uses (off of your house, not your pool power) is comparable to that of a standard lightbulb!
The SharkVac is compatible with all types of pool surfaces, so it's good for vinyl, fiberglass, concrete, and more!
This robot CAN do walls, according to many reviewers, but it does mainly focus on the floors (the specs even state that it's floor specific, so perhaps don't ASSUME it'll do yours well, just a heads up).
Two "CONs" several reviewers note that's worth passing on to you is that the robot is very heavy, so when removing from the pool, often some of the smaller debris falls back into the water as it's a tricky lift. Also, it's not particularly effective on algae removal.
The SharkVac is available in standard size or XL, and with or without a caddy, so if you're interested in this one, you can select what works best for your budget and needs.


---
6. Pentair 360032 Kreepy Krauly Prowler 830 Robotic Inground Pool Cleaner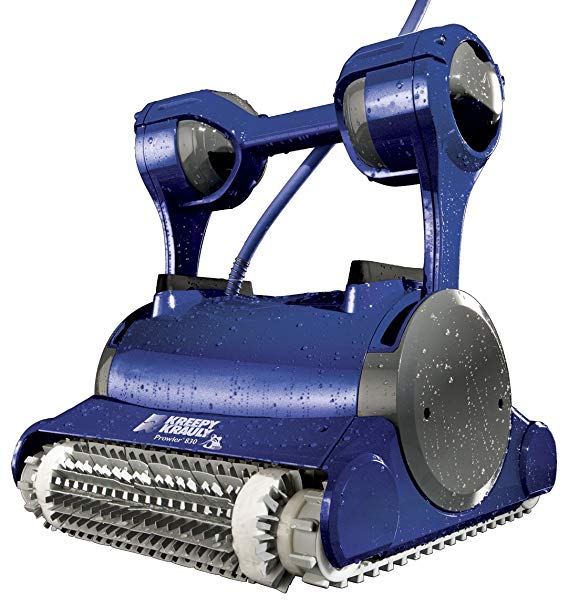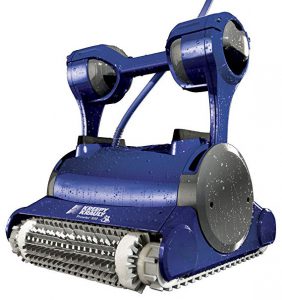 Company: Pentair
Rating: 3.9 / 5 stars
Pool Size: Up to 50 ft (60 ft cord)
Price: $$$
Pentair is another brand name in the robotic pool cleaner world that is quite well known, and this newly redesigned Kreepy Krauly Prowler 830 is their model with the highest current rating.
Here are some features you'll like:
It has a wireless remote so you can easily control it, and it can be scheduled for cleaning at specific times, not just when you are there to physically turn it on (this is great as you can set it to work at night and have a clean pool when you get up, or if you're out of town for a few days).
It has a handy a

uto-reverse feature that helps prevent hang-ups in corners and by steps and ladders

It's cheap to run – Pentair states that it costs less than $0.20 to run it daily, and you're also saving money as it minimizes the use of your primary filtration system.
It comes with a caddy for easy handling, which is good, because it's not a light machine (45lbs)
There's a "full cartridge indicator" that tells you when the filter needs cleaning, taking the guess work out of the not-so-fun, but not-all-that-difficult filter cleaning job.
Overall, this is a solid robot. Yes, not perfect, but Pentair definitely has its fans and loyal customers, and while this robot isn't loved by all, it does have a large base of customers who are very happy with it (over 60% of reviewers gave it full 5 stars on Amazon, which is pretty decent).


7. Hayward RC9990GR TigerShark QC Automatic Robotic Pool Cleaner with Quick Clean Technology
Company: Hayward
Rating: 3.9 / 5 stars
Pool Size: up to 20′ x 40′
Price: $$
There are several different TigerShark models by Hayward, but I think the TigerShark QC is the one we should be looking at here in our "Best Robotic Pool Cleaners For Inground Pools 2019" review.
The QC stands for Quick Clean Technology, and this is a feature that makes it stand out from the rest… you can do a super-quick 90 minute cleaning cycle, or the standard 2.5-3 hour full clean of the pool floor, walls, coves and waterline (2.5-3 is an industry norm). You'll love this high speed option during busy swimming seasons when your pool is the hot spot from early morning to late at night. A quick clean mid day may be just what you want.
If that's not appealing enough, here are more features that make it a good option:
The high quality, reinforced polyester filter cartridges are easy to clean; just remove and rinse with a garden hose. Older models had filters that were more challenging to clean, but the TigerShark QC we're looking at here has been improved in this area.
It has an on-board pump that gives it intense vacuum power, and an efficient 24-volt motor that is cheap to run.
The TigerShark QC runs separately from the pool's filtration system, so you'll have less water used for backwashing.
You don't need to supply any extra hoses, hookups, or pumps… just let it clean!
The TigerShark QC is covered by a 3 year warranty on parts and labour, so you can feel confident that Hayward, a company that's been around a long time, stands behind their products.
One thing to note: It's very heavy… if you have back issues, you might want to consider a lighter model (perhaps the Dolphin Triton, reviewed next), or purchase the caddy to go with it.  It's a good robot, priced mid-range. If you can happen upon a decent sale, I'd say go for it.


---
8. Dolphin Triton Robotic Pool Cleaner with PowerStream
Company: Dolphin
Rating: 3.8 / 5 stars
Pool Size:
Price: $$$
Here we have another robotic pool cleaner by Dolphin, and this one, the Triton PS, isn't quite as high performing as the previous two you've seen. It's still quality, though, and one I really think some of you will appreciate – a lot.
This robot is designed to be lightweight. In fact, Dolphin claims it's 50% lighter than the average robot. Without water, most robots weigh over 40lbs, so that's a big deal. If you have back issues or trouble lifting heavier objects for one reason or another but need a robotic pool cleaner, the Triton Plus is possibly your answer. Besides being of lightweight design, it has a fast water release system that removes excess water before you lift it.
If that's not enough to love:
The Triton Plus has Power Stream (PS) technology, which give it a stronger than average grip on walls and the waterline, so your whole pool surface is addressed.
Dolphin pool cleaners use Smart Nav technology as well, scanning and navigating around your pool instead of swirling in random patterns.
It comes with 2 filters: fine and ultra-fine. There's a large filter capacity so your robot can collect lots of debris and dirt before it needs to be cleaned/emptied, and the filters are easy for you to access (from the top – you just lift the large, hinged lid and there they are), easy to clean, and easy to reload.
You can program you Triton Plus with a weekly timer to run the 2 hour cycle when desired, even if you're away.
There are dual scrubbing brushes that work together for a deep and powerful clean, and the front large active brush actually spins at 2x the speed of the robot itself.
It has anti-tangling algorithms built right into the software so that you won't have to deal with cords getting angled during the cleaning cycle.
I really like this model, especially as it's easy to lift and has super cleaning power. One slight con is that the filters are basket style, but that's pretty minor as they are still easy to clean. Dolphin makes really good robots, and stands behind their products (this one has a 2 year warranty), so it's a pretty safe choice too.


Enjoy Your CLEAN Pool This Summer With One Of The Best Robotic Pool Cleaners of 2023!
Having a pool is a real treat, but it definitely comes with a fair bit of work that can be daunting and exhausting. Yes, swimming in your backyard pool is wonderful, but all of the cleaning required to keep that water clean and beautiful can make some people want to simply call up the "pool guys" and fork over the money required to have someone do it for them.
If you have one of the 8 best robotic pool cleaners for inground pools reviewed here today, you can save yourself both time and money… and you'll be amazed at what technology can do for you and your pool.
I hope you found a robot that appeals to you – if you aren't sure, I'd go with the Dolphin Nautilus CC Plus myself.
Happy swimming!