Looking for the perfect free standing hammock for your backyard, patio, or cottage? We've sorted through the hundreds of options and have come up with the 15 best free standing hammocks of 2023 to share with our readers.  Whether you're looking for a 2 person hammock, a hammock swing, or a camping hammock, I'll help you pick out the perfect one to suit your specific needs and desires.
So sit back, grab a cold drink, and let's get started!
Best Free Standing Hammocks: Overview Chart
Click the pics to see specific product reviews. Or, scroll down to see the product reviews of all of these Best Free Standing Hammocks of 2023 in order of recommendation.
Before you purchase just any free standing hammock though, it'd be worth it to cover a few basic points so that you can know you'll be happy with your choice. 
When doing product research for this guide, I discovered that many of the people who were not fully happy with their purchases were describing issues easily avoidable had they known what to look for initially. 
Best Free Standing Double Hammocks [Updated for 2023]
(As an Amazon Associate I may earn a small commission from qualifying purchases made through links on this page, at no additional cost to you. Full Disclosure.)
1. Vivere Double Hammock with Space Saving Steel Stand
This Brazilian style hammock is our top recommended free standing hammock for 2023. Why? There are a number of reasons.
1) Great Options: There are many options to personalize your hammock to your desires, including 3 different materials: 100% Brazilian Cotton (vegetable dyed, tight weave, soft and breathable), Polyester (fade-resistant, soft and durable, resists mildew and rot), or Sunbrella (weather-resistant, mildew and chemical resistant, stain-resistant, soft as cotton). All of these options have equally positive reviews. There are also different colour frames (white, black, bronze rubbed).
2) Actual Customer Reviews. When people take the time to write in to sing the praises of this hammock… over 36,000 people, and the overall rating remains really HIGH (4.8/5 stars is awesome), you know they've mastered free standing hammocks in this product.
3) Size of Frame: The frame is 9 feet long (4 feet across at the widest point of the stand) – taking up much less space than a traditional free standing hammock with the spreader bar style (12-15 feet required). This makes it perfect for decks, balconies, or smaller patios. Yet, the smaller frame does not mean weaker or less stable – it's completely sturdy per reviewers. The frame is made of heavy-duty steel with plastic caps on the tubing ends.
4) Assembly and Transport: This hammock is easy to assemble and dissemble, no tools required. The whole thing, hammock and frame together, weighs approx. 30lbs, and when in the travel bag, is roughly the size of a collapsible camping chair.
4) Warranty: The company offers a 12 month warranty on all materials and workmanship.
 2. Sorbus Hammock with Spreader Bars and Detachable Pillow, Heavy Duty

Company: Sorbus
Rating: 4.7 / 5 stars
Price: $$
Carrying Case Included? No
Weight Capacity: 450lbs
Frame Size: 12 feet, 3 inches long x 5 feet across
Colors: Multiple available ("Green/Blue" pictured here)
If you prefer the spreader-bar style hammock to the Brazilian (see the Vivere above), this 2 person free standing hammock by Sorbus is our recommended product for you. Let's take a look.
This is a sturdy free standing hammock, with a very comfortable, wide hammock bed, a detaching hammock pillow for extra comfort, and 4 great color options. The bed material is made of a water-resistant (but not water-proof) quilted heavy duty cotton, with a UV-resistant dye so the colors won't fade over time. It is attached to the spreader bar with sturdy ropes.
This hammock stand has a larger footprint than the first we viewed but if you have the space, you'll love it. Set up the stand (takes just MINUTES – the bars have easy snap button mechanisms), attach the hammock using the simple hooks, and climb on! You'll want to be sure to unhook and bring in your hammock when it rains, as reviewers stay it'll take a few days to dry completely if it gets soaked.
This isn't the most portable free standing hammock – it's approx. 45lbs total, and does not come with a carrying bag. But if you aren't looking for portable, this is a top quality, very highly reviewed option for your backyard, patio, or deck!


---
3. Island Bay 2 Person Free Standing Hammock
Company: Island Bay
Rating: 4.6 / 5 stars
Price: $$$
Carrying Case Included? No
Weight Capacity: 450lb
Frame: 13 feet long
Colors: Only as pictured here ("Sienna").
This 2 person hammock is also a great choice for your backyard relaxation.
Frame: One of the things we like about this hammock is the frame quality. It's serious stuff – made of heavy-duty 14-guage steel, and is coated with a weather-resistant powder-coating to protect against rust, and comes with plastic protective end caps. It's not overly heavy (can be pulled across the grass to reposition fairly easily), but yet is completely sturdy. This hammock is also the only double hammock in our "Best Of" list that has a light colored frame.
Size: At 13 feet long, and with a bed that is 54 x 77 inches this has a large footprint (remember, most spreader-bar hammocks require a longer frame to get the proper tension).
Hammock: The material for both the bed and the accompanying detachable pillow is soft and quilted (not at all "slippery", per reviewers), and is made of 100% cotton overlaying resin treated 100% polyester fiber batting.
We're pretty certain you'll be more than happy with this 2 person hammock set up in your backyard paradise! But a tiny word of advice… hook the hammock in at least half way up or you'll may find yourself lower to the ground than you'd like!


---
4.
SUNCREAT Hammock with Stand 2 Person Heavy Duty, Freestanding Hammock with Spreader Bar and Pillow
Company: SUNCREAT
Rating: 4.6 / 5 stars
Price: $$
Carrying Case Included? No
Weight Capacity: 475lb
Frame Length: 146″  (12 foot stand)
Colors: Multiple options ("Green Stripes" pictured here)
This free standing hammock by Suncreat is also high on the "best hammocks" list – it's well reviewed and highly rated by hundreds of buyers! Here are some notes on it that you should know if you're considering this one:
Weight: The Suncreat is another heavy duty option, able to hold nice, high total weight (475lbs max). The solid spreader bar helps to distribute the weight of you and whoever you'd like to share this comfy hammock with nicely.
The frame: As for the footprint it needs, be aware that it's rather long at just over 12 feet, which is normal for spreader-bar style hammocks. The frame is built of sturdy steel, and painted/ powder-coating for rust-resistance. The spreader bars, however, are made of wood, with counter-sunk holes for the rope – this causes less friction.
The hammock: This 2 person free standing hammock pad is made of 2 layers of quilted polyester, making it nice and comfy. It also comes with a polyethylene stuffed head pillow that stretches wide enough for two to share. You'll also like that you can adjust the height of the hammock on both the head and foot ends.
Extras: Another unique feature of this luxury set is that it's an extra-wide hammock. It's width comes in at 55″ across, which is significantly more than many double hammocks (that come in closer to 40″+).  For those of you with a few little ones around, there will be plenty of room for all!


---
5. Sorbus Double Hammock with Steel Stand Two Person Adjustable Hammock Bed
Company: Sorbus
Rating: 4.4 / 5 stars
Price: $
Carrying Case Included? Yes
Weight Capacity: 450lbs
Frame Size: 110" long by x 48" wide
Colors: 3 options available (Blue/Green pictured here)
This Sorbus double hammock is a Brazilian style hammock, which means there is no spreader bar and the hammock will sort of cocoon around you. (Tip: If you know you don't enjoy that feeling, you can fold the material double, fold the edges over… or go with a spreader bar hammock from the get-go – like #2 listed here, also by Sorbus.)
The Hammock: Reviewers say that the fabric is like a soft, dense canvas, yet somewhat stretchy (technically, it's "acrylic coated/weather resistant cotton"). It's a very large hammock compared to some of the others, measuring 60″ wide, and 86″ long. And, it comes with 3 color options, so you can select what you like best.
The Stand: The stand is made of powder-coated steel with plastic end caps, and has five adjustable height options so you can find exactly what works best for you. (Some product reviewers for this hammock suggest starting at the top settings and working your way down to discover your preference: the highest setting is approximately sitting height, while the lowest setting takes you just a few inches off the ground – both of which may be just right for some.)
The Sorbus 2 Person Brazilian style hammock is a solid buy – especially for the fantastic price!


---
6. SueSport Double Hammock with Space Saving Adjustable Steel Stand
Company: SueSport
Rating: 4.4 /5 stars
Price: $
Carrying Case Included? Yes
Weight Capacity: 450lbs
Frame Size: 110″ long x 48″ wide
Colors: 2 options ("Tropical" pictured here)
This is another Brazilian style hammock that offers a great product for a surprisingly low price!  It's designed to be portable (comes with a sturdy carrying case, and is only just over 30lbs when packed up), so if you're looking for a free standing hammock that you can take with you camping, to the cottage, or any other destination, this a great choice!
The SueSport double hammock frame design is space efficient, as are many of the Brazilian style hammocks. The stand is made of weather-resin steel, powder-coated, and rust-resistant. It's footprint is just over 9 feet x 4 feet – which is definitely smaller than the spreader-bar hammocks which often hit the 12-15 feet mark – and it can be assembled "in 5 minutes, with no tools" (paraphrased from several reviewers at Amazon).
The hammock itself is made of 35% cotton, 65% polyester. According to reviewers, it's a thick weave, yet soft and breathable, but can get a bit warm if you're sunbathing on it in direct sunlight.


---
7. Best Choice Products Deluxe Pillow Hammock With Stand
Company: Best Choice Products
Rating: 4.4 / 5 stars
Price: $
Carrying Case Included? No
Weight Capacity: 500lbs
Frame Size: 88″ long x 35″ wide
Colors: As pictured (green, with grid pattern pillow and accessories bag)
This "4 point hammock" is a deluxe double hammock that is a bit different from the spreader-bar OR Brazilian style hammocks. It's more of a hammock bed. It will look great and be the perfect place to stretch out in the shade (or sun if that's your thing) in your backyard oasis!
This hammock comes with the detachable pillow and accessories bag so you can easily store your books, electronics, snacks, or whatever else you need for a relaxing afternoon outside. The material is a soft polyester, has a "quilted" feel to it, and you'd be advised not to let it get too wet in a rain storm or it'll take a few days to fully dry (most people remove it from the frame and bring it inside when it looks like rain to best preserve it).
One of the negative aspects of this unique hammock bed is that you can't find a replacement hammock very easily at all if for some reason you want one. Although the material is very durable and should last for years, if your dog happens to rip it up, you may have to replace the whole thing at this point. It's a relatively new design, so hopefully manufacturers are coming up with something soon!


---
8. LazyDaze Hammocks 12 Feet Wood Arc Hammock Stand And Spreader Bar Hammock Combo

Company: LazyDaze Hammocks
Rating: 4.4 / 5 stars
Price: $$$
Carrying Case Included? No
Weight Capacity: 275lbs
Frame Size: 12′ long x 3'9″ wide
Colors: One color per fabric option ("Canvas Brass" Cotton shown)
This wooden frame hammock by LazyDaze Hammocks certainly has that "wow-factor" if that's what you're looking for! Imagine how great it would look beside your pool!
The Frame: This is the only wooden framed free standing hammock that made our "best of" list. It's made of Russian pine, coated with varnish. Some reviewers went ahead and coated it again with one or two coats of spar urethane to protect it even better from the elements, but you don't have to – it comes fully coated already. This hammock frame is about twice as heavy as many of the steel frames – with hammock it's over 60lbs.
Hammock Materials: This LazyDaze wooden hammock offers two options for hammock materials: 100% cotton (thick weave, almost a canvas feel), or Sunbrella. The Sunbrella is a more expensive material than the cotton but more durable and water-resistant/mildew-resistant than the Cotton option. The Sunbrella option comes with a matching detachable hammock pillow for your added comfort.
Overall: For looks, this one is our personal favorite. Unfortunately, there are 2 strikes against it – your circumstances will be the judge of if they are important or not: 1) The maximum weight capacity being only 275lbs means that two average weight adults won't be able to enjoy this hammock together. 2) The fact that it's so heavy and needs to be bolted together to set up (not using snap-together mechanisms like the steel frames) means it's not portable for those who like to bring it along to a new location on occasion. Some things to consider.


---
9. Sunnydaze Awning Stripe Cotton Rope Hammock
Company: Sunnydaze Décor
Rating: 4.3 / 5 stars
Price: $$
Carrying Case Included? No
Weight Capacity: 275lbs
Frame Size: 12 feet long
Colors: Multiple options available ("Awning Stripe" in picture)
This cotton rope Spreader Bar style hammock is another excellent product. It comes with the frame, the rope hammock, fabric pad, and detachable pillow. You can actually use this hammock without the fabric pad if you prefer the feel of the natural soft ropes! (If you do want to use the comfortable fabric pad, be sure to tie all 6 ties, and tie loosely so that it doesn't tear off with the tension from your weight.)
The frame is made of coated steel, and is designed to be assembled in less than 10 minutes, without the use of any tools – other than your strength… several reviewers say it was hard to initially stretch the hammock from end to end! The frame is large – 12 feet long!
This is another free standing hammock that has a weight capacity of "only" 275lbs, so again, heads up if you're looking for a hammock that two adults of "regular weight" can enjoy together.
The fabric pad and pillow are washable, and made of a weather-resistant and fade-resistant polyester. You can pick from 9 different fabric designs at this point in time, so you can match it to your backyard décor theme, or just go with the one you think is the nicest. (Fun tip: For those who like to make their backyard and patio gear match, Sunnydaze Décor also sells matching patio umbrellas in many of the patterns offered for the hammocks.)


---
10. Best Choice Products Double Hammock with Space Saving Steel Stand
Company: Best Choice Products
Rating: 4.3 / 5 stars
Price: $
Carrying Case Included? Yes
Weight Capacity: 450lbs
Frame Size: 115″ long
Hammock Bed Size:  ( hook to hook)
Colors: Multiple colors available ("Red Stripe" shown)
This free standing Brazilian style hammock by Best Choice Products is a great choice if you're looking to spend the minimum required to still get a great portable hammock.
The hammock: The material for the hammock is a strong but soft 100% cotton. It's washable, but you'd be advised not to dry it in a machine, but rather hang to dry (no shrinking that way). The size is actually "double wide" – probably the widest of all of the hammocks featured here at 57″ across.  Great for 2 people!
The frame: Like the others, it's made of powder-coated steel. It's just under 12 feet long and 4 feet wide.
Some of the color options for this hammock have an accessory tray attached for your use – it features 2 cup holders, a phone holder, and a slot for magazines, books, or a tablet. Can you imagine just how easy it would be to vanish an afternoon or two or three swaying away in this hammock?


---
Best Free Standing Hammock Chairs of 2023
1. Sunnydaze Hanging Caribbean Extra Large Hammock Chair with Adjustable Stand
Company: Sunnydaze Décor
Rating: 4.8 / 5 stars
Price: $$$
Carrying Case Included? No
Weight Capacity: 300lbs
Frame Size: 93 x 36 x 48 inches
Colors: Multiple options available ("Red" shown here)
A hanging free standing hammock chair would be a wonderful addition to a back patio or lake side dock, don't you think? This particular one is the top rated product we've found.
You can both sit up and recline in this woven chair made of 1/8″ thick soft-spun polyester rope. The spreader bar ensures that your weight will balance in the middle of the seat, which comes in at approx. 30 – 40 inch wide.  If you're wanting something with a tad more structure, you can add a high backed patio chair cushion – it will easily fit and give you more "form". Most people however, love the lazy feel of the rope hammock chair.
A quick heads up to parents: If you're considering getting this hammock chair for your children's use, note that although it looks like a swing, it is not meant to be one. It's very stable on a flat surface and will sway with proper use, but swinging will compromise the stability.


---
2. Sorbus Hanging Rope Hammock Chair Swing Seat 
Company: Sorbus
Rating: 4.4 / 5 stars
Price: $$
Carrying Case Included? No
Weight Capacity: 330lbs
Frame Height: adjustable from 73 – 93″
Colors: Blue/Green
This metal stand and hammock chair set is a great option if you're looking for a stylish hammock that has an accompanying pad in the chair.
The seat is easily large enough for adults, approx. size 17″ x 17″. The cushion seat padding is not rigid, but does provide some back support and structure (the sides don't fold fully in on you). The seat is made of a sturdy cotton and polyester blend, and can be slipped off the wooden bar and machine washed.
The frame is made of powder-coated steel, and can be very easily raised or lowered to suit your needs.


---
3. Best Choice Products Hanging Chaise Hammock Lounger
Company: Best Choice Products
Rating: 4.2 / 5 stars
Price: $$$
Carrying Case Included? No
Weight Capacity: 265lbs
Size: 73"(L) x 46"(W) x 78"(H)
Colors: 3 options (Green, Red/Orange, or Teal)
This type of hammock chair is known as a hanging chaise lounge chair. It works the same way as the two hammock chairs above, dangling from one point, but has much more structure in the seat.
We love the unique, modern shape of this hammock chair, and reviewers say it's extremely relaxing! The umbrella is removable if you're in the mood for some sun, and you can adjust it to whatever angle you want if the sun is moving across the sky. The seat is made of 2-inch-thick foam-filled PVC-coated polyester cushion (as is the built-in pillow) – tough but comfortable.
The frame is built of heavy-duty powder-coated steel, is weather-resistant and very sturdy.
You'd love sitting in this relaxing hammock chair while grilling on your gas grill or wood pellet grill too!


---
Best Outdoor Hammock Stands For Camping
1. Kamp Rite Kwik Set Hammock
Company: Kamp Rite
Rating: 4.4 / 5 stars
Price: $$
Carrying Case Included? Yes
Weight Capacity: 350lbs
Frame Size: 35.5 x 102 x 38″
Hammock Bed Size:  ( hook to hook)
Colors: Blue/Tan (pictured)
This is a portable hammock, comfortable and fairly low to the ground. It's super easy to set up and take down with it's lightweight, collapsible stand.
A unique feature of this camping hammock bed is that it has chains to secure against excessive swinging if you're planning to use for sleep overnight. It actually can not swing 360 degrees, but it is not stationary – it swings and sways like a regular hammock.
It packs up into it's carrying bag very easily, according to reviewers. Size is approximately 9.5 x 10 x 50″ folded down. Apparently it is not as light as you'd like it for backpacking purposes though – several reviewers who said it was very comfortable and easy to assemble also said it was heavier than they'd hoped.


---
2. Fold and Go Travel Hammock
Company: Fold and Go Hammocks
Rating: 4.2 / 5 stars
Price: $$
Carrying Case Included? Yes
Weight Capacity:
Frame Size:  72.5″ x 36″
Colors: only as pictured
You'll love this folding hammock if you're looking for something easy to assemble and ready to enjoy. It comes with a pillow attached by Velcro, and has a handy mesh cradle underneath that can hold your sunglasses, books, or electronic devices while you nap. This hammock bed does not move much – no typical hammock swaying.
The frame is very sturdy, made of powder-coated steel, painted with high gloss.
This hammock is not made for very tall adults, as it's length is just over 6 feet long. The style is a combination of spreader bar and 4-point: the hanging bed attaches to four corners by four chains.  You'll find it a comfortable place for a lazy afternoon or relaxing overnight!


---
Free Standing Hammock Buying Guide: Tips and Considerations
Want some help figuring out what you personally want to look for? When you select a free standing hammock, you'll need to decide on the following:
What Is The Best Type Of Hammock For You?
There are different types of hammocks, and people do generally prefer one type over another.
Spreader Bar style hammocks: Some people do not like the feeling of being cocooned inside a hammock – they prefer to lay across a fairly taught hammock bed. These hammocks have two (usually wooden) spreader bars, one at either end of the hammock material, keeping the ends spread apart. These hammock beds can be made of a thicker or even sort of quilted material than the Brazilian style, and sometimes even come with detachable pillows. See our top rated Spreader Bar style hammock.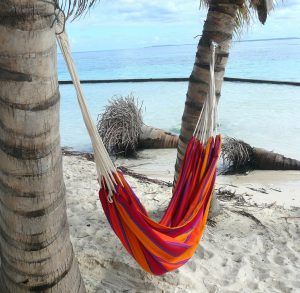 Brazilian style hammocks:
These are the hammocks that make you feel cocooned inside the material. There is no bar along the ends of the hammock bed – just ropes that meet where it attaches to the stand. The 
Brazilian style hammock
 design causes the material to gather and when you get into the hammock, you can end up tucked inside, hidden away from the world, swaying away cozily in a rather private feeling "cocoon".  
 See our top rated Brazilian style hammock.
4 point hammock: These hammocks are attached by 4 points – as opposed to 2 roped together ends. At the head and at the foot of the hanging "bed", the material is attached to the frame by 2 dowels and chains. These are not overly common hammocks, as most people picture true hammocks as being "beds" hung from 2 points. See our top-rated 4 point Hammock. 
Hammock Chair: A free standing hammock chair is hung from a solitary point above the chair. The frame generally has a tripod shape of sorts that allows for a considerable amount of weight to be hung safely and comfortably from the top of the frame. The chairs can be made from different materials, and come in Brazilian style (loose material that you climb into, so to speak) or be more form fitted. See our 3 top-rated options.
Camping Hammocks: These are lightweight, extremely portable hammock beds, designed for frequent assembly and disassembly. See our top rated camping hammocks.
Add Your Heading Text Here
Size: What size will work best for my needs?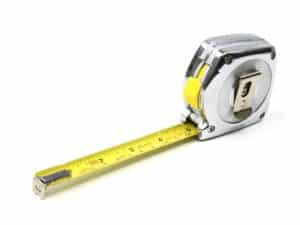 How much space do you have to work with? It would be rather frustrating to purchase and assemble a 
hammock
 you've been admiring, and then realize after the fact that it takes up way too much of your patio, doesn't fit on your balcony, or isn't long enough for your needs.
Most Brazilian style hammocks have a shorter frame, coming in around 9 feet (108 inches) long. Spreader bar hammocks are usually somewhere around 12-15 feet (144-180 inches) long – a significant difference. Width-wise, the majority of hammocks come somewhere between 3 1/2 and 6 feet (42-72 inches) across.  Spreader bar hammocks generally are wider than Brazilian, although the distance required around them for safe swaying can be similar.
Whatever style you are eyeing, make sure you read product specs and do measure your floor space to ensure it'll fit.
Materials: What feel do I want to have?
Hammock beds come in a variety of materials. The 3 most popular are the following:
Cotton:  Usually 100%, tight weave. Cotton gives you a soft feel, allows air movement, is a natural product and can be washed. Do not put cotton hammocks in any sort of dryer, however, as they will shrink! Cotton is considered the most luxurious feel for hammocks, but it is not the most durable of the 3 main fabrics.
Polyester:
 Polyester is more durable fabric than cotton, more mildew-resistant and mold-resistant than cotton. It's soft, not slippery – can feel somewhat like a soft canvas. Often the "quilted" hammock pads are made of polyester or polyester/cotton blends. Polyester fabrics also boast higher fade-resistance than cotton- good to consider for hammocks that will hang in a sunny location.
Sunbrella: Sunbrella is a newer man-made fabric composition, soft like cotton, yet extremely weather-resistant.  Sunbrella is very durable, super stain-resistant, and also resists rot, mildew, chlorine and atmospheric chemicals. Sunbrella is the most expensive of the fabric options, but it's your best bet if you want your hammock to last for years to come.
Portability: Will you be wanting to move it regularly?
Are you hoping to bring your fabulous hammock with you camping, to the cottage, or elsewhere? Or will it stay put in your backyard, maybe just being slid into the shade or sun as desired?
Several free standing hammock options we highlight here come with a sturdy portable carrying case, and are designed for easy assembly/disassembly. These are relatively light weight (just over 30lbs), and require no tools to set up or take down (the steel poles snap together).  Other hammocks are much heavier, and the frames require bolts and some assembly work – to put it mildly, you wouldn't be too interested in taking them apart all that often.
Accessories: What "extras" are important to you?
While not all hammocks come with special accessories, some do! If you "need" a carrying case, think a hammock pillow is important to you, or really want an accessories stand or pouch, you'll find some fun options below!
Knowing exactly what you want in a hammock will help you pick one that will completely suit your desires! 
Make Your Own Hammock Bed With Stand
Have a hammock already and just need a stand? If you're handy, you can build your own hammock stand without too much trouble! Check out this video or others like it and get swinging in no time.
14 Tips for Hanging Your Hammock (On A Stand)
Hang the hammock diagonally: To get the most comfortable and supportive position, hang your hammock diagonally across the stand. This will help distribute your weight evenly and prevent the hammock from tipping over.
Use a hammock strap: Consider using a hammock strap to hang your hammock on the stand. Straps can make it easier to adjust the tension and prevent the hammock from sliding around on the stand.
Avoid over-tightening: Over-tightening the hammock can cause damage to the stand and the hammock itself. Make sure to adjust the tension carefully and only tighten the hammock enough to feel comfortable and supported.
Be mindful of weight limits: Always check the weight capacity of your stand and make sure not to exceed it. Overloading the stand can cause it to tip over or collapse, which can be dangerous.
Use a pillow or blanket: For added comfort, consider using a pillow or blanket to cushion your head or add warmth during cooler weather.
Clean and store it properly: When you're done using your hammock, make sure to clean it properly and store it in a dry, cool place. This will help extend the life of your hammock and prevent damage from weather, mold, or pests.
Choose the right stand: Make sure the stand is the right size and weight capacity for your hammock. Check the manufacturer's recommendations to ensure compatibility.
Hang the hammock at the right height: Make sure the hammock is hung at a height that is comfortable for you to get in and out of. Ideally, the hammock should be about 18 inches off the ground.
Keep the stand stable: To prevent the stand from tipping over, make sure the feet are on a flat surface and are evenly spaced apart.
Use the right hardware: Use the appropriate hardware to attach the hammock to the stand. Most hammocks come with their own hardware, but if not, purchase hardware specifically designed for your hammock and stand.
Adjust the tension: Adjust the tension of the hammock by tightening or loosening the hardware until the hammock is at the desired level of tautness. Make sure to adjust both sides evenly.
Check regularly for wear and tear: Check the hammock and hardware regularly for signs of wear and tear. Replace any worn or damaged parts to ensure your hammock remains safe and secure… so you won't have a nasty surprise and land on the ground.
Did You Know? 7 Things You Might Not Know About Hammocks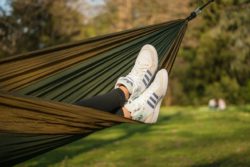 Hammocks have been around a long time and are fairly simple items, so most of us think we know what there is to know about them. But do you? Here are 7 things you might not know about hammocks:
In Brazil, hammocks are so popular that there is even a National Hammock Day celebrated on July 22nd.
Did you know that the correct way to lay on a hammock is at a diagonal. This ensures you are comfortable and flat, instead of squeezed into a curve and swallowed up by the sides of the hammock.
Hammocks have been around for centuries and were first used by the indigenous people of Central and South America. The first hammocks were made of bark or plant fibers. 
If you have a Brazilian style double hammock and are worried about being too cocooned if you're lying solo, you can simply fold over the edges or even fold the hammock in half lengthwise before climbing on! This minimizes the cocoon effect.
Did you know that hammocks can help reduce pressure points and improve blood circulation? This actually leads to a more restful sleep… so napping in a hammock is a great idea even for your health!
Hammocks are often used in therapy to help calm patients and relieve stress and anxiety.
Hammocks were used by sailors on ships to conserve space and to avoid sleeping on the hard and damp ship decks.
Get Yourself The Best Free Standing Hammock This Year - And Enjoy!
And there you have it… 15 of the best free standing hammocks in 2023 that will help you thoroughly relax! If you choose based on your personal desires, you'll no doubt be happy with any of these options.
Having a hammock is a lovely luxury, much like having an inflatable hot tub to relax in, or a fabulous patio heater to make your backyard a place you really want to be.
Why consider a hammock in particular though? There's nothing like nestling in your cozy cocoon or on your flat spreader bar hammock bed and listing to the sound of birds chirping, water lapping on the shore, wind in the trees, and more. It's delightful to sway softly into a gentle sleep, read in complete peace and relaxation.
Many people would just love to own a hammock, but assume they can't if they don't have two perfectly situated trees to hang them on. If that's your situation, now you know you CAN have the hammock life, and thoroughly enjoy it with one of these fantastic free standing hammocks!
Feel free to contact us with any questions or comments – we'd love to hear from you!