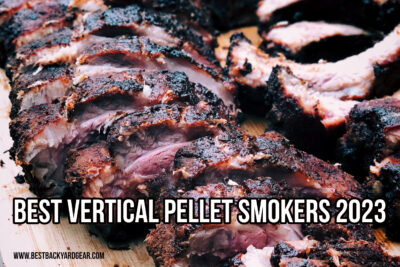 If you love smoking your own meats, you'll want to have a quality smoker in your backyard. While there are many different kinds of smokers on the market, not all will give you that authentic wood-fire smoke that you get with one of these best vertical pellet smokers.
Wood pellet smokers are great choices for those who want that fantastic flavor, but also a "set-and-forget", safe cooking experience. Pellet smokers much less finicky to use than charcoal, and lighting them is as easy as pressing a button.
While there are many well known and well-loved wood pellet grill smokers already on the market, there aren't so many vertical pellet smokers around yet. (I'm referring to upright models with huge smoking capacity that run on hard wood pellets for fuel, that have no grill components). I foresee many more coming in the next few years though, as pellet grilling continues to gain huge following, and people/companies are starting to catch on to how fantastic this design of an auger/hopper/fire-box/fan really is!
Let's check out my top choices for the best wood pellet smokers of 2023. Hopefully by the time you're finished reading, you'll be able to find one that suits you and your needs!
---
Best Vertical Pellet Smokers Of 2023
(As an Amazon Associate I may earn a small commission from qualifying purchases made through links on this page, at no additional cost to you. Full Disclosure.)
1. Camp Chef XXL Vertical Pellet Smoker with Cover 

*TOP RECOMMENDATION*
Company: Camp Chef
Rating: 5 / 5 stars
Temp Range: 150ºF – 350ºF
BTUs: 33,000 BTUs/Hr.
Hopper Capacity: 18lbs
Price: $$
This large vertical pellet smoker by Camp Chef, is definitely my number one pick for best pellet vertical smoker. It's huge, it's consistent, it's innovative, it's practical.  Camp Chef makes some of the best reviewed pellet grills right now, and this pellet smoker takes what they do really well in grills, and pulls it over into a huge vertical smoker that is super impressive.
Here's what this smoker is all about:
Size, first of all. This smoker isn't called "XXL" for nothing. It has 4 smoking grill grates (each 21.5″ x 14″), 3 jerky/dehydrating racks, and 1 hanging rack that has 12 sausage hooks. That's space for a lot of food at once… but I think it is worth pointing out however, that you CAN use this smoker equally well for "small" cuts, like one rack of ribs. (I'd advise putting the food on the center rack as it's closest to the cabinet temp sensor – you'll have the most accurate results there.)
It comes with Camp Chef's well loved (and patented) Pellet Hopper Purge and Ash Cleanout System. If you like changing up your pellet flavors between cooks and if you really dislike getting out the shop vac to suck out the ashes, you'll appreciate these designs that make these tasks way more convenient.
All of the racks are adjustable, so you can move them around to fit your favorite cuts or birds, and all can be stored inside the smoker.
The digital control panel makes choosing your settings and temperatures really easy… and once you've set it, the digital temperature control and Camp Chef's Smart Smoke Technology keep the heat and smoke consistent to what you chose. That means no babysitting, no constant adjusting… just set and forget. Or, if you prefer, keep a close watch on how your food is doing using the dual meat probes.
The smoker was just recently updated (in 2019) to include a new door, a larger hopper lid, a bottle opener, and pellet hopper window.
There are really only 2 "Cons" that I can advise, based on the many reviews I've searched out for this pellet smoker: 1) If you're specifically looking for the best vertical pellet smoker with wifi, this isn't it. There's no wifi connection, so you can't operate it remotely via your smart device. And 2) the hopper isn't huge compared to others, at "only" 18lbs max. 18lbs should get you 12 hours+ though.
Overall, this is right now I think the best value vertical pellet smoker, and the top quality in the market right now. It's priced about the same as other options shown below, but in my opinion, you get way more for your money with this one.
The best place to order this smoker from would be the actual CampChef website – you can register your product and get the full 3 year warranty there, as well as full product info, the detailed instruction manual, accessories that you KNOW will fit right, and more.  Also check out Amazon – sometimes there's a better deal: Check Price On Amazon

---
2. Pellet Pro 2300 Vertical Pellet Smoker

 

*TOP RECOMMENDATION* 

Company: Pellet Pro
Rating: 4.8 / 5 stars
Hopper Capacity: 35lb
Price: $$$
This Pellet Pro 2300 Smoker is another challenger for the title of best upright pellet smoker because honestly, this one just has it all. It's still newer in the market, but I'm predicting that soon you're going to see it everywhere – it's the one you'll probably see even on a competition circuit.
Here's what's to love about this smoker, in no particular order:
It's huge. With 10 cubic feet of cooking area, you can cook for a huge crowd (or just have lots of space to cook whatever you want for your own crew).
It has 4 stainless steel pull out trays that are 21 x 22″ in size (7-1/2″ apart – that width is non-adjustable), as well as a solid tray that you can slide in to create 2 different temperature zones.
If you're looking for a pellet smoker that'll work well even through the winter, this is a great choice – it's made of 18 gauge double walled steel construction (not the same as insulated), which will work to keep the heat inside, and it also has an automatic re-light feature that will fight to keep your fire going if the temperature drops below 150 degrees.
It includes Pellet Pro's exc

lusive PID Controller, which is simple to use, and keeps the temperature within 5-10° of your desired setting. You can see exactly what's happening inside using the 3 different temperature gauges on the side (both probe access holes line up with a gauge).

The Pellet Pro Smoker is no flimsily built piece… it's made from heavy duty parts – and mostly stainless steel – from top to bottom. It has a 30-W 2 RPM .52 amp auger motor, a 3200 RPM burn pot convection fan, heat resistant door seals with 2 heavy duty latches, 4 locking casters, and more.
You'll also appreciate that it's a well thought through design, with nice extras that other pellet smokers may not have, like a daisy wheel draft damper at the top that you can maneuver if it's getting too hot inside your smoke to let out a bit of the heat, a reverse flow style side vent, an extra long cord for the probe (5′), an extra storage compartment at the back, and an easy access grease pan that fits an aluminum 8 x 8″ pan perfectly.
It comes with a free cover for the smoker, as well as free shipping – although heads up, the "free shipping" is limited to a location with a loading dock (a business location or a freight terminal). There's an extra cost if you want it delivered to your residence. This is because this unit is really heavy: approx 250lbs including packaging.
Check out out the product a bit more in this Pellet Pro Smoker Review video:
This vertical pellet smoker is going to be hard to top. Although it's low on written reviews at this point yet, due to this product being still quite new on the market, it's well worth a serious consideration. And Pellet Pro offers a 7 year limited warranty, so you know they back their product. It does come with a higher price tag, but I'm thinking it's worth what they're asking.


---
3. Pit Boss Grills 77550 5.5 Pellet Smoker:  "The Copperhead"
Company: Pit Boss Grills
Rating: 4.5 / 5 stars
Temp Range: 150 – 450 degrees F
Hopper Capacity: 40lbs
Price: $$
This next entry is the mid level entry by Pit Boss Grills. This is the 5 series, which is an update on the 3 series. The 7 series has come out, but so far the reviews aren't as good as this one. The main difference between the series is the size, so the 5 series is the middle size (3 is smaller, 7 is huge).
Here are some top features for this smoker:
The hopper (located behind the smoker) has a 40lb capacity, which should give you more than enough hands-off cooking time! And when you want to clean it out or switch up pellet flavors, there's an easy to use pellet purge system that you'll appreciate.
The smoker has a built-in meat probe that has a digital LED readout, so you can check up on your food easily even after dark.
The temperature controls have gone completely digital, making it a cinch to use. And it's fully programmable too, including auto shut-off and the ability to create a completely custom cook. Keeping in mind that it's actual fire that's heating the unit, the variance of 10 – 20 degrees that reviewers claim it does is pretty good.
The unit itself is built with double-wall construction, acting like a blanket to keep the heat inside, no matter how cold it is outside.
The interior has a lot of porcelain coated items, which heat up quickly and retain their heat – including cooking grids, water pan, and heat deflector.
It comes with 5 adjustable cooking grids and a total of 1830 sq. in. of cooking space, so you can get a lot of smoking done in one batch, or even fit turkey in there (one reviewer claims he did 9 turkeys at once in the 5 series).
Overall, this smoker is a good choice. Possibly not quite the same value for your dollar as the Pellet Pro above, but still decent – it'll get the job done nicely. It is from a reputable company that is known for it's quality pellet grills and electric smokers, so they do know smokers.


---
4. Louisiana Grills Vertical Pellet Smoker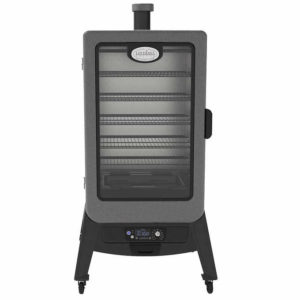 Company: Louisiana Grills
Rating: 4.2 / 5 stars

Temp Range: 150ºF – 450ºF 

Hopper Capacity: 60lbs
Price: $$$
This next model is a popular one, available at your local Costco or online at retailers like Amazon. Costco shoppers really like it, but it's still fairly new on Amazon – very few reviews there yet. Overall,  I think we can place the Louisiana Vertical Pellet Smoker in the category of ones that seem to satisfy especially beginners in the smoking world.
Here are some of it's key features:
It has a monstrously big pellet hopper… it can hold 60lb capacity. You can go 45+ hours on one load!
There is also a huge amount of space for smoking food (2,059 sq.in., and 6 cooking racks), so you can prepare a feast for a crowd (or just your really hungry, meat-loving family).
The door has a large viewing window (the full door length) so you can see exactly what's going on inside your smoker during a cook, without having to open the door and release the smoke and moisture.
It's built to keep the heat and smoke nicely inside, with double walled insulation, CRS High Heat Coating on the primary body (it'll stay looking nice, without paint peeling), and high-temperature door seals.
The smoker can be moved around easily on your patio or into and out of storage as it's on heavy duty caster wheels that lock into place where you want it.
It has the option to increase the smoke if you like more than what you're getting.
The internal temperature fluctuates approximates 20 degrees, according to reviewers. Remembering that it's a really big smoker and comparing that to the fluctuation you'd get with a charcoal smoker, that's pretty good.
All you need to do to start up your smoker is push the "on" button after selecting the temperature you want on the digital control board. That's it!
As mentioned before, this is a pretty decent smoker for beginners. It's easy to use, and has enough space for whatever you plan to smoke. Amazon offers free shipping, a competitive price, and is a reputable online seller (link will take you there), but this may be a product you'll want to shop around for to get the very best deal as prices tend to fluctuate on it (I've seen it cheaper at Costco on occasion, just saying).


---
5. Kinger Home 18 Inch Vertical BBQ Smoker for Wood Charcoal, or Pellets

Company: Kinger Home
Rating: 4.4 / 5 stars
Price: $
This next smoker is a bit of a unique one in that it can operate with a range of different fuels including pellets, charcoal, or wood! If you aren't sure yet if you prefer the taste of food cooked over pellet fire, then perhaps this is a great choice for you.
Here's what else you might like about this smoker:
It comes with two cooking grates that let you smoke two different large items at the same time
Even though it's not a high cost item, it still is designed to prevent rust and peeling, and therefore last a long time: the lid, bowl, and mid-section are all porcelain enameled.
The fuel door is actually removable so that it's easier to add the pellets, wood, or charcoal during a smoke.
While many "traditional" pellet smokers have an auger that automatically feeds pellets into the fire as necessary to maintain a certain temperature, this smoker requires you to do some manual adjusting of the dampers if the temperature gauge shows high/low.
It comes with a large water bowl that fits below your meats; it helps ensure your food stays moist and steamed during your cooking sessions.
The Kinger Smoker is not an electric smoker, like most other pellet smokers are (meaning, you don't have an electric fan or electric heat in the firebox getting it going). This is great if you are hoping to take your smoker camping or somewhere you don't have an electric hook up, but it does mean it's a bit more of a "hands-on" smoker. More work to start, more work to maintain temperatures. Some people prefer this, as it really makes smoking an "art".
Overall, this smoker is a really affordable way to a) try out wood or charcoal smoking if you've never done it before, and 2) get yourself a smoker that is really versatile. While it may not be the smoker for someone really into smoking foods, it still could be the right choice for someone just wanting to play around with smoking at a low cost.


---
6. Pellet Smoker GRILLS | Other Vertical Smokers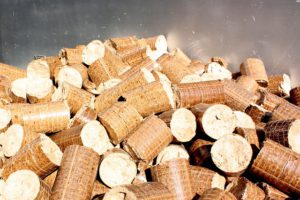 So… what is the best vertical pellet smoker? If none of the above 4 seemed to fit what you're looking for, honestly, if you're stuck on a vertical pellet smoker, you may want to wait a year and see what new comes out. There aren't many companies making them yet, but as pellet grilling continues to take the world by… smoke?… I think very soon we'll be seeing more. With Camp Chef on board already, many of the big pellet grill companies will likely follow suit soon!  (Masterbilt actually already
designed one
, but the reviews on it aren't so great yet…!)
If what you really want is a pellet smoker (because you like the wood fired taste and the convenience of an electric start, and a a set-and-forget auger and fan), but you aren't completely stuck yet on getting a vertical smoker, you may find the "regular" pellet grills well worth a look. The footprint isn't all that much more. And they are more versatile and useful than "just" being a phenomenal smoker; they can also perform as a grill, and some even have searing stations so you can finish off or start a cook a little differently.
However, if what you want is the small footprint and huge capacity that comes with a vertical smoker, but you aren't totally sold on it needing to be a PELLET smoker, check out these digital electric options.
---
Not Sure If A Vertical Smoker Or A Pellet Grill Smoker Is For You?
It's not an easy decision on which model to add to your "backyard kitchen". Here's a short video to help you out with which is the better type for you.
Enjoy Your Smoking From Your Own Backyard This Year From Your Own Best Electric Vertical Pellet Smoker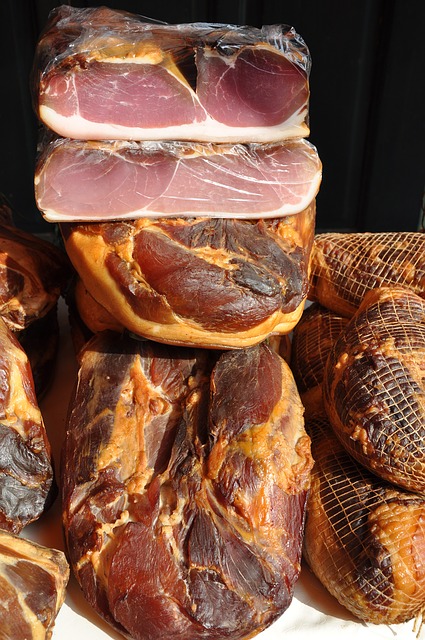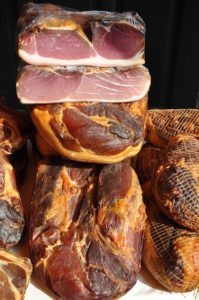 Having the tools and ability to create a smoked meat masterpiece right in your own backyard is fantastic. There's nothing like it!
Serving up something incredible that you made yourself to your family and friends, making the neighbors drool… and truly having fun doing it, that's something worth smiling about. The best vertical wood pellet smoker you chose from this list today can all be the instrument it takes to do that.
Hopefully one of them seems like the best fit for you! In my case, I opt for the Camp Chef. I love their pellet grills, and I know their innovative designs for their grills would work just as well in their smokers. But Pit Boss and Louisiana are also great names for smokers! So go with your gut. Your stomach and the stomachs of your family and friends will be the ultimate judge if you picked right!
Let me know if you have any questions or feedback in the comments below! I'll get right back to you. Cheers!
---