If you want to be able to grill up some fabulous food in your backyard for your family and friends (or even just for yourself), you need a great grill. If you're looking for reviews of the best gas grills 2023 has to offer, we've got you covered.
There are many gas grills out there with a huge variety of features. Picking out the right one for you can be a bit of a challenge, so if you're interested, pop down to the buying guide and I'll help you figure out what you need to know before you buy.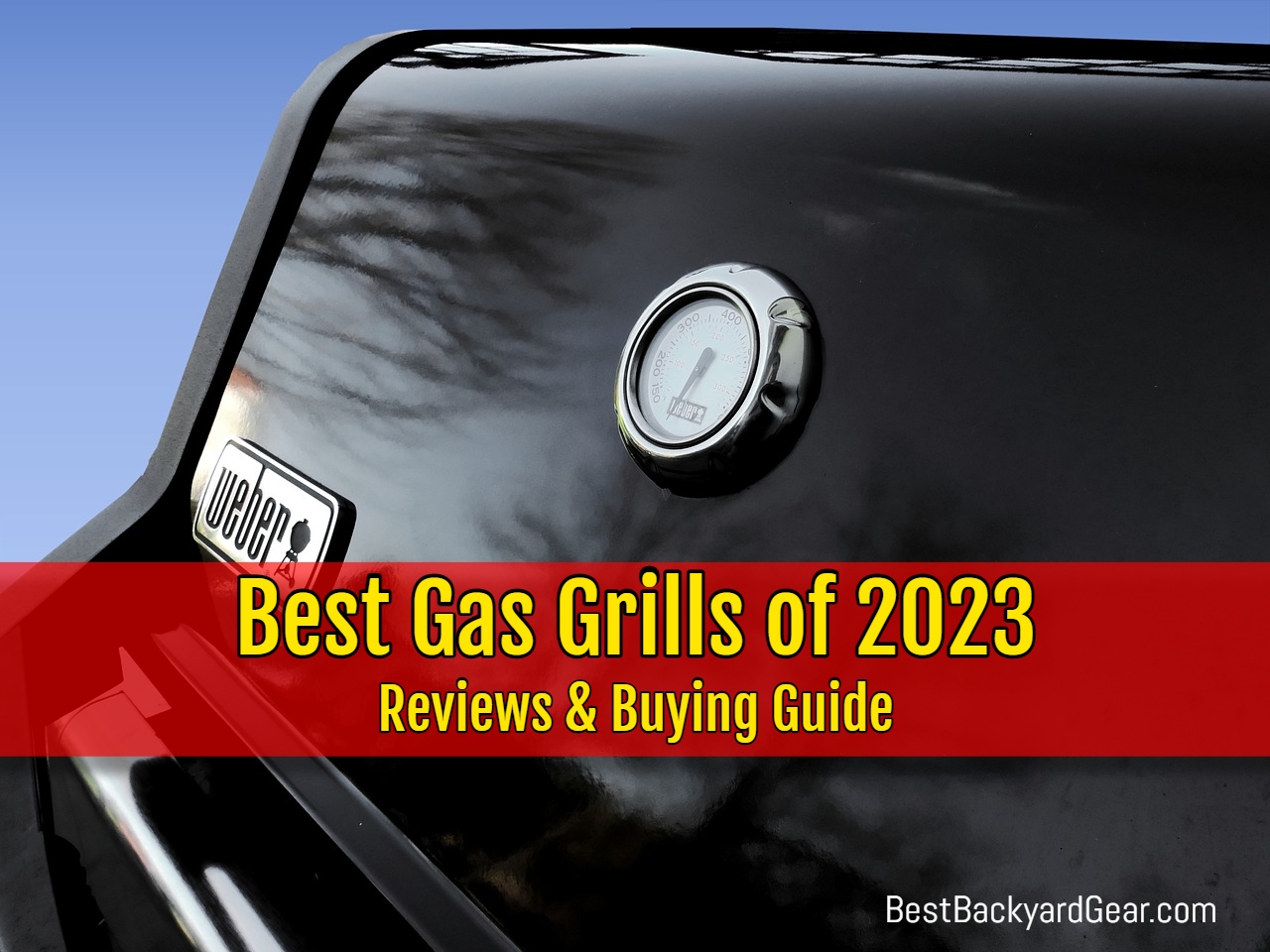 The 14 Best Gas Grills of 2023: Overview Chart
This is a lengthy post… we'll be covering, in depth, many of the best gas grills 2023 has to offer so far.
They are the gas grills with the best price, best quality, and best performance, based on customer ratings, popularity, and reviews from multiple online sites.
To save you time, use the chart below (or this extended version highlighting more features) to narrow down the search for YOUR perfect grill: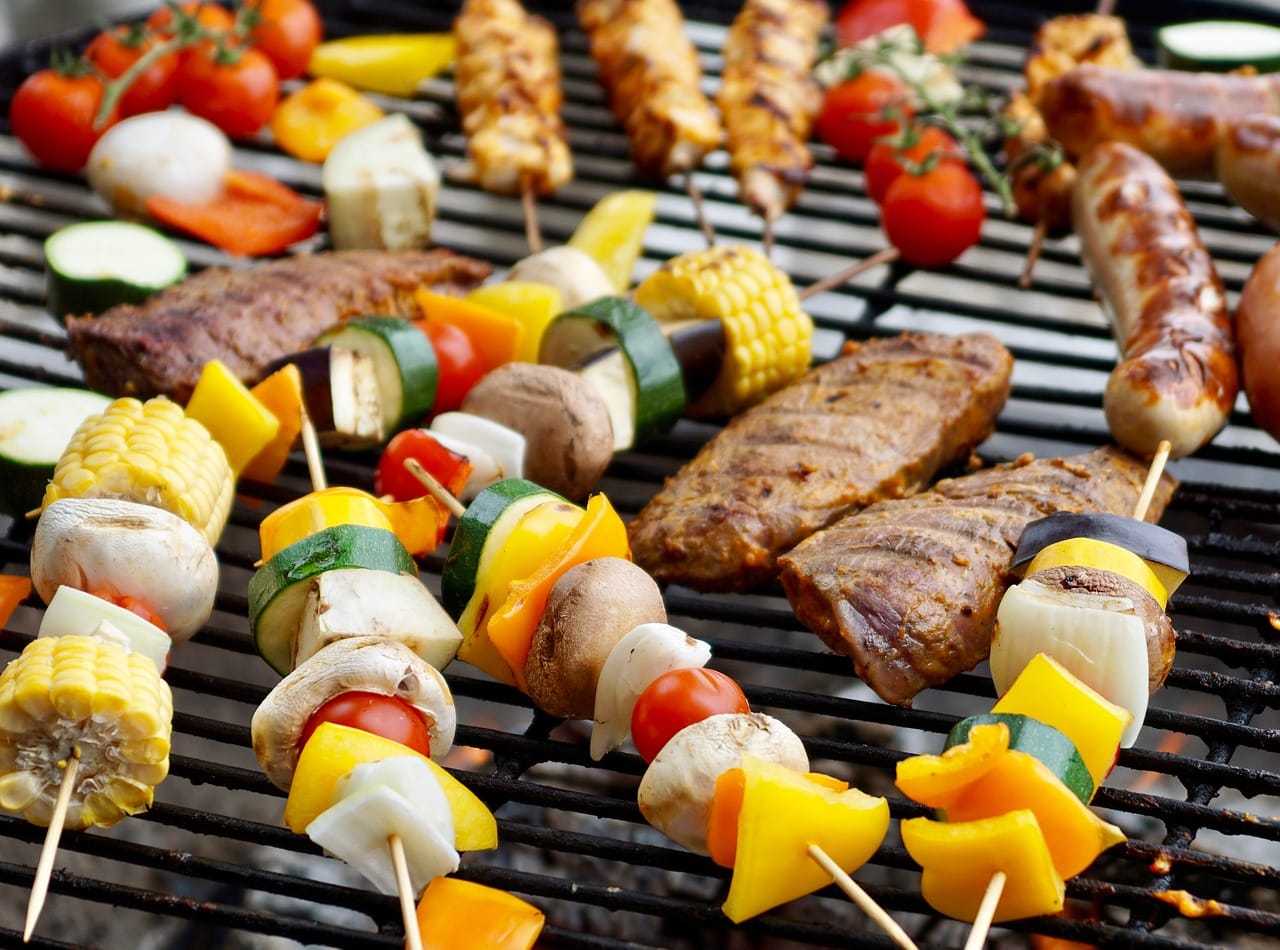 Click Product Name to go to jump to our Product Review
Click $ link to see the current price
Product
(Jump To Review)
Current Price

No. of Burners
& BTU's
1.
Napoleon Prestige 500
LP
$$$

4

48,000
2.
Bull Outdoor Products Angus Grill With Cart
NG / LP
$$$$$


4

60,000
3.
Char-Broil Classic 405 4-Burner Gas Grill
LP
$
4

32,000
4.
Char-Broil Performance 300 2-Burner Cabinet Gas Grill
LP
$
2

24,000
5.
Weber Q2200 Grill (54060001)
LP
$
1

12,000
6.
Weber Genesis II S-315 Gas Grill (66001001)
NG / LP
$$
3

37,500
7.
Weber Q3200 Gas Grill (57060001)
NG / LP
$$
2

21,700
8.
Weber Genesis II LX S-435 Gas Grill (38400001)
NG / LP
$$$$
4

52,000
9.
Char-Broil Signature TRU-Infrared 325 2-Burner Cabinet Gas Grill
LP
$
2

TRU-Infrared
10.
Weber Spirit E310 Gas Grill (47510001)
NG / LP
$$
3

32,000
11.
Weber Summit S-470 Gas Grill (2840301)
NG / LP
$$$$
4

48,800
12.
Weber Genesis II E-410 Gas Grill (62011001)
NG / LP
$$
4

48,000
13.
Weber Spirit S210 Gas Grill (44010001)
LP
$
2

26,500
14.
Char-Broil Classic 4-Burner Gas Grill
LP
$
4

40,000
14 Best Gas Grills 2023 Reviews
(As an Amazon Associate I may earn a small commission from qualifying purchases made through links on this page, at no additional cost to you. Full Disclosure.)
1. Napoleon Prestige 500 Propane Gas Grill   *TOP PICK*
Company: Napoleon
Gas Type: Propane Gas
Rating: 4.9 / 5 stars
Price: $$$
Besides the fact that this grill has a near perfect customer rating so far, we think this grill offers FANTASTIC bang for your buck, especially if you regularly are cooking for a larger group.
The Napoleon Prestige 500 4-burner grill is quite simply, an excellent propane gas grill. With this grill, Napoleon focused on making a product that does the basics of grilling REALLY well, and then adds on some fancy extras, the infrared side and rear burners.
The Prestige is made of high quality materials, and has a great design that'll make your grilling experience really enjoyable.  Some of our favorite features are:
Of all of the 4 burner grills we reviewed, this one has the highest BTU's at 48,000
Other than the painted porcelain hood, and the grill grates, which are made of porcelainized cast iron, the whole grill is made of quality stainless steel.
The 500 sq inch cast iron grill grates season up like a traditional cast iron pan for great cooking, without getting stuck
You can enjoy rotisserie cooked food using the 18, 000 BTU Infrared rear burner and the Napoleon heavy duty rotisserie kit that comes with the grill.
There's a "Infrared Sizzle Zone" side burner that heats up to an incredible 1800 degrees F in 30 seconds… perfect for searing a perfect steak.
The burner control knobs are LED lit, so you'll never forget again which knobs are on, nor forget to turn any of them off!
The lid is designed to open so that it doesn't extend past the back of the grill on opening it… this "Napoleon Lift Ease Roll Top Lid" is a handy feature to have as it minimizes the footprint and lets you save space on a tight patio.
It also comes in a Natural Gas version
This Napoleon is an excellent, high quality gas grill, designed handle any outside kitchen cooking you want to throw at it, but especially, to grill your food. We think you'll be more than satisfied with this grill if you're looking for an mid-level model that fits nicely on a smaller patio.
2. Bull Outdoor Products Angus Grill with Cart (44001)
Company: Bull Outdoor Products
Gas Type: Natural Gas or Liquid Propane
Rating: 4.8 / 5 stars
Price: $$$$$
This is one of the top high end natural gas grills on the market. You CAN find even bigger, pricier models, but this amazing grill by Bull Outdoor Products is an awesome option for you if you're a serious back patio griller who want some of the fancy extras and a grill that cooks food that'll knock the socks off your guests.
Jumping right to the many features that make this Angus grill one you need to take a look at:
16 gauge, 304 stainless steel construction throughout! This is the SERIOUS quality stainless steel – the thickest used in the grill industry – making it extremely resistant to corrosion and rust.
The cooking area is an impressive 810 sq inches, with an additional 210 sq inch warming rack – you can cook up a huge feast all at once!
4 wheels with locking castors to let you move it fairly easily (it's heavy)
Dual-lined single-piece roll-top hood with seamless welded edges (keeps the heat neatly inside and the outside cooler to the touch)
Fun extras on the hood: a full length stainless steel handle, twin interior lights for better visibility, thermometer
Piezo igniters on each burner, with the spark area protected against food or grease drips with stainless steel housing
A rotisserie grill and 15,000 BTU infrared back burner (the grill has a chrome plated spit, and a stainless steel motor housing)
Lifetime warranty on the grates and firebox, and 20 year warranty on the 4 cast stainless steel burners!
The Bull Outdoor Products Angus Grill is one powerful and impressive grill! It does come with a nice price tag, but if you can afford it, this will likely be the last grill you purchase for a few decades, if not ever!
3. Char-Broil Classic 405 4-Burner Gas Grill
Company: Char-Broil
Gas Type: Liquid Propane
Rating: 4.8 / 5 stars
Price: $
For those of you wanting just a basic backyard grill for under $200, but one that is excellent value for each of those dollars, this one is a great option for you!
It has space enough (405 sq inches) to cook a feast for your hungry crowd, a large warming rack that folds away if you don't need it, and 4 burners so you can do that fancy "indirect grilling" to your hearts content. It's sturdy, uses the standard size of propane tanks (20lb – and yes, there is a tank support bracket and hanger behind the grill so the tank doesn't just hang dangerously).
We think this grill is your best bet if you aren't looking for fancy extras – just a simple grill to get the job done. It does NOT have a side burner, rotisserie system, utensil hooks, or whatnot, but here's what it DOES have:
Lots of cooking room (boasts that it can easily fit up to 18 burgers at once)
Lid and firebox is made of porcelain coated steel, which is durable and weather resistant – great for those of us who sometimes forget it cover it up after using it.
4 stainless steel burners – stainless steel is one of the most durable materials for burners, PLUS you can control high and low heat much better with SS.
Push button ignition (Piezo system) makes it easy to start up your grill with just one finger!
2 wheels that make it easy to move your grill to wherever your party is gathered, or even to move it to storage for a season, should you live where grilling year 'round isn't so attractive.
Two decent sized side metal prep shelves (approx. 12″ x 13″) – you'll love having those shelves for sauces, plates, utensils, timers, etc.
Overall, this grill is rated 4th based on the high reviews… the low price is a bonus! If you're looking for a cheap, basic propane gas grill that'll last a few years – check this one out! We don't think you'll be sorry!
4. Char-Broil Performance 300 2-Burner Cabinet LP Gas Grill
Company:  Char-Broil
Gas Type: Liquid Propane
Rating: 4.7 / 5 stars
Price: $
Another high rated entry by Char-Broil in our Best Gas Grills 2023 list is this 2-burner liquid propane grill. It's also under $200, and packs a lot of great grilling into a space efficient model!
This grill would be a great fit for those of you with a small area on your patio or deck for grilling, as it has a small footprint (43″ W x 24.5″ D x 44″H).  When you aren't using it, you can also fold down the side shelves, reducing its size even more!
This grill has some great features!
Porcelain covered cast iron cooking grates and porcelain covered fold-away warming rack – you'll love how rust-resistant and easy to clean they are!
24,000 BTUs for the 300 sq inch cooking area – it's definitely not huge, but it gets a lot of even heat from the 2 stainless steel top-ported burners! If you don't have to cook for a big crowd, you'll likely be very pleased with this size (cooking space is 15.9″ wide and 18.5″ deep – room for approx. 16 hamburgers)
A temperature gauge set right into the lid – having one of these is AWESOME for those of you who like to control the heat in their grill based on what they are cooking
It has 2 metal side shelves that fold down when you aren't using the grill – an extra bonus for those of you with a smaller grilling patio space
The storage cabinet keeps the (not exactly attractive) propane tanks nicely out of sight.
There are 4 wheels (2 of which lock) to let you very easily move the grill wherever it needs to go.
It has a removable porcelain coated grease pan for easy clean up! You can say goodbye to tin foil trays!
Overall, a great choice for a compact space. One customer review after another says that it's a solid, quick-heating, well-built grill, good value for the excellent price!
5. Weber Q2200 Grill (54060001)
Company: Weber
Gas Type: Liquid Propane
Rating: 4.8 / 5 stars
Price: $
Are you looking for a gas grill you can take with you to the beach, camping, picnics, or pretty much anywhere? This portable gas grill is one of the best ones out there right now. With a compact shape but decent size grill area, fold up sturdy size shelves, and ergonomic handles, you'll love taking this one with you on the go!
The Q2200 is one of the Q series of Webers – they look similar to each other in shape and style. The differences are in the size of the grilling area, the BTUs, and a few small extra bonus features that some have, and others don't.
This particular grill is our top pick in the Q series as it combines a nice size (280 sq inches) with great power (12,000 BTUs on one stainless steel burner). It also has awesome ratings and reviews!
Let's take a look at what you'd be getting:
A fully assembled grill right out of the box! All you need to do is attach a 14.1 or 16.4 oz LP cylinder (sold separately), flick the electronic ignition system, and let it heat up!
A handy thermometer built right into the lid so you can better avoid under or over-cooked food
The grates are split down the middle so if you'd like, you can order a Q2000 compatible griddle grate and use your grill as a griddle as well!
It's made of serious grill materials: porcelain-enameled cast-iron cooking grates and cast aluminum lid and body – it's no cheap-o portable grill that will only last you one summer!
We think you can't do better than this grill if you are looking for a decent sized portable gas grill. You're getting Weber quality (which is tops… look at how many Weber grills ended up in this Best Of list), and a great price!
6. Weber Genesis II S-310 Gas Grill (6600100)
Company: Weber
Gas Type: Natural Gas or Liquid Propane
Rating: 4.5 / 5 stars
Price: $$
The Weber Genesis II S-310 is one of our favorites in this "Best Gas Grills" list – it combines quality, nice features, and great price all in one!  Weber is simply a name you can trust when it comes to grills, and the Genesis II design is one of their more popular lines.
This particular model comes in your choice of Natural Gas or LP (liquid propane) fueled, and also in your choice of black painted steel or stainless steel (pictured). Going the black painted steel route can save you about $100, and you'll still get the side shelves and handle bar in stainless!
There are some fantastic features on this grill that we think you'll love:
It has the new GS4 Grilling System, which includes:

 Porcelain enameled Flavorizer Bars (drippings smoke and sizzle, adding flavor to your meat… and whatever doesn't "burn off", funnels neatly down to the grease tray)
Weber's Infinity Ignition system that makes you sure you won't have trouble lighting the grill EVER
3 high performance burners
The new Weber Grease Management System that minimizes flare-ups and makes cleaning your grill simple!

Open Cart Design: You can use the bottom shelf for your tools and accessories, keeping your patio nicely organized! And if you go with the LP version, the propane tank remains hidden in the solid metal piece on the right side. The tank rests secured on a metal hook with a weight-gauge that lets you know how much fuel is left in your tank.
The 2 large stainless steel prep tables have integrated hooks for your utensils! You'll love having a dedicated spot for your tools, especially when they are "dirty" with food grease and juices!

Porcelain enameled cast iron cooking grates that nicely season, sear, and cook evenly! 

The grate is large enough to cook for a small crowd! You'll get 513 square inches of cooking space along with 156 square inches of tuck-away warming rack overhead!
I also think you techies out there will love this grill as it is iGrill3 ready! It's not included, but you can add this digital Bluetooth grill thermometer and monitor your food from your smartphone!
And a note about this grill is for you dog owners…  the "Open Cart Design" means no doors to protect the drippings pan from your hungry dog! You may find you don't appreciate this… however your dog will probably love it!
The Weber Genesis II S-310 has everything you need to cook great food, but not many extras that you would pay for but maybe not use… no side burner or foldable table or lighted knobs, for example. The savings may make buying a Weber affordable for you. It did for me. This is the grill I myself bought in June of 2019, and I really LOVE it. It's so smooth, cooks so evenly, and looks, cooks, and feels like a seriously great quality piece.  Between this one and our portable Weber Q2200, I'm now officially sold on Webers.
Check out this review of the Genesis LP model:
7. Weber Q3200 Gas Grill (57067001)
Company: Weber
Gas Type: Natural Gas or Liquid Propane
Rating: 4.5 / 5 stars
Price: $$
If you're looking for a gas grill for yourself and maybe your small family, or if you want a grill that won't take up much space on your patio, the Weber Q3200 is fantastic choice. It's not portable (detachable from the cart) like others in Q series, but you'll love the look and shape!
Of the Q series, it's the only grill that you can order in either Natural Gas or Liquid Propane fuel! If you're looking at the Natural Gas option, you'll be happy to know that it comes with the natural gas hook up hose!
Here are some of the features we like about this grill:
The grill cooking area is 393 sq inches, and sets out 21,700 BTUs, which is impressive for a grill this size!
Even though this grill is a smaller size (and with the side shelves that fold down, it's footprint can be even smaller), it's still made of top quality materials, including porcelain-enameled cast-iron cooking grates and a cast aluminum lid and body. The cart is made of glass-reinforced nylon, and it comes with 2 handy wheels for easy portability.
If you want to go the Natural Gas route, it comes with the gas hook up hose – you won't need to buy that separately, just hook up the included one to your gas source!
It has an Infinite Control Burner, which lets you set the grill to a certain temperature and trust that it'll stay that temperature!
The grate is split in 2, and you can replace (at extra cost) one of the grates with a special griddle grate! Imagine using your grill for breakfast, lunch, and dinner!
Handy special extras: It comes with a grill-out light on the handle that helps you grill outside in the dark, a built-in thermometer, and 3 utensil hooks, and a spot to stow away the included warming rack!
Weber grills in general are known to be top quality (note all of the Weber options on this Best Gas Grills post) – and this one is no different. We think you'll love it!
8. Weber Genesis S-435 Gas Grill (38400001)
Company: Weber
Gas Type: Natural Gas or Liquid Propane
Rating: 4.5 / 5 stars
Price: $$$$
If you're looking for a high quality larger size grill, this 4 burner option (updated in 2022) from Weber comes with lots fun extras! It's a serious grill for serious grillers!
Whether you choose the natural gas model or the liquid propane model, and select the painted black steel or stainless steel look, we think you'll be as thrilled with this gas grill as the many product reviewers who gave it such a high rating!
Here's why we like it:
It comes with Weber's new GS4 grilling system: stainless steel flavorizer bars that capture the dripping grease and turn it into infusing smoke, the Infinity ignition system that ensures a perfect start every time, high heat stainless steel burners, and an unparalleled grease management system!
The SIZE of this grill – it's HUGE! Your grilling area is 646 sq inches, PLUS the 198 sq in. tuck-away warming rack!
The grill grates are made of 7mm stainless steel, which is top quality! Some people do prefer cast iron grates, but stainless steel ones are considered top quality – they retain their heat extremely well, and last forever, looking like new! Plus, stainless steel grates require almost NO cleaning – just a quick brush off!
It has some fun extras that make grilling a great experience, not just a cooking session: a flush mounted side burner for making sauces and side dishes, utensil hooks to keep your station neat, lighted handle bar & control knobs, wheels that lock, is iGrill3 ready (Bluetooth thermometer app you can purchase separately), LED fuel gauge (LP models), and more!
Overall, if you are looking for a grill this size, and want something top quality and long-lasting, the Weber Genesis S-435 is one of the grills you need to be looking at!
9. Char-Broil Signature TRU-Infrared 325 2-Burner Cabinet Gas Grill
Company: Char-Broil
Gas Type: Liquid Propane
Rating: 4.5 / 5 stars
Price: $
Next we look at one of the best grills on the lower end of the budget. We think you serious grillers who want either a smaller or cheaper option will be really pleased with what this 2-burner grill by Char-Broil has to offer!
It's a liquid propane grill only – those who are looking for a natural gas grill should keep going, unless they want to purchase a fairly simple-to-install natural gas conversion kit (sold separately).  Yes, it's also a cheaper looking grill than the some of the above (those Weber's with all the stainless steel and painted steel are pretty sleek, aren't they), but you do get what you pay for. And yet, it's still a good enough grill to make it's way solidly into the best gas grills for this year.
Let's see why:
It has a nice big grilling area for a 2-burner, coming in at 325 sq inches of cooking grates and 120 sq inches of warming rack (tuck-away)
The burners are top-ported 443 stainless steel tube burners, which put out high Infrared heat and even temperature control. Infrared burners heat up faster and maintain more even heat better than many traditional burners. And with the Infrared technology comes a special barrier grate that sits between the cooking grates and the burners, capturing all grease and drippings (making flare-ups history and seriously flavorful/juicier meat)!
The side shelves fold in if you need to decrease the grill footprint (perfect for smaller patios or apartment balconies)
The grill sits on 4 casters (2 have locks), so you can move it around with ease!
It comes with an enclosed storage cabinet for your propane gas tank but there's also room for grilling tools, sauces, rubs, brushes, and more!
For a solid grill that heats up quickly, stays hot, grills up flavorful and juicy food without the nasty grease flare-ups, we declare this grill one of the best!
10. Weber Spirit E310 Gas Grill (47510001)
Company: Weber
Gas Type: Natural Gas
Rating: 4.5 / 5 stars
Price: $
This grill, developed by Weber in 2013, has been popular for multiple years running… 2017, 2018, 2019, and will likely be just as great in 2020! It's a perfect size grill for a small family or couple!
This isn't an overly fancy natural gas grill, but it does have everything you need to cook great tasting, juicy food! In standard Weber style, it is built from high quality stainless steel and black painted steel, and has a clean, sleek look that'll be a great addition to your backyard patio!
It also comes with the following features that we think make this grill a fantastic buy for your buck:
Porcelain-enameled cast iron cooking grates – cast iron seasons well, retains heat, and clean very easily!
The cooking area at 424 sq inches (plus warming rack) is big enough to cook a small (20lb) turkey or do meats and veggies at the same time!
SS flavorizer bars, that capture the grease drippings and turn them into smoke that infuses your meat with flavor AND keeps your grill clean!
Integrated utensil hooks on the sides of the stainless steel prep tables, so you can keep the tops clean and organized while you're grilling
A front-mounted control panel and built in thermometer that gives you more control over your cooking
A flexible 10′ gas hose so you can connect to your gas line easily
This grill is also on heavy duty casters, so you can move your grill around the deck safely if you want to… perhaps you need more room for one of these fantastic outdoor games for adults? Or perhaps you need to store it away in the winter season. Either way, you can lock it in place or move it at will.
For a grill under $500, you can't top this Weber Spirit E310! We think it's a great choice for anyone who wants a good quality, long lasting, budget friendly grill!
11. Weber Summit S-470 Gas Grill (2840301)
Company: Weber
Gas Type: Natural Gas or Liquid Propane
Rating: 4.4 / 5 stars
Price: $$$$
Thinking of making a bit of an investment into a grill that has pretty much everything (INCLUDING ROTISSERIE), a grill that will be "the last grill you'll need to buy"? This Weber Summit is one such grill, available in liquid propane or natural gas options. The Summit Line is Weber's "crown jewels" – if you want the best, these are they!
This grill is nice and big! The cooking area is It claims to be able to cook for 8-10 people with ease, and because it has the handy side burner (12,000 BTUs on that burner alone), you can cook your full meal at the grill with ease!
One of the things you'll love on this grill is the full rotisserie system! It comes with a flip-up motor and separate spit and fork, has storage in the enclosed cart, and can be tucked completely away out of the way when you aren't using it!
This grill includes all of the standard awesome Weber goods and then some!
SS Flavorizer Bars, 4 SS burners, grease management system, 9mm Stainless Steel cooking grates (TOP quality)
Extra burners: a sear station, smoke burner, and rear-mounted Infrared rotisserie burner
Center mounted thermometer built into the hood
Enclosed tank storage area for the LP models
Large prep areas made of stainless steel
Grill-Out handle light and control knob lights for night time grilling ease
Snap-Jet igniters for each burner, letting you do direct or indirect heat per your preference
This grill certainly has it all! Check out this video for some extra details:
12. Weber Genesis II E-410 Gas Grill (62011001)
Company: Weber
Gas Type: Natural Gas or Liquid Propane
Price: $$
Rating: 4.4 / 5 stars
Once again, Weber adds another sleek and stylish, top quality grill to our "Best Of" list. This particular model, the Genesis II E-410, is one of the few that comes in a variety of colors (Black, Red, Copper, and Smoke), and also in either Natural Gas or Liquid Propane, so you can really customize to make it exactly to suit you!
The Genesis II E-410 is a large grill, able to cook enough to feed a crowd! It has one of the largest grilling areas of any of the grills featured here, coming in at 646 square inches (then add a 198 square inch tuck away warming rack). It'll be great for cooking complicated meals that require various settings (steaks on one side, veggie kabobs on the other?), or for foods that are best cooked via indirect heat.
As you can see in the pic here, this grill has the open cart design. The Natural Gas model is pictured – the LP model has a steel shield of sorts on the right side under the shelf that hides the propane tank from view.  The open cart shelves design is great for easy grease tray removal, for storage of grilling tools, and more!
For the pretty impressive price, you get a LOT with this popular Weber:
The GS4 grilling system (SS Flavorizer Bars, 4 SS high quality burners, Weber's improved Grease Management System, and the Infinity Ignition that guarantees an easy light up each time).
The grill grates are porcelain enameled cast iron, which clean up easily and retain heat really well (great sear marks, even cooking)
2 large SS prep spaces that have integrated utensil hooks that will let you have a neat and tidy grilling area
It's iGrill3 ready (digital Bluetooth thermometer system)
It has a fuel gauge on the LP models, so you'll never run out of propane mid cooking!
Reviewers say this grill comes with the best assembly instructions ever! (Always a plus.)
While this grill doesn't have a ton of bells and whistles (no handle lights, no rotisserie, no side burner…), if the large grilling area size and top quality burners/grates are what's most important to you, this grill is one you shouldn't pass up!
13. Weber Spirit II S210 Gas Grill (44010001)
Company: Weber
Gas Type: Liquid Propane Gas
Rating: 4.4 / 5 stars
Price: $
This is a smaller grill, and perfect for those who are looking for a simple grill that performs consistently well. It's about half the size of the above grill (cooking area 360 sq inches), and has SS 2 burners for you to control the heat.
Although it's small, it's still built of top quality materials and has the sleek and stylish look that will add elegance to your back patio. It's currently the Amazon's Choice product for "Weber Grill Propane Gas" – meaning they consider it an excellent product that's exceptionally priced and able to ship immediately.
Some of the things you'll love about this grill:
You can fold down the side prep tables to minimize your grill's footprint if needed (which makes this grill perfect for small patios).
It can reach temperatures of 500-550 degrees Fahrenheit (great sears) and yet the handle doesn't get unbearably hot!
It is made from porcelain-enameled, cast-iron cooking grates (no seasoning required, easy to clean) and has porcelain-enameled Flavorizer bars that convert drippings into flavorizing smoke and protect your burners.
It has a built in center mounted thermometer to help you perfect your grilling
There are 6 utensil hooks built into the sides of the prep tables that help you keep your grilling area organized and clean.
4 heavy duty castors (2 that lock) allow you to move your grill with ease.
This is one of the lower budget gas grills that we are pretty impressed with, as you get top Weber quality in a compact size. Want to see more about it?
14. Char-Broil Classic 4-Burner Gas Grill with Side Burner
Company: Char-Broil
Gas Type: Liquid Propane
Rating:  4.3 / 5 stars
Price: $
This grill has over 1,700 reviews at the time of writing, and it maintains a surprisingly high average – meaning a lot of very satisfied customers. With the low price, the many features you get, and the quality materials, it's no surprise!
This Char-Broil 4-burner gas grill (Liquid Propane only) is a large grill – 480 sq inches of cooking space – lots of room to cook for a crowd! You can control the heat very nicely with the four knobs, cooking with direct or indirect heat, and ignition is never an issue with the Electronic Ignition system!
Some of the features you'll like on this grill:
It has a built in thermometer so you can instantly tell how your grill is performing, heat-wise.
There's a nice panel that hides an unsightly propane tank, keeping the grill looking stylish on your patio!
The side burner allows you to cook your side dishes or prep your sauces without leaving your grilling area
The grill has a stainless steel lid, handle, control panel, and fascia – SS always adds style and durability to your gas grill!
There are 2 large wheels that'll let you move your grill easily around your patio or into storage if desired
The porcelain coated grates are easy to clean and cook evenly.
While this grill is worthy of being in the top gas grills list, be aware that it is a cheaper grill, and you do get what you pay for. Do not count on having the grill grates last more than a few years as reviewers do say that rust is an issue. But that's what you get for an approx. $200 grill. Overall, it's a solid option if you want a large grill that'll cook great food and is easy to assemble!
How To Choose A Gas Grill: A Buying Guide
The first thing you'll need to do is to determine which type of gas source you'll be using to fuel your gas grill: Natural Gas (NG) which requires a hook up on your patio, or Liquid Propane (LP), which means you'll be fueling your grill with propane from a tank.
The answer to this question will narrow down your choices. Many of the best gas grills on our list do come in either Natural Gas or Liquid Propane models, but not all!
This video here covers several other important aspects about Gas Grills in depth, such as the grate/grill material differences, the number of burners, flame-tamers, and the types of burners. Check it out:
To recap (or for those who skipped the video), you want to decide on the following:
How many burners do I want?
The more burners you have, the larger the cooking area and the more versatility you have (you can cook with indirect heat, for example, or cook a variety of items at once). If you're counting on cooking simple foods for 2 or 3 people, you'll likely be just fine with 1 or 2 burners.  (Want to go big and stick with liquid propane fuel? Narrow down your search by checking out "Best 4 Burner Propane Grills of 2023" )
What kind of cooking grates do I want?
Stainless steel and porcelain-enameled/coated cast iron are the 2 popular types.  (See this article on Stainless Steel vs Cast Iron Grills for more info, but in a nutshell, the heavier the grate, the better the sear and higher the heat you'll get, and SS will last the longest, resisting rust better than porcelainized cast iron.)
Are Flavorizer bars important to me?
These flame-taming systems that sit between the burner's flame and the grill reduce flare-ups, protect the burners, and convert drippings into flavor-infusing smoke. Not all grills come with flame tamers, although many in this list do.
What features do I want? 
Obviously, basic models with no frills are easier on the budget. They can still do a fantastic grilling job, but sometimes some of the extras are worth paying for to make your grilling experience even better. Here's a short-list of some of the extras available on some of the best gas grills of 2023.
Side burner for cooking other dishes
Side shelves that fold down, reducing your grill's footprint
Warming racks that tuck away
Rotisserie system
Built in thermometer and/or fuel gauge
Handle lights and/or control knob lights for cooking at night
Searing section
Smoke box
Infrared burners
Ignition systems that light each burner individually vs all at once
Utensil hooks to keep your workspace clean and neat
An enclosed cart or shelf style/open cart design
iGrill3 readiness (Bluetooth grilling app)
Enjoy Grilling With A Gas Grill This Year!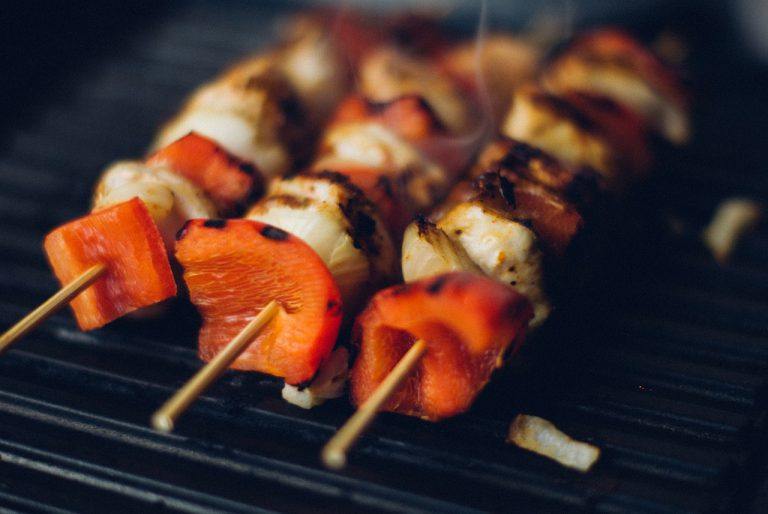 Whether you chose a natural gas grill or a liquid propane grill, whether you go with large or small, cheaper or expensive, it's our hope that you thoroughly enjoy your grilling time with whatever gas grill you go with!
Overall, we recommend going somewhere in the middle price range if you can afford it. While a cheaper model can be a great gas grill, you won't get as many years out of it as the grills made from higher quality materials.
The gas grills on this list do cover a wide variety of options and prices.  It's our hope that you were able to find exactly what you were looking for! Uncertain yet? Check out our Top Rated Gas Grills Features Comparison Chart to guide you further.
Interested in something a bit different, perhaps? Learn all about pellet grill smoking or check out our "Best Pellet Grills" post.
Feel free to drop us some feedback or questions below and we'll be happy to get back to you asap! Happy grilling!
---