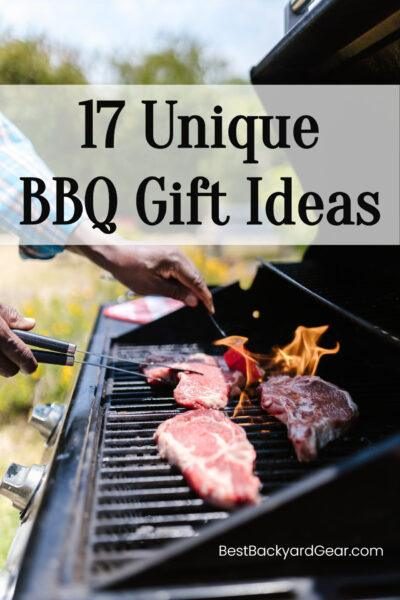 Shopping for a gift for someone who loves bbq and grilling? If you want to get them something interesting that shows you know and appreciate their hobby, these unique bbq gift ideas should help you find something just right! 
It can be hard to find a "smokin' hot" idea – but we think these are 17 grilling gifts that will impress any Grill Master you know. Most are well under $50 too… bonus! 
Happy browsing! And, Merry Christmas.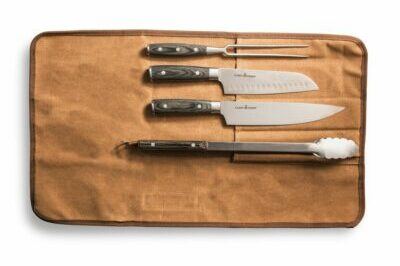 This 4 Piece Carving Set by Camp Chef is a set of stainless steel carving tools (with Pakkawood handles) will be sure to impress the serious griller on your list. Inside the "manly" canvas roll up pouch is a 10″ chef knife, a santoku knife, a pair of grill tongs, and a carving fork. Camp Chef knows meat, and what you need to carve it properly – and this is it.
Give a gift that keeps on giving with a subscription to Grill Masters Club! Choose the number of months, the size and your preferences, and then wait for the excited "I got a box in the mail today and guess what AWESOME stuff it has in it…!!!"  Or, order a box in advance as a gift to wrap up and put under the tree.  
(See "Best BBQ Sauce Subscription Boxes" for more options.)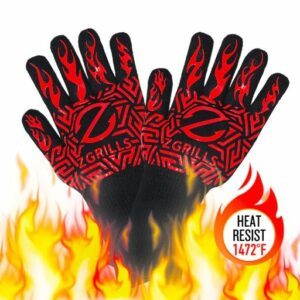 Know someone who loves grilling year round? These heat resistant bbq gloves by Z Grills (makers of some awesome pellet grills) will keep hands PROPERLY warm. Offering protection from both the cold temperatures of the air and the extreme heat of the grill, these gloves will be much appreciated. 
The Original Bear Claws – perfect for shredding up an incredible batch of pulled pork or beef. These babies will lift and pull and make the final prep of the meat both easy and fun! With nearly 25,000 positive reviews, these handy  meat shredder claws are a sweet stocker stuffer idea for someone who likes grilling!
This unique bbq gift idea is great for someone who is also a bit of a techie. It's a stainless steel meat thermometer that has wireless bluetooth technology. It works up to 150 feet away, and comes with assisted cooking programs you can select that help you know when your food is finished. Works for up to 25 hours of cooking time, so it's great for smokers or pellet grilling. Magnetic charging dock comes with it.
It would be hard not to be happy receiving this assortment of unique rubs and seasonings by Smokehouse! The recipient of your gift can enjoy 20 different interesting and sure-to-be-delicious flavors that'll take eaters on a culinary adventure – and that the box set looks so nicely put together is a bonus! 
Grillies are the latest and greatest grilling baskets! You can grill all SORTS of new and interesting foods in these mesh grilling tubes, and not have to worry about food dropping through your cooking grates. Say goodbye to turning each veggie or shrimp individually too… these baskets are awesome! And a unique gift idea for the griller on your list this year.
This automatic grill grates cleaner (yes, you read that correctly) would be super fun to get as a gift. The GrillBot is the world's first automatic BBQ Grill cleaner brush, and will do all of the dirty work for you, leaving your grill ready for action once again. Simply place it on the dirty grates, press start, and then sit back until you hear the "it's done" beep! 
The GrillBot is compatible with most grills and comes with 3 nylon brushes that work on a variety of grate materials.
This 7 piece set is a unique Christmas gift for a man who loves both bbq AND golf! Complete with a golf club shaped carrying bag, golf-ball shaped salt & pepper shakers, and golf-style bbq tools, it'll be sure to bring a smile. 
Note: This isn't just a gimmick "gag gift" item – these are high quality bbq tools. Made from stainless steel, silicone, and heat resistant rubber.  
Give the gift of easy fire! Some people genuinely struggle with starting up their charcoal grill or smoker, or with getting a wood fire pit burning – especially those "some people" who live in damp climates. The Electro-Torch makes it easy. Setting 1 creates super-hot air that causes flammable substances to light. Setting 2 is a fan setting that add oxygen at a steady rate, getting the fire well established.  
A Personalized Cutting Board that declares your gift recipient the "King Of The Grill" is both a compliment and a pretty cool gift! It's not just for looks though – these cutting boards are knife friendly and meant to see some action. Select a high quality wood (beech, oak, walnut) or bamboo, as well as the size, and add on a display stand, apron, or gift bag.
If the person you're shopping for has a pellet grill smoker, and you think he might be interested in making his own jerky, this pellet grill jerky rack will excite and inspire him to give it a try! Camp Chef knows its pellet grill products very well – and makes top quality accessories like this one (in a variety of sizes), so buy from the source.
Give the gift of pizza. The tools to make incredible homemade pizza, that is! If your grill lover loves a good pizza pie, he will no doubt be excited by the Cuzi Deluxe Pizza Set, with it's cordierite pizza baking stone (XL is 15″), a huge natural bamboo pizza peel, and a pizza cutter rocker. 
This one gets bonus points because it can also be used in ovens, if the weather isn't behaving.
 If you're looking for a gift for someone who does NOT yet have a smoker in his arsenal of cooking tools, this 8 piece kit wood smoked grill set will transform a standard backyard grill into a smoker! It comes with high quality cherry, hickory, and apple wood chips (to let him explore some flavors), stainless steel smoker box and grill scraper, instructions, and more. 
If both grilling AND rock n' roll are hobbies of the man you're shopping for, this unique guitar themed set of bbq tools will be fun to use and spark some interesting conversations as friends and family gather around the grill. With 2,000+ reviews on Amazon averaging 4.8/5 stars, you can be sure these heavy duty stainless steel flippers and tongs are actually pretty sweet.