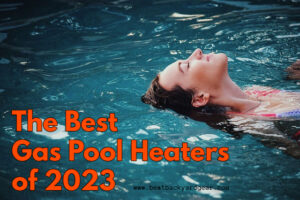 Interested in finding out more about the
best gas pool heaters of 2023
? Likely you are, if you are like most people and have no interest in swimming in a freezing cold pool. And if you live in an area with cooler night time temperatures, or have a pool in a spot that gets little direct sun, you probably are too.
Having a good pool heater would help make your pool inviting and enjoyable, and also extends your swimming season significantly!
Not all gas pool heaters are the same. Having the right model for YOUR pool can help you get the most out of your pool season. I'll spend some time talking about gas pool heaters and what you need to know- after you'll see my top picks for the year.
I'm sure by the time you're done reading you'll see a gas pool heater that's just right for you.
Ready?
Skip Directly To Reviews  | Gas Pool Heater FAQS
How To Choose A Gas Pool Heater
When you start doing research on which gas pool heater to select for your pool, it can be a bit overwhelming. But once you work through a few main questions, selecting the right one isn't all that difficult.
You need to basically look at the 1) Size  and 2) Running Costs (fuel, efficiency, etc.).  Let's dig into these three right away. (See more Gas Pool Heater FAQs)
1) What Size Gas Pool Heater Do I Need?
This is a tricky question, because there are so many factors involved. Overall, the best thing to know is that you can't really make a critical error in the size you purchase. If you happen to buy a pool heater that's "bigger than you really need", what you'll get is simply a faster heating pool. And if you buy one that's "too small", then it will still heat the water… it will just take longer to climb.
There are obviously huge differences in size available. If you're wondering where you should start for your particular pool, this next section should help.
How Do I Calculate The Number Of BTUs I Need For My Pool Heater?
This is probably a no-brainer, but not everyone needs to have a huge, beast of a gas pool heater, a 400,000 BTU one, for example. And that's simply because not everyone has the same size pool. So, what size heater should you be looking at? It will take some math to figure out what your best bet is. It's a bit laborious, but overall not difficult. Grab a calculator. 🙂
Three simple things to understand first are:
1 gallon of water = approx 8 lbs.
It takes 1 BTU to raise up 1 lb of water by 1 degree.
No heater is 100% efficient. On average, you can count on approx 82% efficiency.
First, an example, using a mid size heater: How to figure out if a 300,000 BTU is right for my pool, or if I should go bigger or smaller:
If I have a 15,000 gallon pool, the water weighs 120,000 lbs (15,000 x 8). My heater needs 120,000 BTUs to raise 120,000 lbs of water by 1 degree.
If I buy a 300,000 BTU heater, considering that it runs at 82% efficiency (0.82), it will deliver 246,000 BTUs/hour.
246,000 BTUs/hour (the heater's efficiency) divided by 120,000 BTUs (number needed to raise my pool's water by 1 degree) = approx 2 degrees raised per hour of running time.
Example Conclusion: If I like to swim in water that's 80 degrees F, if my water temperature is starting at 72 degrees F, it'll take 4 hours of running time with a 300,000 BTU heater to get it up to 80.
Your calculation:
  # of gallons in your pool    x 8lbs = # of BTUs required to heat 1 degree
   BTUs of gas heater you're considering    x 0.82 = approx BTUs actually being delivered (efficiency)
  Actual BTUs   divided by  BTUs required   = degrees it'll raise your pool in 1 hour.
The numbers you come up with will help with the answer to the question of "what size should I get?" Does that timing work for your needs?  If you will run the heater overnight so it's warm for day time use, you can go with a smaller heater, as you have plenty of running time. If you expect to turn it on when you get to the cottage at dinner time and want to swim in warmer water in the evening, you may want to get a bigger heater, to speed up the process.
2) How Much Will A Gas Pool Heater Cost Me To Run?
The cost of running a gas pool heater in your pool is dependent on the type of fuel you use, the size of your pool, whether or not you cover your pool during heating and overnight, and the efficiency of the heater you choose. So it's not an easy answer, but let's dig in a bit.
Natural Gas vs Propane Gas:
If you already have a natural gas line plumbed into your house, you can have a licensed gas fitter hook up the heater to your line, and your fuel source will never dry up. If you aren't able to (or choose not to) hook into a natural gas line, you can have a large propane tank installed on your property, either above ground or buried, and have propane delivered when necessary.
A heater run on natural gas typically uses up around 1 therm per hour per 100,000 BTU's. Although the price of natural gas varies between states and fluctuates, using an average price of $1.00/therm, if you have a 400,000 BTU gas heater, you'll use 4 therms per hour, or $4.00 worth of natural gas/hour.
To operate your typical propane heater for your pool, you can count on approx 1 gallon per hour per 100,000 BTU's.  At the time of writing, propane currently sells at approx $2.50/gallon, so if you want to run a 400,000 BTU heater for 1 hour, it'll cost you about $10.00 ($2.50 x 4 gallons).
Even though propane costs more than natural gas per hour, propane is a much more energy rich fuel, with nearly 2.5x the energy density of natural gas. In other words, you need less of the more expensive propane gas to heat the same volume of water than you would natural gas. In the end though, it is unanimously agreed that running a pool heater on natural gas is the cheaper option.
How many hours you run it will be up to you, and depend on the starting and desired temperature, the efficiency of the heater, and the volume of water you want to heat.
To read more, check out the GAS POOL HEATERS FAQ section below. 
---
Best Gas Pool Heaters Of 2023
(As an Amazon Associate I may earn a small commission from qualifying purchases made through links on this page, at no additional cost to you. Full Disclosure.)
1. Raypak 406,000 BTU Digital Natural Gas Pool Heater with Cupro Nickel | RAY-014941
Company: Raypak
Rating: 5 / 5 stars
Efficiency: 83%
Low NOx certified? No
ASME Certified: No
Fuel Source: Natural Gas
BTUs: 406,000
Price: $$$
This large natural gas pool heater is my top choice for this year if you're looking for a natural gas option. It's powerful and fast, a great choice if you expect to do a fair bit of water heating throughout your pool season, as it's built for heavy use and high flow.
Here are some of it's top features:
You'll find it very simple to manage once it's up and running. It has digital controls (LCD Display) so you can set your desired temperatures and a Smart Microprocessor that both continuously monitors how things are going (the operating status).
The heater itself is includes a ceramic fiber combustion box that allows the cabinet to stay cool to the touch no matter how hot it is inside. This means you won't have a safety hazard in your backyard. After you turn it off, the inside also cools down extremely rapidly, with very little residual heat.
The polyester-coated galvanized metal cabinet around the heater is specially designed to be non-corrosive, virtually rust-proof, and is extremely tough.
Like most people, you will probably have times when you discover that your pool water's pH balance is too low. Some gas heaters will have parts that will get damaged if that's the case – but not this one. The fin tube (the vulnerable piece) is intentionally built

with the highest quality integral Cupro nickel – which won't be damaged by low pH. 

Wind or drafts, airborne debris, falling leaves, sleet, snow… Raypak designed this heater with a very low-profile design, one that is able to work well in any of these conditions, which makes this a great choice for you if you want a heater that will help you enjoy your pool year 'round.
You can install this heater in a salt water or fresh water/chlorinated pool and it'll work equally well in both.
Customers say that it runs very quietly, so if you are worried about the noise bothering you (or your neighbors) if you run a heater at night, this one should be good.
If you're somewhat handy, you should be able to handle most of the installation as many reviewers say it wasn't difficult to follow the instructions provided (I'd strongly advise a plumber for the gas line though).
Raypak heaters are energy-smart and consistently achieve the highest efficiency ratings (over 83 % – exceeding all federal and state standards) – and efficiency translates into cheaper overall running cost for you.
If you run into any performance issues, you'll love that the Smart Processor is able to perform an accurate diagnostic read out to problem solve. It covers how long it has run and how often it has fired, measures the pilot flame signal, and monitors for a low-voltage electrical supply (which lets you be certain the heater is wired properly during installation), and more.
To sum it up, the Raypak 406,000 BTU heater is a solid natural gas heater built with top of the line materials, one that has excellent reviews and comes from a company with a good reputation. If perhaps the 406,000 BTU option is a bit big for your needs, Raypak does have smaller sizes available too.


---
2. Sta-Rite Max-E-Therm Black Propane Gas Pool and Spa Heater
Company: Sta-Rite
Rating: 4.0 / 5 stars
Fuel Source: Propane (Natural Gas also available)
Low NOx certified? Yes
ASME Certified? No
Efficiency: 84%
BTUs available: 200 BTU, 333 BTU, 400 BTU
Price: $$$
This next heater is my top choice if you're looking for a an energy efficient propane fueled pool heater. It comes in a variety of sizes, and natural gas options are also available, so no matter your pool size or fuel choice, I'd recommend at least taking a look at this Sta-Rite option.
Here's what you'll like about this heater:
You'll notice it's quite a different shape than most other gas heaters. It's actually designed this way to be compact and lightweight, making it ideal for retro-fit installation (it easily fits with other systems as well as the Sta-Right System).
It is one of the highest rated units of all gas heaters when it comes to energy efficiency at 84%, meaning you save on fuel costs overall.
It's almost a "one size fits all" type heater – you can use it with both your pool (outdoor OR indoor) and your hot tub/spa! It has special settings on the (really easy to use) control panel for each, taking away the guesswork for you. It is also compatible with chlorinated or salt water systems, by the way.
It does come with a full warranty no matter where you purchase the unit (Amazon or pool stores), but you need to have a licensed professional complete the installation to keep the warranty active, so heads up if you are thinking to do it yourself.
If you're wanting (or required to have) a Lo NOx gas heater, Sta-Rite is certified Lo NOx, making it an environmentally conscious choice.
You're able to turn the heater on and off from inside the house with the remote switching feature that allows you to bypass the control panel switches.
The unit housing is made from Dura-Glas, which is an exclusive Sta-Rite material (thermoplastic resin) designed to withstand the internal heat as well as external elements (whatever weather comes your way).
It's also available in Natural Gas options
This heater is a overall a solid choice, checking all the boxes. Efficient, environmentally responsible, powerful, convenient. To read customer reviews (very positive overall) and to find out more details, click through.


---
3. Raypak 266,000 BTU Digital Electronic Ignition Natural Gas Pool Heater
Company: Raypak
Rating: 3.8 / 5 stars
BTUs: 266,000
Fuel: Natural Gas
Lo NOx Certified? No
ASME Certified? No
Efficiency: 82%
Price: $$
This next product is another one by Raypak. It's of a similar design to the model we looked at first (the 406,000 BTU model), but there a few differences that make this one worth a quick look as well, especially if you're looking to save a bit of money but still get a high quality heater.
What separates it from the 406,000 BTU?
Obviously, it has less BTUs. What that means in basic terms is that it will still heat your pool but not as quickly. (Go back up to the Calculation of BTUs section and do the math to see exactly how much slower this model will be for your particular pool size.)
It is slightly less efficient (82% vs 83%). What this means is that it "wastes" 1% more of the fuel during the heating process. 82% is still considered a good level of efficiency, however. (Manufacturers tend to claim "exceptional" efficiency if over 82).
While the 406,000 BTU heater has a Cupro-nickel fin tube heat exchanger, the 266,000 BTU gas heater's is made of all copper. (Cupro-nickel is an alloy that includes copper and other strengthening elements and is a slightly better choice for salt-water pools, but both are strong and corrosion resistant materials).  Read more about the difference here.
The Raypak 266,000 BTU gas pool heater is a solid choice, but do note that it's designed for residential use only (operates on 120/240 volts). It also comes with Raypak's standard 1 year warranty, but again, read the manual's warranty info carefully if you're planning to install it yourself to make sure you don't void it.


---
4. 

Zodiac Jandy LXi BTU Natural Gas Bronze Header Pool and Spa Heater with ASME Certified Standard Copper Tubes
Company: Zodiac Jandy
Rating: 4 / 5 stars
BTUs: 250,000 or 400,000 BTU
Low NOx? Yes
ASME Certified? Yes
Fuel: Natural Gas (Propane also available)
Efficiency: 82%
Price: $$$$$
This next unit is the priciest one on our list here. While personally I'm not certain that the extras you get with this unit are worth the high price tag, if you really need an ASME certified (See: What Is ASME?) and Low NOx certified heater, this is likely the unit you 'll want to take a close look at.
Here's what this gas heater includes, besides ASME and Low NOx certification:
It's able to be fully automated – you can connect it easily to the Jandy Pro Series AquaLink® controls and other control systems, which means you can make adjustments to your settings without having to even go outside. Yes, it comes with a remote control.
It has built-in freeze protection, making this heater a good choice for those of you who are looking for a heater that will keep your pool or spa water nice and warm even in an area where the temperature drops below freezing.
You can switch easily from heating your pool to heating your spa with just one touch, as it has a built-in pool-to-spa automation feature.
It includes Jandy's patented VersaFlo Integrated Bypass technology which, when the heater is not being used, bypasses the water flow to the heater, increasing the return flow (and thus reducing your energy costs for your pump, Jandy claims by up to 20%).
The heater itself is compact (with a footprint of only 2′ x 2′). The top also can rotate 180 degrees, so you never need to rotate headers.
The Zodiac-Jandy LXi pool heater is one of the few ASME certified and Low NOx certified heaters on the market right now, and while I'm sure it's a high quality item, unless you need the certification where you live, I'd recommend saving yourself a significant bundle of cash and going with one of the others on this list, which have similar features and materials.


---
5. Pentair MasterTemp High Performance Eco-Friendly Pool Heater, Natural Gas
Company: Pentair
Rating: 3.6 / 5 stars
BTUs: 175, 200, 250, 300, 400, 400HD
Efficiency: 82-84%
Low NOx? Yes
ASME Certified? Some options
Gas:  Natural Gas
Price: $$ – $$$$
These popular MasterTemp units by Pentair are what we're looking at next. There are multiple sizes available and there's the option for ASME certified ones as well, so you can tailor your choice to your specific needs.
Here are some of the top features you'll like:
Some of the units (those with the standard copper heat exchanger) have the highest efficiency rating of all the heaters we've looked at, at 84% efficient (more efficient = fuel cost savings for you). The units with heavy-duty (HD) cupro-nickel heat exchangers (the ASME ones) are 82% efficient, which is still good.
You (and your neighbors?) will appreciate that this heater is really quiet while it's running.
Pentair designed several safety features into the unit that you'll appreciate, including a water pressure switch that senses the pump is running to prevent overheating, a sensor that turns the heater off if the water-temperature goes above limits (set by the factory), a manual gas shut-off that you can use when your unit requires service, and a stack flue sensor that also guards against overheating.
It has a tough exterior that handles heat well (the exterior isn't hot to the touch), and is rust and weather resistant, easily able to handle wind, rain, debris, wind, etc.
You can switch from dependable heat to fresh air circulation with just a touch of a switch
It has a hot surface ignition (no pilot light) and digital controls and indicator lights, which makes using it as easy as your home heating system. Just input your desired settings, turn on, and let the system do it's thing.
The control panel rotates to face you no matter how you install it on your equipment pad, so you don't have to worry about awkward leaning over it to ready the display pad.
These units by Pentair are quite popular choices – if you click through, you can see there are hundreds of reviews of the various models. Although they are not as highly rated overall as the Raypak units, approx half of the reviewers do give Pentair gas heaters a full 5 star rating. After you determine what size you want/need (see these calculations), give those reviews a read-through yourself. 


---
6. Hayward Universal H-Series Pool and Spa Heaters
Company: Hayward
Rating: 3.5 / 5 stars
BTUs: Range from 150,000 – 400,000
Gas: Natural (Propane also available)
Efficiency: 83-84%
Low NOx? Yes
ASME Certified? No
Price: $$ – $$$$
Our last brand that we're looking at is Hayward, and similar to the Pentair ones above, Hayward makes a gas pool heater that comes in a variety of BTU strengths, as well as using either propane or natural gas for fuel.
Here's what's to like about these pool/spa heaters:
They have a "universal fit", meaning it's a great choice if this is the first heater you're installing, or if you're replacing an older one.  This new design by Hayward has the electric on the left or right side, gas and water connections, and 110v or 220v electric hook up. It's also lightweight, so it should fit with any equipment pad configuration already in your yard.
All of the unit sizes and options come with s

tandard cupro nickel heat exchanger, which has superior value and reliability – cupro nickel is durable and long-lasting, even in salt-water.

A Hayward unit is a good choice if you live in an area where there are high wind conditions fairly often, as it has a "forced draft combustion system" that forces the air to move through the combustion chamber at a precise flow rate at all times (wind won't affect the way it runs).  

It has a patented polymer header design that gives it a superior hydraulic performance that saves energy and protects against the damaging effects of erosion from high flow conditions.
You get an easy to read and intuitive L.E.D. control panel that includes a digital temperature readout, diagnostics and even an electronic 'lock-out' of temperature set-point.


---
Gas Pool Heater FAQs
If you're wanting to purchase a quality heater for your pool or spa run on gas, they don't come cheap. Learning what you can about them will help you make an informed and good investment. Here are some FAQs that will help you in your research.
How does a gas pool heater work?
Both natural gas and propane gas essentially work the same way. Water continually circulates through the pool (thanks to the pool's pump), and in it's route makes its way first through a filter and then on to the heater. The gas burning inside the heater's combustion chamber generates heat; that heat is transferred to the arriving water. When the water continues on and returns to the pool, it goes back much hotter than it came. To read more, check out this comprehensive article
What is ASME and why are these natural gas pool heaters more expensive than non-ASME?
ASME stands for "American Society of Mechanical Engineers". Some municipalities require natural gas pool heaters to meet ASME standards, particularly in commercial environments. To meet the requirements of ASME standards, often the product requires more expensive parts (like a cast-iron header instead of a plastic one). It is generally agreed that unless it's required by code, choosing the ASME product isn't a great use of your money.
What is a "Low NOx" Gas Pool Heater? / What Does "Low NOx" Mean?
Many of the best gas pool heaters on the market today boast being "Low NOx".  What this means is that there is a control put in place inside the combustion chamber causing the heater to produce lower levels of nitrogen-oxide ("smog"). Thus, a Low NOx heater is essentially a more environmentally friendly unit.  Low NOx has nothing to do with efficiency.
Do I need to have my pool covered when not in use if it's a heated pool?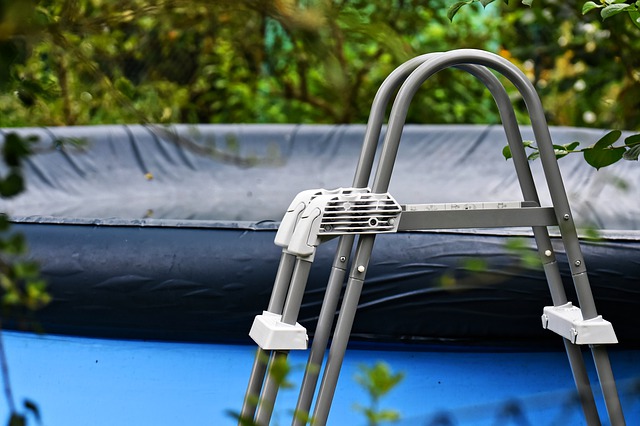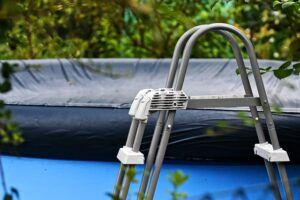 If you live in an area where you need the water to be heated in order to fully enjoy your pool, you'll want to have an insulating pool cover on it when you're not swimming. This will trap the heat in the water, instead of having it disappear into the cool air above the water's surface. To state the obvious, when the water cools, you'll have to run the heater more, which means more fuel… which means more cost. Although it's definitely possible to heat a pool without a cover, it's a bit like trying to heat your house with the windows open.
What size propane tank do I need? 
If your gas pool heater uses propane, you'll need a very large source tank and supply line. No, your BBQ grill tank will not cut it. You're looking at minimum 250 gallons. If you know you'll be running your heater a lot, you may want to jump up to a 500 or even a 1,000 gallon propane tank.
A 400,000 BTU heater will use about 4 gallons of propane per hour of running time, just for a reference. If your pool is large enough to require a 400,000 BTU heater, a 250 gallon propane tank will be empty after approx 62 1/2 hours of running time, which is only about two week's worth if you run it 4 1/2 hours a day.
What's the difference between a gas heater and a heat pump?
Check out this video by Hayward for a great overview of the main differences.
How Can I Make My Pool Heater Last Many Years?
The most important thing to remember is to balance your water. If your water is NOT balanced, it will cause damage to both the heater and the pool surface over time, lowering it's lifespan.
It's also a very good idea to read your owners manual to discover the best maintenance schedule, and have tune-ups done regularly.
Another simple way to get more years out of your heater is to use solar blankets and cover your pool when you aren't using it, trapping in the existing heat so that you need to run the heater less often.
---
6 Natural Gas Pool Heater Reviews (And Some Propane Options): Which One Did You Pick?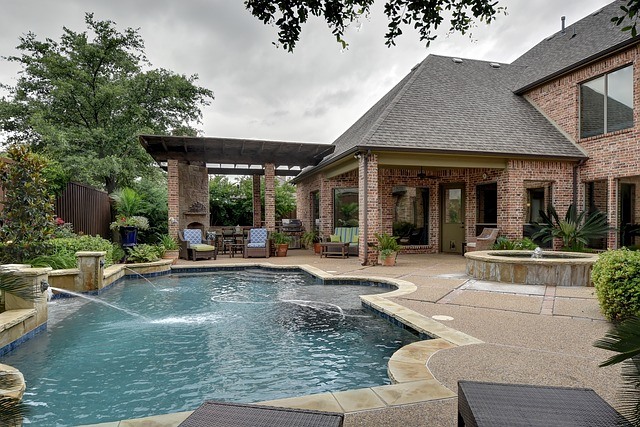 An efficiently heated pool or spa lets you control your swim season length and provides you with a lovely, comfortable, luxurious pool that you'll enjoy for years to come. Whichever unit you look at above, and ultimately choose, the differences between them are actually fairly minimal. All 6 of these best gas pool heaters in 2023 are solid choices!
---