Today we are doing an in depth Jackery Solar Generator 1000 Pro review to see if it's the best portable solar generator for YOUR needs. 
Portable solar power generators are a smart addition to your home preparedness plan. If you're shopping for one, Jackery is a brand that absolutely needs to be considered.
Jackery is a globally recognized leader in the development and sales of portable solar generators, and their products are known for having serious power and top notch recharge, and they come in a variety of packages to fit different needs and budgets.
The Jackery Solar Generator 1000 Pro is a package that includes:
The Jackery Explorer 1000 Pro Power Station
A set of SolarSaga solar panels (either 80W or 200W depending on your needs and budget)
The necessary connectors and cords.
We'll take a look at a variety of topics, so feel free to skip to specific questions you have, or just start reading and learn about why I think the Jackery Solar Generator 1000 Pro should be on the top of your list when getting your home prepared for power outages.
What Is Included With The Jackery Solar Generator 1000 Pro - And What Is NOT.
As mentioned above, the Jackery Solar Generator 1000 Pro is a package of products that Jackery puts together for their customers, including the Explorer 1000 Pro Power Station, SolarSaga Panels (either two 80W or four 200W panels, your choice), and all of the necessary connector cords and adapters for your set.  That means a car charge cable, AC charge cable, solar adapter cable, and solar connector (if you go the four panel route). You also receive a user manual with full instructions and troubleshooting tips.
What it does NOT come with is a protective carrying case for the Explorer Power Station. Honestly, this is a bit surprising, because when a customer is laying out a considerable amount of money on a product (and Jackery products, top of the line as they are, are not cheap), you'd think that a simple but quality carrying case would be included in the package at no extra cost.
How Does The Jackery Solar Generator 1000 Pro Work As A Power Source?
The Explorer 1000 Pro Power Station in basic terms is a big battery that needs to be powered up in order for it to work as a power source. You need to "charge the battery" prior to use either by adding power or by generating power. This can be done in 3 different ways.
Three Ways To Charge The Solar Explorer 1000 Pro
1. AC Input
Plugging into an AC outlet is the fastest and easiest way to charge up the Jackery Explorer 1000 Pro. Normally a full charge can be done in under 2 hours if you simply plug it in. The necessary cord is included.
2. Automotive 12V Plug 
If you want to charge your portable power station while you're driving, you can get a full charge through your cigarette lighter in approximately 4.5 hours. The necessary cord is included.
3. Solar Panels
You can generate your own power by connecting the SolarSaga solar panels to the Power Station and harnessing the free energy of the sun. In this case, with solar panel attachments, the Power Station acts as a power GENERATOR, not just a battery.
The ability to generate your own power and charge the power station using freely available, natural sunlight is something that could be life saving in some situations, and just really handy in others. It is also what makes it an important part of your home preparedness plan, as it's what you would be able to count on using during during electricity blackouts, natural disasters, or during post storm power outages.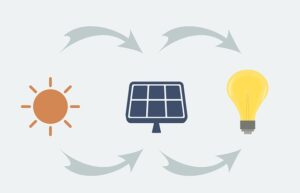 Yes, I'm sure you agree that solar energy is a great idea. But why go with Jackery? In order to make the most of the transformation of sunlight into usable power, you need a high quality generator. One that can safely and quickly both control and convert it. This is where Jackery excels.
Jackery's design of the power station is fantastic, allowing it to get the most out of whatever sunlight hits the solar panels. They wisely built an mppt controller (a maximum power point controller) right into the Explorer 1000 Pro, which totally optimizes the voltage match between the battery and the attached solar panels. This translates into speed and effectiveness.
How long it takes to get a full charge will depend, however, on the size and quantity of solar panels attached to the power station. It also depends on if you move the solar panels to keep them in full sun throughout the charge, as well as other weather factors (winter sun vs summer sun).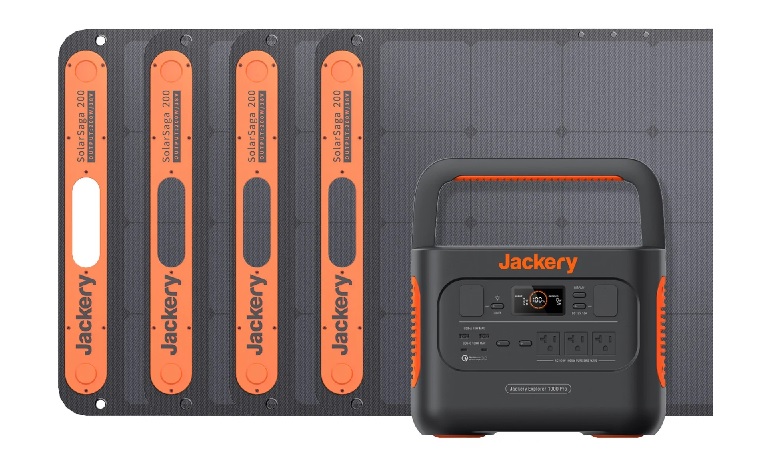 Jackery 1000 Pro with (4) 200W Panels

Charge Time: 1.8 Hours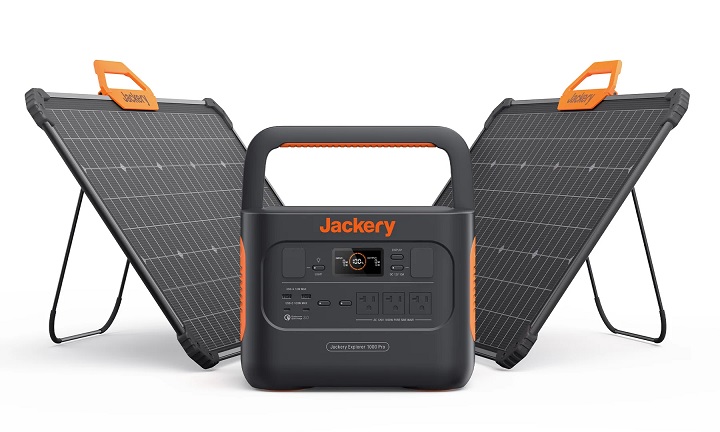 Jackery 1000 Pro with (2) 80W Panels

Charge Time: 9 Hours
You can mix and match and use prior purchased SolarSaga panels with newer power stations, but if you're starting new with Jackery, they do recommend going with one of their 2 sets shown above. 
Whichever set you choose (often this ends up being a budget decision), your choice will result in faster or slower charges of the power station. Both the smaller and larger will get the job done, it'll just take longer with the 80W panels.
Jackery Solar Power Generators: General Info
Safety: Jackery is an innovative company that focuses on quality and safety – the power supply you are building and using is carefully controlled and designed to protect both you and your devices. It comes with BMS to monitor and protect the battery life, Over Voltage Protection, and Short Circuit Protection as well.
Noise Level: Solar power generators are very quiet compared to other types of power generators! The Jackery Explorer 1000 Pro only gets to about 46 dB within a meter. If you compare that to the sound of a fridge, that's about the same. (45 dB is the average noise for a modern fridge) — this means you can quite easily fall asleep beside it, should you need to power your CPAP machine.
Clean: Unlike gas generators, solar generators put off no harmful emissions, fumes, or odors, and are completely safe to use indoors!
Pass Through Charging: You can use Jackery solar generators to charge other items, even while the generator is being charged itself. You don't have to wait until the battery is "full" to charge your cell phones or laptops. This is because the Explorer 1000 Pro supports what is called "pass through charging".  This is great if you are needing to get some battery powered tools ready to go, your CPAP battery ready for another night, or work done on a laptop during a power outage.
Wide Range Of Power Capacities Available: While not all sizes are optimal for charging a range of home devices like the 1000 Pro, Jackery does sell a wide range of sizes, from 2000W down to 160W.
Warranty: Jackery does offer extended 5 year warranties on all parts (3 if you buy elsewhere and don't register immediately, but 5 if you buy through Jackery). And Jackery is known to have fantastic customer service.
On Keeping The Jackery 1000 Pro Solely As A Backup Power Source
If you are looking at buying a solar generator to keep as an emergency power source, basically just to have on hand in case of a sudden outage, Jackery advises that you keep the power station charged to at least 50%.
This is not a hard thing to do, so don't worry. Charge it fully after you get it (it will arrive with a partial charge), and then simply do a quick check at the start of each season to see if it needs a bit of a top up.  Jackery Solar Generators are known to have an AWESOME ultra long shelf life, however, so you should see it remain fully charged for at least the entire first year.
What you can NOT do with a Jackery Solar Generator (which may be obvious, but it good to mention), is hook it up to appliances in advance of an outage, expecting it to trigger to "on" when the power goes off. They are not backup generators that works automatically.
When many people see "watts", their eyes glaze over and they are all confused and can't figure out what it means so they just guess if something will work.
It's actually very simple to figure out. All you need to know, in basic terms, is that a watt is a unit of power. And when you see watts listed, they refer to either the units of power that something will need to run, or the max units that are available to power something else.
The Jackery Solar Generator 1000 Pro has a capacity of 1002 Whr (43.2V 23.2Ah), which tells you 2 things:
You can not power a item that requires more than 1000W (unless it's for a very short time – a 1500W device won't blow it up, it'll just burn through the power very fast).
You have 1000 Watt Hours of duration or capacity in a fully charged power station. Which means, you can run a 1 watt device for 1000 hours, or a 1000 watt device for 1 hour, or something in between.
Incidentally, Jackery's product names come from their available wattage (rounded neatly). Jackery 2000 Pro = 2160 Whr, Jackery 1000 Pro = 1002 Wghr, Jackery 240 = 240 Whr.
What Can I Expect The Jackery 1000 Pro To Be Able To Power?
If you are thinking about having the Jackery Solar Generator 1000 Pro as you home's backup source for power, knowing what it will be able to handle will be helpful in deciding if it's enough for your needs.
Here are some standard items alongside how many watts you'd need to run them for a full hour – remember, most of these you would NOT run for a full hour.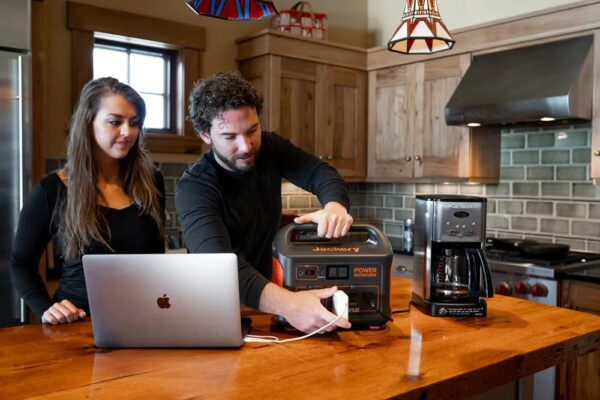 CPAP Machine  10 W
Coffee Maker  550 W
Oscillating Fan  45 W
iPhone Charger 10 W
Chest Freezer  200-400 W
Battery Charger (Tools) 100-400 W
Microwave  70 W
TV  60 W
Macbook  80 W
WiFi Router  5-20 W
Refrigerator  520 W
LED Lamp  2-18W
As you can see, you can take care of a lot of the important things in your house with the 1000 Pro. 1000 W should be sufficient in most cases for a home backup power source, except if you wanted something that could power a fridge longer term, or a window unit air conditioner or space heater (both 1500W+).
What Inputs And Outputs Are Included On The Explorer 1000 Pro Power Station?
The Jackery Explorer 1000 Pro has 8 different outputs that can actually all be used at the same time.
3 three-prong A/C outputs,
2 USB-A outputs (18W each, great for smartphones and most older devices that come with USB chargers)
2 USB-C outputs (100W each, these are what most of the newer laptops, smartphones and big tablets are coming with, giving super quick charges – adding these was definitely forward thinking of Jackery's design team
1 traditional automotive style outlet (12V, often used for things like air pumps)
As far as inputs go, there is an AC and DC input, a Car Port (12V) as well as 2 solar connector inputs.
The Power Station also has a built in LED light fixture, which is very handy if you are truly in a blackout.
What Do I Need To Know About The SolarSaga Solar Panels? Why Are They So Expensive?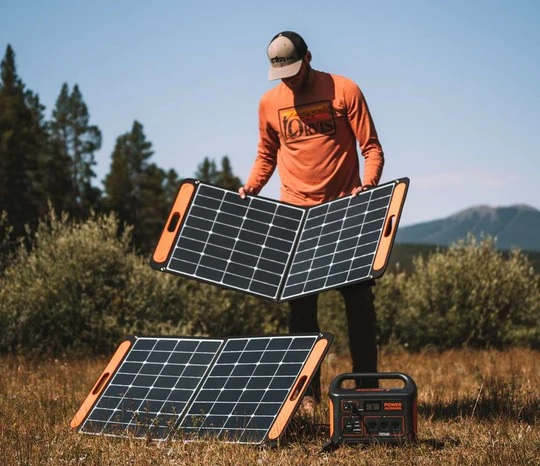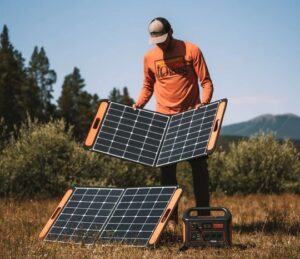 SolarSaga solar panels are pretty much the top of the line when it comes to conversion efficiency. These panels use industrial grade photovoltaic materials, and are incredibly durable, passing over 15 professional tests. They are also able to be set up in under 60 seconds, and their portability does not detract from their high quality.
The 80W panels are dual sided, meaning the panels are collecting and generating energy on both sides. The non-sunlight facing side isn't just blank… it collects up to 25% more reflective and diffused sunlight. 
The 200W panels, the biggest and top of the line panels, are built with advanced solar cells that have a super high conversion efficiency rate of 24.3%, which is above most other panel brands out there. They are not cheap, but they come with excellent protective gear and thick laminate casing. 
For More Info: SolarSaga Solar Panels
What Size Solar Panels Do I Need?
There's no right or wrong answer here. What size to get depends on how fast you want to be able to charge your power station using only sunlight, and how often. If you assume you'll be using your generator regularly and rely a fair bit on solar panels to charge it, I'd advise you to go big, if your budget can handle it. Or, why not start small and replace with bigger panels should you get frustrated by the longer charge times? Remember, Jackery's power stations are able to be matched with any of the SolarSaga panels, interchangeably.
Jackery 1000 Pro vs Jackery 1000: What Changed?
The Jackery 1000 was a popular model that most were happy with, but Jackery did make some smart design and technological improvements on the Pro versions. All of the bigger items at Jackery have a standard and a Pro version now, and I think the updates are worth it. But you can decide for yourself.
Speeding up the recharging time from 200W up to 800W/hr
Adding a collapsible carrying handle (the 1000 was built firm in place – the 1000 Pro folds down, which is nicer for portability)
Improving the display: 2 color LED vs monotone, and adding an impressive self-diagnosis function (error codes – this was not on the 1000).
Updating the USB-C port from 18W to now 100w
Changing the size of the DC input from 8ml to 9ml. 9ml is the size that most newer devices are using, but Jackery does include 2 adaptors should you still have older accessories that need 8ml inputs.
Removing of the Anderson port (not used much anymore)
Moving the charging (input) ports to the rear, leaving the front for output ports.
Improving the light feature: moved from the side of the unit to the front, making it way brighter, and offering a few different settings (low, high, and blinking)
Building the power converter right into the power station, instead of requiring a separate charging brick.
The Explorer 1000 Pro has a longer life cycle, boasting 1000 charges to full capacity before you start seeing signs of aging. The 1000 advertises that it will make it to 500 charges at full capacity.
Jackery 1000 Pro Video Review
For those of you who like to watch a great Youtube video review of a product, here's a really well done one. Check it out (it's approx 22 mins long, heads up).
The Cons: What Do People Not Like About The Jackery 1000 Pro?
If you are wanting to get a solar generator as part of your home preparedness plan, this Jackery Solar Generator 1000 Pro review does emphasize that is a good option. But is it perfect? No. 
Before you invest in one, and yes, it's quite an investment, it's good to have a heads up on a few things so you can decide if it's the best route for you.
Here's what people are NOT liking about the Jackery Solar Generator 1000 Pro.
Lithium-ion batteries can be a bit finicky.
Jackery says that to maximize the life span of your solar generator, you don't really want to let it get below 10% power, and you that ideally you want to max out at 80% on the top end. Now if you do these 2 things regularly, you'll have great success with them, but let's be honest… that's not always easy to do. Most of us use batteries until they are at zero, and then charge them up to 100 by default.
Also, lithium ion batteries like the ones in the Jackery Explorer 1000 Pro work best when they are used in their ideal temperature range; the Jackery 1000 Pro is rated for use between 14 and 104 degrees Fahrenheit.  So, if you live in an area that regularly gets really hot or really cold, you may find your battery length is just not as advertised. It will still work… but the lifespan will be negatively affected – and you won't get the advertised 1000 charges at full strength.
The SolarSaga panels are not cheap.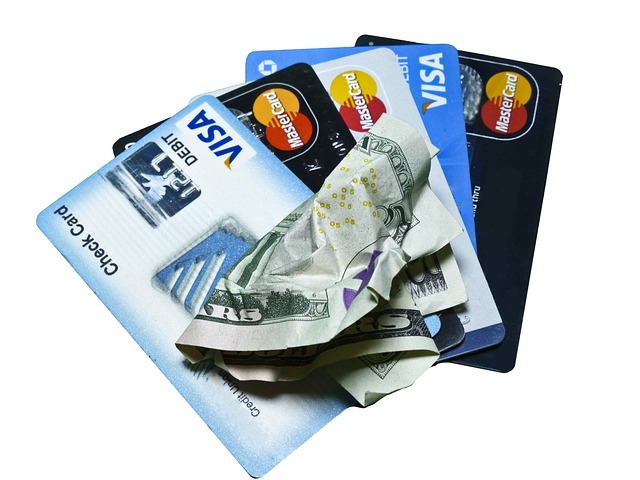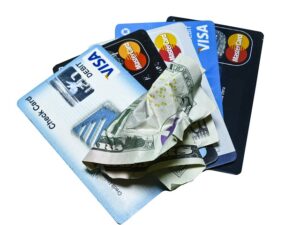 SolarSaga brand solar panels are serious, heavy duty (and heavy weight) panels, and unless you have a lot of time on your hands for slower charges, you'll want the bigger, powerful set. 
Which can run you up a bill where the panels cost more than the power station itself.
Unfortunately, Jackery's warranty won't cover damage done to your power station through attaching any off brand solar panels. Yes, there are some somewhat cheaper models on Amazon or elsewhere that you might be seriously tempted to try out. Be forewarned – it may cost you.
Solar generators aren't fully waterproof / weatherproof.
While SolarSaga panels are considered portable, they are heavy. But as heavy as they are, you can't simply mount them on your patio roof, or set and forget them in your backyard. That's because unfortunately they are not rated for all weathers. The top tier SolarSaga 200W panels are waterproof and ok to leave out in the rain on occasion, but the 100W and 80W are just water resistant (can handle a splash, not full rain). The ports for those, however are NOT waterproof, and nor is the Explorer Power Station. 
Does not come with a carrying case or cover.
Enough said. An expensive set like this, in my opinion, should have a protective carrying case included.
If you live somewhere where the probability of power outages after big storms or earthquakes is fairly high, or if you live somewhere where regular rolling blackouts are an unfortunate norm, you know you need to be prepared for life without power. 
A solar generator system is a fantastic idea, but a "smaller" solar generator like the Jackery 1000 Pro will not power big household appliances for days on end or do well with heating. For that, you'd need to go with a permanent, large set up (think panels on the roof).  
Most people do not need a massive set up though, and simply want a plan in place to power up the necessities while waiting for reconnection. CPAP machine, coffee maker, laptop, smartphone, tv, wifi router… these are all so much a part of our daily lives that it's hard to do without them. 
And for THAT, the Jackery Solar Generator 1000 Pro is a great fit. As a part of your home preparedness plan, this product ticks off all of the important boxes:
Reliable, will work even if it has been sitting on a shelf for months
Powerful, 1000 watts is enough to cover most bases
Multiple ways to charge, including fast options
Supports multiple devices at the same time
High quality craftsmanship and attention to detail
Safe, easily meets all of the standards and certifications
Great warranty and customer service
Where To Get The Best Deal
Although Jackery does sell their solar generators (power stations and SolarSaga solar panels) through third party companies like Amazon, and they are often very similarly priced, I'd advise buying directly from Jackery for something of like this. 
Why by directly from Jackery? 
Because you can register your product automatically and easily, you'll know that it's the genuine article, and you'll automatically get an extended warranty of an extra 2 years, bringing total to 5 years!  Shipping is always free in the US through their site. 
Jackery often has deals going on as well that you may not find elsewhere, and you can take advantage of sales that happen regularly there as well.  Jackery is also a great place to comparison shop between the various models and solar panel options, so you can find a pairing that suits your needs and budget.
Jackery Coupon Codes are available for use on their site only – this one here is valid until June 2023:  Get 10% OFF for Jackery Explorer 1000 Pro Portable Power Station with code "JADEAL" + Free Shipping