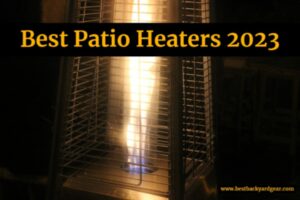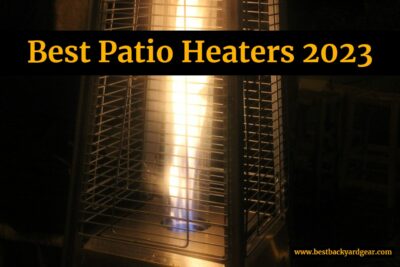 Many people have never wanted to be outdoors as much as in this past year… the lockdowns have forced us to reexamine our backyards and patios and try to make them more livable, even in the cooler temperatures. Deciding to invest in one of these best patio heaters of 2023 can make all the difference to whether or not you continue loving your outdoor space even when the days and nights grow cooler.
There are a few things you'll want to consider when selecting a patio heater.  I'll first show you what's most important, and after you'll see my top picks for the year.
(Or, just jump down to reviews right now.)
I'm sure you'll find a patio heater you'll love before we're done.
Ready?
How To Choose A Patio Heater
There are a couple of things to think about when making your selection and the most important are:
Performance: How much heat do you want?
Aesthetics: What style or design do you prefer?
Price: What's your budget?
1. Performance (Heat Output)
The main reason people purchase a patio heater is to make the space around them warmer, a no brainer. But how big is your space? And how much temperature adjustment do you need?
Some of the patio heaters on this list are commercial grade heaters, meant to heat up large areas for longer periods of time. Look for BTU levels in the high 40,000s if that's what you're looking for.  (See here for more on BTUs and how to know how many you need.). And then there are patio heaters that produce lesser heat (low 40,000 BTUs) but have huge aesthetic appeal. Still others are smaller "table-top" models which will easily and comfortably heat up a smaller area for 2 or 4. Look for BTU levels between 8,000-15,000 for the smaller ones.
2. Aesthetics (Style or Design)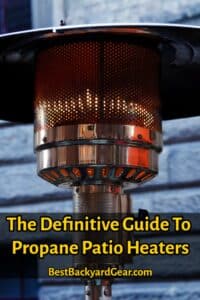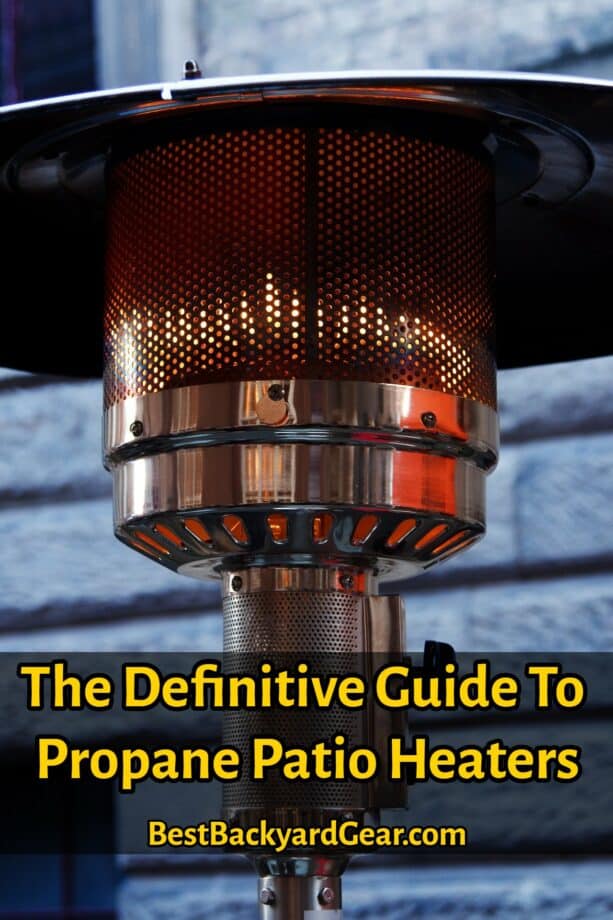 There are some common designs among the top rated patio heaters for 2023:
The tall pole style with the heat reflector at the top and the propane tank under a cover at the base
The pyramid style heaters with the flames that dance in the glass tube, the tub protected by a mesh cage, and the propane tank hidden in the base
A wall or ceiling mounted electrical panel (some also able to be mounted on a stand).
A table top model that looks similar to the tall pole-style heater with the reflector cap (they fit a 1lb propane canister)
A simple propane tank accessory that you attach to the tank itself
All of these models can output impressive amounts of heat. Read through the reviews below to learn about advantages and disadvantages of each.
Here are our top recommendations for each style (click picture to jump to review):
You also need to choose if you want to fuel your patio heater with propane, natural gas, or electricity. Propane is by far the most common, giving you the most portability and higher heat output than electric models, but to dig deeper about the advantages of electric, natural gas, or propane fuel, see this article.
The majority of the reviewed options below are propane patio heaters – they are the most popular, after all.
3. Budget
Like many products on the market, you'll find a large range in prices. These "Best Patio Heaters of 2023" fall into a price range of less than $50 to over $1000 – the majority falling somewhere around $200  (see the models noted as $$ or $$$).  None include the propane tank (if propane fueled), so you'll need to calculate that cost into your purchase as well if you don't have one at home already.
Now that you have a quick idea of what's out there and what to look for, let's look at the 15 top rated patio heaters this year:

15 Best Patio Heaters of 2023
(As an Amazon Associate I may earn a small commission from qualifying purchases made through links on this page, at no additional cost to you. Full Disclosure.)
1. Lava Heat Italia "Milano" Propane Patio Heater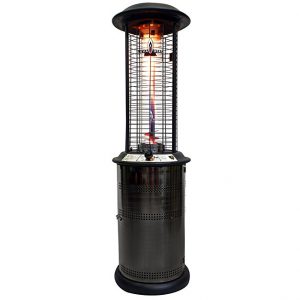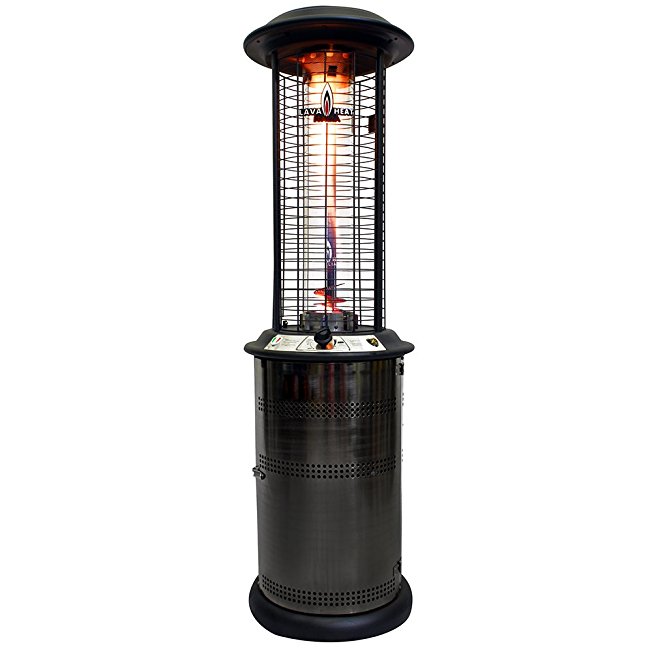 Company: Lava Heat Italia
Power Source: Propane
BTUs: 36,000
Rating: 5 / 5 stars
Price: $$$$$
The Lava Heat Italia Milano heater is one of the most impressive patio heaters on the market today, and if you're looking for simply put, "the best", this is the one you should seriously consider.  It delivers great heat, looks stylish, and has an impeccable customer rating.
Some of the things we really like about this patio heater are that it's built to last, made with the best materials, and puts out fantastic heat: you can feel its warmth comfortably over a 5-6′ radius (10-12′ diameter area)!
Some other top features you'll like:
The protective steel covering is designed to stay cool to the touch, meaning you won't have to worry about your family (children) or guests getting too close and burning themselves.
The unit is really sleek and luxurious looking, with an interesting looking (patented) spiral flame technology.
There is top quality tempered glass surrounding the flames, designed to give off a bright yet warm light (along with the heat), creating a romantic and welcoming ambiance that you'll enjoy.
Coming in at just 6′ tall, the warmth will hit you where you want it… all around your body – not just on your head!
You can get up to 12 hours of heat from one standard 20lb propane tank (not included)! And it's super easy to change tanks with the patented latched "door" in the base.
This Lava Italia Milano patio heater comes with a Tilt-Switch auto-shut-off for complete safety – if for some reason it even partially knocks over, the unit will switch off instantly!
This patio heater comes partially assembled, saving you the headache of fitting the finicky pieces together!
While we think it's the best patio heater on this list, it does come with the highest price tag. If it's more than what you're looking to spend, don't worry – there are plenty of other great patio heaters on this list!  If it's affordable for you though, you'll love that it comes with a (limited) 3 year warranty!


---
2. Dyna-Glo Premium Hammered Bronze Patio Heater
Company: Dyna-Glo
Power Source: Propane
BTUs: 48,000
Rating: 5 / 5 stars
Price: $$
Coming in with an equally impressive customer rating is this second patio heater, made by Dyna-Glo.  It's capable of pumping out some serious heat, able to fire at 48,000 BTUs (one of the highest of any of our "Best of" options).
It's a fairly common design, with the propane tank base stylishly covered, and a pole leading up to a heater unit with a reflector panel that directs the heat down and outwards.  Although it's a common style, not all pole-frame patio heaters are created equally – and this one is one of the good ones.
Here are some of the features we think you'll appreciate in this model:
It has a weighted base above and beyond the weight of your propane tank. This prevents tipping as much as possible (although if it does tip, it'll shut off instantly due to the Anti-Tilt technology built in). Although you do need to purchase the sand that weighs it down, we think it's an effective and very worthwhile thing to do to improve the safety of your heater area.
This unit was tested for use in windy areas and performed really well in areas with winds up to 10mph. Not all patios have windy areas, but if yours catches a breeze, this may appeal to you!
The unit has wheels attached for easy mobility and the slender design makes it a practical piece to move around wherever you want the extra heat – it doesn't take up a ton of space!
This patio heater has an electronic ignition so it's super easy for you to start up… and you can dial up and down the heat as desired as it's variable!
Apparently this unit is also surprisingly quiet – you'll appreciate that when you're enjoying conversation with your company out on your deck.
Check out this video for a deeper peek:
This patio heater by Dyna-Glo is a great choice if you're hoping to score the perfect combination of a fantastic heater and a great price! It'll keep you nice and warm outside on those cooler days and evenings, and it's a nice looking piece as well. What more can you want?


---
3. True Commercial Pyramid Style Quartz Tube Patio Heater with Wheels
Company: Golden Flame
Power Source: Natural Gas
BTUs: 41,000
Rating: 4.6 / 5 stars
Price: $$$$
If you're looking for a patio heater that runs on Natural Gas, this is our top pick for you.
It's no small, dainty patio heater; this unit is actually 94″ tall (nearly 8 feet)! It is in the shape of a 3 sided pyramid, and has a luxurious, "resort" style look to it, according to reviewers. That being said, it IS, however, a commercial grade patio heater, built with quality commercial grade materials such as the anti-rust aluminum frame, and the extra thick single Quartz glass tube (most residential models tend to have thinner 2-PC Glass).  
If that's not enough to love, some other features include:
If gives off romantic lighting through the glass, and you can control just how much lighting you get by adjusting the height of the flames. (You can also control the heat levels.)
Golden Flame uses "an advanced rapid multi-spark electronic ignition system" make start-up lighting really easy for anyone.
While some patio heaters can be a bit tippy, this company states that "safety is a #1 concern". This heater has an extra-wide base that's very stable, and it also comes with a Smart Auto-Tilt Shut-Off built in.
It has mobility wheels to let you move it around easily.
A few things to be aware of with this model are that apparently it's hard to see if the pilot light is lit when it's daylight out, and that assembly isn't necessarily the easiest for some.
Overall, general consensus from the reviews is "Looks Great, Works Great". Click below to read more of the reviews from customers:


---
4. Golden Flame (XL-Series) Matte-Mocha Patio Heater with Wheels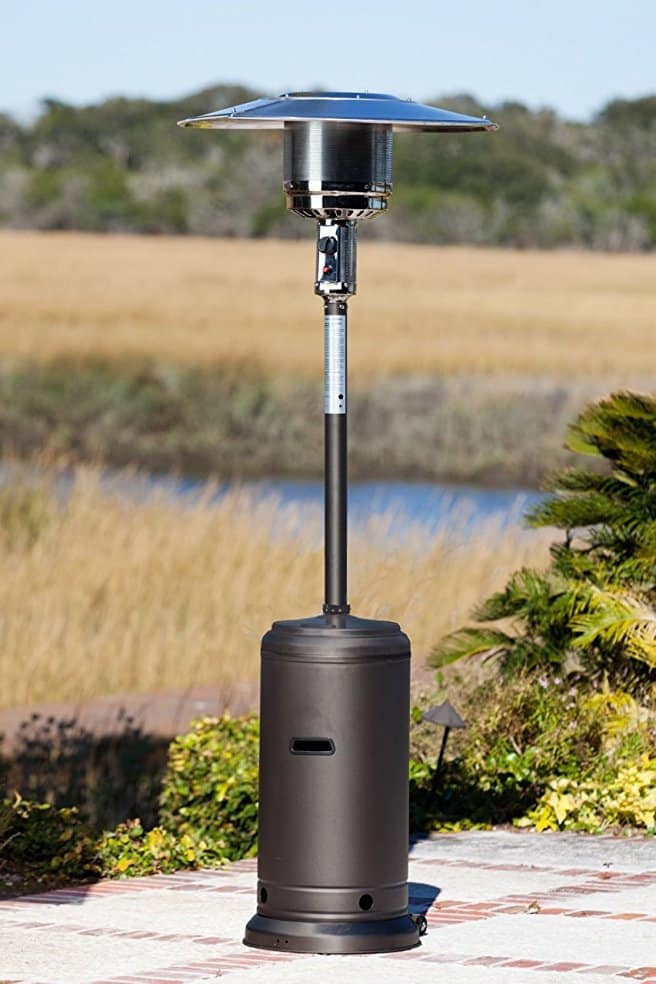 Company: Golden Flame
Power Source: Propane
BTUs: 46,000
Rating: 4.6 / 5 stars
Price: $$$
If you're looking for a patio heater that has a sleek yet simple design and works well consistently in a more open area, this commercial grade unit by Golden Flame is one we think you'll find interesting.
This patio heater has a unique, advanced "Pilotless" burner system, meaning there's no standing pilot flame. If you've been frustrated in the past with gusts of wind blowing out the tiny pilot flames on other heaters, you'll appreciate this pilotless system, as the heater will stay lit! No standing pilot flame also means no fuel wasting, which is ultimately a money saver.
Here are a few more features to draw to your attention:
The base has a reservoir below the tank spot for sand – you can add up to 25lbs of it to the heater base for greater stability (this adds to the "good for a more open space" idea as well).
At 46,000 BTUs, top quality stainless steel burners, and double mantel heating grids, this heater really cranks out the heat!!
You'll love the rich mocha color & stainless steel design – it's attractive and designed for durability (rust shouldn't be an issue apparently as the powder coat finishes endure extremely well, even in a variety of weather conditions)
There's a built-in tilt switch that will instantly turn off the propane and snuff out the flame should the unit tip even slightly, which you'll agree is so important for overall safety of your guests and property.
There are handy mobility wheels so you can easily maneuver the heater where you want it
It's really easy to start this heater – you don't have to pump or hold the button for 2 minutes or get a match or anything like that… the "Easy Start Rapid Spark Electronic Ignition System" is pretty much the easiest you can get.
We really think this a great value for serious outdoor entertainers who want something easy to use, will stay lit, and look great! If that's you, check out this heater from the XL-series (series name, not "extra large" – it was new in 2017).


---
5. Mr. Heater 540 Degree Tank Top Heater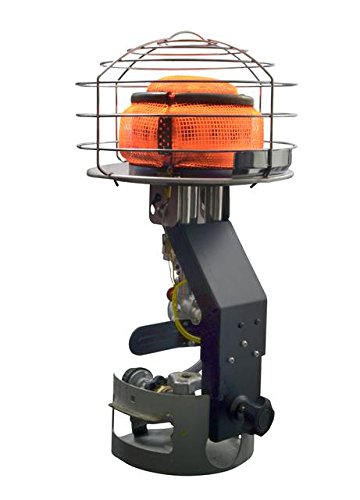 Company: Mr. Heater
Power Source: Propane
BTUs: 30,000 – 45,000
Rating: 4.4 / 5 stars
Price: $
Perhaps you're just looking for something small and compact, and with a nice, small price tag to match? If you don't mind if the propane tank is showing, or if all you care about is getting something that can emit some good heat to the area around you, then here is a fantastic option!
This is an attachment for your propane tank – the standard 20lb tank that many of you normally use for your backyard grills.  It comes pretty much assembled… all you need to do is attach the supplied tank bracket with 3 screws (included). Very simple stuff – you'll have your heat cranking out in no time!
And can this little unit produce heat? Absolutely! It has 3 heat settings: 30,000 BTUs, 36,000 BTUs, and 45,000 BTUs. This is not a casual table top patio heater, but rather the real deal.  It's meant for outdoor space, but if you're wanting to use it indoors (barn, garage), it must be in a very well ventilated area.
Although several reviewers comment on the considerable amount of fuel it uses (12 hours of heat per tank, on high), this unit also has some serious pluses:
You can tilt the 360 degree head to direct the heat to your preferred direction (thus the "540"), meaning you can either protect something FROM heat, or direct that lovely warmth in your own direction!
It runs very quietly, not disturbing your conversation or relaxation
It has the same, very sensitive safety shut-off as do the large units, properly protecting you and your guests and property
If you like the idea of a small patio heater attachment that you can store away easily, but that gives off as much heat as a big unit, we'd recommend looking further into this one!


---
6. XtremepowerUS Premium Floor Standing Propane Outdoor Patio Heater
Company: XtremepowerUS
Power Source: Propane
BTUs: 48,000
Rating: 4.3 / 5 stars
Price: $$
This propane powered patio heater by XtremepowerUS is one of the 2 heaters with the highest BTUs on this list.  It has great ratings, and is really affordable too, so we think it definitely deserves to be on this list!
This heater has some serious power packed into it… the heat reaches an impressive 200 sq feet (15′ radius), so it'll be a welcome addition to any big gathering!
Besides the serious heat, here are a few other features you'll like:
You can pick either a "mocha" finish, or a "hammered bronze" finish, both classy and timeless.
It's the tallest of the patio heaters featured here, coming in at 8.5′ tall!
It has a reliable and easy Push-Button Piezo Ignition starter operation (much like a BBQ/grill starter)
Like several of the other heaters, it too has a safety auto shut-off tilt valve and wheel assembly.
One really unique aspect we think is worth highlighting here is the little hole cut-out in the base… that's so you can reach in and shut off the propane on the tank without having to lift the base up! Not many heaters have this, and reviewers say it's great!  Unfortunately, exchanging an empty tank for a full one isn't all that easy though, as you need to hold the base up with one hand – there's no clip or anything to prop it up.
We love that this tank is easy to assemble – the instructions are apparently clear and accurate, with lots of pictures and details. So don't let fear of assembly scare you away from this one!


---
7. AZ Patio Portable Table Top Heater
Company: AZ Patio
Power Source: Propane
BTUs:  11,000
Rating: 4.2 / 5 stars
Price: $$
Some of you aren't looking for a full height, full strength "warm up the patio" heater. Some of you are simply wanting to be able to dine outdoors a bit longer, be comfortable as you cook on your gas grill, sit in your comfy porch recliner with a small heat source near by, or even, just have something small to heat a screened in porch for your pets.
This is a great option for you, in any of those are the case. This tabletop heater by AZ Patio Heaters is about 3′ tall, and heats an approx. 5′ diameter circle.  It puts out a nice 11,000 BTUs, but you can dial that down if you'd like (it has variable control).
Some of the things you'll like about this unit:
It's made of durable steel (with a silver and black finish), making a product that's weather resistant and stylish

It comes with a handy cover and screen guard that'll help you keep it looking great that much longer

Assembly is quick and easy!
There's a weighted plate at the base that'll give it some extra stability – should it tip though, the thermocouple and the anti-tilt safety devices will trigger and turn it off instantly
You'll get about 2 hours of heat from a 1lb propane tank, on high… not bad!
Although this might not be the heater you want on a windy day, and you won't be happy with the heat output if you're comparing it to the full size version, but all things considered, this is a great little table-top patio heater!


---
8. AmazonBasics Commercial Patio Heater
Company: AmazonBasics
Power Source: Propane
BTUs:  46,000
Rating: 4.1 / 5 stars
Price: $$
This is currently the "Amazon's Choice" for "Patio Heater" – which means it's an overall great product at a fantastic price. And being an AmazonBasic's product, you know Amazon itself is standing behind it!
The heat output on this patio heater is pretty great – at 46,000 BTUs, it has one of the higher capabilities for heat output.
While there are a few "cons" for this patio that you'll need to be aware of (the fuel consumption is apparently a bit higher than others, with a tank lasting around 8-9 hours as opposed to 10-12, and the assembly directions being not as clear as you'd like them to be), this patio heater does have some features we really think you'll like – including, of course, the great price:
It heats a huge area, (up to an 18′ diameter range), which is perfect for outdoor gatherings with friends and families
It's available in 4 great colors: Havana Bronze (pictured – although it looks grey in the picture, when the sun is glancing off it, it shows a rich bronze texture), Slate Grey or Charcoal Grey (both are powder coated steel), and Stainless Steel (commercial grade)
It's incredibly easy to light (one button, one push Piezo Ignition system), and it's also simple to adjust the heat to your exact desires with the variable heat control knob
A s

afety auto shut-off tilt valve is built in for added safety

It comes with a wheel assembly so you can easily position it where you want it, or to transport it from poolside to patio or from one side of the deck to the other in the course of the day.

The designers added a really handy base reservoir system that takes either sand or water. This really improves the balance of the heater, and prevents tip overs (aside from heavy winds, of course).
Overall, it's a good, reliable heater. Not the best of the bunch, but definitely a good bargain for the price!


---
9. Belleze Propane Outdoor Patio Heater – Pyramid Style With Dancing Flame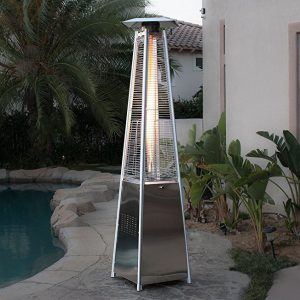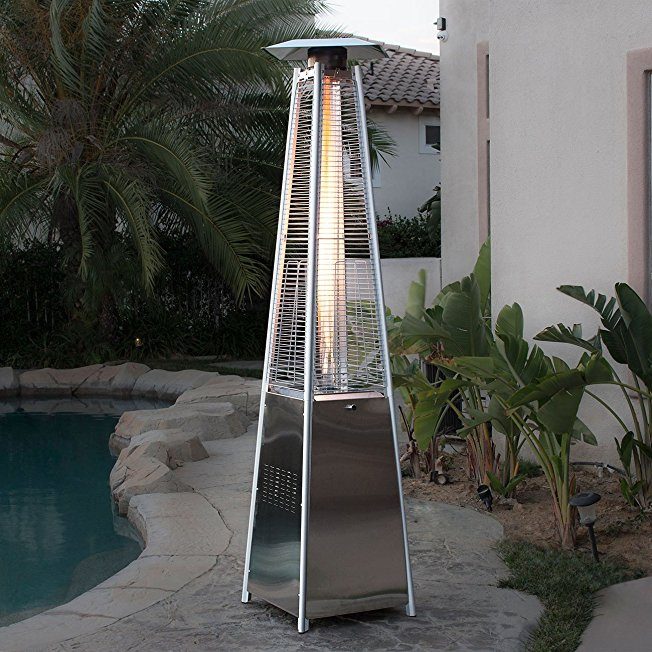 Company: Belleze
Power Source: Propane
BTUs:  42,000
Rating: 4.1 / 5 stars
Price: $$$
If you're looking for a patio heater that's all about "wow-factor", a piece of "art" that will draw the attention of your guests, you might want to pause at this one and take a look.
Review after review said it's a very eye-catching piece, a "beautiful distraction from the cold", and dramatic, with the dancing flames rising within the 50″ ceramic glass flame tube. The unit has a rather unique pyramid shape too, which makes this unit much more steady in the wind than a pole-style heater.
If that's not enough to love, here are some more features:
You can really tailor it to your own style: order it in stainless steel (pictured), hammered bronze or bronze, or hammered black, as well as select your desired height: medium (73″ tall) or large (89″ tall).

Heating is variable, so you can adjust the height of the flame and amount of heat
It has an electronic striker switch ignition system that apparently works really well – as well as an anti-tip turn off for added safety
Assembly is noted to be very easy, with well organized and labelled parts, clear instructions, and carefully packaged parts – this isn't the case with every patio heater on this list, so if assembly is a "tricky thing" for you, you'll appreciate this!
You (or your kids) can actually put your hands direction on the protective guards while the unit is running and you won't get burned!
There are mobility wheels for easy movement around your patio or deck
One common complaint, unfortunately, is that this unit doesn't throw its heat very far.  Although it claims to have a range of 15 feet (diameter), to many reviewers the main attraction of this unit is that it looks so fabulous on their patio(or beside their hot tub) – not that it works so well as a heater for a larger area.


---
10. Fire Sense Powder Coated Propane Patio Heater
Company: Fire Sense
Power Source: Propane
BTUs:  46,000
Rating: 4.1 / 5 stars
Price: $$$
This unit has decent reviews, and if you can grab it on a good sale, this is good patio heater.
The color is a bit of an attention grabber – some of you may love it, some not so much. It DOES come in more "regular" colors as well, such as: bronze, copper, stainless steel, black & stainless, mocha & stainless, the aqua blue (pictured).
It's a standard model, not too fancy, but puts out a solid bit of heat at 46,000 BTUs, sending it to an 18′ diameter range.
Some details about this particular patio heater that you'll appreciate:
The burners are made of stainless steel, and so is the double-mantle heating grid – you'll get many years from them, rust-proof.
There's a handy cut-out in the tank cover so you can simply reach in to turn the propane on or off – you won't need to lift up the cover (which some find rather awkward).
You get the tip over protection system (safety auto-shut-off tilt valve) that keeps you and yours protected, and the wheels assembly that lets you move it where desired!
With a consumption rate of approximately 10 hours using a full 20lb propane tank, you'll get lot of heat for a long time!
Assembly is apparently fairly easy and straightforward.
One point of interest… a surprising number of the reviews for this product mentioned their product arrived somewhat dented or damaged. If you can get a good deal on this product, it may be worth taking the chance though, as it IS overall known to be a good quality heater that does its job well.


---
11. Mr. Heater MH15T Single Tank Top Outdoor Propane Heater
Company: Mr. Heater
Power Source: Propane
BTUs:  8,000 – 15,000
Rating: 4 / 5 stars
Price: $
Here's another simple "propane tank-top" style heater that is a very budget friendly way to add a patio heater to your collection of outdoor gadgets.
Unlike the propane tank-topper option we looked at above (#5, the Mr. Heater 540), this patio heater out-puts about the same heat as a table-top unit – not a standing upright "heat the whole patio" heater. There are 3 heat settings you can select, maxing out at 15,000 BTUs of radiant propane heating.
Some of the thing you'll like about this smaller propane tank top heater:
You'll love how quietly it operates!
It comes with a (limited) 1 year warranty, so if you aren't happy, you can get your money back and try something different
There's a very sensitive emergency shutoff (tip switch thermal couple)… which makes it very safe for use around your family (or jobsite).
One aspect you may not love so much is that this does not have a push-button/electric start. You actually need to start this heater with a match or lighter (similar to a propane lantern). Not everyone loves that process, as it's not as safe or family friendly. However, if you're ok with it, and are looking for a cheap propane heater for your outdoor needs, check this one out for sure!


---
12. KingMys 1500W Remote Controlled Carbon Infrared Outdoor Patio Heater
Company: e-Joy
Power Source: Electric
Watts:  1500W
Rating: 4 / 5 stars
Price: $$$
Here's something different – NOT a propane option. It's worth it to look at another fuel source too, just so you know what your options are.
There are many electric space heaters out there (including some mounted options), but not many have very ratings or reviews that earn them a place on our list. This one does.
Here's why you may like this patio heater:
You can either stand it on the adjustable pole (as pictured), or use the included

easy-install universal wall/ceiling mounting bracket to position it in place in a more "permanent" way.

You can plug it in to any standard 110/120V outlet… no need for extra adaptors! 

It's maintenance free! No need to refill the propane tank – just plug it in and turn it on!
As it's not using propane, you can also use this unit indoors! Electric heat means you don't have to worry about proper ventilation, the possibility of fumes/leaks, or carbon dioxide output.
The heat is a silent heat, not requiring fans or motors to push it out. You'll see the element grow red similar to a stove element, and the heat will radiate from it.
It comes with a remote control that lets you set 3 heat modes as well as running time!
It's durable and versatile – built to be weather resistant and dust proof (rated IP34), so it'll give you years of great heat!
You may just find that electric heat is perfect for your needs! It somewhat replicates the sun's rays, as it pushes the heat out in a way not affected by wind at all – the range is noted to be between 6-9 ft! Operation costs are also cheaper than propane… that along with the very reasonable price on this unit makes it definitely worth a closer look.


---
13. Palm Springs Hammered Bronze Commercial Outdoor Garden Patio Heater
Company: Palm Springs
Power Source: Propane
BTUs:  41,000
Rating: 3.9 / 5 stars
Price: $$$
This patio heater by Palm Springs is pretty much your decent quality, decent heat output, decently rated patio heater, for a decent price. It's possibly not your best option on this list, unless you can score a sweet sale though!
This Palm Springs model is pretty standard, with well constructed parts and well thought through components. Here's what we think you'll like about this one:
Simple ignition process: just press the starter button and away you go – it's a Piezo ignition system similar to most popular gas grills.
It has high performance burners made of rust-resistant stainless steel, meaning you'll get decent life out oft them for your money!

An automatic shut off tilt valve is built into it for safety

It has a good run time, achieving an average of 10 hours per 20lb propane tank
The hood is a large one at 32″ diameter, which helps with great heat distribution (the range is approx. 115-132 sq feet, or a 78″ radius, on high, but you can adjust it down to whatever works for you)
There's a large, weighted base that has wheels attached for easy moving
Browsing through the many customer reviews on this item (click below), you'll note that comments the assembly of this item seems to follow a pattern: Easy to do with clear, straight-forward instructions and all parts nicely labelled… easy except for removing the protective film on the heat reflector – that can take a LOT of patience! So, proceed if you are blessed with lots of it, or if you have a handy trick up your sleeve to remove it (hint: heat it using a hair dryer).
This unit isn't quite a commercial grade patio heater, but if you're wanting something that'll work well on your back patio, it's worth consideration.


---
14. AZ Patio Glass Tube Heater
Company: AZ Patio
Power Source: Propane or Natural Gas
BTUs:  40,000
Rating: 3.9 / 5 stars
Price: $$$
Many people are looking to purchase a patio heater that will be a bit of a statement piece on their patios – this glass tube pyramid style patio heater is definitely one of them!
It wows everyone who looks at it, as the flames that dance up and down the central glass tube (commercial glass or quartz, your pick) mesmerize and attract attraction. The flames also create a beautiful ambiance around it, setting a romantic and cozy mood… and they won't blow out in a gust of wind!
Here are some things you'll like about this model:
There are a variety of color options so you can customize your heater to match your décor. Colors include shiny black, matte black (pictured), bronze, steel, hammered bronze, or silver, or rich mocha brown
The propane tank can be exchanged or accessed via a hinged access door on the side – you don't have to lift the entire base up to do what you have to do.
Like many of the best units, it comes with a simple electric ignition, variable heat control, wheels, and both thermocouple and anti-tilt safety devices.
The flames are enclosed, meaning you can actually brush up against (or intentionally touch) the wire/mesh screen around it without getting burned!
There is an option with some of the colors to have a natural gas hook up instead of propane!
There are 2 points that you should be aware of before ordering one of these though: 1) they are fairly light, so even with the structurally sound pyramid shape, they can topple in the wind if you don't secure it somehow or weigh it down. And 2) Although it states that it can output 40,000 BTUs, the general consensus is that it isn't on the "best patio heaters 2023" list because of it's HEAT output… but rather for it's attractive and impressive design. To put it simply, it doesn't output all that much heat.
But if your patio is smaller, or if you're looking for a really impressing looking patio heater, we think you'll be loving this one!


---
15. Garden Sun GS3000SS Table Top Propane Patio Heater
Company: Garden Sun
Power Source: Propane
BTUs:  11,000
Rating: 3.8 / 5 stars
Price: $
If you're wanting a nice table-top propane heater that'll make your outside gatherings more comfortable on chilly evenings, this one will do the trick, and won't cost an arm & a leg.
You'll appreciate this smaller patio heater for a number of reasons:
It sits at only 35″ high (so, taller than a lantern but not huge). You'll like this if you're wanting a patio heater to put under a roof that you're worried will melt or get damaged from the heat of a tall unit
It weights under 20lbs, so it's not all that cumbersome for you to move around.
You can choose your base in one of 3 colors: Black (pictured), green, or stainless steel.
Safety is always a number one concern, so you'll be happy that this small patio heater also has the same safety valve that immediately shuts off the unit should it be tipped or knocked over.
Starting the heater is only a one-button job once the propane is turned on, and once lit, you can dial it up or down as desired. On high, the radiant heat should reach an impressive 15 ft radius!
While having a small patio heater like this can be a fantastic addition to your patio gear, we do have a recommendation: buy a conversion line or connector that allows you to use a 20lb propane tank. It'll save you money and energy in the long run as the 1lb propane bottles don't last long if your heat is on high (1-1.5 hours). The heat output seems to be more consistent with a larger tank as well, apparently. 


---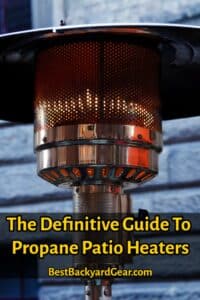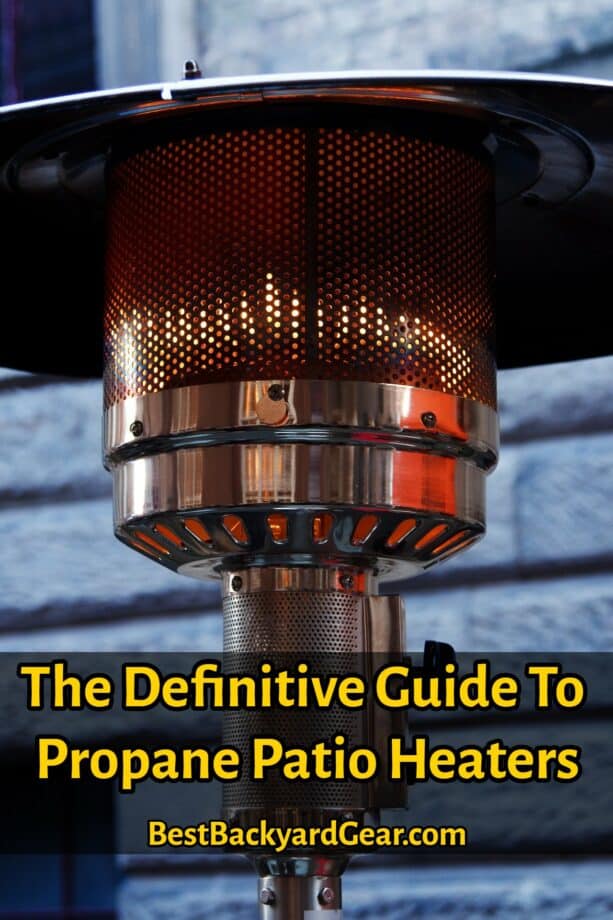 Have questions about propane patio heaters? Check out the Definitive Guide To Propane Patio Heaters and get all the answers you need!
—
One of these best propane patio heaters (or the electric or natural gas options) is a great idea for anyone who loves their outdoor space but wants to take the chilly bite out of the air to fully enjoy it. Whether you're wanting one for entertaining on occasion, for regular evening porch sitting, for heating up the area surrounding your chicken coop or rabbit hutch on a freezing night, for keeping warm while cooking on your pellet grill, whatever the reason, there is a huge variety of styles and options. You can definitely find a unit that's perfect for your own property and for the needs of yourself and your guests.
There's a patio heater here for all needs and all budgets too.
If you have any questions you can comment below and I'll make sure to respond as quickly as possible!
Are you excited to reclaim your outdoor space?
---