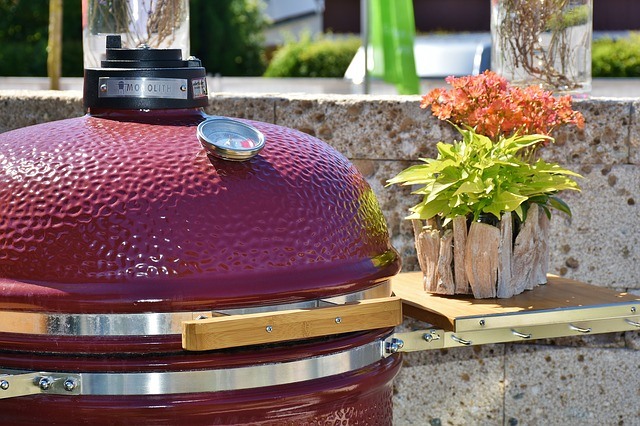 Kamado grill cooking is for serious grillers who want to create culinary masterpieces using perfect heat control. Sweet and tender meat that falls right off the bone. If you are ready to join the kamado movement, you'll need one of these best kamado grills of 2023.
There are different types and styles of kamado grills. Having the right kamado grill for you is important if you want to both love your purchase and love your grilling experience. Let's take a quick look at the options and what you need to consider, after you'll see my top picks for the year.
I'm sure by the time you're done reading you'll see a kamado grill that you love.
Know all about Kamados already?  Skip directly to reviews.
Ready?
How To Choose A Kamado Grill – A Buying Guide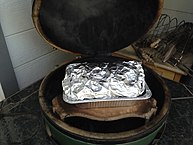 Kamado grills are pretty unique looking, with their large, egg-shaped bodies. But are they all as similar as they look? The answer is a complicated yes and no.  In general they all work the same – like an oven, a grill, and a smoker all in one. They all create a heat-trapped environment that enables the creation some of the best food you'll ever eat, but in specific, no, not all kamado grills are created equal.
What are the differences, and are those differences important? Let's dig into kamado grills a bit to find out before getting to the reviews.
What Are Kamado Grills Made Of? 
The majority of Kamado grills have a body (the egg shape) made of thick, high quality ceramic. It's what most kamado lovers consider to be your best choice. Ceramic as a material is fantastic choice as it is an excellent heat insulator; it's very efficient at holding both high and low temperatures.
These ceramic shells are however also VERY heavy and fragile – meaning you could have an expensive "humpty dumpty" experience if you aren't careful when moving your grill. (Thankfully most of your more high end kamados come with a warranty against cracks.)
There ARE other types of kamado grills that have given the ceramic kamados some competition lately. Broil-King and Char-Griller have developed some very well-received models from steel, and Blaze has made an aluminium shelled kamado (see reviews below). Both types having good reviews and people really like the fact that they are not so breakable, weigh less, and thus are way more portable!
How Do Kamado Grills Work?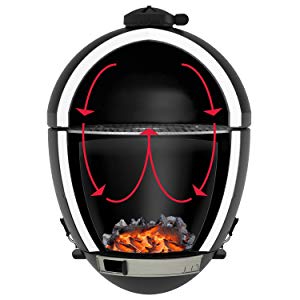 If you picture a typical Kamado grill, the dome shaped lid sits at about the 1/3rd mark, and is on a hinge. The lower 2/3rds is where the charcoal burns beneath the grill grates (atop a small firebox, usually).
When the dome lid is closed (good Kamados have very tight seals or are built tong and groove), the unique "egg shape" allows the heat to be reflected evenly around the inside of the cooker.
With the majority of kamado grills, air flows into a vent at the bottom to feed the fire, and ashes drop down into the base of the egg, or into an ash catcher. There's also a vent at the top of most grills and together the vents allow temperature regulation (the higher quality grill, the more precise).
Grilling Space On A Kamado
Smaller grilling space is something that you'll have to get used to with a kamado, if you're new to it. Gas grills often have tons of space – kamados, not so much, and what you get is round (with one oval exception).
There is a fairly wide range of sizes available if you look around (from the "perfect for 2-3″ 10" diameter to "feed the neighborhood" 24″ diameter circles). Of course, the more space you require for cooking, the bigger the dome will need to be (and bigger = more expensive, heavier, etc.).
Several kamados reviewed below have a primary and a secondary cooking surface so you can double your cooking space, or a way to create dual cooking zones with one grate. Because of the way the heat circulates inside, you can actually cook on the secondary surfaces and not just warm things… it'll just be at a slightly lower temperature than on the primary grate, which is closer to the fire.
Work space around the grill is another aspect to consider. When you're grilling, you do need to have somewhere to put utensils, sauces and seasonings, plates, and other grilling necessities. While some people have a great set up on their deck or patio already, it's worth it to consider getting a model with sides or a table to go with/beside it.
Kamado Grills: Their Appeal
Grilling enthusiasts absolutely love the kamado grill – in fact, most say they won't go back to gas or even pellet grilling after learning to use a kamado cooker. You can control heat levels extremely well, for one… which makes it perfect for low and slow. But you can also raise the temperature way up high by opening up the vents, which is perfect for quick sears. Kamado grills are incredibly versatile, great for grilling, smoking, barbecuing, and even baking!
Want to read more? Following the reviews on this post, you'll find Maintaining Your Kamado Grill,  History of Kamado Grills, and The Rotisserie Question.
Now let's take a look at my top picks for 2023:
---
11 Best Kamado Grills of 2023
(As an Amazon Associate I may earn a small commission from qualifying purchases made through links on this page, at no additional cost to you. Full Disclosure.)
Here's a product overview of the 11 Top Kamado Grills we'll be looking at here.
1. Kamado Joe Classic II

*Best Overall - Top Recommendation*

See Review
406 sq. inches

Ceramic Body

$$$

4.8 / 5 stars
2. Blaze Cast Aluminum Kamado Grill

See Review
400 sq. inches

Cast Aluminium Body

$$$$

4.1 / 5 stars
3. Big Green Egg

See Review
various sizes

Ceramic Body

$$$$

4.6 / 5 stars
4. Vision Grills Classic P Series Kamado


*Best Small Ceramic*



See Review
87 sq. inches

Ceramic Body

$

4.7 / 5 stars
5. Kamado JoeBig Joe II Stand-Alone


*Best Large Kamado*



See Review
452 sq. inches

Ceramic Body

$$$$

4.6 / 5 stars
6. Char-Griller Akorn Jr. Kamado Kooker


*Best Small Portable*



See Review
153 sq. inches

Steel Body

$

4.5 / 5 stars
7. Broil King Keg 5000


*Best Big Portable*



See Review
280+200 sq. inches

Steel Body

$$$

4.4 / 5 stars
8. Primo Ceramic Oval XL

See Review
400 sq. inches

Ceramic Bocy

$$$$

4.1 / 5 stars
9. Pit Boss 71240 Kamado

See Review
567 sq. inches

Ceramic Body

$$

3.9 / 5 stars
10. 9. Char-Griller AKORN Kamado Charcoal Grill

See Review
314 sq. inches

Ceramic Body

$

3.8 / 5 stars
11. Char-Broil Kamander

See Review
327+142 sq. inches

Steel Body

$

3.8 / 5 stars
1. 

Kamado Joe KJ23RHC Classic II Ceramic Charcoal Grill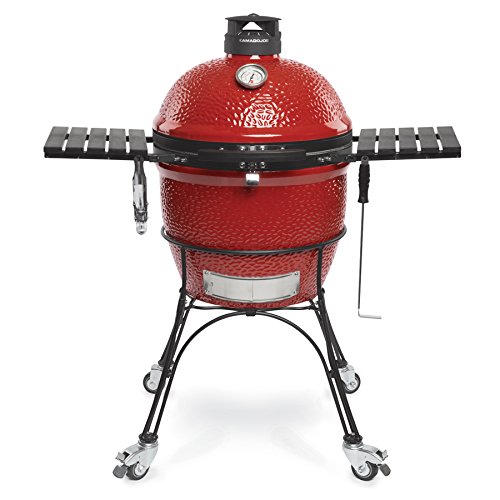 Company: Kamado Joe
Rating: 4.8 / 5 stars
Body Material: Ceramic
Size of Cooking Area: 18″ diameter circle
Price: $$$
The Kamado Joe Classic II is pretty much THE grill you need to consider whether you are a kamado grilling novice or an expert. No matter who you're talking to, Kamado Joe is considered one of the best makers of kamado grills, and the Classic II is their most popular model right now.
There are many reasons why it stands out as the top contender:
It comes with everything you need to start grilling (minus the charcoal and the meat), so you don't have to buy add-ons. You get a built-in thermometer, a heavy duty rolling cast-iron cart with folding side shelves and a handle, a sturdy grate gripper tool and an ash tool,

a

nd more!
It has Kamado Joe's patented and super handy "feather touch" air lift hinge that makes the dome lid much lighter to lift. Remember, with Kamado grilling you want to lift that lid slowly in order to not add too much oxygen at once to the fire and to limit heat and smoke loss; the air lift hinge lets you lift that extremely heavy lid with just a finger, and stop it exactly where and when you want.
The Classic II has Kamado Joe's "divide and conquer flexible cooking system" that basically doubles your cooking space and gives you lots of options for cooking more than one type of food at once, on different surfaces, and at different temperatures (you can move half of the grate closer to or farther from the coals as desired).
You get Kamado Joe's patented "Kontrol Tower", an all-aluminium top vent that is both rust proof and rain proof, and that lets you set the exact air flow that you want. (Other kamados often have problems with rain dripping into the grill through the vent, and some reported difficulty maintaining the air flow from above. KJ's "kontrol tower" addresses those issues nicely.)
The seal that keeps the heat and smoke inside is reported to be excellent, as is the stainless steel lid latch. It also has a top quality w

ire mesh fiberglass gasket that supposedly lasts 10x more than the standard fitting that comes with most grills (meaning you won't have to replace it NEARLY as often as with other grills).

You'll love how easy it is to empty out your ash – Kamado Joe grills have a patented slide-out ash drawer that makes cleaning out the ash that collects beneath the firebox as simple task. (Many people consider this the biggest and best improvement that Kamado Joe over the BGE.)
There's a whole lot to love about the Classic II. It's a serious grill that isn't cheap, but a quality-built kamado grill is NOT cheap; if you're careful with it, it will be an investment that you'll be passing on to the next generation. If you need more convincing, check out the raving reviews on Amazon (click through).  


---
2. Blaze Cast Aluminum Kamado Grill (BLZ-20-KAMADO)
Company: Blaze
Rating: 4.1 / 5 stars
Size of Cooking Space: 400 sq. inches (22″ diameter)
Body Material: Premium Cast Aluminium
Price: $$$$
This kamado by Blaze is another innovative option on our list – it's the only one that's not made from ceramic or steel… it's made from 1″ thick, premium cast aluminium!
The more you learn about the details going into the making of this grill, the more impressed you get. All of the hinges, grates, screws, everything… is high quality, heavy, and built to LAST!
Some aspects you'll appreciate:
It's assembled with a tongue and groove design that gives an incredible seal, trapping virtually all of the heat and moisture nicely inside. (This design replaces the rubber gasket that you find on other grills, which eventually wears down and needs replacing.)
There's a removable ash bucket that designed as part of the grill, which means it fits just right and is easy to handle when you want to clean out the ashes from your earlier cook
Reviewers say that it does a great job of maintaining heat levels, as well as adjusting quickly to whatever changes you wish to make.
The aluminium is not going to rust or chip, so you'll have a nice looking, solid grill for the rest of you life. Yes, your life. It comes with a lifetime warranty… how's that for standing behind your product???
Because this is a higher end kamado grill, it's going to cost a bit extra. I think it's worth the price they are asking, but if you're looking for a budget-friendly model, this may not be the one for you – there are plenty of other more affordable options. But if you're looking for an incredible addition to your outdoor cooking space, something that'll be an eye-catching conversation piece AND an exceptional kamado, here you go.
Although you can purchase this on Amazon for the same price as other locations, buying through Patio Products USA (link below) gets you an extra year on the warranty, plus free shipping and personalized service. And currently (during the COVID19 times), there's also a special coupon code there "GIVE" that gets you 20% off, which is pretty sweet for a high priced item like this.


---
3. Big Green Egg (BGE)
Company: Big Green Egg
Rating: 4.7 / 5 stars
Size of Cooking Area: various
Body Material: Ceramic
Price: various ($$$$)
The BGE, as it is commonly known, is the high end ceramic kamado grill that sort of started the kamado cooking sensation here in North America. If you've heard anything about kamado grills, you will at least have heard of The Big Green Egg – it has quite the fan club, and for good reason! It has been around for decades and is absolutely both a great grill (high heat) and a great smoker (low and slow). Beyond that, it is made of quality materials, has fantastic reviews on its workmanship, and comes in a large variety of sizes (from 2XL to Mini) and a huge batch of accessories.
The BGE company hasn't made many innovative changes to their product in the last few decades, which has allowed other companies like Kamado Joe to make headways into the market. However, when you have a product that is as popular as theirs, you already have a good thing going!
Learn more about this at BigGreenEgg.com – you'll have to find a registered dealer in your area to buy one for yourself though – they aren't available for purchase online at this point.
---
4. Vision Grills Classic P Series Kamado Charcoal Grill
Company: Vision Grills
Rating: 4.7 / 5 stars
Body Material: Ceramic
Size: 87 sq. inches (10.5″ diameter circle)
Price: $
If you like idea of a kamado grill but aren't ready to make the investment in a full size cooker, take a look at this entry by Vision Grills. It is a more economical, smaller grill, a ceramic kamado that has good reviews across multiple sites.
Here are some of the features you'll like:
The materials are all high quality: it's made from a heavy duty ceramic with a glossy charcoal grey finish (the picture looks a bit green, but it is charcoal), and stainless steel cooking grates.
The size makes it portable – although ceramic is heavy and fragile, you can move this grill as desired without too much trouble. It even has metal feet so you can cook on a standard picnic table!
You get the side shelves built onto the grill so there's space for your grilling accessories near your food.
It has a unique effortless "electric starter port", so you don't have to play with matches or a lighter to get the coals started.
The heavy lid has a handy spring assist that helps you open it slowly and smoothly.
The two chimney on the top and the draft door on the bottom both adjust easily so you can get the exact temperature that you want inside the grill.
It's really easy to assemble this grill, and it comes with all of the tools required to do so! Customers report that you can be cooking within 20 minutes if you want to, after the shipment has arrived!
Overall, I'd consider the Vision Grills Classic P Series Kamado Grill to be a good kamado grill in a good price range, worth a closer look if you're wanting a small kamado. (By the way, I'd suggest you measure out the 10.5″ diameter so you have no surprises – it's not large. Good for 1-3 people, but probably not more.)


---
5. Kamado Joe BJ24NRHC Big Joe II Stand-Alone Kamado Charcoal Grill
Company: Kamado Joe
Rating: 4.6 / 5 stars
Body Material: Ceramic
Cooking Space: 24″ diameter circle (452 sq. inches)
Price: $$$$
If you like to entertain or cook for a crowd, you'll love this next grill, again by Kamado Joe. This time we're looking at their BIG model, "Big Joe II Stand Alone". It's a huge, heavy beast of a kamado, with a reputation as being pretty fantastic, holding temperatures from 225°F – 750°F.
Here are some features you'll love:
The huge cooking area! Although 452 sq inches isn't quite as much as a big gas grill offers, as far as kamado grills go, this is one of the biggest you can find, and it keeps the heat and moisture consistent throughout all of that space so you can perfectly cook a LOT of food at a time.
It comes with Kamado Joe's patented air lift hinge that makes lifting the heavy dome lid extremely easy, and with Kamado Joe's patented "Divide & Conquer Flexible Cooking System" (the multi-level, half rack design that lets you cook different foods on different surfaces at different temperatures).  These two features are HUGE selling points for Kamado Joe's line because they are pretty great – and the BGE (KJ's biggest competition) doesn't have them.
You also get the slide out ash drawer system that makes cleaning really easy, and the patented rust-proof, rain-proof, Kontrol Tower Top Vent that helps prolong the life of your grill and helps you get precise temperatures for the duration of your cooking time.
The stainless steel latch locks your smoke and heat inside tightly, helping hold consistent temperatures

The KJ Big Joe II comes with a handy Grill and Grate Gripper Tool, an 

Ash Tool, a built in over-sized thermometer, and a 

Firebox Divider so you won't have to purchase them separately.
If you're interested in adding this grill to your outdoor cooking area, remember that it's an incredibly heavy grill that will require some strong friends to help you lift into place. Buying online lets you get it delivered to your house, which saves you moving it more than necessary, but do think carefully about where you will be putting it as it's over 360lbs – or consider purchasing the specially designed stand to go with it. 


---
6. Char-Griller E06614 Akorn Jr. Kamado Kooker Charcoal Grill
Company: Char-Griller
Rating: 4.5 / 5 stars
Body Material: Steel
Size of Cooking Area: 153 sq. inches (14″ diameter)
Price: $
This next entry is what you can consider the best low-budget or "entry level" option. The Akorn Jr is the 14″ diameter model, while the original Akorn is 20″ (314 sq. inches of cooking space – see review). While both the Akorn and the Akorn Jr. are very popular grills, I've chosen to reviewing the Jr. here as overall it seems to receive higher reviews by customers – fantastic value for their dollar.
Here's what's to love about the Char-Griller Akorn Jr. Kamado:
Because it's made from steel and not ceramic, and due to it's compact size, this grill is durable, lighter, and easier to transport than most other options. This makes it a kamado that you can enjoy in your backyard but also take along tail-gating, camping, or wherever you want to enjoy a great meal.
Although it's not a large cooking area, it's built with high quality cast iron grates that'll cook you and a few friends some fantastic food.
Steel makes it a more affordable grill than ceramic – which you'll very much appreciate if you're on a budget. You still get a grill that holds and locks in heat very well (it's triple wall, insulated steel), and with top and bottom air dampers that give you easy and precise control of temperatures, so you don't have to be concerned that a non-ceramic kamado isn't good stuff. It is.
It will maintain temperatures from 200 – 700 degrees F, great for your low and slow smoking and your quick and hot searing jobs.
Some smart additions Char-Griller added to the Akorn Jr.: an easy dump ash pan that saves you time cleaning out the coals, and a hinged locking lid that helps you reduce heat and smoke loss when you want to check on the progress of your meal.
Overall, the Akorn Jr is a really good option for those who want to see if they love kamado grilling before committing to an expensive, larger model – or for those who simply want a smaller, portable, efficient kamado that has lots of high customer reviews and is consider great value for the price. 


---
7. Broil King 911470 Keg 5000 Charcoal Barbecue Grill
Company: Broil King
Rating: 4.4 / 5 stars (18 ratings)
Body Material: Steel
Size of Cooking Area: 280 (primary) + 200 (secondary) = 480 sq. inches
Price: $$$
Next we have another "steel body" entry – this one a big, impressive kamado grill that should get the attention of those of you who want to be able to have a great kamado for your backyard patio, but also one that is designed to be PORTABLE – and this one is. It comes with a wheeled base that is trailer hitch adaptable and the side shelves are easy to remove – it's perfect for tailgating or bringing along for a great day out!
Here are more reasons why people love the Keg:
You can cook for a huge crowd with this grill as it has a secondary cooking space, not just the (cast iron) primary grill grate. Because of the shape and science behind kamado grills, the heat and moisture are even throughout the grill. This means you can actually use both spaces for cooking – a total of 480 sq. inches! (The secondary surface is made from chrome coated steel and rotates out of the way so you can get to the primary surface easily.)
The Keg has a pull out ash try that makes cleaning out your grill after a long cook easy to do, and Broil King's Root Draft damper system that works to give you precise temperature and airflow.
Being made of (oven-grade, double-wall, insulated) steel, you don't have to worry about the grill cracking or being damaged during shipment. Steel also heats up somewhat quicker than ceramic, (and using less charcoal than a ceramic model), so if getting your grill to temperature quickly is important for you, the Keg is reported to be really quick that way.
It comes with a handy multi-tool that's designed specifically for the Keg – it'll help you with safe maneuvering the grill grates and charcoal.
The Broil King Keg isn't a cheap kamado grill, but you don't necessarily want a cheap grill if you plan to use it regularly and bring it on the road with you. It has tons of followers and fans on Youtube – here is a great "Keg Overview" video, but Youtube also has a ton of other videos to check out for recipes and tips on using yours!




---
8. Primo Ceramic Charcoal Smoker Grill On Cart With Side Tables – Oval XL
Company: Primo Grills
Rating: 4.1 / 5 stars
Size of Cooking Area: 400 sq. inches
Body Material: Ceramic
Price: $$$$
Next on the list is a grill that many people tend to have on their "favorites" list alongside the Kamado Joe Classic II and the BGE. The Primo Oval XL is a kamado grill that has a big group of fans on Youtube and one of the things that sets it apart from the others is that it's the only kamado grill that is NOT a perfect egg shape.
Other than the patented-by-Primo oval cooking surface (which many feel gives them significantly more usable space than a circle with the same square inches), here's what people really like about the Primo Oval XL:
It's made from premium ceramic, fully made in the USA from domestic materials.
This grill has dual zone cooking, making it very versatile! The way it works is that it has reversible cooking grates, giving you the capability of cooking closer or farther from the coals. They are also split down the middle, meaning you can do one high and the other low… getting different temperature zones on the same grill, perfect for cooking different types of foods at the same time.
It's easy to assemble the stainless steel cart that comes with this particular option (includes 2 side shelves and a basket), and the grill is already put together fully! The only challenge is lifting the kamado into the cart… it's EXTREMELY heavy! Once it's in, you're good to cook for years to come though!
Primo is reported to have fantastic customer service and it backs it's product with a limited Lifetime Warranty, a 20 year guarantee on all ceramic parts (which will make those of you worried about cracks breathe a bit easier), and 5 years on all metal parts (excluding cast-iron parts – 1 year).
There are several optional add-ons available (such as a fire-box divider, and other racks and grates) if you want to change it up after using it for a while! Remember, Primo has a lot of fans to cater to!
The Primo Oval XL is another high end ceramic kamado grill that is on the pricier side. It has a very good reputation on many of the kamado grill forums online, and reading the comments there made by actual users definitely makes this a contender. Check out more details on Amazon here:


---
9. Pit Boss 71240 Kamado BBQ Ceramic Grill Cooker
Company: Pit Boss Grills
Rating: 3.9 / 5 stars
Size of Cooking Area: 24″ diameter (567 sq inches of 2 tier cooking)
Body Material: Ceramic
Price: $$
This next entry by Pit Boss is a good choice for those of you looking for a ceramic kamado with a larger grilling space but at a more economical price than a Big Green Egg or Kamado Joe Big Joe. It's slightly lesser quality but unless you're really into kamado grilling already, you will probably not notice it, to be honest.
The Pit Boss Kamado is made from heavy duty ceramic and  there's a fair bit to love here:
You get dual tier cooking, which doubles your usable space inside the grill. Both grates are made from stainless steel and you can use them both for cooking (not just one for cooking and one for warming like on many gas grills). Dual tier cooking also means you have a ton of versatility in how you cook different foods!
It has a cast iron damper on the top that you can fully control letting you set the temperature inside exactly how you want it.
It comes with two solid, fold-able bamboo side shelves that will give you lots of room for prep and serving, a handy ash tool for clean up (no sliding ash tray, unfortunately), as well as a sturdy nest and stand that will protect your investment from tipping and breaking.
Although the heavy lid doesn't have the fancy featherweight air hinge like the Kamado Joe, it does come with heavy duty hardware, a wood handle, and springs that help you lift it and hold it in position.
Pit Boss added a (fire proof) felt edge and a shock absorber that will protect the ceramic body from cracking in the event that you drop the lid drown with too much force.
The Pit Boss Kamado 24″ is a great choice if you are able to pass up on the fancier add-ons designed by Kamado Joe and just focus on the grill itself. It's reported to do a good job at temperature control, has lots of space, and comes in at a pretty decent price for what you get.


---
10. Char-Griller E56720 AKORN Kamado Charcoal Grill
Company: Char-Griller
Rating: 3.8 / 5 stars
Size of Cooking Area: 314 sq. inches (20″ diameter)
Body Material: Steel
Price: $
We've already seen the Akorn Jr. Kamado grill above; here we're looking the full size model by Char-Griller, "the Akorn". It's very similar, no surprise, to the Akorn Jr., so many of the details are the same. It's a steel body kamado with good reviews, overall.
Here are some features you'll like:
You can select the color of your grill; the exterior of the triple-walled, insulated 22 gauge steel body is powder-coated either blue, red, or black.
There's a decent 315 sq. inch cooking area (cast iron grill grates), as well as an extra warming rack (that's conveniently removable), so you can have quite a bit of food on the go at once to feed the crowd waiting with watering mouths…
You'll appreciate some of the small details on this grill, such as numbering around the damper so you can note the positioning of it during your cooks.
There's a wheeled cart included (with locking rear casters) so it IS considered a portable grill (although not as easy to move around as the Akorn Jr. – the Jr. is significantly lighter). It also comes with a

 locking lid, 2 black metal side shelves with handy utensil hooks that fold in, and an "easy dump" ash pan – all things you won't need to add on later.

You'll love the versatility of this cooker – you can sear at high heat or roast/smoke meats low and slow – the Akorn can hold temperatures for you from 200-700 degrees F.
Steel kamados like the Akorn are more durable, convenient, lightweight, and affordable than ceramic ones – and the Akorn is a popular choice for grillers who want all those things. While die-hard kamado master grillers may not agree, a kamado like the Akorn will likely be a purchase you won't regret – if you don't believe me, check out the hundreds of positive reviews here:


---
11. Char-Broil Kamander Charcoal Grill
Company: Char-Broil
Rating: 3.8 / 5 stars
Size of Cooking Area: 20″ diameter  (327 + 142 sq. inches)
Body Material: Steel
Price: $
The next entry is a very budget-friendly kamado grill that is designed a bit different from the others as far as the air intake is concerned: the air flow does not come from the bottom through the top via two dampers, but instead there is only one opening at the top.
Char-Broil asserts that having the air circulate around the grill from only the top makes it easier for you to control the temperature inside; you have only 1 control to adjust, and you don't have air leaks happening below by the coals. (The ash pan and drip pan are even carefully designed to be removed from above, so they really have thought the details through!) There are lots of positive reviews on it, so perhaps their innovation has paid off.
Here are more features you'll like:
The body is made from insulated double-wall steel that traps and seals in the heat and moisture that makes your food taste so great after cooking.
You can use it as a smoker, roaster, or grill; it's extremely versatile like the other kamados we've seen.
It comes with a large folding side shelf (complete with handy utility hooks) that works as your prep and serving space, and it also comes with a sturdy wheeled stand (yes, it's portable) that has a wire shelf on it where you can store your extra charcoal or grilling gear.
It has porcelain-enameled cooking grates on the primary surface, and the secondary cooking surface is made from chrome-plated steel, and you can adjust the height or swing it in or out depending on your needs.
This is a pretty inexpensive way to get a kamado style grill for your backyard. It isn't made of as top quality materials as some of the other steel kamados above, but it's still very sturdy and well built. For what you pay, you can definitely consider yourself getting a lot of bang for your buck, in other words. And something that'll create some impressive food.


---
More About Kamado Grills
Want to do some further learning about kamado grills? Keep reading!
Maintaining Your Kamado Grill, Plus Tips, and Tricks
Check out this video here by "Mark In The Pit" showing some awesome maintenance tips, as well as what he calls tips and hacks for your kamado grill. You'll very likely learn something new!

A Very Brief History Of Kamado Grills
Although many people now are just sort of discovering kamado grilling, it has actually been around for centuries – even millenia depending on which histories you read. Just not in North America.
There is proof that the ceramic cooker existed in Japan already in the Edo period (approx 1603-1868) for sure. The idea of a ceramic cooker was possibly brought to Japan from China long before that though, where a similar model was used.
Under the Japanese, the cooker – known as "mushikamado" at this point – slowly evolved. They added a removable lid, a damper and draft door, and changed the fuel from wood to charcoal. Another big change was moving from clay pots to ceramic, a better heat insulator.
The story goes that when American soldiers were stationed in Japan in the 1960s, they discovered this fantastic cooking method, and brought the idea back home with them. In 1974, Ed Fisher took the Japanese idea, and refined and tweaked it into what you know now as "the Big Green Egg" – and what became known as "kamado grilling" took the (grilling) world by storm.
The Rotisserie Question: Is One Needed?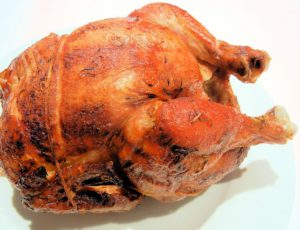 The answer is no. Here's why: The reason someone would use a rotisserie in the first place is to allow meat to self-base and not dry out during a cook. If you are cooking meat inside a kamado, it already stays moist due to the entrapment of heat and moisture inside the closed grill. Kamado cooking doesn't need basting at all. And so, no rotisserie needed.
---
Enjoy Your Kamado Grill This Year!
There's something so incredibly satisfying about serving your family and friends a perfectly cooked meal. And nothing says perfectly cooked like sweet and tender meat the just falls right off the bone, full of delicious smokey flavor. A great kamado grill such as one of these best kamado grills of 2023 can get you that.
Hopefully this post has been helpful in directing you towards the best kamado grill for your particular needs. We've looked at a big variety of grills, made from different materials and of various sizes, some with stands, others stand-alone, and in a range of prices. It's my hope that you found what you need.
Let me know if you have any questions, feedback, or comments – I'm always happy to hear from readers and will get back to you quickly!
---