If you are one of the lucky ones who has a hot tub in your backyard, adding some unique hot tub accessories can add to the enjoyment of an evening at home, turning a relaxing soak into something memorable. 
Perhaps the hot tub you're thinking of belongs to a friend, not you yourself? Cool hot tub accessories make great gifts as well! And they may also cause an invitation to be extended… win, win! 😉
If you want to please someone with some fun or unique hot tub accessories or hot tub themed gifts, we're here to help. 
It can be hard to come up with the perfect thing. You'll know it when you see it, though, so have a quick browse through the "hot tub accessories catalog" that I've put together for you and if something catches your eye, click through to check it out a bit more. This collection of cool hot tub accessories will all make fabulous additions to your own outdoor spa, or to someone else's. 
If you've come here looking for ideas on how you can enjoy your hot tub more than you currently are, check out "14 Ways You Can Make Your Hot Tub More Fun" below this collection of 19 cool hot tub accessories.
Hot Tub Towel Warmer
Nothing says luxury like a hot tub set up that is complete with warmed up towels for you and your guests to snuggle into after a relaxing soak! This classy looking deck box will fit right in with your patio furniture, and guess what… in the hot summer, it can switch over to a cooler to keep your drinks icy cold! Switch up the heating pads (microwavable) for ice packs and you're good to go!
Hot Tub Aromatherapy Scent Sampler Set
If you know someone who is really into scents, or who would get a kick out of adding an aromatherapy scent to his/her hot tub experience (and mask that chlorine smell?), this set of 15 different 1/2 oz sample packets is a great, inexpensive gift idea for a hot tubber.  Water soluble, skin soothing, light scents.
Personalized Hot Tub Christmas Ornament
Looking for a sweet stocking stuffer for a family who loves hot tubbing? This Christmas tree ornament can be personalized with name, year, and number of "people" represented. From a couple up to a family of 6, it has you covered! 
Not Christmas time yet? Glue a magnet onto the back and voila… fridge decor!
Bronze Portable Towel Tree
If your hot tub is in the land of ice and snow, you'll know how awesome it is to not have to toss a towel onto the ground where it might get wet. A portable towel tree like this one with a weighted base can be situated RIGHT BY the hot tub, so towels can stay dry AND be grabbed asap. 
If you live where it's perpetually warm, it just looks and IS neater to hang your towel than to drop it somewhere. 
Hot Tub Booster Seat For Adults
A fairly unique hot tub accessory, and an interesting idea for "vertically challenged" adults who love to soak in a hot tub! Non-slip, weighted, and comfortable, this booster seat will give an extra 5″ of height to whoever sits themselves down on it. Dimensions are 15″ x 12″ x 5″. 
(Have kids who enjoy the hot tub with you on occasion? This might be a worth considering for them as well.)
Luxurious, Oversized Microfiber Towels
Although not the most unique hot tub accessory, or the most exciting hot tub themed gift, these luxurious, oversized, quick drying, super soft, ultra absorbent microfiber towels will still be happily accepted by whoever receives them. Trust me. Lots of colors available.
CelebriDucks Floating Rubber Duck
Now THESE are unique hot tub gifts (or bath tub or pool toys). Choose from musicians, movie stars, political figures, and more… you'll find JUST the right Celebriduck for the person you're shopping for! The laughter they'll get will really "quack" the ice at your next hot tub gathering 🙂
Floating Pool Speakers With LED Lights
Planning a fun gathering or romantic evening for two in the hot tub? Music and lighting are pretty significant additions to getting it right. A floating pool speaker playing your favorite tunes (Bluetooth connectivity) and colorful LED lights that reflex around the tub will make your night one to remember. 
Waterproof Playing Cards
Euchre or hot tub? Why should you have to pick? Why not sit in the hot tub with a floating tray between you, and enjoy a card game or two while you relax? This deck of waterproof playing cards can cause any fear of wet hands or drips of water on the cards to go away – they are fully waterproof. And clear, with is pretty cool. 
Floating Refreshment Tray (Multiple Shapes)
Serve drinks and snacks safely right IN the hot tub if you'd like, with a fun floating refreshment tray. There are currently 18 different shapes available, and all are made from extra thick, durable lightweight foam. They each have room for 4 drinks, and 4 extra spots perfect for food, keys, or whatever else you want to slip in there. 
Slip Resistant Silicone Cup Holder
Ok, this is kind of boring, but it IS handy. A hot tub accessory that will be well appreciated though; this cup holder fits over the edges of most hot tubs (especially good for over the edges of 
inflatable hot tubs
). It can hold coffee mugs, water bottles, wine glasses, beer or soda cans… quite multi-use.
Color Changing Floating Hot Tub Lights
Glowing, colorful balls will add some fun lighting to your hot tub on a dark night! They have different modes of light you can choose from, and come in different size packages as well. They are about tennis ball size, which allows the color to be quite concentrated and bright! 
14 Simple Ways You Can Make Your Hot Tub More Fun

Add mood lighting. Whether you string some decorative patio lights nearby the hot tub, or toss some waterproof floating LED light into your pool for an interesting effect, having great lighting (and mixing it up sometimes) will add to the fun of hot tubbing at night!
Remove mood lighting. Remove ALL lighting completely and hot tub in the blackness of night for a completely new experience.  (Check out "Outdoor Patio Lighting Ideas" for some beautiful options.)
Add music. Outdoor patio speakers or even just your phone playing some great tunes will elevate your hot tub experience. Or why not a floating speaker right in the tub beside you? Mix it up with some upbeat tunes, or mellow it out… whatever you're in the mood for, music can take you there!
Read a book: Paperback, E-reader, Audiobook… all are great options for passing the time. Diving into a good story while relaxing and unwinding in the jacuzzi sounds like a fantastic combination! Just be sure to go with a waterproof option.
Plan ahead. Think through the small details like where to put your towels so they will stay dry and warm (that handy towel warmer box would be great, no?), or where your drinks will stay cold until you're ready for them! Snow falling? A warm hat may actually make your winter hot tub experience more enjoyable.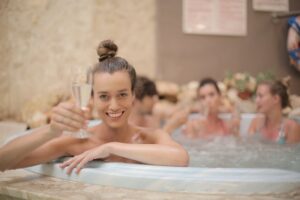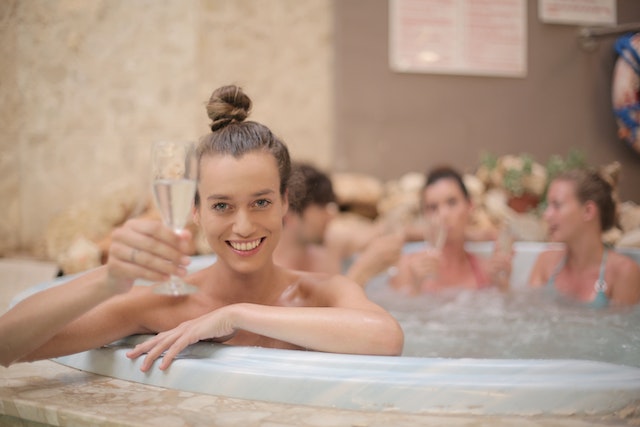 Play a game with friends. Having a crowd over? There are many simple games you can play with the group! Look them up ahead of time so you can introduce a few ideas and get to playing! Those waterproof playing cards (on the above list of hot tub accessories) might be a hit!
Snacks. Whether you use a floating snack board or have treats prepped nearby for when you feel like popping out and cooling down for a few minutes, some delicious snacks make time by a hot tub even better! There's something about swimming that increases the appetite! So if you have an outdoor pizza oven, for example, get it prepped to go… and see how many people remember your hot tub night as the best night ever!!
Invite over friends who don't have their own hot tub. There's something about sharing an "old" experience with people who haven't experience that same fun all that much… their joy and appreciation of hot tubbing will be contagious!  
Watch a movie. An Ipad, a portable DVD player, a fully set up outdoor theatre… enjoy! Just watch out that you aren't sucked into the story so deeply that you overheat.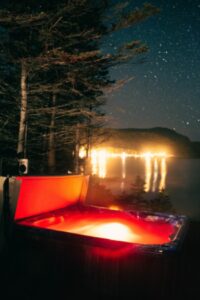 Admire the stars. Sometimes taking the time to just stop and look at the stars after a busy day can bring you great satisfaction, peace, and contentment. Give it a try. 
Meditate / Pray. Relaxing in a hot tub outside by yourself in the quiet of the evening (or day) is a great time to allow yourself to ponder the deeper questions of life or to relax your mind. Who made the beauty of the world around you? 
Aromatherapy. Awaken the senses by adding some delicious scents to your hot tub water. And feel your body relax and unwind! There is a bit of an art to well done aromatherapy – learn more about it in this article here.
Plan Some Romance. Surprise your significant other with some sweet surprises and and an evening soaking in the heat and each other. Music, lighting, snacks… have FUN planning it all out and then inviting him/her out on a stay-at-home date. 
Be a bit crazy… go jump in the snow and do a snow angel! It can be a fabulous thrill to your nerves and cause giggling and squealing like nothing else… and make slipping into your hot tub the BEST feeling in the world!