If you're looking for a collection of reviews on the best metal swing sets for kids in 2023, you've come to the right place. Although it is true that there more options if you're going with wood, there are still many excellent metal swing sets for older kids and for younger kids that you can choose from.
Metal swing sets on the whole are great choices. They are durable, weather resistant, and require no ongoing maintenance once they are in place. You don't need to stain or paint them every year, and they won't crack, rot, warp, or cause splinters. All good stuff.
Having the right metal play set for your kids is important so they can have fun and play safely. If you're interested, pop down to "How To Choose A Great Metal Swing Set For Your Kids" for some tips on choosing the best type for your situation.
Let's take a look now at my top picks for 2023.  Here's a quick overview chart of the 12 metal swing sets we think kids will love most. Click each image to jump to the product review or scroll down to see them in order.
---
Best Metal Swing Sets For Kids 2023
(As an Amazon Associate I may earn a small commission from qualifying purchases made through links on this page, at no additional cost to you. Full Disclosure.)
1. 

Lifetime Monkey Bar Adventure Swing Set with 9 Foot Wavy Slide
Company: Lifetime Products
Rating: 4.7 / 5 stars
Footprint: 18 ft. 10 in. L x 14 ft. W
Colors: Earthtones (pictured) or Primary Colors
Price: $$$$
This first metal swing set has been one of the top selling, best loved swing sets for kids for several years running. It's actually a fairly simple design if you study it, but all of the elements are well made and sized so that your kids will get many years of fun out of it – and you, your money's worth.
Here are some of the top features:
It's an incredibly sturdy swing set, so heavy duty and well balanced that you don't need to stake it or cement it into the ground.
The swings and other parts of the set can hold the weight of older kids and adults, so if you're the type of parent (or grandparent) who'll want to play on the structure with your kids, or if you're looking for a swing set older kids can also use, this is a great choice! (Officially, it's recommended at 140lb max per swing, or 700lbs total.)
It has many different stations your kids will enjoy: 3 belt swings (adjustable heights, and can be switched out for a baby swing or something else), 1 trapeze bar with rings, a 9′ wavy slide, monkey bars, and a fireman's pole off the back end of the monkey bars.
The whole set is made from top quality powder coated steel and uv-resistant plastic. Any metal ends are rounded and capped for safety, and the swing chains are covered with soft rubber to keep your kids' fingers from getting pinched.
Depending on the layout of your backyard, you can flip the design so that the swing set portion is on the right or left of the slide.
Because this is such a high quality, big swing set, it'll cost a bit more to purchase. I do think your kids will get many, many years of enjoyment out of this metal play set, however, so it may be with the investment. If you need some more convincing, be sure to check out the reviews on Amazon – there are over 400 reviews there and they are overwhelmingly positive. To check them out, click below:


---
2. 

Lifetime Products Adventure Tower Deluxe Playset
Company: Lifetime Products
Rating: 4.5 / 5 stars
Footprint: 19 ft. 6 in. L x 16 ft. 2 in. W
Price: $$$$$
This next swing set is also by Lifetime Products – you'll see several of their swing sets on this list of "best metal swing sets" because very few other metal play structures can compare with their quality and with their size, strength, and appeal to kids of all ages.
This particular unit is their biggest and most complex option. It's the deluxe model of the "Adventure Tower" line – the "non-deluxe" model takes off the monkey bars & fireman's pole component.
If you're looking for "the biggest and the best" metal swing, one that's a great playset for older kids, here's more info on this big one:
It includes the following: A 5′ tall clubhouse with a rigid hardtop roof, 4 storefronts, 2 swings and 1 trapeze bar with rings, monkey bars, a fireman's pole, 2 sturdy "rock climbing" walls, a 9 foot wavy slide, a sandbox area (underneath the clubhouse, accessible by 2 doors), a steering wheel, 2 chalk boards, an arched climber, and a car map.
You'll very much appreciate that it's free-standing. You do not need to cement it in or stake it down due to how heavy duty this play set is!
It's made from high quality, all weather resistant materials including powder coated steel and high density, uv-resistant, lead-free polyethylene – you won't have to do any maintenance on this once it's set up! (It does come with a 5 year limited warranty, though, should you for some reason have troubles.)
This swing set is for older kids as well as little ones. In fact, it's able to handle even teens and adults on the swings!
The Adventure Tower Deluxe Playset is a fantastic choice if you're wanting something like the park playground in your backyard, something with all sorts of options for play, something your kids will enjoy for years. It does take up a lot of space though, so do some measuring first, including the safety zone around it. And definitely book a good amount of time, some handy pals, and from what I understand, a fair bit of patience for the assembly day – this isn't a project for the faint of heart. It's heavy, large, and well, the instructions apparently leave something to be desired. If that doesn't scare you off though, your kids will love this swing set and I think you will too!


---
3.  

SUPER DEAL 40″ Kids Web Tree Swing Saucer Swing

Company:  Super Deal
Rating: 4.4 / 5 stars
Size: 86.61″ x 64.17″ x 70.87″ (L x W x H)
Price: $
This next item on our list is somewhat different than the first two. It's not a swing set with multiple swings and a slide – it's a single saucer swing with a heavy duty, 2 inch thick steel A-frame metal stand. Because the weight capacity of that single swing is 220lbs (with a safety rating up to 700lbs) however, you'll understand that this swing is designed for multiple people to enjoy it at once. The perfect swing for a parent and child to enjoy while lazing away an afternoon.
If that sounds great, here are a few more features you'll like:
The frame is 72″ tall, which allows you to get a really decent swing arc!
It comes with a 40″ round swing seat (canvas) that is built heavy duty as well, with a steel frame, and resilient nylon rope to hang it.
The saucer's material is a strong textilene uv-resistant fabric that is waterproof and also easy for you to wash if necessary.
The saucer swing is great for social play, as groups of kids can have fun on it together. They can lay, kneel, sit, or crouch on it, and have a great time together.
You can set this swing up outside or inside, on the grass, on a playground, really, wherever you have the space and height allowance! Although it does come with stakes and ground anchors, it's not absolutely necessary that you use them.
If you want a change from the saucer, you can adjust the connections on the frame and attach any other swings that you have on it (not just bucket swings… also tire swings, patio swings, net swings, hanging chairs, and more)!
It's really easy to assemble, as it comes pre-drilled, and you aren't required to do any staining or painting – at set up, or ever!
This metal frame saucer swing would be a rather unique option for your backyard – and a great choice if you have a small yard. (See also: Best Swing Sets For Small Backyards). I think that the price is pretty great for what you get (especially compared with other saucer swings), and as this is a product that you AND your kids will probably enjoy a lot, it might be well worth every penny.


---
4. 

Lifetime 10 Foot Heavy Duty A-Frame Metal Swing Set
Company: Lifetime Products
Rating: 4.4 / 5 stars
Footprint: 13 ft. 6 in. L x 10 ft. 6 in. W
Available Colors: Earthtones (pictured) or Primary Colors
Price: $$$
This next entry on our best metal swing set reviews list is your basic swing set – nothing else. It has 2 bucket swings and 1 trapeze bar with rings, and that's it. But honestly, if your kids like swinging above all else and actually couldn't care less about a slide or climbing components (like mine do), this is THE SWING SET you want.
Here's what's to know and like about this one:
First off, these are serious swings. This is a big swing set… think swings at the local park. The top bar where the swings hang from is 112″ high (over 9 feet) – the average adult can't even reach it. This means your kids will be FLYING through the air. GREAT swinging fun, especially for big kids!
Although the manual says it's aimed at kids aged 3-12, countless reviewers on Amazon, Lifetime's website, Home Depot etc say that big kids, teenagers, and even adults can swing on these swings – and will enjoy it! The weight capacity for each swing is listed at 150lbs.
You don't have to cement this or anchor it in the ground. The frame is wide enough and solid enough (3″ diameter poles, made from

all-weather high strength low alloy steel) that unless you have a 200lb person swinging, it shouldn't move. 

It's designed with your child's safety in mind; plastic caps cover any hard edges, and the swing chains are covered with soft rubber grips to eliminate pinching.
After assembling this set, you should have pretty much zero maintenance in the years to come. No painting, peeling, cracking, warping, etc. – all that you do NOT have with a wooden swing set.
The Lifetime A-Frame Swing Set is one of the most popular choices on Amazon – it has been a high seller and gotten many, many positive reviews over the years.  It's simple, but done extremely well, and the 5 year limited warranty that comes with it is a bonus. I really think, if you just want swings, and want something that will last for years and years, this is the one to check out.


---
5. 

FITNESS REALITY KIDS 'The Ultimate' 8 Station Sports Series Metal Swing Set
Company: Fitness Reality Kids
Rating: 4.3 / 5 stars
Swing Set Size:  157.5″ L x 107.5″ W x 72″ H
Trampoline Size: 42″ L x 42″ W x 58″ H
Price: $$
This next backyard swing set is a lower cost alternative to the bigger Lifetime swing sets we've looked at already. It has 8 different stations or activities, so it will give your kids lots of variety, as well as provide a place for a larger group of kids to all be entertained at once.
It's currently listed as Amazon's Choice for "Playsets For The Backyard" out of all possible options (including wooden swing sets, by the way). That means that it's proven to be a decent quality item, with good reviews, and with very low returns.
Here are some of it's features you'll want to know about:
Each of the 8 stations has a weight capacity of 80lbs (the glider has 80lbs per seat), so this set can take on a big group of kids, but not a group of BIG kids. As in, this is not a great choice for pre-teens, but a good one for preschoolers and children in the primary grades. (See "Best Heavy Duty Swing Sets For Older Kids")
Your kids would get to choose to play with/on the following activities/stations: a slide, a 36″ mini trampoline, a 32″ flying saucer swing, a 2-seat glider, a trapeze bar with rings, a regular swing, a basketball hoop with a backboard (72″ high), and a soccer goal (and yes, it does come with a basketball, soccer ball, and a small air pump).
The frame is made from 2″ powder coated tubular steel, and it has a 2 year warranty on it (with 6 months on the other parts of the set). Yes, this isn't all that long, but it's not a highly priced item for the range of items you get.
You'll be happy to hear that assembly of this swing set isn't all that hard. 1-2 hours with 2 adults and you should be good to go, from the frame and ground anchors, to the extra padding on the soccer net edges, to the various swings.  (See "How To Anchor A Swing Set On Artificial Grass")
This 8 station swing set by Fitness Reality is interesting enough to attract the kids for a good long while – there's a lot to do on this, even though its footprint isn't too large – making it a good choice for a smaller backyard. It's also priced at a point that's not too hard to reach for most people. I think you'll find it worth your while to look into this one a bit more if you're in the approx $300 price range.
---
6. Iron Kids

Outdoor Playground
Company: Iron Kids
Rating: 4.3 / 5 stars
Size: 13'6″L x 6'6″W (10'3″ with slide) x 6'5″H (8′ with the IronKids sun shade)
Price: $$
This next metal swing set is a fairly simple one, a good choice for a smaller yard, especially as you can move the trampoline from the side to wherever it fits well for you.
If you are able to set up this swing set in a protected area, out of the strong wind, the 8′ high sun shade will be a real bonus – for your kids, but also for you as you stand there, pushing your youngsters (been there, many hours!). Heads up, though, many reviewers say that it's not the strongest set up if it there's a lot of wind – you CAN take it down fairly easily if there's a big storm coming, but you won't want to be taking it up and down on a regular basis.
Here's what else you'll want to know about this one:
You'll want to stake it in with the provided anchors, as the whole set isn't all that heavy. So it's not meant to go on a patio or indoors at all, but grass is just fine.
The trampoline part is 42″, with a max weight of 100lbs, so it's something that can be enjoyed by older kids as well as toddlers (which is good, because what kid can stay off a trampoline?). The general consensus is that the trampoline is really hard to put together, but if you read through the reviews on Amazon, there are some great tips for making assembly easier.
The swing weight limits are 100lbs each as well. So likely you won't be able to join your kids swinging on this one.
The swings are standard style – you can interchange them with other swings such as a baby swing if you want.
For the price, I think this is a pretty decent option when it comes to smaller metal swing sets. Reviewers write that it's surprisingly sturdy and gives some good play time for their little ones. While it's not a set that will last you for a decade, if you're not looking for a "big time" set, it could be a good choice for your family.


---
7. 

Lifetime Big Stuff Adventure Playset
Company: Lifetime Products
Rating: 4.2 / 5 stars
Footprint: 15 ft. L x 14 ft. W
Price: $$$$$
We've already seen a few different Lifetime Products metal play sets, and this next one is yet another winner (and my kids personal favorite choice). It's again a super solid, extremely durable swing set, easily able to have big kids (and adult young at heart) swing on the swings and even climb up into the fort without you needing to worry about it shaking or tipping.
Here's more to love about this awesome metal swing set for older kids:
It comes with the "standard" Lifetime swing set items (2 belt swings, a trapeze bar, and the 9′ wavy slide), as well as a super cool propeller swing (underneath the clubhouse), a cargo net, and a "rock wall" can be climbed inside and out.
There's an activity chalkboard up in the clubhouse for passing the time, and a ships wheel (and binoculars!) to encourage your kids to get some adventures underway.
The clubhouse is not just a slap-together box… it has a heavy-duty, solid roo

f and the decking is actually marine-quality. 

The whole set is strong and built with safety in mind. It's made from

high-density polyethylene and powder-coated steel, and all hard edges have plastic caps on or are rounded. There are also rubber grips on the swings to product your kids' fingers (the swing chains are rust-resistant, zinc-coated… you'll be impressed how long they remain brand-new looking).

You don't have to cement this massive set into the ground, as it's fully free-standing (very heavy).
It comes with a (limited) 5 year warranty, and Lifetime Products is known to do a good job standing behind their products and helping customers even years later (new hardware after moving the swing set to another property, for example).
Although this swing set will take you a good while to get it assembled (and you probably will need some assistance lifting and securing the heavy sections), I think you'll be extremely happy you put the effort and investment into this one. This set has plenty of activities to keep your kids and all of their friends entertained, and the quality of Lifetime swing sets means you won't have to do any maintenance or worry about it falling apart for years and years and years.


---
8. 

Sky Island Platform Swing (5ft Diameter)
Company: Hearth Song
Rating: 4 / 5 stars
Size: 104″ L x 104″ W x 83″ H.
Price: $$$
This next swing is a bit of a unique swing, so if you're limited on space or want something kind of different for your yard, take a look at this platform swing.
Some of it's features you'll want to know about:
The platform swing is large and meant for more than one child. It has a 5 foot diameter, and has a weight capacity of 400lbs. Yes, that means that actually you yourself can hop on and swing for a bit.
You'll find that the platform swing is comfy – the base is made from thick and sturdy nylon, and it comes with a large, soft cushion that you lay on top (not pictured).
The swing glides, spins, and swings in all directions – it comes with a spinner attachment, so you can well imagine the dizzying fun the kids will have with it!
It comes with a water-resistant and uv-protected tee-pee cover that you can add if you want some shade, or if you want to create a bit of a fort for your kids to day-dream, play, and swing their hearts out.
The size and design of the stand is built so that while the swing is in motion, it shouldn't hit the sides, even with very active swingers. (The S

tand is 83″h x 8 1/2′ Sq)

It's super easy to set up – 2 adults will have it up in less than 20 minutes.
If you want to instead, the swing can be hung from a tree or attached to a platform swing attachment on a different swing set.
This steel swing stand is a great addition to a backyard… kids will be drawn to it like you wouldn't believe! And you yourself will no doubt have a hard time resisting taking a relaxing sway too. I personally think the price tag is a bit high for what you get, but it's quite a unique item, so keep an eye open for a sale.


---
9. 

Skywalker Sports Modular Jungle Gym with Accessories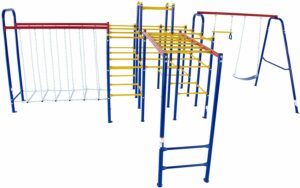 Company: Skywalker Sports
Rating: 3.8 / 5 stars
Size: 227.13″ L x 103.39″ W x 82.6″ H
Price: $$$
If your children are monkeys, you'll want to make sure they have a great place to monkey around in your backyard – something large enough and with enough variance to hold their interest for hours of creative climbing and playing. This metal monkey-bars focused play set is an interesting option that fits that criteria.
Here's more about this metal swing set:
It's a modular set up, meaning you get the different pieces, and can configure it to fit your backyard space perfectly.
The four modules you get are: the jungle gym (this is the base, to which the other modules attach), the hanging bridge, the monkey bars, and the swing set (1 bucket swing, 1 trapeze).
It's NOT a very tall swing set… think ideal for kids aged 4-7 or 8. Kids who are bigger are still able to play safely on it (it can hold their weight), but they'll find their feet touching the ground while using the monkey bars, for example.
It's constructed from

powder coated 2″ diameter 16 gauge steel tubing, and is weather and rust-resistant – meaning it's durable. 

Assembly is straight-forward and the instructions apparently are really good… but heads up, there are "about a zillion" bolts to tackle. Get yourself a drill with a hex bit and you'll whip through it in a few hours, and in the end, you'll have a sturdy and interesting jungle gym for your kids.
Although you CAN fasten it down if you feel so inclined, it is heavy enough to remain free standing. Free-standing will also allow you to move it on occasion (with the help of a few strong friends) if you want to do some decent mowing around it.
One reviewer shared that the bars do NOT get hot in the sun… that's something I thought worth sharing.
Skywalker Sports is quite well known for their backyard trampolines as well as other backyard sports – the items that they make all pass the safety standards and are aimed at getting kids moving and active.
Overall, this is a pretty fun and rather unique option for your backyard. It's definitely not the run-of-the-mill wooden big-box store set, and kids will definitely notice. It's something that begs to be explored, climbed all over, swung from, and generally, played with… a lot.


---
10. 

Flexible Flyer Play Park 
Company: Flexible Flyer
Rating: 3.8 / 5 stars
Size: 200″ x 96″ x 72″
Price: $$
Many of us will look at this next one and think back to the super popular metal swing sets of the 70s, 80s, and even 90s. These were CLASSICS! And for good reason… within a small footprint (200″ x 96″ x 72″), and for quite a low price, they pack in a lot of play.
Here's a bit you'll like about this swing set:
Up to 10 kids can play on it at once! If you live in a really social neighborhood, or have a larger family, a swing set like this is a great idea for keeping lots of kids happy at once.
You get a 2-person air glider, a 4-person lawn swing, a trapeze bar, 2 sling swings, and a 6′ wavy slide.
The swing chains are adjustable for heights (you'll have to adjust the vinyl chain covers a bit, it is doable), and can be swapped out for a baby swing if you need it.
The color scheme isn't glaring… the maroon, ivory, and mocha blend in nicely into a landscape.
You'll want to use anchors for sure if you have kids more than 35lbs or so swinging on it.
In my opinion, this is a fantastic option if you just want something fairly economical, yet have all sorts of options for your kids. (Perhaps I favor it because I have so many good memories playing on something extremely similar as a kid?) It has decent current reviews as well – check them out by clicking through.


---
11. 

Sportspower "My First Metal Swing Set with Slide"
Company: Sportspower
Rating: 3.9 / 5 stars
Size: 89″L x 89″W x 74″H
Price: $
This next one on our list is one of your basic metal swing sets. It's an incredibly simple set, one your kids will grow out of pretty quickly, but for the really low price, it's not a bad choice if you know you won't be in a location long, or just want something to tide you over for a bit.
This set comes with your basic small slide (5′ long), two swings, and a trapeze bar. Here's some info on it you'll want to know:
Yes, you can adjust the swing heights to suit your kids, as well as swap them out for baby swings or other options.
While as you can guess from the price and the design, it's not a super heavy duty, awesome quality set, it's actually not bad… pretty decent actually, with 2″ diameter powder-coated steel tubes that have foam-padded legs for extra safety.
Assembly is really simple, as the pieces come pre-drilled. It does NOT come with a set of anchors though – so you'll likely want to purchase those too, if you go with this choice.
The swings are designed to support kids up to 100lbs each, or 400lbs for the set at one time, but this might be a bit ambitious, according to some reviewers.
It's a good option if you have really limited space, as the footprint is quite small (dimensions are:

89″L x 89″W x 74″H.
So, overall this is a good starter option, or a low-budget choice that is still decent quality. It's worth looking into a bit more if this fits where you're at right now.


---
12. 

Sportspower Super 8 Fun Metal Swing Set
Company: Sportspower
Rating: 3.9 / 5 stars
Size: 221″L x 102.25″W x 72.225″H
Price: $$
This last featured product is another option by Sportspower, the company that made the very basic set we just looked at above. This is one of their bigger options, and it comes with a whole variety of fun options that your kids will find pretty interesting, I think.
Here are some of the top features:
It can keep up to 8 kids occupied at once: It has

2 swing seats, 1 flying saucer, 1 glider, 1 slide (6′ long), and 1 rocking horse (I haven't seen another swing set with a rocking horse anywhere!)

All of the swing chains are adjustable for heights, and you can swap in baby swings if you want to.
All parts are pre-drilled, and it comes with all of the hardware you'll need, so assembly should be pretty simple. It does not come with an anchoring set though, and for this type of swing set, you'll probably want to add one to your cart right off the bat.
The total weight capacity of this swing set is 800lbs, or 100lbs per swing, but again, like the simple model above, this may be a bit optimistic (it's aimed at ages 3-8, and not many 8 year olds are 100lbs…). If you do intend to have 100lb individuals swing on it, please be sure to anchor it down.
Again, this isn't a swing set aimed at bigger kids. But for a few years at least, I think this Super 8 Fun Swing Set will keep them pretty happy and busy outside. The price for this swing set is also pretty attractive, considering what you get, and it does have quite a few decent reviews. Worth another look for sure.


---
Go back up to "Best Metal Swing Set Reviews"

How To Choose A Great Metal Swing Set
There are 5 fairly simple but different things you need to consider before you make your choice, and they are:
Size
Activities and Options
Safety Features
Installation Process
Budget
Size: The metal swing sets available today range greatly in size. Your choices will of course depend on the size of your yard and how much of it you want dedicated to the swing set.  When you look at the footprint or size of each swing set, you'll have to also take into account the safety area required around the set – kids DO jump off of swings and race around the sets, after all. Most guidelines recommend a full 6 feet around the outside for safety – and more around the swings area. Use your good judgement, but don't forget to add this!
Activities and Options: There are all sorts of fun activities built into the swing sets reviewed below. While it's a pretty safe bet to say "more options is always better", what you should focus on will depend on your kids. If they really, really like to swing, but don't care about monkey bars, invest in awesome swings (like these ones from Lifetime Products) and know your kids will be thrilled and busy for years to come.
Another important thing to consider here is how many kids will be generally be playing on your swing set at one time. If you have a very social neighborhood, or there are always cousins or friends over, trust me that you want something that has enough "stations" for each child. Save yourself some huge battles and win some peaceful "everyone busy having fun" time.
Safety Features: I ensured that each of the swing sets featured below meets or exceeds the safety standards. Most of them have additional features like included anchor sets or foam padding around the bars, or rubber grips on the swing chains.
Installation Process: While installation of the "big" metal swing sets reviewed below will definitely take some time, muscles, and patience, the smaller sets are quite simple and can be put up quite quickly. The anchoring of the smaller sets will be important – interestingly enough, the "big" sets for the most part are heavy enough and designed well enough that they are free standing. I would strongly advise reading through the reviews on Amazon for tips from prior customers about the installation of the specific set you're considering… if you definitely need 2 people, for example, you'd likely prefer to know that before purchasing.
Check out this video on how to anchor a metal swing set:

Budget: Of course your budget is going to play a big role in which set you purchase. There are options from less than $100 up to over $2000 looked at below. The budget models might possibly be perfect for your situation – but no surprise, you do get what you pay for – they will likely only last for a few years. The "investment" metal swing sets are just that… investments as they will be lasting you for decades to come. Your kids AND your grandkids will enjoy them.
Jump back up to product reviews by clicking on an image:
---
Conclusion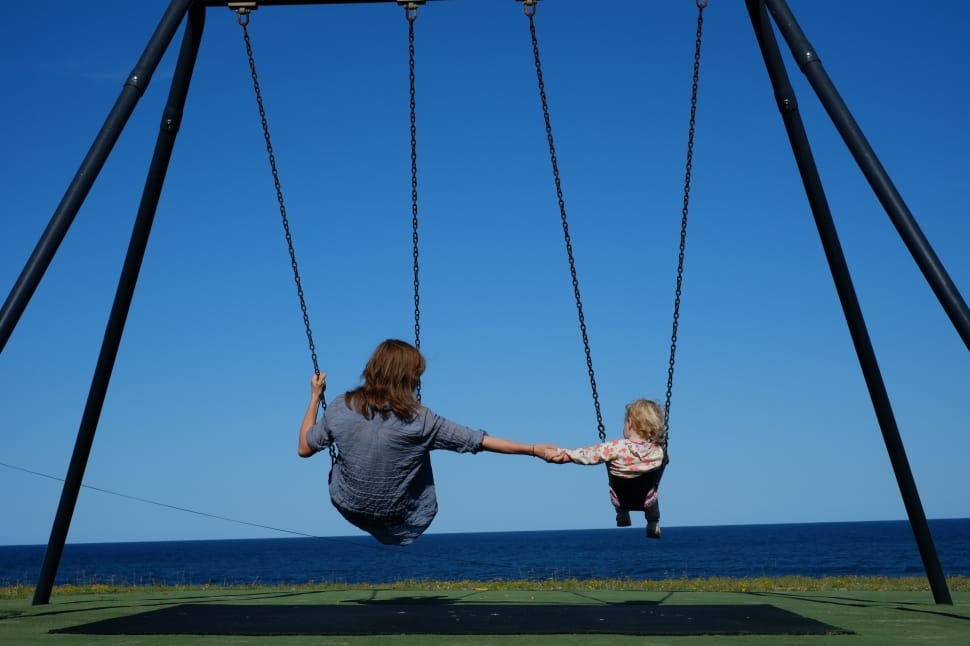 Spending time in your own backyard, swinging for hours and playing til the sun goes down in an important part of childhood. Making sure your kids have a great swing set to play on is one way you can help them build those important memories.
These metal swing sets we've reviewed here today are all good choices. Hopefully you found one that fits just right with what you're looking for. There were great metal swing sets for older kids, some good metal swing sets for toddlers, and more. There were play sets in a big range of budgets, and with a huge variety of options/activities. Something for everyone!
As always, comment below if you have any questions, feedback, or thoughts to share on this topic. And feel free to poke around the site a bit – there are many reviews here on fun backyard stuff for kids and adults.
---