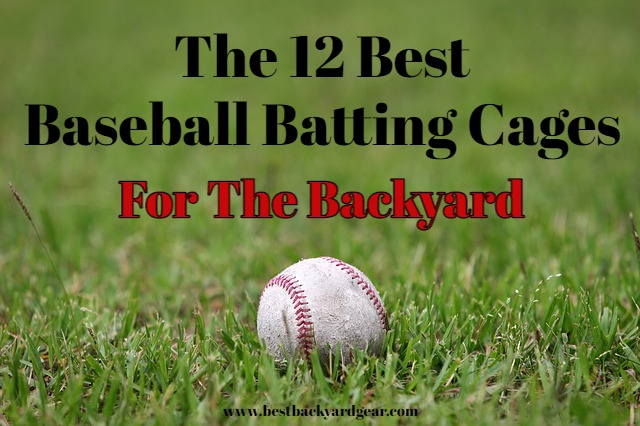 If you are looking for a great solution to chasing baseballs around the backyard, want to prevent windows from being broken, or want to create a convenient and safe place for your child to get in some hitting practice, what you need is one of these best batting cages for the backyard.
Having the right backyard batting cage or practice net can help your child make the most of his or her practice time. I'll show you what you need to consider when making your choice – after you'll see my top picks for the year.
I'm sure by the time you're done reading you'll see a baseball batting cage that's just right for your backyard.
Ready?
What Type Of Batting Cage Do I Want?
There are several different styles of batting cages for the backyard that you can choose from. It'll come down to your preferences and budget as to which will suit you best, so let's take a look at each style.
None of these practice nets that I'm reviewing below are permanent options, cemented into the ground. If that's what you're looking for, thanks for popping by, but I'm afraid I can't help you in this post. We're looking at semi-permanent options, staked into the ground at best. Lots of freestanding or pop-up options as well.
Fully or Partially Enclosed
The first style we'll look at are enclosed batting cages. They come in a variety of lengths to fit your backyard (a range of around 20′ to 70′ long), are usually 10′ tall, and between 10-15′ wide.  The frames can be made from a variety of materials, with galvanized steel tubing being the most sturdy, and fiberglass rods being the lightest but also most economical option.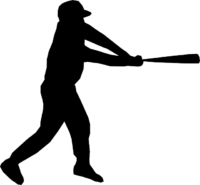 They come in two basic shapes: trapezoid, and rectangular (or "shoebox" style. Trapezoid is generally free standing and more portable than a rectangular style, where as rectangular styles are what you find in more professional or commercial settings, as they generally have a more roomy feel inside for the batter.
As far as the nets go, you'll be seeing that the cage nets come in typically nylon or high density polyethylene (HDPE). Both are decent options. Nylon is typically the stronger/sturdier of the two if you're looking at a heavy hitter, but it may show wear and tear quicker if it gets a lot of exposure to the elements. Polyethylene on the other hand reacts much better to heavy sun or rain, but it's quite a bit heavier than nylon if you're looking to move your batting cage around on occasion.
Pop-Up Style Practice Nets For Batting
The screen-style nets are your more economical batting cage options. Very portable and easy to store away when not in use, these pop up style practice nets are a great idea if you want your child to get more practice in but aren't sure you want to commit to using up a large part of your backyard for a big, enclosed cage. While your windows aren't TOTALLY safe with the batter not enclosed, if you position the hitting net properly, they should definitely do the trick.
Here are my top recommendations in all categories (click image to jump to the review):
Now let's take a look at my top picks for 2023:
---
Best Backyard Batting Cages: Enclosed or Semi-Enclosed
(As an Amazon Associate I may earn a small commission from qualifying purchases made through links on this page, at no additional cost to you. Full Disclosure.)
1. Fortress Mobile Professional Baseball Cage 

*Best At Home Batting Cage
Company: Fortress (Net World Sports)
Rating: 4.3 / 5 stars
Size: 24′ x 10′ x 10′
Price: $$$$$
If you or your child is seriously into baseball, and you don't have a huge yard to set up a long batting cage for daily practicing, this partially enclosed mobile baseball batting cage is a fantastic choice – it doesn't take up a lot of space in your yard, and yet has plenty of room for hitting while protecting the area around it from fast flying hard balls.
Here are some of it's top features:
It has a 2.5mm galvanized steel frame and extremely durable square mesh netting – you'll find it solid and stable, with enough "give" to soften the impact of hard hits
For a hard, large frame, it's very portable, with 6 heavy duty wheels attached. This is great if you care about the look of your lawn… because it's free standing, you can easily move it around your yard when you're cutting the grass.
You can use it just as well indoors as outdoors if you have the space, as you don't have to stake it in the ground
The frame is completely resistant to rust and corrosion, so you are ok leaving it out year 'round without fear of the elements damaging it.
This professional level batting cage is made by a company that is well known for making great sports nets and for standing behind their products, which is good to know if you're going to invest in a high end unit like this one – it's not all that cheap. It's a great choice if price doesn't matter too much in your search for the best batting cages for backyard use, but there are more budget friendly options available if you're not ready to spend that much.
---
2. Skywalker Sports

Competitive Batting Cage, Collapsible Frame & Net
Company: Skywalker Sports
Rating: 4.8 / 5 stars
Size: 40′ L x 12′ W x 10′ H
Price: $$$$
This next option is a cage I think you'll really like if you aren't sure you want to have a permanent structure in your backyard, but you still want a heavy duty one that fully encases the batter. That's because it's free standing and collapsible! You can easily collapse it into itself if you don't want to have this 40′ long structure taking up all of your backyard space every day. It's easy to move around the yard when you're cutting the grass, using the yard for a game of soccer or for whatever reason you want.
If that's not enough appeal, here are more if it's top features:
The frame is made from heavy duty powder-coated steel tubing, which is weather-proof and resistant to rust and corrosion.
The UV-treated netting is a thick enough to be able to handle the hard hitting of adult players
It does comes with anchors to support the batting cage if you expect strong winds, but you don't need them (or guy-wires) regularly.
It comes with a three-year limited warranty on the frame, and a one year on the netting.
This option by Skywalker Sports is a fairly new entry into the world of backyard batting cages, so it doesn't have a TON of reviews yet, but the ones that are there are all extremely positive. It's also a pretty decent price for such a large cage.
Take a look at the company video for some more details:
---
3.

Galileo Baseball Cage Batting Cage 

Company: Galileo
Rating: 4.1 / 5 stars
Size: 22′ (L) x 12′(W) x 10′ (H)  (or 16′ x 10′ x 10′)
Price: $$$
This next backyard batting cage is a much more affordable option that the previous choice, and you'll find it's both easy to use and does the job just fine if you're not looking for something all that heavy duty.
Here are some of it's top features:
It's frame is built with strong fiberglass rods, so it's lightweight yet has you'll find it's still strong and can handle impact.
It's really easy to set up and take down, which is great if you're planning to bring it with to baseball practice at the ball park on occasion (or weekly)
It comes with all of the necessary tie-down strings and stakes, which do need to be used (meaning, this is an outside-only batting cage, unless you get creative and weigh it down indoors somehow)
There's a cut-out to allow for a pitcher to throw or a free-standing pitching machine to be set up outside the cage, otherwise this is a fully enclosed option.
Galileo offers a 60 day return & refund, as well as lifetime replacement parts, so you can be sure that when they claim the net is heavy duty and can handle adults hitting, that they are serious.
Although it's definitely a much lighter weight option than the first one we looked at, for the price point, this hitting cage for the backyard is a really good option. If you don't assume it'll be a permanent fixture in your backyard, or something you can leave up all year 'round, I think you'll still be really happy with it, ad your child/you can definitely plan on getting some really good hitting practice done inside this cage.


---
4. Jugs Hit at Home Backyard Batting Cage
Company: Jugs Sports
Rating: 4.5 / 5 stars
Size: 45′ x 11′ x 11′  (other sizes available)
Price: $$$$
This next product may be the one for you if you're looking for longer term option than the pop-up fiber-glass rod style cages, but not wanting to spend four figures. Jugs Sports is a fairly well known name in baseball equipment, and their batting cages overall are good quality.
For this post I'm only looking at full kits that include everything, but if you're looking at getting a long term, heavy duty, serious unit, Jugs Sports does sell all different sizes of high end frames and coordinating netting – they are definitely worth a good look here on Amazon.com.
Here's what you'll like about this one:
This particular backyard batting cage kit comes with

everything needed to get it up and in use: (6) 1.5 inch powder coated uprights, (3) crossbars cables, (12) vision-enhanced coated guy-wires, (6) cable hangers, (16) steel ground stakes, (3) turnbuckles, (36) snap rings and (12) eyebolts. The netting is #27 Twisted Knotted Black Polyethylene Netting, strong and durable. 

It's a large size, so when you or your child is batting, there's plenty of room for realistic practice with a pitching machine, short toss, soft toss, or tee drills, whichever you prefer.
It has a specially designed "hitters door" that allows you to get in and out of the batting cage without creating an opening that balls can fly through.
The frame is made from powder-coated grey steel tubing, which is weather proof, rust-proof, and resistant to sun damage, so it'll look good in your yard for years.
The guy-wires are "vision enhanced" so that the chances of you/your family tripping on the wires are lessened significantly, and the frame is double staked at the corners for extra safety/assurance during heavy winds.
It's not a permanent net (even though it's heavy duty enough to take 2 people about an hour to set up). You can quickly dismantle it by un

hooking the turnbuckles, which lowers the entire cage to the ground.
This baseball batting cage kit is one of the pricier ones on the list when you include the shipping (it's not built into the price). That being said, I think it's a quality item that is worth the bit extra if you know there will be a lot of batting practiced in your backyard in the next few years.


---
5. Fortress Trapezoid Baseball Batting Cage [Complete Package] 

Company: Fortress (Net World Sports)
Rating: 4 / 5 stars
Size: various (min 35′ L, max 70′ long)
Price: $$$$
This next batting cage is from Net World Sports / Fortress, and one of the things I like about this net is that it comes with lots of options so you can get exactly the net that fits your style and your yard.
You can choose from different lengths (35′, 50′ or 70′ long). And for each of the lengths you can also choose to have the netting hung inside the frame, giving a rectangular shaped cage where the net does not touch the frame bars on the sides at all, or the net can hang externally, giving you a larger, trapezoid shaped cage in which to practice.
Here are some other top features:
The frame is freestanding due to it's trapezoidal shape, so you don't have to fiddle with stakes or worry about guy-wires at all. You'll appreciate this if you're the type of person who likes to keep a neatly cut lawn.
The frame is definitely heavy duty, made from galvanized powder-coated 32mm steel tubing and 40mm steel corner connectors for extra strength. All of the steel is weatherproof, resistant to corrosion, and rust-proof.
The netting is also weather-proof (and thus rot-proof), made of #42 grade, 1/4″ thick rope. It also has thick braided edges that you'll appreciate for 2 reasons: 1, it stops fraying, and 2, the braid helps stop stray balls from leaving the hitting tunnel.
Each part of the cage is designed so you can leave it up all year and it'll stay in great shape.
You can set up the batting cage on concrete, tarmac, grass carpet, real grass… wherever you want, really.
This batting cage, although large, is apparently very easy to put together – several reviews I found claim it's simple for just one person to do by his/herself.
I really like this product – it's a fairly big option though (35′ L x 14′ W minimum), so if you don't have a larger yard, it might not be the best fit. If you do, however, I think it's a great choice. Net World Sports is also known to be a company with great customer service and they do offer a decent warranty (1 year on the frame, 5 years for the net). Overall, I think it's well worth your consideration.


---
6. HEATER SPORTS PowerAlley Baseball and Softball Batting Cage Net and Frame
Company: Heater Sports
Rating: 3.8 / 5 stars
Size: 22′ L x 12′ W x 8′ H
Price: $$
This next one is an option I think you'll like if you're hoping to attach a pitching machine to one end of the batting cage – it comes with a harness specially designed to hold a Heater Sports pitching machine (machine purchased separately).
Here are some of it's features you'll appreciate:
It comes with everything you need to get it set up including heavy duty ground stakes, the 1/2″ fiberglass rods that build up the frame, the 1″ strong nylon net, and the harness for a pitching machine (not just a big hole).
Although it specifies that the harness attaches to any Heater Sports pitching machine, reviewers note that with some adjustments (easily done using some practical common sense stuff like tying up a bit higher, etc), you can use other brand pitching machines as well. The pitching machine itself is outside the cage to protect it and the batter.
You'll appreciate how easy it is to set up and take down if you wish to bring it with you to the park
You can use this cage safely with either hard balls or softballs
If you're interested, it's possible for you to attach two batting cages together to make a really long one.
This batting cage is a great choice if the person who you plan to have using it isn't a very hard hitter – from the reviews, it's great for children and younger teens, but it's possibly not the best choice for adults. But as it's not a very pricey option, I think you can definitely get enough value from it to make it worth the purchase during your child's early years.


---
Best Backyard Batting Cages: Portable Practice Nets
The remaining backyard baseball batting cages are the more portable kind. The first two are larger, covering more area, which you'll love if you have a bit of a wild batter on your hands, or yard specifications that require more care being taken not to have even one ball go flying. The rest are true practice nets, or "small backyard batting cages" that simply don't enclose.
7. PowerNet Portable Baseball Backstop/Cage *Best Portable Batting Cage 
Company: PowerNet
Rating: 4.3 / 5 stars
Size: 16′ x 9′
Price: $$$
This next product is quite a different style that what we've seen so far. We're now looking at the portable type, these next two in particular are great choices for batting practice nets for the backyard.
What you'll really like about this one is it's size (148 sq feet of protection). When youngsters are learning how to hit, foul balls and hits that go flying who-knows-where are to be expected. A big net that covers so much space in your backyard will come in really handy if your neighbors live close by, or you want to protect your cars, windows, other kids playing on the swing set,… whatever it is you want to keep from being smashed with a fly ball.
Here are some other features you'll like:
It's a very versatile product – your kids can also use it as a backstop for a pickup game of baseball (it's an instant baseball diamond backstop), as a pitching practice net, and of course, as a hitting practice net.
This net can be set up in minutes, with no tools! It's fully collapsible too, and can be transported in most larger vehicles.
It comes with a zippered, wheeled carrying bag that has a handle. This is great if you're hoping to use it for practices at the local ball park, as well as in your backyard… but also nice for storage purposes during the off season.
Although it's possible to set up this net indoors, it does come with ground stakes that will be useful in securing it outdoors. Because of it's height, the wind can grab at it, but the stakes apparently work really well.
Powernet offers a 1 year warranty on this net that covers the frames, metal, and composite parts. Customer reviews do give a really good impression of the service you get from Powernet if needed as well, so that's a big plus.
It's quite and simple to set up after you know how, but even the first time won't be a challenge as the instructions are detailed, with pictures for each step – and each step is super easy and clear.
This is batting cage for your backyard that you'll definitely want to consider if your child is a bit of a wild swinger and you're looking for something portable. And because Powernet is a popular, reputable company, with some of the best selling backyard soccer nets and golf nets for the backyard, they know what works and what doesn't.


---
8. Galileo Baseball Cage Batting Cage
Company: Galileo
Rating: 4.1 / 5 stars
Size: 12′ x 7′
Price: $$
This next product is similar to the Powernet we just looked at, just not as large. It's another multi-purpose baseball training tool, useful for hitting practice as well as pitching, backstop use, and more.
The shape is what is unique here with this option – it's a trapezoid, with three 7′(H)x6′(w) rectangular mesh faces and an upper mesh top. This is designed this way to increase the hitting area and the contact area with the ground, giving your child also a bigger "protected" area for batting practice – great for smaller yards.
Here's what you'll like about the Galileo:
It's easy to set up, and has adjustable strings on each side to make it "just right" for your space.
It's very portable – perfect for the backyard, but also for bringing along for a practice session or pick up game. It comes with a handy carry bag and stakes.
The net is nice and strong, able to handle real baseballs being hit at it with some force.
Although this is a bit more of a "budget" entry compared to the PowerNet, I think you'll be pleasantly surprised with this backyard batting cage option. One other thing worth mentioning is that Galileo has a 60 day return & refund policy for this item, as well as lifetime replacement parts! So you could buy with confidence that you'll both like the product, and get your money's worth over the years to come.


---
9. Rukket 6pc Baseball and Softball Bundle (7×7)
Company: Rukket
Rating: 4.8 / 5 stars
Size: 7′ x 7′
Price: $
This next product here is the most popular of the backstop screen equipment training aids on our list here – considered by many to be the best product like it on the market right now. The cage part alone is nearing 2,000 reviews on Amazon, with 90% 5/5 stars. This package here is also extremely popular – the addition of the 3 weighted training balls (PurePower) and strike zone target is a fantastic deal.
Here's what this Rukket baseball net is all about:
It's the original Rukket 7′ x 7′ baseball/softball sock-style bow frame net. Extremely popular for as long as it's been on the market.
It has Rukket's unique fold-up design that's easy to both fold down and transport, and a snap to set up… meaning that your child can get to practicing his or her hitting much quicker (and less time is spent chasing balls).
The netting is super-strong 7-ply knotless netting, and the frame very strong – customer reviews repeatedly claim it's more than strong enough to be able to handle anything even you as an adult can hit at it.
The frame is weighty enough and well enough designed that you actually don't need to stake it down (although it does come with stakes that are handy if it's really windy out). And so, this net can easily be set up both indoors and outdoors, meaning your child can practice hitting (and pitching) all winter long if you have some usable indoor space!
Rukket products have a 100% lifetime warranty (which includes all replacement parts) and a 100% satisfaction guarantee, and their (US-based) customer service has a great reputation should you need it.
This practice baseball net by Rukket is economical, practical, and really easy to set up. There's not much else to say other than, what's not to love? Check out this video review for a few more details.



---
10. Bownet 7′ x 7′ Big Mouth X: Portable Sock
Company: Bownet
Rating: 4.4 / 5 stars
Size: 7′ x 7′
Price: $$
Bownet is another very well known brand when it comes to portable nets – it's no surprise they have a high quality baseball batting practice net as well. Bownet is the brand that you'll very often see used by coaches running practice drills at the ball park – it's simply put, a reliable net.
As far as design goes, this 7×7′ net looks a lot like the Rukket above and several of the brands below as well. What makes it approx 2x the price?
The steel base is heavier, giving it improved balance on any surface, and you'll find that it does stand up (literally) better to batting practice done by more elite athletes.
You'll like how the base frame is cleverly designed to be just one piece – you can't loose or forget sections or get confused as to what goes where when you're setting it up. Set up takes all of about 60 seconds, by the way.
It is engineered to last longer than the others, with a powder-coated steel base frame, and specially designed sleeves and bungees that reduce tension on the net during impact. This (patented) Energy Absorption System means reduced and channeled tension, which means less stress on your net, which means a longer life for your net.
Some other features you'll like:
If you want to use this baseball batting net indoors, it has rubber non-marking feet that give it good traction and stance.
Reviewer after reviewer claims it can handle batting practice by hard hitting teenagers and even adults, as well as pitching practice.
The carrying/storage bag is included, as is a one-year manufacturers warranty (and Bownet's customer service, which has a great reputation).
If you're unsure about which brand to get, Bownet, Rukket, Powernet… all of them do make fantastic backyard practice nets. If you are wanting something a bit heavier, something very portable that will feel just a bit more substantial for a heavier hitter, this is a great choice for you.


---
11. PowerNet DLX Combo 6 Piece Set for Baseball and Softball
Company: PowerNet
Rating: 4.8 / 5 stars
Size: 7′ x 7′
Price: $$
This next option here is from PowerNet, another big name company – this is what I think is their best option for a 7×7′ portable batting cage. Although it's pictured in blue here, you can actually get it in a large range of colors (including those of many popular MLB teams).
I think this combo here is a phenomenal deal for the price tag: the DLX Hitting Net, 3 weighted balls (16oz, 2.8″, great for helping your batter build power), a tripod ball caddy (it holds up to 60 baseballs or 30 softballs, so less bending over to grab balls), and the strike zone attachment. With all these parts, you can really work on improving hitting or pitching! If you'd prefer, however, you can also get just the net by itself.
Here's more that you'll like about it:
If endorsements mean anything to you, this particular net has been used and endorsed by Pro players Gorkys Hernandez, Andrelton Simmons and Danielle O'Toole.
The frame is made from flexible fiberglass, but the base and corner joints also are stabilize with steel, so you'll find it strong and sturdy.
The polyester net is knot-less, ready to stop ANYTHING in it's path for years to come (hard balls, golf-balls, soccer balls, etc…)
It does come with 4 ground stakes that work in dirt or grass, so if you are playing on a windy day, you can be assured that you won't be chasing after the net. It also comes with a handy zippered carry bag, which makes storage tidy and bringing it to the ball park for practice really easy.
Overall, this backyard baseball net with accessories is a fantastic deal. If you want more convincing, click through and check out the hundreds of overwhelmingly positive reviews for yourself.


---
12. ZENY 7'×7′ Baseball Softball Practice Net with Bow Frame
Company: ZENY
Rating: 4.6 / 5 stars
Size: 7′ x 7′
Price: $
This last option we're looking at is our "budget best" – a really economical yet highly reviewed simple batting practice net. If you're looking for a great gift for a baseball player in your life that won't break the bank, this could be a great choice.
This net is currently Amazon's #1 Best Seller for their "Baseball and Softball Batting Cages" category – although this changes regularly, it does tell us that even though the brand isn't all that known, that the product is being well received (nearly 200 positive reviews at this point as well!)
Here's what people like about it, besides the great price:
It has a solid frame, made of a powder coated steel base that also has and rubber feet so it has both better grip and less scratching if you use it indoors (which you can).
The net is tear resistant polyester (600D oxford fabric), which has good resistance and and stand up to hard impact.
It's really easy to set up, as it's made of very few separate parts and uses velcro straps and hook loops to hold together (you don't need any tools to assemble it).
You can easily bring it with you wherever you feel like getting in some practice, whether it's the backyard or the park – it has a carrying bag included, and packs up nice and light.
It comes with 

4 U-sharp ground stakes so you can feel comfortable with it's stability even if it's a strong wind, or we're talking about a really heavy hitter…
This baseball batting net is, I think, one of your best low cost options when it comes this screen-style net. From the many reviews, it sounds like you can't expect it to last as long as some of the pricier ones, but that you will definitely get your money's worth from this one and then some.


---
Start Batting Practice In Your Backyard Today!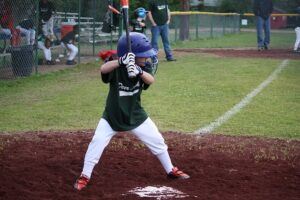 If you have a child who wants to become really great at hitting, the key to success is lots of practice, and the easiest way of getting lots of practice in, is having a convenient and safe place to hit balls around, right in your backyard. Adding one of these best backyard batting batting cages will help that to happen.
Whether you end up choosing a large, enclosed unit or a pop-up hitting net, a freestanding batting cage or one you have to do some work to put up, I hope it ends up providing your family with a safe and enjoyable outlet for some great baseball fun!
As always, I'd love to hear from you with feedback, questions, or general comments on which you think is the best home batting cage – reach out in the comments section below and I'll get back to you shortly!
Cheers, and happy hitting!
---