While any backyard trampoline can be a lot of fun, if you're looking specifically for one that will help an aspiring gymnast improve his or her skills away from the gym, you can't just pick the first trampoline you see.  You need to be looking at one of the best trampolines for gymnastics.
There are a few things to look out for when picking out a trampoline that's going to be great for your flipping, twisting, tumbling gymnast, so let's dig into what those are first.
After, we'll look at the 8 best trampolines for gymnasts for your backyard; I'm sure you'll find one that you and your child will like.  Ready?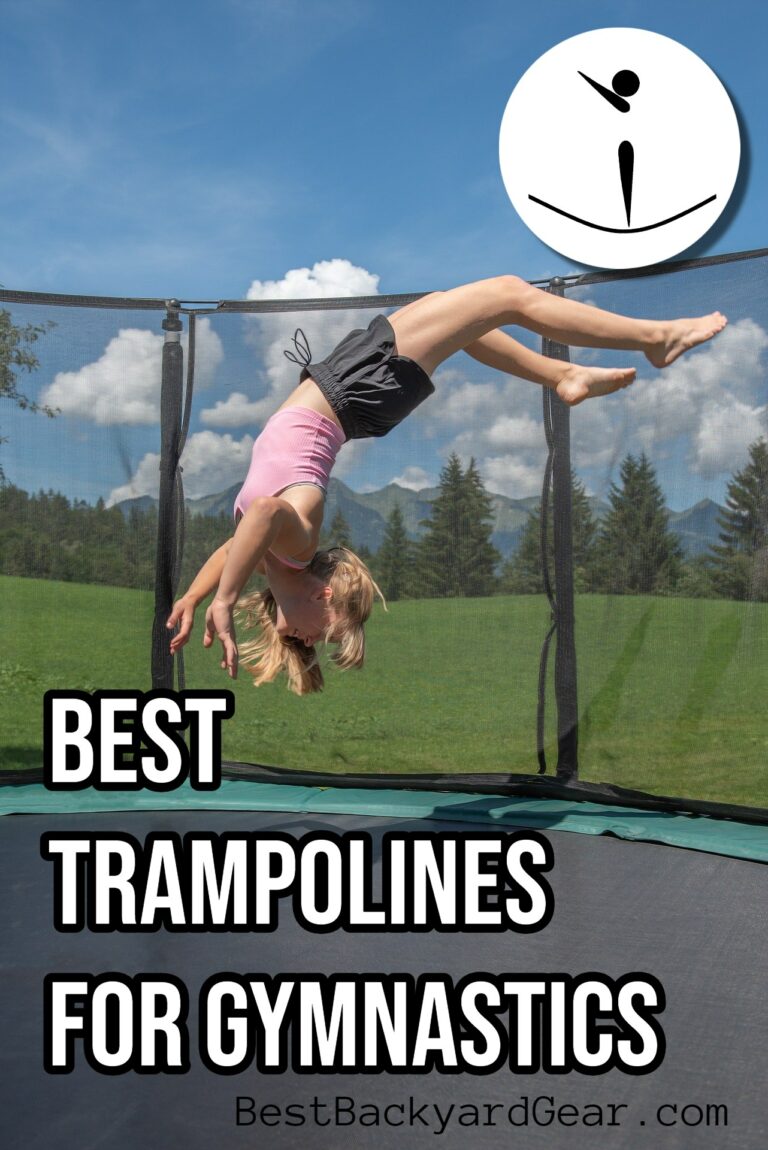 Buying Guide: What Makes a Trampoline Good For A Gymnast?
Jump To Reviews (Skip Buying Guide)
What determines a good outdoor trampoline for gymnastics (not just for fun bouncing around) is the following:
Shape

Spring Size

Safety

Mat Size.
Let's take a quick look at each.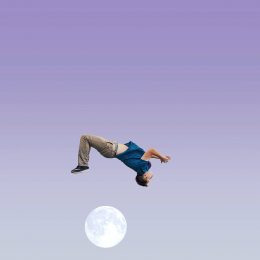 1) Shape: Rectangular vs Circular?
I'm sure you've noticed that professional gymnast trampolines are all rectangular, while the majority of recreational trampolines in backyards are round. Why is that? And does shape matter to you?
There is actually a good reason why the best gymnastics trampolines are rectangular. And yes, it matters to you if you want the capability for both a high bounce and great bounce from anywhere on the trampoline mat.
You see, circular (recreational) trampolines have the springs all working at the same rate, effectively pulling the bouncer to the center with every bounce, and also softening their bounce, both without the jumper even realizing it. This is a safety feature, and quite a smart one actually, if you think of it from the perspective of parents who buy a backyard trampoline to let their non-gymnast kids have some fun and exercise.
On rectangular trampolines, however, the springs each work independently. Wherever on the trampoline you bounce (front, back, sides), you have the same controlled take off and stable landing, and the same spring power at work. There's no pull to the center.
Typically, gymnasts want the highest bounce possible so they can get as much air time as they can for their tricks. Rectangular trampolines give higher bounce than circular ones, from anywhere on the mat. And, they give it with less effort put in by the jumper. Why? Because the difference in how the springs works also affects the strength you need to get a high bounce – it's EASIER on a rectangular trampoline to get really high, even for lighter jumpers with less leg muscle.
2) What Size Springs Should I Look For?
There's no easy number to give you here, sorry! Simply put, the bigger the trampoline mat size, the bigger the spring needed for a great bounce. (This means that just because a smaller trampoline has a smaller spring size, it doesn't necessarily mean the bounce will be less powerful than that of a bigger trampoline with a bigger spring.) It also means that you can compare two trampoline mats and spring sizes and determine which of the two should have a better bounce.
3) Safety features: Do I Really Need (Or Want) An Enclosure Net?
Although a rectangular trampoline for gymnastics training at the gym does not have safety nets on the side, you really do want one on your backyard trampoline – especially if your child will be practicing routines and new moves. Remember, at the gym there are spotters and trainers… at home, likely you won't be standing guard at all times. Flipping and spinning creates dizziness, and a good safety net creates a wall of protection that is very important (yes, I'm speaking as a parent here).
4) What Size Rectangular Trampoline Do I Need?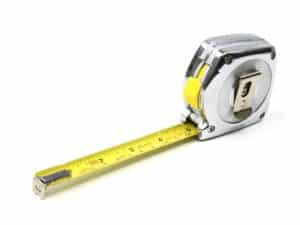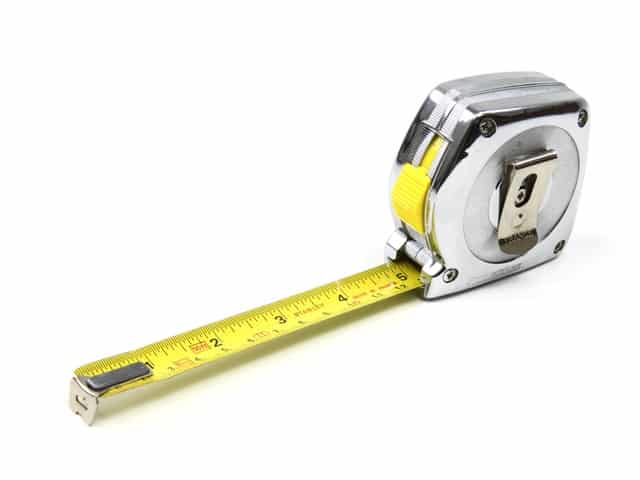 The Olympic trampoline size is 10′ x 17′, for reference. While there are options in our reviews below that are that size, for fun and backyard training, don't feel you need to purchase one that big. It does depend on the size of the child and the level of stunts they are practicing. Keep in mind that a smaller child may not do as well with a full sized trampoline (just like a smaller child may play a smaller violin better than an official size). A rectangular 8′ x 14′ would give perfectly adequate jumping space for a youngster, for example. If you aren't sure, get out a measuring tape and physically draw/tape out the mat space – it's a helpful way to see how big it really is.
Now let's take a look at my top picks for outdoor gymnastics trampolines for 2023:
Best Trampolines for Gymnastics in 2023
Here's a brief overview of the products that will be reviewed for you. 
Click on the links to hop down to reviews, or just scroll down.
Specs Overview
1. JumpSport AlleyOOP PowerBounce

Company: JumpSport
Rating: 4.8 / 5 stars
Size: 10' x 17'
Springs: multiple (2 layers)
Price: $$$$$
Click To See Review

*Top Recommendation*
2. Skywalker Rectangle Trampoline

Company: Skywalker
Rating: 4.2 / 5 stars
Size: 9' x 15' (blue) or 8' x 14' (green)
Springs: 7" (80)
Price: $

Click To See Review

*Best Budget Option*
3. Happy Trampoline - Galactic Xtreme

Company: Happy Trampoline
Rating: 4.5 / 5 stars
Size: 8x14', 10x17', 10x20', or 14x16'
Springs: 9" (92-156)
Price: $$$$ (10x17')

Click To See Review
4. JumpSport StagedBounce

Company: JumpSport
Rating: 3.9 / 5 stars
Size: 10' x 17'
Springs: 10" (108)
Price: $$$
Click To See Review
5. JumpKing Pro-Series Rectangular Trampoline

Company: JumpKing
Rating: 4.2 / 5 stars
Size: 10 x 18'
Springs: 8.5" (120)
Price: $$$

Click To See Review
6. Skywalker Trampolines Square Trampoline

Company: Skywalker Trampoline
Rating: 4.0 / 5 stars
Size: 14' x 14'
Springs: 6.5" (96)
Price: $
Click To See Review
7. SkyBound Horizon


Company: SkyBound
Rating: 5 / 5 stars
Size: 11' x 18'
Springs: 10" (118)
Price: $$$$$
Click To See Review

8. Acon Trampoline Air 16 Sport HD

Company: Acon Trampolines
Rating: 4.9 / 5 stars
Size: 10' x 17'
Springs: 10" (140)
Price: $$$
Click To See Review


Gymnastic Trampoline Reviews
(As an Amazon Associate I may earn a small commission from qualifying purchases made through links on this page, at no additional cost to you. Full Disclosure.)
1. JumpSport AlleyOOP PowerBounce 10'x17' Trampoline (for Gymasts) with Enclosure

*Best Rectangle Trampoline For Gymnastics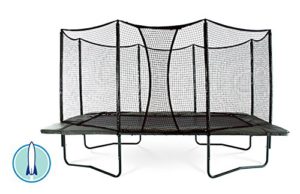 Company: JumpSport
Rating: 4.8 / 5 stars
Size: 10′ x 17′
Springs: multiple (2 layers)
Price: $$$$$
This first entry is the best backyard gymnastic trampoline out there, in my opinion. JumpSport is a company known for producing seriously good trampolines, both round and rectangular. This one, the AlleyOOP PowerBounce, is a high end, high quality option, so go ahead and skip on to the next if you're looking for a more economical option.
The AlleyOOp Powerbounce is an Olympic Sized model that has a lot of special safety elements built in that parents like yourself might appreciate, such as an overlapping doorway that prevents jumpers from falling out, a safety net rated to 295lbs, and specially designed enclosure poles that flex on impact. (JumpSport actually is the company that invented the safety net… just an interesting tidbit.)
Here are some other features you'll like on the AlleyOOp:
There are "Resting Zones" on the sides of the trampoline (with reinforced, extra thick padding). You'll really like this idea as they can be great "safe" spots for multiple jumpers to wait their turns out of the way of the gymnast, and they are also a safe place to stand while you're giving tips and spotting for new tricks!
The trampoline has 2 layers of springs! It has 92 primary black high performance springs as well as 72 PowerSprings – this combination is designed to give you incredible bounce as well as great shock absorption… and you can tune or adjust them to fit your exact preferences (age, weight, and skill level)!
The trampoline comes with a Lifetime Warranty on the frame and poles, and 10 years on the mat and net, so it really is an investment that you can count on being good quality for years to come.
The safety pad is made of durable, gym-quality foam encased in a reinforced 21oz PVC covering – a big improvement over the cheaper model pads that never seem to last.
While you may be purchasing this for just one or two specific jumpers, this trampoline is good for up to 800lbs – it has a max weight PER jumper at 350lbs.
Because this is such a high quality trampoline it comes with a high price tag. Do I think it's worth it? Well, reviewers unanimously say the bounce is ridiculously good, and as a parent I'm loving all the safety features. I also like that JumpSport is know for their good customer support, and that they are an American company. All plusses.
For a product of this magnitude, you're best off to purchase directly from the manufacturer, for best availability and support, as well as their currently offered Lifetime Warranty, Free Shipping, and 0% APR Financing on trampolines. Only at jumpsport.com!  It IS also available on amazon.com, so check both to compare prices.

---
2. Skywalker Trampolines Rectangle Trampoline with Enclosure Net – Gymnast Trampoline 
Company: Skywalker
Rating: 4.2 / 5 stars
Size: 9′ x 15′ (blue) or 8′ x 14′ (green)
Springs: 7″ (80)
Price: $
This next model is what I think is the best "budget friendly" entry on this list of best rectangular trampolines for gymnastics. It's a really good option if you're not ready to invest in a super high quality one like the options above, but still want a gymnastic style trampoline with decent space, decent bounce, and a decent price.
Here's what you'll like about this one (besides the price):
It has Skywalker's patented no-gap enclosure (the net attaches at each spring), letting you feel confident that your bouncer will stay safely on the trampoline and off of the pinch points even when dizzy from a few twirls and flips.
The enclosure system has upright foam-covered poles that are angled out at the top, keeping the net away from the poles for added safety. You'll appreciate how it also makes the interior feel bigger.
The springs are made of steel and coated with a rust-resistant coating so you can feel confident leaving your trampoline up year round, weather wise
The enclosure net is a tight weave that prevents snags and keeps it looking nicer longer.
There's a fun basketball net addition that is included
Skywalker tests all of their products for safety and durability before shipping them out
To be honest, this trampoline will NOT give the same bounce as most of the high-end trampolines we've seen already on this list, nor will it last as long (warranty 3 years on the frame, 1 year on the rest). But depending on the age, weight, and skill of your trampolinist, it will definitely give them several fantastic seasons of jumping! Reviewers are very positive about this trampoline – check out what they have to say:


---
3. Happy Trampoline – Galactic Xtreme Gymnastic Rectangle Trampoline with Net Enclosure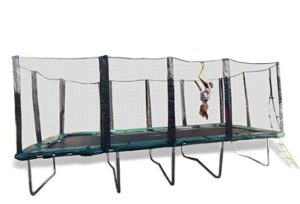 Company: Happy Trampoline
Rating: 4.5 / 5 stars
Size: mulitple sizes
Springs: 9″ (92-156)
Price: $$$$ (10×17′)
A Galactic Xtreme Review: The next on our list is a trampoline by Happy Trampolines, a family-owned & operated American company not as well known as JumpSport or SkyBound, but in the business of making high end trampolines for over 20 years already. Their Galactic Extreme Trampoline featured here is a high performance, commercial grade trampoline that's worth a look.
Here are some of the features:
It has a max weight capacity of up to 550lbs, so you can have confidence that multiple bouncers on this huge mat (or one bouncer and a spotter for high end tricks) will be fine up top at the same time.
The heavy duty "Stablizer Frame" has a lifetime warranty on it against warping – it's made from fully galvanized steel and is fully rust resistant, so you can have peace of mind leaving it up all year round
This trampoline is trusted and endorsed by Olympian Bode Miller – that may or may not matter to you, but sometimes it's reassuring to know that serious Olympians are willing to be identified with a specific product.
Safety has been well thought through – the enclosure has a patented "Stay Put" design, and the steel frame is covered with padded cushions that flex on impact – which means good shock absorption when your child happens to land near or on it.
It comes with an extra-wide springs cover-pad, a ladder for easy mounting and exiting, and everything you need to set it up.
The Galactic Extreme is again not a small investment, cost-wise, but it's a safe and fun option for beginners and young jumpers as well as elite trampolinists who are doing some serious gymnastic training.


---
4. JumpSport 10'x17′ StagedBounce | Rectangular Trampoline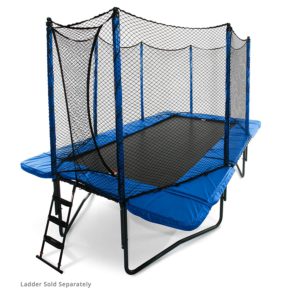 Company: JumpSport
Rating: 3.9 / 5 stars
Size: 10′ x 17′
Springs: 10″ (108)
Price: $$$
You already saw the JumpSport AlleyOOP, and now it's time to take a look at the JumpSport StagedBounce. These two products are pretty similar except that this entry here is a step down from the AlleyOop in a few areas, also including price.
Here are some features you'll love:
It has the "Resting Zones" designed on the sides to allow kids to wait their turns safely up on top of the trampoline, or for a spotter to stand out of the way during training
It has a huge "sweet spot" for the best bounce
There are no zippers at the entrance! Often this is where trampoline enclosures tear and get ruined first… so no zippers are great! Instead, you get JumpSport's unique overlapping doorway that gives you 360 degrees of protection, and your bouncer has a safe and easy spot to mount and dismount (look at the pic above… it's pretty cool).
It has a patented High Stretch spring system called "StagedBounce" that allows for a more forgiving landing (the impact on your body is reduced by half!) and a higher return bounce. (Click through to read more details on this.)
The foam covered 7′ enclosure poles are flexible and can handle up to 295lbs impact, which you'll really appreciate if your bouncer happens to land against them in an awkward jump.
Compared to the AlleyOop: There are small differences such as the AlleyOop having a slightly higher max single user weight (350lbs compared to 225lbs), but the big difference is that the AlleyOop has the double layer of springs, where the StagedBounce has a single layer (the AlleyOop reportedly giving the higher and nicer bounce of the two). The warranties on the StagedBounce components are also shorter (10 years on the frame compared to Lifetime, for example).
Overall though, both the AlleyOop and the StagedBounce are really great rectangular trampolines that any gymnast would be really happy with in their backyards, and that parents will appreciate for their safety features, quality, and durability.
Although you can find JumpSport trampolines on many big box sites, you'll get the best warranty, free shipping, and financing options over at the official website. Check it out!

---
5. JumpKing

Pro-Series Rectangular Trampoline 10' x 18'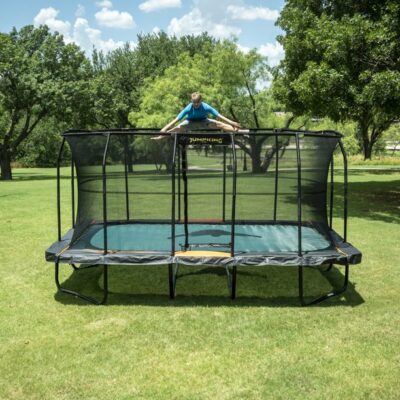 Company: JumpKing 
Rating: 4.2 / 5 stars
Size: 10 x 18′
Springs: 8.5″ (120) 
Price: $$
The JumpKing trampoline makes some bold claims about being the best gymnastics trampoline, due to their patented "over-under" spring arrangement. The springs are set up in a rather unique V shape, and JumpKing claims this helps create amazing bounce. Owners overall report being are very happy with it, so there may be something to it!
Other things you'll like about this trampoline are:
It has a max weight capacity of 400lbs, so you can easily have a spotter or two on the trampoline alongside the gymnast without worrying about stressing the mat.
The bent-pole design on the exterior safety net gives jumpers the illusion of more room inside the enclosure; the netting is attached between the springs and the mat, so the bent poles holding up the netting allow for a more spacious feel while not compromising safety.
The mat is GREEN, which, according to reviewers, doesn't get nearly as hot to the touch as normal black mats! It's made of a special weave that allows for air flow through it.
The frame is super strong – made of galvanized steel. Overall, it weighs about 400lbs, so heads up if you were thinking you'd move it around when you cut your grass each week.
According to reviewers, you'll find this trampoline fairly easy to assemble, even by oneself! There's a good video on Youtube showing assembly that's worth checking out if you decide to go with this one.
While I think the JumpKing trampoline is a good option, and it's 5 year limited warranty is pretty good too, I think if you're looking at spending close to two grand on a trampoline, you might want to take another look at the Happy Galactic or AlleyOOP PowerBounce – two EXCEPTION models. If you can catch a great sale though, the JumpKing Pro-Series trampoline IS one that I think your young gymnast will absolutely approve.


---
6. Skywalker Trampolines Square Trampoline and Enclosure with Spring Pad

*Best Square Gymnastics Trampoline
Company: Skywalker Trampoline
Rating: 4.0 / 5 stars
Size: 14′ x 14′
Springs: 6.5″ (96)
Price: $
This trampoline isn't like all of the others you've seen on this list, and that's because it's NOT a rectangle – it's square. In some ways, it's the perfect mesh between a recreational trampoline and a trampoline for gymnastics, so if that fits you, take a good look at this one.
Here's what it has to offer:
Some of you may really like the heavy duty Camouflage spring pad (that makes it blend nicely in with the yard), but if you don't, you can look up and get the standard blue mat too.

The square has a good bounce all over the trampoline because the springs works similarly to those on a rectangular trampoline. You won't find yourself pulled to the center, as happens on round trampolines. So you'll have plenty of space for doing tricks and flips!

The space is also great for if you have multiple jumpers on it at a time – as a parent, you'll love that it feels safer with more space between them. 

The enclosure net is gap-free, meaning it's tied down/woven in at every spring so that you don't have to worry about pinching.
Skywalker Trampolines are good quality and popular trampolines; the round, the rectangular, and the square. And at a price point that's very reasonable, it's worth a closer look.


---
---
7. SkyBound Horizon 11X18ft Rectangle Trampoline with Safety Enclosure and Ladder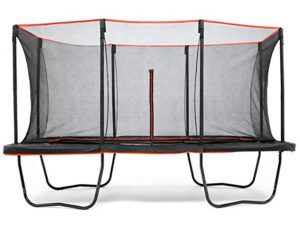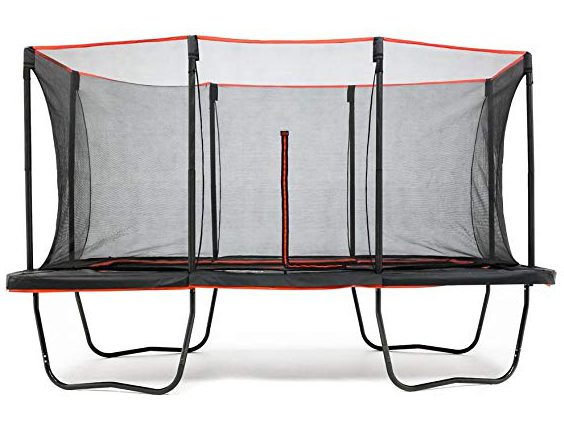 Company: SkyBound
Rating: 5 / 5 stars
Size: 11′ x 18′
Springs: 10″ (118)
Price: $$$$$
Next is another serious trampoline for gymnasts – probably at the very top end of your options quality wise, but coming in below the Acon Air on my Top 10 List due to the high price tag. It's slightly bigger even than Olympic size, coming in at 11′ x 18′ – which is lots of room for practicing tricky maneuvers safely.
Here are some of its features that you'll like:
It's a pretty classy looking trampoline compared to many, with the modern metallic grey and red – it immediately looks like it's not just a recreational backyard toy, but something for a serious athlete – which it is! (SkyBound designed this model for freestyle and traditional athletes in mind, not necessarily recreational jumpers.)
It's not just stylish looking – it's also really safe and sturdy, weighing over 800lbs! You know THAT won't be budging, throwing your child off his/her bounce! It also has a 7.5 ft tall safety enclosure system and a dual frame built from super strong steel, and an extra wide skirt over the thick foam safety pad that covers the springs.
You can adjust the spring configurations to get exactly the type of bounce or rebound that you need or want.
With 105 square feet of jumping surface – and all of it with good bounce and not guiding you to the center (unlike round trampolines) – you and your family can jump safely together for hours!
Although it's pricey, it's an investment that will last – SkyBound is so confident in the quality of the Horizon that there's a 10 year (limited) warranty on it! You kids won't outgrow it size and weight-wise either (max 500lbs)!
It comes with a 3-step ladder so your child can safely and easily scramble onto and off of the trampoline.
The Horizon has SkyBound's very easy installation system, using push button pins to snap the frame and enclosure together, which you'll love if you're planning to assemble it yourself (with a few friends… it's VERY heavy).
If you're looking for "the best" trampoline for gymnastics that you can get in your backyard, this is the one you're looking for, I think. But yeah, it does have a stiff price tag. If that's not in your budget, there ARE other really good options (see #1 and more to follow).
Here's the official launch video for the SkyBound Horizon trampoline (it was added to their line in Spring 2018):
NOTE: At time of updating for 2023, this trampoline was not currently in stock – link leads to a very similar option at Amazon.


---
8. Acon Trampoline Air 16 Sport HD with Enclosure 
Company: Acon Trampolines
Rating: 4.6 / 5 stars
Size: 10′ x 17′
Springs: 10″ (140)
Price: $$$
The Acon Air 16 is harder to find, as they've been unavailable for a while. It was previous one of my top choices of trampoline that I'd recommend for more advanced gymnasts, however, so if it comes back soon, it's really worth a look. It's a high quality, Olympic sized backyard trampoline that will look sleek and smart in your backyard.
Some top features you'll like:
The quality. Every part of this unit will impress you – it's not in the least bit flimsy. The frame is really heavy duty, with galvanized steel pipes both inside and out, the mat is cross sewn 10x for strength and UV treated for longevity.  It's a heavy unit that won't budge on you.
There's no single user weight limit, and with a structural limit of 800lbs, you can feel free to get up on there with your child(ren) and have some fun without worrying about the combined weight!  (800lb limit also testifies to the structural strength… many trampolines you'll find limit you at 250-350lbs.)
Each spring is individually optimized for the biggest bounce (more springs doesn't equal more bounce unless they are properly designed for the particular mat size) – you get that with the Acon Air 16!
It comes with the safety net, safety pad, and ladder, as well as ground anchors and a spring puller tool to help you out with assembly.
It's considered an all-season trampoline, so your children can enjoy it in any weather – if you're like me, you'll be happy to hear that it doesn't need winterizing.
It's a quiet trampoline!! Several reviewers shared that "it doesn't squeak, just does more of a 'poof' when you jump". You and your neighbors will very much appreciate this if your bouncer likes to jump early in the day or late into the night!
Safety is really well thought out: during assembly, you have to weave the safety net to the jumping mat, which means that there is no gap to pinch or catch hands and feet. In addition to this the springs are connected outside the enclosure net, which is another safety feature which I'm sure other parents will find reassuring.
(As an aside, the Acon Air ROUND model is one of top round models features on my best trampolines for teenagers post – it's fantastic. If you aren't stuck on rectangular, it's about half the price, and also really impressive.)
I really like this trampoline and I think it's one of the best you can get for serious trampolinists that's in the mid-price range. However, if you don't need an Olympic size, heavy duty unit that should last for ten years (that's the warranty length on the frame), there are other plenty of other good options to check out.


---
Enjoy A Gymnastics Trampoline For Home Use This Year!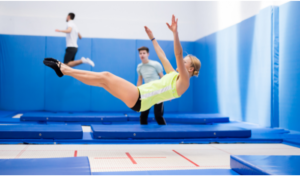 Having a backyard trampoline for gymnastics training is a great way to practice and have fun at the same time. That sense of accomplishment for landing a new trick is HUGE – you can give your child your child the opportunity to do this more often! And if your child (or yourself) is training for competitive gymnastics or even the Trampoline Olympics one day, cheerleading, water or snow sports that have tricks that need practicing, getting them one of these best trampolines for gymnastics will be a huge gift for them.
We saw a large range of the best rectangular trampolines here today – from the high end to the budget models. Hopefully you saw something that will appeal to you!
As always, if you have any questions, feedback, or comments, I'm always happy to hear from you and will get back to you quickly!
One Last Thing: 
Before we leave, if you are buying a trampoline for the first time, and your child wants to know how to get started with tricks and flips, here's a great video that outlines a simple front flip nicely for them! (The ones we've looked at here today definitely include the best trampoline for flips and best trampoline for tricks out there, by the way!)
Have fun bouncing your way to fitness and fun!