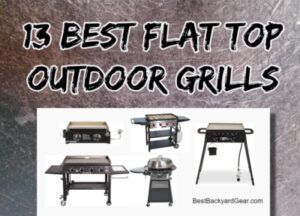 Let's talk about the best flat top outdoor grills today! In the realm of outdoor cooking, there are many types of grills that you could fall in love with quite easily. Although most people think of gas or charcoal grills when they picture outdoor cooking, a growing number of people are turning to flat top grilling – and not turning back!
Backyard flat top grills aren't all that well known yet for many people outside the restaurant industry. Also known as flat top griddles, flat top gas grill griddles, and flat top griddle stations, these impressive backyard tools will quickly become one of your favorite cooking instruments! I predict you're going to be seeing more and more of these as you gather around great meals with friends and family in the next years.
You'll find reviews for the 13 best flat top outdoor grills of 2023, include what you can expect from each (pros and cons). Jump to the category that interests you most, or keep reading to see them all: 
Also – following the reviews – be sure check out the Flat Top Grill FAQs for some deeper level info on these units. Jump To FAQs now.
---
But First, Why Choose A Flat Surface Grill?
Here are a few quick reminders as to why you'd even want to add a flat top grill or grill/griddle combo to your backyard.
You can bring all of your cooking (other than oven) to one location, and use just one device! Flat top grills let you replace the propane stove and frying pans that you'd need alongside your grill if you wanted to cook your whole meal outdoors.
You can grill up items that would normally fall through cooking grates. Bring out your eggs and bacon for breakfast, whip up stir-fries and fajita fillings for lunch, and prepare amazing steaks or delicate fish with roasted veggies on the side for dinner!  
Flat top grilling retains all of the flavors and juices of the food, as it doesn't just drip away, while still achieving that much desired crisp. Think of using a well seasoned cast-iron pan and you'll "get" how that works. Delicious! You will LOVE burgers on here.
---
The 13 Best Flat Top Grills / Griddles of 2023
| | | | |
| --- | --- | --- | --- |
|   | Grill | Style |   |
| | Blackstone Flat Top 2 Burner Outdoor Griddle Station (1517) | 2 Burner | See Review |
| | Razor 25″ Gas Grill Griddle (GGC2030M) | 2 Burner | See Review |
| | Country Smokers Horizon Series, Plains 2-Burner Portable Gas Griddle (CSGDL0370) | 2 Burner | See Review |
| | Camp Chef 4 Burner Flat Top Grill Griddle 600 | Grill Griddle Combo | See Review |
| | Royal Gourmet GD401 Portable Propane Gas Grill and Griddle Combo | Grill Griddle Combo | See Review |
| | Blackstone 4 Burner 36″ Outdoor Flat Top Gas Griddle (1554) | 4 Burner | See Review |
| | Royal Gourmet GB4000 Outdoor Flat Top Gas Grill Griddle | 4 Burner | See Review |
| | Country Smokers The Highland 4-Burner Portable Griddle | 4 Burner | See Review |
| | Blackstone 22″ Tabletop With Hood (1813) | Table Top | See Review |
| | Blackstone 17″ Tabletop (1650) | Table Top | See Review |
| | Pit Boss 2 Burner Propane Griddle (PB336GS) | Table Top | See Review |
| | Royal Gourmet 24″ Propane Grill Griddle (PD1301S) | Table Top | See Review |
| | Cuisinart Round Flat Top Gas Griddle | Round | See Review |
Best 2 Burner Griddles 2023 | Flat Top Grill Reviews
1. Blackstone 1517 Flat Top Gas Grill Griddle:

Top Pick (2 Burner)
Brand: Blackstone
Rating: 4.8 / 5 stars

Size of Cooking Area:

470 sq. inches
Number of Burners: 2
BTUs: 30,000
Price: $$$
This 28" two-burner flat top by Blackstone is a hugely popular griddle – currently the "best seller" of all griddles of all sizes and makes on Amazon. I think that's because it's both excellent quality for a fair price, and a perfect size; not too big, not to small. It also comes from a reputable American company famous for great griddles. Win, win, win.
Pros
It's well designed, with bottom and side shelves to hold your gear and prep items, a built in cutting board, hooks for a garbage bag on the non-shelf side, and a rear grease trap to make clean up simple.
It's solidly built. The 2 burners are made of solid stainless steel, the frame of powder coated alloy steel, and the cooking surface of cold rolled steel.
There are 2 castor wheels for moving it small distances, and fold up legs when you want to transport it elsewhere. (It IS fairly heavy though, heads up).
There are 2 burner zones that you can independently control (which is great if you're cooking multiple food items at the same time).
Cons
You'll likely want a hood, which you'll have to purchase separately (this will run you approx $70-100).
The side shelf apparently can get really hot, so you'll have to plan carefully what you put on it.
There is no wind guard, so if you're cooking in a windy area, your heat may not stay even.
I really think this flat top grill is a fantastic choice, and worth the (surprisingly reasonable) price tag! But don't just take my word for it. If you're someone who likes to dig through reviews before purchasing, you can check out the thousands upon thousands of (overwhelmingly 5 star) reviews left on this product by clicking through here to Amazon.


---
2. Razor Griddle GGC2030M 25 Inch Flat Top –

Best For Portability (2 Burner)
Brand: Razor
Rating: 4.6 / 5 stars

Size of Cooking Area:

25″
Number of Burners: 2
BTUs: 20,000
Price: $$
This next 2-burner flat top griddle is designed with a strong focus on portability. While the Blackstone we looked at above is able to be moved, it's more geared towards regular use in one location. This Razor griddle here is designed to be moved around a lot. So if you are looking for a flat top to use more "on occasion", or for one that you can easily switch from your back patio to your campsite (or use for tail-gating), I say that this one is well worth a closer look.
Pros
Portability!
It comes with a built-in hood. The hood interior is made of the same cold rolled steel as the grill, and can help with steaming or melting foods, or with trapping in heat effectively during windy weather.
If you hate assembling grills, this one has barely any work for you to do. All you need to attach are the wheels, knobs, and the regulator, and you're good to go!
The grease trap is really easy to use – it's a cut-out in the front left corner of the griddle, with a removable cup that slides in underneath to catch everything.
Cons
If you plan to use this often, you'll probably want to connect to a large 20lb propane tank. The griddle only comes with the hookup for a 1lb canister though, so you'll have to buy an adjuster piece and hose separately to attach your larger tank.
The side shelf is quite small – it won't hold much more than a few condiments.
At 20,000 BTUs, there is enough fuel strength to do regular grilling, but it's a lower level than others on this list.
While the Razor griddle has good reviews and plenty of satisfied buyers, it currently comes in at the same price point as the Blackstone above, which in my opinion is a more solid, higher level griddle. But if you're wanting portability AND a griddle you'll be happy with – those dollars will be well spent here.


---
3. Country Smokers Horizon Series 2-Burner Portable Gas Griddle
Brand: Country Smokers
Rating: 4.5 / 5 stars

Size of Cooking Area:

373 sq. inches
Number of Burners: 2
BTUs: 22,000
Price: $$
This next flat top outdoor griddle is our "budget entry" in this 2-burner flat top category – the Country Smokers CSGDL0370. If you're looking to save some money but still get great value for your dollar, take a further look into this one – there's a lot that you'll like.
Pros
The cast iron (!!) grill top comes pre-seasoned, getting you cooking faster! The pre-seasoning is done with plant-based organic oil.
The designers added extra-long protective burner covers so that you won't suffer heat loss from wind and/or cold, which is a problem that other flat tops often have (no wind protection).
You can transport this lightweight griddle easily using the foam covered handles and collapsible legs.
The 373 sq. inches is an excellent size for cooking meals for 4-6 people.
This stainless steel unit comes with a cover for easy, clean storage (not a lid).
Cons
Although it comes with an impressive amount of BTUs for a lightweight/budget model, many reviewers share that the heat is definitely concentrated towards the back of the flattop instead of evenly distributed. (Most find this not an issue though as they use the cooler area near the front for warming or holding.)  
There's not much in the way of prep space nor hooks for hanging utensils.
I really like the Country Smokers Flat Top 2 burner grill. And even though it's from a company that's not as well known as Blackstone or Razor for it's Flat Top grills, the product is still popular enough to earn hundreds of reviews – and most are really positive. Take a look for yourself!


---
Best Flat Top Grill Griddle Combos
1. Camp Chef Flat Top Grill / Griddle 600 

(Top Pick – Combo)
Brand: Camp Chef
Rating: 4.8 / 5 stars

Size of Cooking Area:

604 sq. inches
Number of Burners: 4
Price: $$$$
When it comes to grill griddle combos, the Camp Chef 4 burner option here is the one to beat. The griddle top is removable; underneath is are traditional grill grates. Both cooking surfaces are spacious, both high quality. 
Here's what you'll want to know about the Camp Chef Grill Griddle 4 Burner:
You don't have to commit to using a flat top all the time! If you end up finding you really prefer burgers done on traditional grill grates, no problem!
It's huge. If you are cooking outdoors regularly for a crowd, and want one versatile cooking station to use for all of your meals, this is it. With 604 sq inches of space to use, your hungry crew should be satisfied quickly.
Camp Chef is a company known for high quality grills. They may be be known for their phenomenal pellet grills, and vertical pellet smokers, but these flat tops are also receiving top marks from owners everywhere (check out the nearly 1000 reviews averaging 4.7 /5 stars here).
If you've cooked on a flat top surface before, you'll know that having it absolutely level is crucial to cooking success. The Camp Chef comes with micro adjust griddle levelers for the flat top griddle, as well as adjustable leg levelers for the entire grill. 
The flat top surface comes ready to cook – you do not need to do the oiling / burn off seasoning process over and over before you get started cooking… it's done for you! It comes "True Seasoned" and non-stick, and heavy duty.  (If it were me though, I'd want to fire it up at least once prior to putting edibles on it though… burn off the manufacturing chemicals, if any.)
Camp Chef is a great place to purchase your grill from, as they often have sales much better than you'll find elsewhere, and you can register your grill there immediately. They also offer financing!   Definitely check out the cost on Amazon too though. 
---
2. Royal Gourmet GD401 Portable Propane Gas Grill and Griddle Combo
Brand: Royal Gourmet
Rating: 4.5 / 5 stars

Size of Cooking Area:

292 sq. inches each (griddle area and grill area)
Number of Burners: 4
Price: $$$
This next one here is really unique: a flat top griddle and grill side by side combo, meaning, half of the cooking surface is a flat top, and half is made of traditional grill grates. There will definitely be people out there that will LOVE this option!
Here's what you'll want to know about this one:
This grill / griddle combo puts out a LOT of heat – the four burners (2 for each cook top) each max out at 12,000 BTUs.
The burners underneath the flat top are tubes, not round. This is great as it spreads the heat out evenly over more of the surface.
If you want to transport or store this grill/griddle, the legs do fold in and you can remove the side prep tables. It definitely is not designed with ease of transporting in mind (ie, for tailgating or camping trips), but it can be done. For quick moves, the legs do have 4 locking casters.
The grill grates are made of porcelain enameled coated cast iron, and the flat top cooking surface is ceramic coated (non-stick).
Many grillers like the option of closing a lid to get their grill to heat faster. If that's you, note that there is no lid or hood on this grill/griddle combo. Owners say they will lay a sheet pan, basting dish, or stock pot lid to achieve the same effect. 


---
Best 4 Burner Flat Top Outdoor Grills 2023
1. Blackstone 4 Burner 36″ Restaurant Grade Outdoor Flat Top Gas Griddle (1554)
Brand: Blackstone
Rating: 4.7 / 5 stars

Size of Cooking Area:

720 sq. inches
Number of Burners: 4
Price: $$$$
This next flat top outdoor griddle that we're looking at is my top recommendation for 4 burner griddles. Blackstone makes some seriously well received griddles, and if you're looking for a big cook surface that consistently delivers, take a look at this one. 
Pros: 
It's as big and sturdy as a traditional grill, coming with side prep shelves, locking castor wheels, a shelf for equipment storage, and a serious powder coated steel frame.
The flat top is cold rolled steel, and heavy/thick enough that you won't be dealing with warping issues (one owner weighed it an it's over 55lbs). After giving it a good seasoning (see how to season your grill), you'll have a fantastic non-stick surface to cook on again and again.
The cooking zones work really well on their own or all together, meaning that while you have a massive cooking area for those days you're feeding the whole crew, the griddle also works really well when you're just cooking for one.
Each burner gets up to 15,000 BTUs so it'll get good and hot for you.
Assembly is reported to be straightforward and quick, but you'll need to pack your muscles as it's a pretty heavy unit!
The grease trap is at the back center of your cooking surface, which means you're steering the hot, greasy mess AWAY from you, not towards you. 
Cons:
This is not a grill that is meant to be transported or moved around a lot, so don't count on bringing it camping or tailgating.
Unlike the Camp Chef 4 burner grill / griddle combo, you can not remove the griddle and use as a grill (no grates underneath).  
I think the Blackstone is one of the best options out there as far as big, outdoor flat tops go. It's restaurant quality but at a really affordable price! And it has over 9,100 reviews on Amazon currently, averaging 4.7 / 5 stars – meaning that the vast majority of owners really, really like it. Check out what they have to say and find out more about it, if it's the one for you by clicking here:


---
2. Royal Gourmet GB4000 4-Burner Grill Griddle Outdoor Flat Top
Brand: Royal Gourmet
Rating: 4.5 / 5 stars

Size of Cooking Area:

784 sq. inches
Number of Burners: 4
Price: $$$
This next one is the most popular 4 burner flat top from Royal Gourmet, another popular brand in the flat top grilling world. Here's what you'll like about this particular option:
If you like a cooking surface that doesn't oxidize or change color based on the amount that you cook, you'll find this one stays looking like new, due to the "enhanced gloss ceramic" coating that covers the surface. Royal Gourmet claims that this also allows the grill top to heat up faster and is automatically a better non-stick surface because of it.
As such, you don't have to regularly season this grill! This is a huge plus for some people, although others love the way seasoning a grill top adds to the flavor of foods over time, and so do it anyway. But the seasoning process here is optional. 
It has foldable side prep shelves and a storage shelf underneath the grill, so you'll have plenty of space to put your seasonings, oils, cleaning tools and cooking utensils.
Heads up, if you're hoping to use this flat top grill as a built in part of a permanent outdoor kitchen, owners say you can't access the grease trap from the front.
This Royal Gourmet 4 burner flat top here is a great option if you're looking for something a bit easier on your budget as well. 


---
3. Country Smokers "The Highland" 4-Burner Portable Griddle
Brand: Country Smokers
Rating: 4.3 / 5 stars

Size of Cooking Area:

597 sq. inches
Number of Burners: 4
Price: $$
Much like the Country Smokers 2 burner flat top we looked at above, this 4 burner option has a lot going for it. It's definitely worth a closer look, especially to those of you who are partial to a traditional cast iron grilling surface.
Pros
It's a portable and lightweight 4 burner, which is rare. Most 4 burners are large, heavy, semi-permanent grills that you can't easily take with you on the road, or tuck easily into storage. This one has foldable legs and only weighs about 50lbs. It even has foam covered handles to help with transporting.
Unlike many other flat tops, it comes with protective wind flaps/covers so that the heat stays relatively even, even with you're cooking on a windy day. 
Cons
It's a fair bit smaller than other 4 burner grill tops, which provide around 750+ square inches of cooking space. 
Seasoning (both the first time and regularly after that) is very important to get right here. 
The legs, while portable, aren't overly sturdy, say many owners.
The Country Smoker flat top is a decent "small budget option", costing significantly less that the most popular "Blackstone" model, so if you are intrigued by the idea of flat top grilling but aren't sold fully on it yet, this is a safe way to try it out without breaking the bank. 


---
Best Table Top Outdoor Griddle Stations
1. Blackstone 1813 Stainless Steel Portable Flat Griddle Grill Station

– Top

Pick (Table Top)
Brand: Blackstone
Rating: 4.8 / 5 stars
Size of Cooking Area: 339 square inches (22″)
Number of Burners: 2
BTUs: 24,000
Price: $$$
My top recommendation for a portable, table top flat top griddle would be this one from Blackstone. Blackstone really is the leader in flat top outdoor grills, and this one here is another example of a great quality, even-cooking unit.
Pros
Super easy to season and to clean (you'll appreciate the built-in grease catcher).
It has 2 H shaped burners, which distribute the heat really nicely over the entire surface of the unit (made of quality rolled steel). Reviewers share that you won't have issues with hot and cold spots like several other units.
It comes with a hood that you can detach if you prefer, or use to speed up cooking or even trap heat to melt foods or steam them. A hood also helps preserve the griddle top when it's not in use.
The "feet" are very sturdy and work well even on uneven surfaces.
Cons
It only comes with a connector for the 1lb propane tanks. If you want to connect a large 20lb tank, you'll need to purchase an adaptor.
It does not come with a cover, so you'll need to purchase that extra as well.
I really don't think you need to look much further than this one if you're wanting "the best" tabletop 2 burner outdoor griddle in this size range. Blackstone does have a few other options, one of which we'll look at next, but this one here hit pretty much all of the points on the checklist in this category, including "great value for price".


---
2. Blackstone 1650 Tabletop Grill without Hood
Brand: Blackstone
Rating: 4.8 / 5 stars

Size of Cooking Area:

260 square inches (15.25″ x 17″)
Number of Burners: 1  (12,000 BTUs)
Price: $$
Looking for something you can easily stick into storage, and yet take out and use in your outdoor kitchen area when you feel like cooking everything outside? This small, lightweight table top griddle packs a punch. With only 1 burner, you can't expect to fit a LOT on it, but for some people, it's exactly right.
Pros
Super portable and easy to store. It's designed to have the griddle top flip upside down and fit right onto the griddle body so that it takes up even less room, and is as clean for storage as possible. And at just 21 lbs, it's not a big deal to carry around.
With a flat top, grease has to go somewhere! This small flat top grill has a built in grease catcher that it easy for you to quickly clean post use. The rest of it can be wiped with a paper towel and you're good to go!
The one steel burner is built in the shape of an "H", to allow for great distribution of heat and fast cooking!
Cons
It comes with the connector for 1 pound propane bottles – if you're using it in your backyard, you'll likely need to purchase an adaptor for a larger propane tank. 
Owners say that the stainless steel case can get hot to the touch on the sides.
If you're intending to use this regularly in an area that has a lot of wind whipping by, you may be quite frustrated as there are no wind protector flaps, and heavy winds do affect the evenness of the heat.
While no portable flat top grill will be perfect, I think you'll be content with what you get for the price for this one. Use it in a sheltered area and you'll likely be very happy with this small griddle! 


---
3. PIT BOSS 2 Burner Table Top LP Gas Griddle
Brand: Pit Boss
Rating: 4.7 / 5 stars

Size of Cooking Area:

289 square inches (17″)
Number of Burners: 2
Price: $
This next flat top outdoor grill is another portable, table top option -the only "table top" flat top outdoor grill in our list with a cast iron cooking surface. (Some of you out there love your cast iron indoor cookware, especially once it's well seasoned and well used… this one has that same potential for awesomeness!)
This model is a bit bigger than the Blackstone one we just looked at, and as such comes with 2 burners as opposed to 1 "H shaped" burner. 2 burners allow you to cook a variety of items requiring different heats (ie, sear a steak, and slow roast some veggies at the same time). 
Pros
The cast iron cooking top comes pre-seasoned with organic oil, so you don't have to worry about seasoning your grill correctly. You will probably want to season it again yourself though… after all, the more use a cast iron pant gets, the better it performs!
Pit Boss's "EZ Clean" design makes scraping off excess food/debris and wiping it clean a breeze! There's a small black cutout in the bottom left corner of the grill top that allows you to drop the scraps into the removable bucket positioned underneath. Simple. 
The griddle gets seriously hot! Over 400 degrees easily on high, which allow you some nice, fast cooking – great for when you're feeding a crowd of hungry folks!  Together the 2 burners can reach 18,000 BTUs.
Cons:
No wind barriers means that cooking "out in the open" when the wind has picked up will be quite frustrating – the heat won't stay even for you, according to owners.
I'm pretty impressed with this relatively inexpensive outdoor griddle by Pit Boss. With a 2 year warranty, so you can practice/experiment with the griddle without worrying about it breaking down and loosing you money as well. And with nearly 3,000 4+ star reviews on Amazon, I'm definitely not the only one liking this option!


---
4. Royal Gourmet Portable 24-Inch 3-Burner Table Top Gas Grill Griddle with Cover
Brand: Royal Gourmet
Rating: 4.5 / 5 stars

Size of Cooking Area:

316 square inches (24″)
Number of Burners: 3
Price: $
This next flat top in our list of best portable flat top griddles is one by Royal Gourmet. It's the biggest (surface area wise) on our list here, and comes in black (pictured) as well as a pretty sweet looking dark red. 
Of interest… this portable table top griddle is one of the few actually designed to use a 20lb propane tank, and NOT the small 1 pounders . It comes with a connector, hose and regulator for the big tank. With most griddles this size, you have to figure out the connector set up yourself if you want to use a big tank – with this grill, it's the opposite. If you want to use a 1 pound propane bottle, you need to buy THAT connector. 
Pros: 
The cooking top is made of porcelain enameled steel – porcelain is a non-stick surface, which does not require seasoning at all, nor is it difficult to clean. 
The grill figures up to an impressive 26,400 BTUs total, when all 3 burners are on high, but you can easily cook with zones (low, med, high) at the same time too.
Super easy to wash!! You just add some hot water to your cook top area while it's on yet, let the heat do it's magic, and paddle off the grime and dirty water through the grease trap into the large tray underneath. Wipe the cook top with a paper towel and you're good to go. If you want to do an even more thorough clean though, you'll appreciate that the cook top is removable!
Unlike most griddles at this price point, it comes WITH A COVER (waterproof, designed to fit perfectly on this grill).
Cons:
If you just plan to use this griddle on the go, with small 1 pound propane bottles as your fuel source, you will need to buy a connector separately.
Some owners reported having the hole on the cooking surface for grease not lining up perfectly with the hole in the base unit, making cleanup messy.


---
Best Round Flat Top Grills | Round Outdoor Griddles
Cuisinart Round Outdoor Flat Top Gas Griddle Cooking Center
Brand: Cuisinart
Rating: 4.6 / 5 stars

Size of Cooking Area:

22″ Round
Number of Burners: 2 (3 burner option available)
Price: $$$
This ROUND griddle is really cool! I need to add one of these to my arsenal of backyard cooking toys. It has a large list of creatively designed and well thought through features that none of the rectangular outdoor flat top grills have, such as the following: 
You can steam food or simply capture heat on a cooler day using the vented hood – it also hooks on easily to the side of the grill when you don't want a lid.
A grease lip that runs all the way around the cook top, so you can literally just tip the grease and gunk off your cook space wherever the edge is closest, and it runs down the circle to the opening/trap. Cleaning up is simple… just grab a wad of paper towel and swish it around the lip! 
It has a paper towel hook so you can keep them close, and a handy prep table you can snap into place when you want somewhere to lay your equipment.
There are 2 burners, allowing you to have different cooking zones, and both can range from 200 to 550 degrees.
When researching this round griddle, I discovered that the cold rolled steel can also act as a burner for other pots and pans. For example, you can boil a pot of water or heat up a sauce pan right beside food that you're cooking hibachi style!  You can also put a pizza stone directly onto this griddle (or cook a pizza right on it directly… apparently they taste GREAT!)  I'm definitely interested in this product… if you are, click the link to see more specifics and reviews on it.
---
FAQs
What is the main difference between a flat top grill and a griddle?
A griddle normally refers to a flat surface for cooking that you can move around and bring to a heat source, often used indoors. A flat top grill is an outdoor only, propane or natural gas fueled cooking unit much like a traditional grated grill except with that flat, seasoned cooking surface.
Can I put pots, pans, or pizza stones directly on the flat top grill? 
Yes. You can use the whole surface similarly to how you'd use a burner. Just put the pan directly onto the cooking top.
What is the easiest way to clean a griddle or flat top?
As soon as you are done cooking, scrape off whatever food scraps remain (this initial, quick and basic cleaning will ensure the scraps don't burn onto the hot grill making a bigger mess). After eating, you can go back and finish the job. 
If you have some time while the grill is hot yet, however, squirt a little bit of water onto it and allow the heat of the grill to boil/steam that water right over the messy spots (loosening them up). A paddle should then easily take scrape off the mess into the grease catcher. Paper towels (hold with your tongs if the grill top is hot) are great for a final wipe, and don't forget to re-season your flat top with a bit of oil if your grill is fairly new yet.
Never use soap, as it will ruin your seasoning job. 
Is there any way to prevent warping on a griddle top?
Warping is caused by extreme temperature changes. So putting frozen food directly onto an excessively heated griddle top is something that may cause warping. So is applying a large amount of cold water during the cleaning process; squirt water on sparingly though and you'll be fine.
Can I cut directly on the griddle top?
Yes. You will not damage either cast iron or cold rolled steel flat top griddles by cutting on them or using metal grill utensils. 
Do I need a lid/cover/hood?
If you are flat top grilling, you will not need a lid as you won't be cooking with indirect heat. If you want to cover your food during a cook for one reason or another, a chafing dish or metal bowl or pan lid will do the trick. A lid or cover comes in handy for transporting or storage though.