The changing of the seasons from summer to autumn means shorter days and cooler evenings, but it doesn't have to mean less time spent outdoors. If you want to make the most of your outdoor space, there are many different ways you can add warmth, bringing you and those with you some welcome comfort.
Here are 10 things you can do to make your outdoor space more comfortable, and then a discussion on why it's well worth your effort.
10 Ways To Heat Up Your Outdoor Space
Want to heat up a general area where people are standing or sitting? These upright, standing heaters use propane as fuel, and come in various sizes from table top to 10 feet tall and more. You can also get them in a variety of designs, whatever suits your tastes, but they generally work the same – the heat comes out of the top dome, reflecting downwards off of the "dish".
You'll often see these heaters on restaurant patios, as they can heat up a good distance, are safe to run, and look great.  
Check out 15 Best Propane Patio Heaters.
While adding a permanent hot tub, spa, or sauna to your backyard or patio may not be feasible for your property or budget, it's hard to deny that having a steaming, inviting hot tub available to warm you and/or your guests up is appealing. There's nothing like a soak in a hot tub to relax and take the chill off.   
Check out 10 Best Inflatable Hot Tubs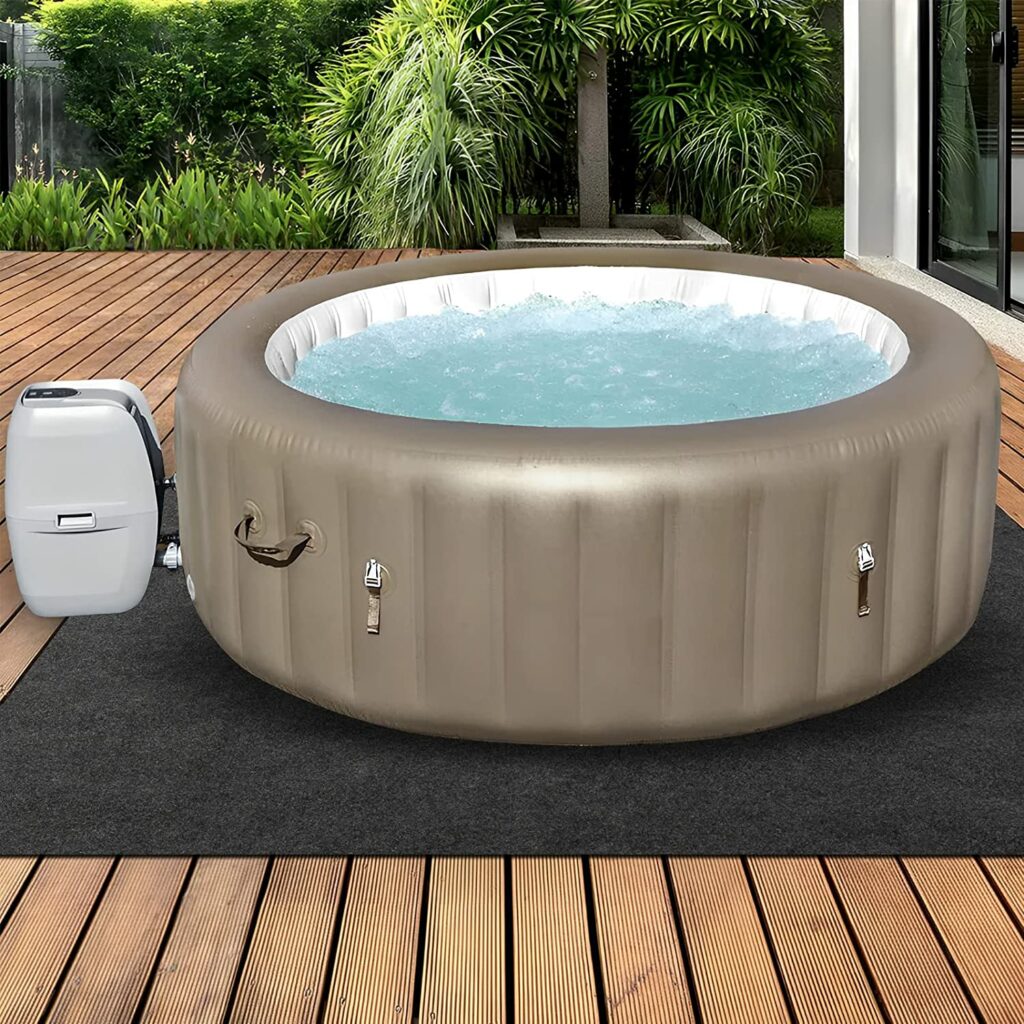 3. Fire Pits (Traditional Wood, Pellet, or Propane)
Depending on where you live, adding a traditional built in fire pit to your backyard is a great idea for adding warmth and appeal. You can go fancy with a stone pit, or keep it simple and simply create a ring using patio stones. See
70 Best DIY Fire Pits
for some ideas.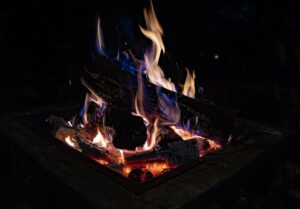 Of course, many urban areas don't permit traditional fire pits, but there are other ways to get that "sit around a warm fire" treat, such as a traditional fire bowl, a fire pit fueled by wood pellets (see these best pellet fire pits, or go with one of the many beautiful propane fire pits available today on the market. Whatever you choose, creating a safe, visually appealing fire is a great way to add warmth to your backyard space.
Pellet patio heaters run on compact pellets made of recycled saw dust and are a sustainable, environmentally friendly way to heat up your surroundings with nice wood fire heat. They are cheap to run (a 40lb bag of pellets costs about $5 at your local hardware store), and the heat emanates from the top to bottom of the heater.
If you need heat on your porch, you can mount an electric space heater to the ceiling or wall, or even get a stand up, portable electric heater. Think of the electric heaters that you find in an ice arena – they put out a powerful amount of heat. They are a bit more expensive to run, however.
6. Extra Blankets / Throws
Friends coming over and you know you'll be spending some time outdoors with them and want to keep them comfy? Why not make sure you have some extra blankets or throws available for their use. Wrapping oneself up in a comfy blanket is a great way to keep warm while outside. Just make sure they are a washable variety, and you're good to go.
Add some warmth underfoot if possible (and practical). Cold feet usually translates into a cold body, so if your patio lends itself well to some outdoor rugs, you'll find you and your family & friends will be a bit more cozy. Outdoor rugs are also a way to add some visual warmth, by the way… go with warm colors and textures.
Have a favorite or signature hot drink you can enjoy or serve to your guests? Some spiced apple cider, hot cocoa, coffee, chai latte, or alcoholic beverage? There are no end to delicious hot drink options these days. And a hot drink warming up the insides can do wonders with making a cold space seem much more manageable.
9. Cut Off The Cool Breeze
One of the way to heat up your outdoor space isn't by adding warmth… it's through removing a source of the cold. One thing that really makes a space feel cold is a breeze or draft blowing through your area. Limit the breeze with tarps or curtains, or go more permanent and add partitions or a wall, and you'll find it a warmer and more welcoming environment.
Enjoy Your Outdoor Space Even When It's Cold Out
And there you have it, 10 ways you can heat up your outdoor space. Hopefully in these options you see one or two that you can easily implement for your next gathering on a chilly night in your backyard space.  If you can think of others, feel free to comment below!
3 Reasons Why It's Worth The Effort To Heat Up Your Outdoor Space
Why is going into all the effort to create a warm outdoor space well worth the effort? Here are 3 reasons why people would want to heat up their outdoor space in the first place.
Comfort:  People may want to heat up their outdoor space to make it more comfortable and inviting, especially during colder months. By adding heat, people can extend their outdoor living season and enjoy spending time outside without feeling too cold.
Entertaining: Outdoor heaters can create a cozy and inviting atmosphere for entertaining guests. If your outdoor space is warm, it can be used for dinner parties, barbecues, and other gatherings, stretching your available space for entertaining.
Health benefits: Spending time outside is good for your overall health and well-being, but during colder months, it can be challenging and less appealing to get out there. By heating up outdoor spaces, people can spend more time outside and reap the benefits of fresh air and natural sunlight, which can improve mood, reduce stress, and boost the immune system.