As an avid backpacker, I understand the importance of a reliable and efficient stove when it comes to outdoor cooking. After extensive research and field testing, I can confidently say that the Camp Chef Stryker 150 Propane Stove is a game-changer for any outdoor enthusiast seeking a versatile and high-performing cooking solution. In this comprehensive Camp Chef Stryker 150 review, I'll delve into the features, performance, and compare it to its renowned backpacker stove competitor, Jetboil.
Table Of Contents
All About The Stryker Portable Stove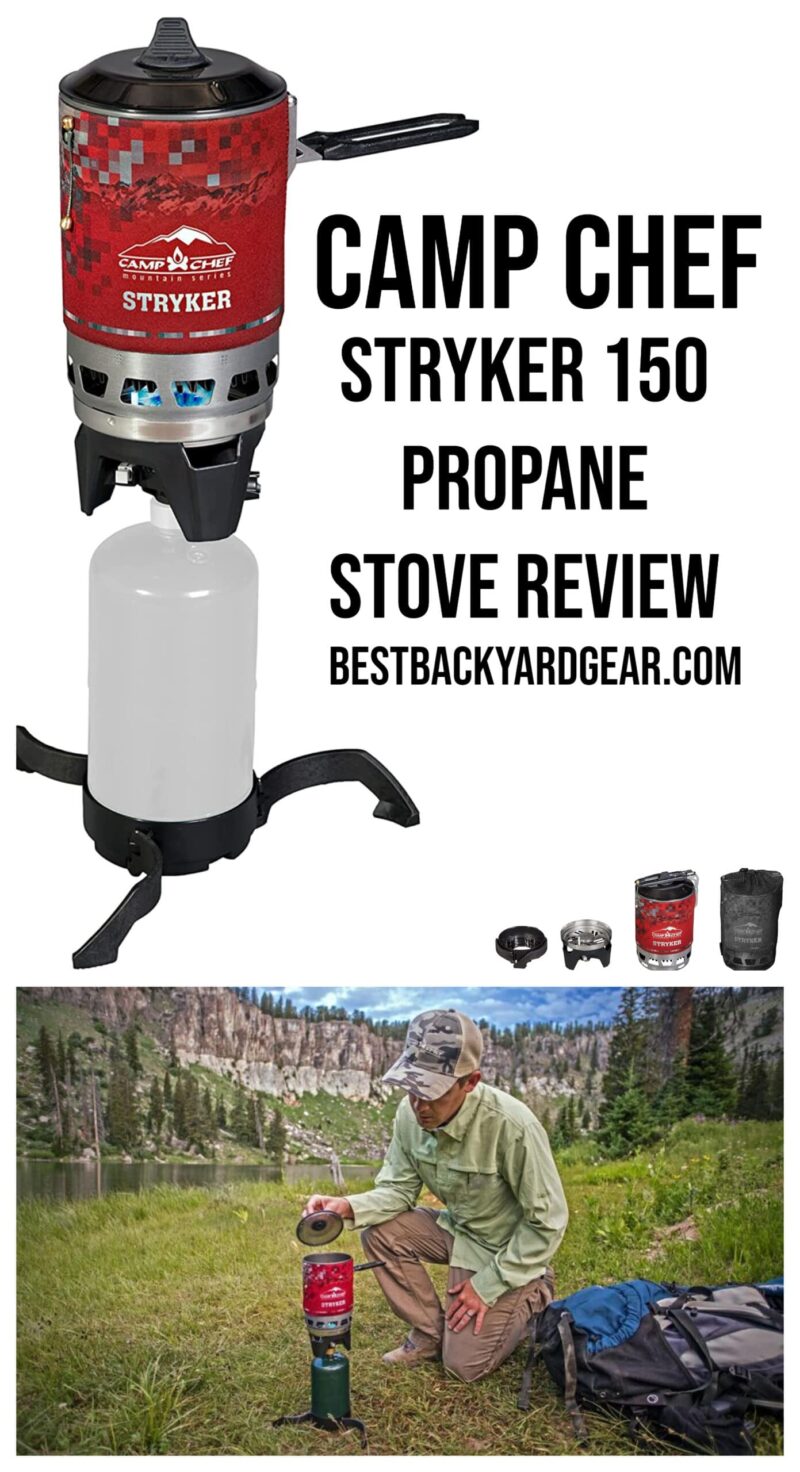 All About The Camp Chef Stryker 150 Propane Stove
The
Camp Chef
Stryker 150 Propane Stove, like all of the
other Camp Chef products
I've checked out, showcases exceptional craftsmanship and attention to detail. It's really compact and lightweight, making it easy to pack and carry with you on any adventure. Because it's also durable and sturdy, I have no concerns about whether or not it can withstand the rigors of outdoor use – and peace of mind is huge when you're out in the wild on an extended trip, when there are things you simply can't control, like the weather.
The Stryker Mountain Series 150's performance truly impressed me. The stove's 8,000 BTU burner gives you a reliable and steady flame, great for quick and efficient cooking. 
Whether I'm boiling water for a hot cup of coffee in the morning (it takes less than 2 mins to boil the water!) or preparing myself a hearty meal after a long day on the trail, this stove never fails to deliver consistent heat.
The design of the heat ring (not just a single spot of heat, but thin ring of it) maximizes fuel efficiency, resulting in longer cooking times and reduced fuel consumption—a significant advantage for extended backpacking trips when you have to physically carry the fuel yourself.
The Stryker 150 is really versatile, accommodating a wide range of cooking needs. This hiking stove comes with a 1.3-liter pot, which is the perfect size for solo or two-person adventures (but MAY be a bit small for a family on the go). 
If you already have other Camp Chef accessories, you'll appreciate that it is compatible with them (i.e., the frying pan or coffee percolator), but heads up, don't assume that it's a universal fit with all other accessories out there.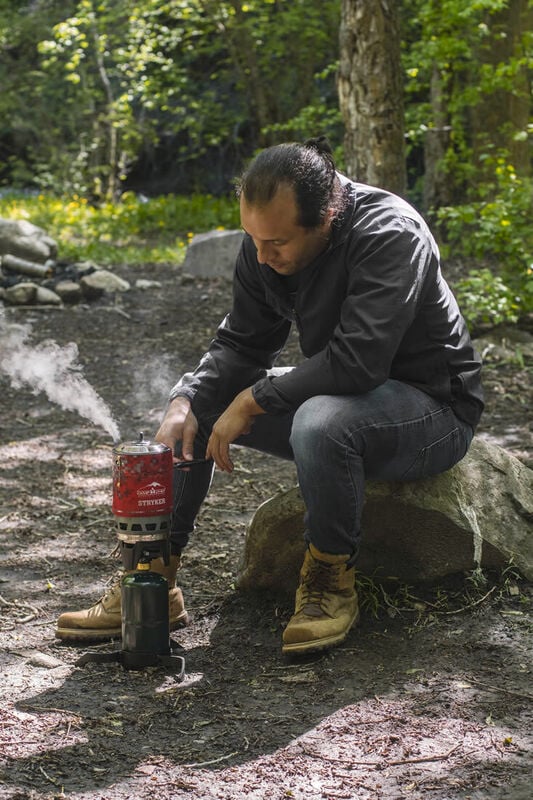 Ignition System and Controls
One of features the Stryker 150 is known for (and that I love) is its convenient and reliable ignition system. No need for matches or lighters, but instead, with the push-button ignition, I can start cooking in an instant. The flame control dial lets me adjust the heat very precisely, so I can simmer soups or get a rolling boil for pasta. Easy for whatever I want. This level of control is particularly impressive for a portable stove and sets it apart from other options on the market.
Portability and Convenience
The Stryker 150's portability and convenience make it an excellent choice for backpackers. 
The stove's compact design fits easily into my backpack, leaving plenty of space for everything else. The pot's lid has a convenient pour spout and the pot is covered with a neoprene cozy that provides insulation, keeping food warm for longer periods—a thoughtful addition for those who savor their meals outdoors and like them HOT even in cold weather.
Who wants to pack away a greasy, crusty, dirty stove ever, much less when you're on the trail? The Stryker 150 is very easy to clean, so have no fear on this point. The pot has a non-stick surface that's super easy to wipe off any residue, and the burner assembly detaches effortlessly for a thorough cleaning as well.
Comparison: Camp Chef Stryker vs Jetboil
Another popular portable hiking stove line is Jetboil. Jetboil has a range of sizes of stoves, much like Camp Chef. A similar one in size and features to the Camp Chef Mountain is the Jetboil Flash. Let's take a look at how the Camp Chef Stryker vs Jetboil showdown ends up.
While the Jetboil has been a popular choice among backpackers for a while now, the Camp Chef Stryker 150 proves it's equal if not better in terms of
performance and versatility
. Both stoves offer similar compactness and efficiency, but the Stryker 150 surpasses the Jetboil in a few key areas: 
1) The Stryker 150's flame control dial provides more precise heat adjustment, allowing for greater cooking flexibility. 
2) The Stryker 150's compatibility with various Camp Chef accessories gives it an edge in terms of versatility, enabling users to customize their cooking experience.
The following video gives another look at both lines – worth checking out another perspective, if you're shopping!
Camp Chef Stryker 150 Pros and Cons Chart
Why Would You Want A Portable Hiking Stove Anyway?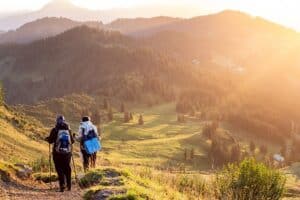 If you're an avid hiker or planning to venture into the world of outdoor adventures, let me tell you why having a portable stove like the
Camp Chef
Stryker is an absolute game-changer. 
Picture this: after a long day of hiking through breathtaking trails, you can sit back, relax, and savor a piping hot meal right in the middle of nature. No more settling for cold sandwiches or granola bars! These handy stoves bring the convenience of a kitchen to the great outdoors. You can whip up a warm cup of coffee in the morning, cook up tasty meals, and even boil water for dehydrated meals or hot cocoa. 
They're super easy to use, lightweight to carry, and give you the freedom to indulge in delicious and customizable meals while immersing yourself in nature. 
Trust me, once you experience the joy of enjoying a hot and satisfying meal on your hiking journeys, you'll wonder how you ever managed without a portable stove. It's a game-changer you won't want to hike without!
Customer Testimonials And Reviews
Here are a couple of customer reviews and testimonials for the Camp Chef Stryker 150 Propane Stove:
"I recently took the Camp Chef Stryker 150 Propane Stove on a backpacking trip, and it exceeded my expectations. The compact design made it easy to fit into my backpack, and the lightweight construction was a game-changer. The stove's powerful burner provided consistent heat, allowing me to quickly boil water for coffee and cook delicious meals. Overall, the Stryker 150 was a 10/10 for me – I'll be bringing it along every time."
– Sarah H.
"After using the Camp Chef Stryker 150 Propane Stove on multiple camping trips, I can confidently say it's the best portable stove I've ever owned. It works great and can totally handle the outdoors conditions. I think the pot's cozy is genius, as it keeps my meals warmer longer, even in cold weather. Cleaning is a breeze too, thanks to the non-stick pot surface. I highly recommend the Stryker 150 to any outdoor enthusiast looking for a top-notch cooking solution." – John D.
"I've been using the Camp Chef Stryker 150 Propane Stove for my backpacking trips, and I am thoroughly impressed. The heat exchange technology is fantastic, as it boils water in no time, which means I don't need to cart along a ton of fuel. I dropped it once accidentally and it survived with no issues, so I can vouch for the durability. I can confidently say that the Stryker 150 is worth every penny." – Emily M.
Note: These reviews and testimonials reflect 3 positive experiences and show the general satisfaction of customers who have used the Camp Chef Stryker 150 Propane Stove. Actual user experiences may vary. See more reviews here.
The Camp Chef Stryker 150 Propane Stove offers the perfect blend of performance, versatility, and durability, making it a fantastic choice for backpackers and outdoor enthusiasts. When compared to the Jetboil, the Stryker 150 stands tall, thanks to its superior heat adjustment and broader cooking options. 
If you're seeking a portable stove that can handle all your outdoor cooking needs with ease, I think the Camp Chef Stryker 150 Propane Stove is the perfect companion for your next adventure.