Whether Christmas is approaching, a big birthday happening soon, or there's another special celebration coming up, giving just the right gift to someone you value can be challenging. One of these 5 best BBQ sauce subscription boxes could be the perfect choice, especially if you're someone who likes to give gifts that keep on giving… and if you know that the recipient seriously loves grilling.
Each of these 5 different bbq sauce subscription boxes have good reviews, but if you want to speed up the selection process, focus on the top 2 here… the Grill Masters Club and BBQ Box. They are the best value for your money, and are considered the top choices by grilling enthusiasts.
(We here at BestBackyardGear.com love learning about all things to do with the grill, by the way. Check out reviews on a large number of grills, including gas, pellet, and charcoal grills plus more in our Outdoor Cooking category.)
---
Grill Masters Club
What it is: A monthly subscription box that includes 4-5 interesting, delicious, and inspiring treats that claim to take your grilling to the next level.
What you get: A variety of sauces, spice rubs, marinades, and wood chips, plus a carefully selected mystery item that they call the "chef's surprise" (which could be anything from an interesting grilling accessory to jerky or a specialty hot sauce). You also get an info card that includes suggested recipes for the included products, info about each item, a cooking tip, and a discount code should you fall in love with the product and want more of it.
Besides the bbq subscription box, if you sign up, you also receive access to their community, where you can get more bbq tips, share recipes or get grilling advice from the community, enter for a monthly give-away, and get discounts on past products that you loved.
Where are they based: Jacksonville, Florida
Options: There is only one box designed per month, and you are not able to make substitutions or specifications to what you get inside it. So, in essence, there are no options, other than the length of your subscription.
Pricing: You can set the determined length of the subscription, choosing to pay monthly, or prepay for 3, 6, or 12 months at a time (prepaid gives you a discount of 4, 11, and 17% respectively). Boxes cost approx. $30 USD at time of writing. Try these coupon codes for a potential few bucks off: FB25, FB20, VIP10, GMCNL
Availability: International
Our Rating: 9/10 We like the fact that GMC researches and tests every product they include, and that their source team works hard to bring you new but always well received, high quality items.
---
BBQ Box
What do you get in each box: A rub or a spice, a sauce or a marinade, a snack (ie, jerky, salami, bacon), a premium wood chip sample, and a custom recipe.
Your first box will be the "Welcome Box", which they prepare with mass ordered items (still interesting and delicious options but more of a generic appeal) due to the quick turn around from order date to first shipment. Following months will be the more "creative" boxes.
Options: While BBQBox.com also offers a Jerky Box Subscription, for the BBQ Sauce Box, you can select the "Standard Box", or the Standard Box minus either the snack or the wood chips. You can also select the box that gives you the "Rubs and Sauces Only".
Price: The Standard Box with everything included runs at approx. $30 USD per month. Removing options as stated above lowers the price, with the "Rubs and Sauces Only" option coming in at approx. $18 USD. If you subscribe to multiple months, you can earn yourself a small discount.
Coupon Codes: Try these codes for a few bucks off: FIRSTBOX15, FIRSTBOX, KIDDOANDSOUL, SUMMER15
Availability: International
Our Rating: 8.5/10. We find it a bit pricier than our top choice, especially when you break it down per item. However, the selections are definitely top quality and delicious (see the many reviews here on Amazon – it's pricier there, but lots of info in the comments).
---
Hot Sauce Of The Month Club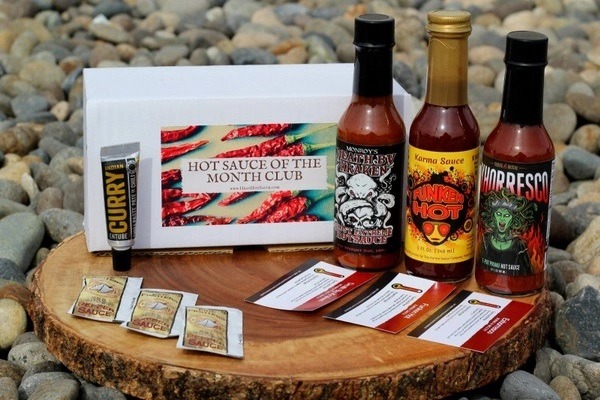 What Is It? If the person you're wanting to select a gift for loves hot sauce on their meat or on any of their dishes, this bbq sauce subscription box recommendation is for them. Good sized bottles of carefully selected artisan hot sauces from all over the country. Also included are a few sample size packets of other hot sauces!
Much like "Sauce Boss" reviewed above, the "Hot Sauce Of The Month" club is handled through CrateJoy, a company specializing in subscription boxes.
Options: As far as taste goes, you can select from "Classic" (a mix of mild-hot), "Extra Hot" or "Mild/Medium" sauces – what you get is the surprise. You can also determine how often you want the gift to be sent. You can opt for 1 or 3 bottles per month, OR 1 or 3 bottles per quarter.
Pricing: Pricing is decent, when you consider that shipping is built into the cost. For 1 bottle, approx $15 USD. Going with 3 bottles per delivery definitely saves money – coming in at approx $30 USD, you can see the 3rd bottle is free!
Coupon Codes: Try to save a few dollars with these codes: CRATE10, FIRSTBOX, CJTURNS7, GOLD
Our Rating: 8/10 If each of these hot sauces can be considered bbq sauce, I'd rate these higher. Awesome hot sauces, customer reviews consistently comment on the excellent variety and flavor choices. However, if you're truly looking for sauces for the meat on a grill, this might not be the very best fit.
---
Boost Your BBQ Premium Monthly BBQ Subscription Box
What Is It? A subscription plan for a box that comes with 3 items each month, including 2 premium rubs and 1 carefully selected sauce.
Boost Your BBQ is an American, family owned business developed by grillers who love to compete, and who wanted to share some of the award-winning and competition-winning products they've come across with other grill-lovers.
Options: There are currently no substitutions available at this point.
Pricing: Currently available through Amazon with free shipping, coming in at approx $33 USD. You can also get it for the same price but breaking out the shipping on Boost Your BBQ's own website: here's an invite link to get $10 off your order:
Our Rating: 8/10. The brands selected are known winners (they list their choices on their website), and with the discount possibilities, it's a decent deal.
---
Sauce Boss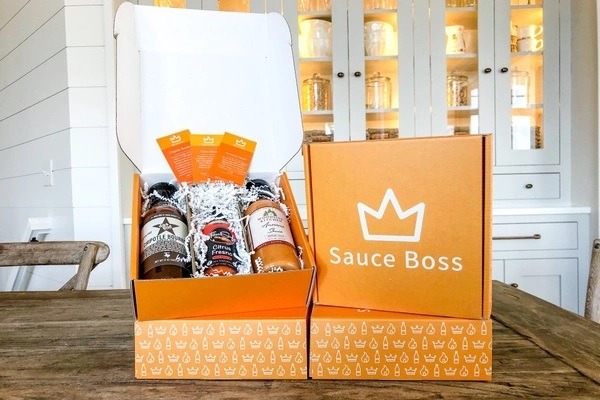 What Is It? Available through CrateJoy, a company that specializes in multiple types of subscription boxes, this one is more of a sauce and condiments collection than just bbq sauces and rubs alone. Think gourmet ketchups and mustards, hot sauces, aoilis, etc, besides of course, bbq sauces.
Boxes are sent out every 3 months (not every month).
Options: You can choose from either the Condiment King box, which includes 3 different full sized bottles, or the Sauce Boss box, which only includes 1 full sized bottle.
For either option, after you have purchased your subscription, you will be asked to fill in a flavor preferences profile survey in order for them to match sauces best to your likes and dislikes.
Pricing: This is the highest priced subscription box, coming in at approx. $18 USD per box for the Sauce Boss (1 bottle) and $31 USD per box for the Condiment King subscription (3 bottles). You can again get a discount by signing up for a year (4 boxes per year).
Coupon Codes: To get a few dollars off, try these codes at checkout: SAUCE10, EARLYACCESS, WOOHOO, FOODIE10
Availability: United States only.
Our Rating: 7.5/10. This seems to us to be priced too high for a single bottle, even if it's unique and full sized.
---
Which BBQ Sauce Subscription Box Did You Choose?
And there you have it – 5 of the best BBQ sauce subscription boxes today. Hopefully one of these will suit your needs perfectly, and be a gift that brings a smile to the face of your loved one over and over again.
We'd love to hear from you regarding your own reviews of these boxes, whether the products received were awesome or not-so-amazing. Grilling is an activity that does take some skill to do right, and tastes do vary, but a great product is a great product! Let us know if you discovered any great new products through these subscription boxes!
Happy Grilling!