If you're looking to buy a backyard trampoline for your family, likely you've come across the Zupapa brand. They are one of the "big seller" brands on Amazon as far as trampolines go. With an overwhelming amount of very positive reviews AND a decent price point (between $500 and $1000, depending on size and options you select), the product catches the eye of a lot of parents.
So… are Zupapa backyard trampolines worth purchasing? Are they a quality product? Are they safe? Do they provide good value for your money? What got upgraded in 2022?
This review will take a deep dive and look at the product specs, see what is different about the Upgrade, and share what owners have to say about the quality, assembly, and safety of these trampolines.
We'll also see if there's anything negative to know about before you buy – that's important too.
I'll end with whether or not I actually recommend the Zupapa Trampolines for my readers, and let you know where the best place to buy them would be.
Ready? Here we go!
---
Product Specifications
Important to note, first off, is that Zupapa recently upgraded their trampolines. This review covers the "Upgraded in 2022" model that Zupapa calls "Zupapa 2023 Trampoline".  When shopping, you want to select "upgraded", as opposed to "classic" to find this new and improved design.  (We'll look at "What Was Upgraded" further on in this review.) 
How Big Is The Zupapa?
The Zupapa trampoline comes in a range of sizes, so that you select one that fits your backyard space the best. You'll want to maximize the size you get, but don't forget to allow 6 feet around for a safety zone as well.
There are 6 different sizes available, all round, measurement is of the outside frame:  8′ | 10′ | 12′ | 14′ | 15′ | 16′
What Are The Weight Limitations?
Officially, the max weight capacity of all of the sizes of the Upgraded model is 425lbs.  (The Classic had the 8′ and 10′ maxing out at 375lbs.) Owners write in the many reviews that real world it can be higher (500lbs+) with no issues however.
What Are The Different Models Available?
Zupapa sells a variety of trampolines, including small exercise ones. As far as backyard trampolines for kids though, the options are broken down into 2 styles:
Both styles are available currently in the Classic Model, and the Upgraded Model. Both are actually known to be very good choices; until 2022 when the Upgraded Model came out, owners were thrilled with the Classic, and the Classic remains a very popular trampoline today yet.
You can also purchase the Classic or Upgraded trampolines (both net style options) in purple instead of blue, should that interest you!
Pros for the Net Inside include less of a chance of bumping into safety net frame poles or landing on the spring cover mat, while pros for the Net Outside include that there is a natural "waiting zone" edge, and a larger space inside the trampoline enclosure. Which one you choose comes down simply to personal preference – both of these designs are safe and well liked by parents.
What Are The Upgrades on the Zupapa 2023 Trampoline?
Here are some of the most important improvements they made on the Upgraded trampolines:
Increased Weight Capacity: Weight capacity on all sizes raised to 425lbs
Increased Longevity:

All of the steel is now

hot-dip galvanized

, which makes it apparently 5 times more durable and rust-resistant than the steel on other trampolines built the traditional "powder coated steel" way. This process increases the longevity of the Zupapa's life.

Newly Designed Protection By Springs:

Zupapa's patented "No Gap Design" completely eliminates danger of getting fingers and toes injured by the springs, as the jumping mat is stitched directly to the spring cover mat (Net Outside version) or the Safety Net (Net Inside version)

Bouncier: Zupapa's upgraded trampoline includes extra springs (up to 12 more, depending on size)
Safety Net Frame Improvements: On the Net Inside version, the safety net poles now extend all the way down to the ground, adding sturdiness. On the Net Outside version, the framing poles now curve outwards, creating a larger safe area inside, and making it very hard to even bump into the frame poles!
What Kind Of Springs Do These Trampolines Use?
The Zupapa trampoline line uses more springs per trampoline than most other trampoline brands (they claim to be in the top 10% as far as springs per circumference size goes). All this means is that they have focused on maximizing the bounce that you'll get. The springs are 7″ long, and make from high carbon steel.
Who Is The Manufacturer?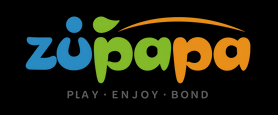 Zupapa is an American company just over 10 years old. Their vision is to help families become more active through jumping and having fun together using their products. Alongside their line of backyard trampolines (what they are best known for), they also sell fitness trampolines, dome climbers, hammocks, paddle boards, gymnastic climbers and more.
After reading through hundreds upon hundreds of reviews, in prep for putting this product review together for you, one of the things that struck me was how positive the comments were with regard to interactions with the company. Over and over again I read comments about EXCELLENT customer service, employees who went "above and beyond" getting new parts to them when needed after storm damage occurred, replacement parts being sent at unexpectedly no charge, and super quick response time to inquiries.
What Kind Of Safety Specifications Do Zupapa Trampolines Have?
Zupapa trampolines actually meet 2 different certification levels (only 1 is required in the States): the highly impressive TÜV certification (which is a high quality and safety trademark known worldwide), and ASTM certification from the U.S. (the typical one that all trampolines for sale in the US need to have).
What Owners Say About Safety
The biggest thing owners discussed in their reviews of this trampoline with regards to safety was how much they loved the no-gap feature. Regardless of the net inside or net outside version, the inability for kids to access the springs while jumping was a HUGE plus – and as a parent myself, I agree. No little legs are going to fall down by the springs and get pinched.
Another thing owners appreciated with how stable the trampoline is. The larger sizes come with wind stakes, but the W shaped "legs" provide a very stable and firm base of the trampoline that makes it feel very secure even without them in the ground.
See Also: Backyard Trampoline FAQs
Care and Maintenance
Very few trampolines come with a rain cover (the blue tarp) – but the Zupapa trampoline does. If you choose to use it, you'll extend the life of the jumping mat. Although the jumping mat and springs cover mat are designed with uv protection, the more you use the cover to protect them from the elements, the longer they will last.
Zupapa does recommend taking down the trampoline over the winter months if you live in a location that gets a lot of snow and freezing temperatures. This is also to prolong the life of the trampoline, as the weight of snow will stretch the mat/springs unnecessarily, and more quickly "ruin" the springs cover mat.
What Kind Of Warranty Does Zupapa Offer?
Zupapa backyard trampolines have a 10 year warranty on their frames, a 2 year warranty on the jumping mat, safety pad, springs, and enclosure net, and Free Replacement for any other parts not mentioned… at any time! That's a pretty excellent warranty.
Assembly Of The Zupapa Backyard Trampoline – According To Owners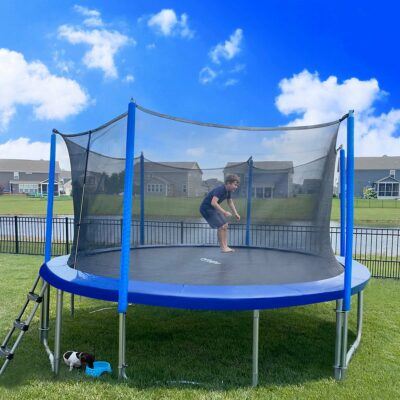 Owners commented over and over that this is a simple trampoline to assemble, needing only one or two adults, and approx an hour of work. It apparently comes with every tool that you'll need, including cotton gloves and wind stakes.
While owners did appreciate that there are no screws and drilling required (as the frame is self-locking), this was one area that had some slightly poor reviews – on occasion the connecting areas seemed a bit loose/created slight wobbles – those owners would have preferred the extra work on set up to get rid of this.
Yes, a non-slip ladder IS included!
The PDF documents and trampoline assembly videos are apparently well designed and lay things out step by step.
Is There Anything Owners Do NOT Like About It?
Honestly, this is a well loved, well appreciated trampoline. All of the options (classic and upgraded, net inside and net outside) come with overwhelming positive reviews. But there is one thing that came up a few times that owners weren't all that happy with:
And that is the springs cover mat. It is not fantastic quality, and won't look so great after a few years, according to a few owners, who compared it to the one that comes with the AlleyOOP trampoline. The tricky part of this is that with the no-gap patented sewn-on feature, it won't be the easiest to physically replace.
Do I Recommend The Zupapa Backyard Trampoline?
Short Answer: Yes. 
Longer Answer: I do recommend the Zupapa for a number of reasons: Here's why:
It's fantastic value for your money – you can get a mid to high quality trampoline for a mid to low range price tag!
I love the safety features that the Upgraded version has, especially the No Gap covering of the springs… if you're a parent like I am, knowing your kids simply CAN NOT get limbs or digits caught in the springs is a HUGE plus.
Customer service has a reputation for excellence! IF you need to connect with the company for one reason or another, it's good to know in advance that someone cares and will respond!
Overwhelming number of positive reviews. Thousands of reviews, with a near perfect score?? (Average 4.8/5 stars on Amazon)… that can't be faked.
Great bounce, great stability, great size options, great warranty… it's all in all, a well done trampoline.
Where To Purchase The Upgraded in 2022 Trampoline
While I've found a few places that sell this trampoline, the cheapest price is currently on Amazon! Besides their free shipping, regular sales and competitive pricing, I also really like that you can also be sure that you are getting the Upgraded in 2022 model there.
At Walmart (another place you can find Zupapa trampolines) along with being slightly pricier, they do not differentiate between the Classic and the Upgraded at all – the photos show a mix there, leaving you with confusion as to what you're getting. I'd steer clear of there.
Check Price On Amazon: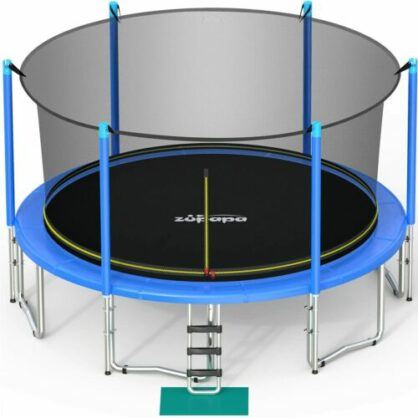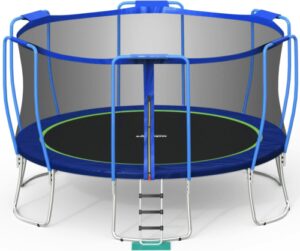 ---