When it comes to trampoline enclosures, there are basically 2 types to consider: In Nets and Out Nets (aka Inside or Outside Nets). Which one should you pick? 
Both options provide excellent protection for jumpers, so there's no wrong answer, but in the end, the decision comes down to your individual preferences and needs.
Today, we'll explore the pros and cons of each style to help you make an informed decision for your family. 
Whether your kids are thrill-seekers looking for maximum bounce or your role as a safety-conscious parent takes priority, there's a trampoline enclosure that's perfect for you. Let's get started!
What Is An In Net and What Is An Out Net?
Pros and Cons: In Net vs Out Net Enclosures
As already mentioned, both inside net and outside net trampoline safety enclosures have selling points and reasons why you might not love them. Here are pros and cons for both styles.
Pros:
Encourages bouncers to stay in the center of the trampoline, reducing the risk of injuries (bouncers naturally stay away from the enclosure "walls")
Can be considered somewhat safer, as the springs are literally impossible to touch or land on while bouncing 
The poles holding up the net enclosure are set back from the net, often difficult to bang into, (even intentionally)
Some consider it easier to install
Pros:
Gives the illusion of a bigger jumping surface, as the "walls" are set a foot back from the edge of the mat (set up on the other side of the springs cover mat)
When multiple kids are on the trampoline at the same time, kids who aren't jumping at the moment can wait safely at the side of the trampoline on the spring cover mat – it's a natural "resting zone". 
Bouncers tend to feel naturally comfortable using more of the mat than just the center. This is helpful especially when there are a few kids on at the same time. (This CAN also be considered a negative though, as bouncing at the edge of the trampoline tends to result in more injuries).
Cons:
May require more maintenance as the net can collect debris and leaves by the springs
Some consider it more challenging to install
If a bounce goes wild, the bouncer can land right on the springs cover mat
The potential for kids to touch feet or fingers to the springs exists, though is unlikely as the covers are designed well now a days.
The bars or poles holding up the netting are easier to crash into as they are flush with the net.
Why Would Bigger Kids Prefer An Out Net?
Both in-net and out-net options have their own benefits, and the choice ultimately depends on the specific needs and preferences of the family. If you have bigger kids though, they may prefer an out net option for several reasons:
First, out-net trampolines tend to have more jumping space since the netting is located on the outside of the trampoline. This means that older kids who are more experienced jumpers and enjoy performing tricks and more complex maneuvers on the trampoline will have more space to do so.
Secondly, that "resting zone" is pretty important to have, especially if the trampoline will be used by a group of bigger kids who enjoy working on new tricks and flips. Extra people standing on the actual mat causes double bouncing to happen, and in the middle of a new trick, double bouncing can lead to injuries very quickly.
Thirdly, out-net trampolines tend to have a more traditional appearance with the netting visible from the outside. Older kids may prefer the look of the out-net option as it gives the trampoline a classic and authentic look.
Finally, older kids may simply prefer the out-net option because it allows for a greater feeling of freedom and openness. With the netting on the outside of the trampoline, jumpers may feel less enclosed and have a greater sense of freedom while jumping.
So, while both in-net and out-net options are safe and provide excellent protection for jumpers, there are some pretty convincing reasons why bigger kids may prefer an out-net option.
Why Would Someone Pick An In Net?
Here are some reasons why someone might choose an in-net option:
They have younger children who are still learning to jump and may be at a higher risk of falling off the trampoline.
They want an added layer of protection to prevent jumpers from accidentally falling off the trampoline or landing on the springs cover mat.
They prefer the look of the in-net option, which has a cleaner and more streamlined appearance without the netting visible from the outside.
Popular Brands That Offer Both Options

Are Safety Net Enclosures Required By Law?
The use of safety enclosures became more widespread since the 1990s, when trampoline manufacturers began to recognize the potential dangers of backyard trampolines and started to implement safety features such as padding and enclosures to prevent injuries and the falls off of trampolines.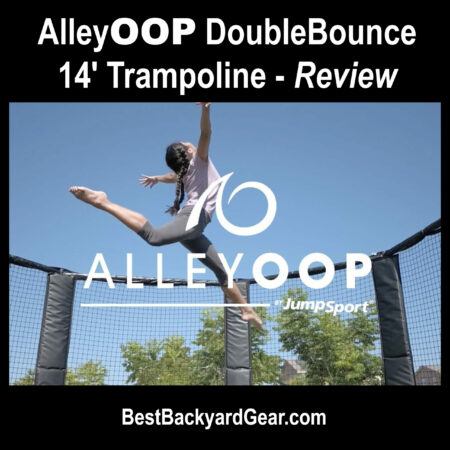 It was Mark Publicover, the founder of JumpSport and its high end backyard trampolines including the AlleyOOP line, who patented the first official one back in 1997, and in it he has developed an amazing gift for parents who want to prevent their kids of getting hurt while enjoying trampoline fun. 
They really have made a difference, although admittedly trampoline injuries are still pretty high on "why did you bring your kid to the ER today?" list.   
Trampoline safety net enclosures are now a standard safety feature for backyard trampolines – it would be hard to find a trampoline that doesn't come with one. In fact, it is actually required by law on trampolines in several states, including Connecticut, Louisiana, Massachusetts, New York, and Rhode Island. 
(My disclaimer: It's important to note that laws and regulations can change, so if for some reason you do NOT want a safety enclosure on your trampoline, check with your local authorities to determine the specific requirements in your area. And even if a state does not legally require a safety enclosure, it IS a good idea to use one to help prevent injuries.)
Overall, the decision of an in net vs an out net trampoline enclosure will depend on personal preferences and priorities. Safety should always be a top priority, and an in net may be a better option for younger or less experienced bouncers. However, if you have big kids that want maximum jumping space for flips and tricks, an out net may be the more practical choice.