Hey there grill lovers! If you're on the hunt for a new charcoal kettle grill that promises tasty, perfectly cooked food, then you likely need look no further than the Weber Master Touch or the Weber Original Premium models. They are both great and fairly close price-wise. But which one is the best choice for you?
The Weber Original Premium Kettle grill is the one we'd call "a good step above entry level", as far as kettle grills go, while the Master Touch Premium is like a fancier sports car with extra bells and whistles. Both of these 22″ grills are built to impress (as are all Webers) with a sleek design, color options, advanced features, and user-friendly interfaces that make grilling easy and enjoyable. It's the extras that set them apart.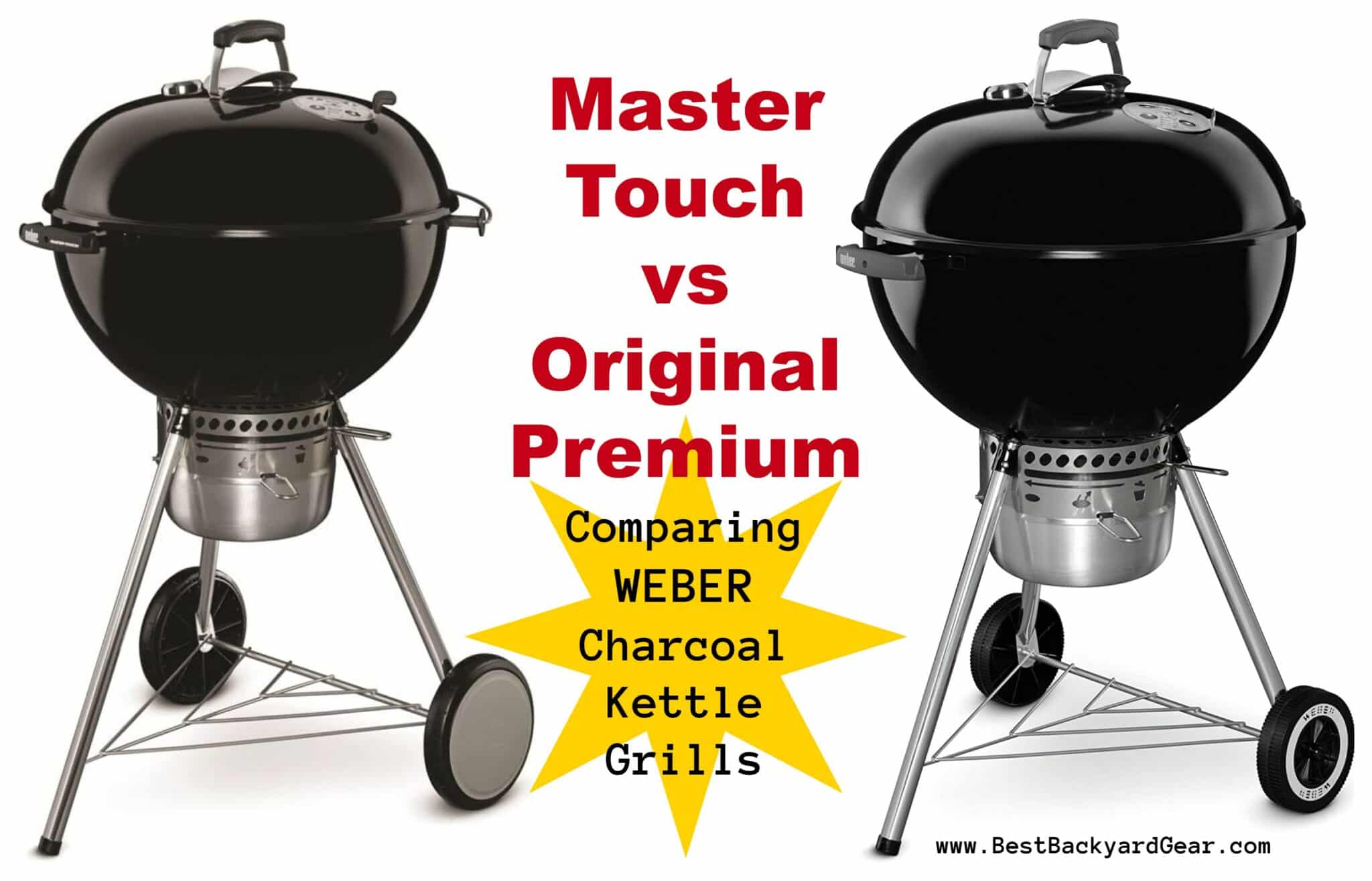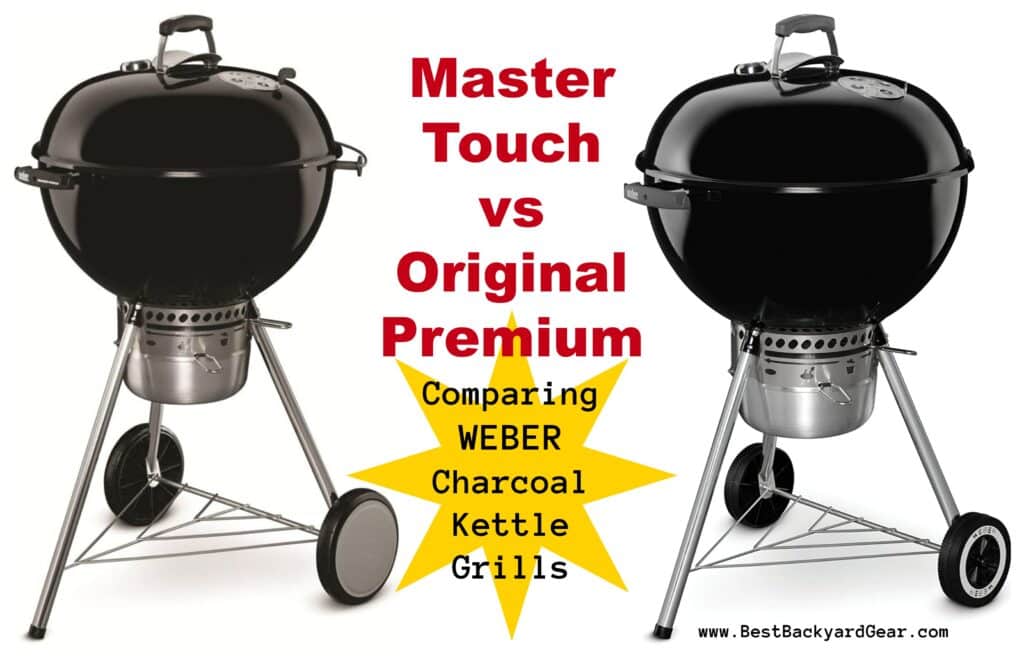 We're going to take a deeper look at both models here today and help you figure out which (of these 2 nearly identical on the outside models) is the better choice for you. 
Why Choosing A Grill Carefully Matters
Most of us don't have a budget to replace a grill regularly, so if you're anything like me, you want to buy something that 1) will last, and 2) have features you will actually use and be happy you paid for.
Every home griller is different when it comes to which features they value. It's kind of like choosing the right car – you want something that suits your specific lifestyle and preferences, as well as be fun to use. And this can be different person to person. 
If you pick right, a good charcoal grill with great features can make all the difference in your grilling experience, whether you're cooking up steak and burgers for a family cookout or trying out new recipes with friends.
So how do you pick right? You look at factors like cooking area, materials, gadgets that appeal to you, cleaning systems (because cleaning the grill is the worst part about grilling), and price. By doing your research and choosing a grill that fits your needs and budget, you'll be able to enjoy great grilling results every time. 
Weber Master Touch vs Original Premium
Features Comparison Chart
Here's a quick overview chart comparing the features of these charcoal kettle grills side by side. 
| Features | Weber Master Touch | Weber Original Premium |
| --- | --- | --- |
| Dimensions | 42″ H X 24″ D X 29.5″ W | 39.5″ H X 27″ D X 22.5″ W |
| Primary Cooking Surface | 363 sq inches | 363 sq inches |
| Warming Rack | 80 sq inches | N/A |
| Total Cooking Area | 443 sq inches | 363 sq inches |
| Built Materials | Heavy gauge porcelain enamel | Premium-grade U. S. Steel coated with porcelain enamel |
| Hinged Grate | Yes | Yes |
| Gourmet BBQ System Grate | Yes | No |
| One Touch Cleaning System with Removable Ash Catcher | Yes | Yes |
| Built In Thermometer | Yes | Yes |
| Tuck-Away Lid Holder | Yes | No |
| Char-Basket Charcoal Fuel Holder | Yes | No |
| | See Current Price | See Current Price |
Deeper Look At The Master Touch Features - Are They Worth It?
So with the car analogy, I compared the Weber Master Touch to a fancy sports car with "bells and whistles". What did I mean by that? In the question of Master Touch vs Premium, what does the Master touch have that the Premium doesn't? 
While the grills do share a lot of similarities, and actually I think on first glance they even look the same, there are the 5 key features that set the Master Touch apart the Weber Original Premium 22-inch kettle grill. They are:
1) The Tuck Away Lid Holder: This is a major upgrade from the Original Premium kettle's lid hook. The Tuck Away lid holder allows you to easily slide the lid to the side, freeing up both hands for flipping burgers or adding more charcoal.
2) The Gourmet BBQ Grate System (GBS): The GBS includes a center grate that can be removed and replaced with various inserts like a cast iron sear grate, wok, pizza stone, or griddle. While these inserts are sold separately and aren't essential, having the GBS there allows you to mix it up if you feel like it. 
3) The Secondary Warming Rack: The elevated grate provides an additional 80 square inches of space to keep food warm or toast buns, bringing the usable grill space from 363 sq in to 443 sq in. (Some people love warming racks so they can keep move finished cuts of meat away from direct heat while others keep cooking, but some never use them – personally, I tend to using my warming rack mostly to toast burger buns!)
4) Charcoal Baskets: These are included with the Original Master Touch, and make it easy to organize your charcoal and control your heat.
5) It's Two Inches Taller: The Master Touch models are about three inches taller than the Premium kettle – this is something we taller folks really appreciate, but perhaps not as big a deal for some of you.
Premium vs Master Touch: Which Grill Wins Per Category?
So we did a quick chart overview, but let's dig in a bit more and look at these differences. While Weber is a brand that has become synonymous with quality and performance, and both of our two models are good choices, which of these kettle grills "wins" in various categories? 
Affordability
The Weber Premium is somewhat cheaper than the Master Touch, despite being the same size. While the Master Touch has other benefits, if you are on a tight budget, the Premium is the better option – you can save yourself up to one hundred dollars, on average. (So, not a massive amount, but significant if you're currently tight.)
Ventilation
Both models come with aluminum dampers, which are easy to adjust (and clean). The interior blades in the Premium model make it more user-friendly than the Master Touch. On the other hand, the Master Touch has a plastic handle on the top vent, which allows you to adjust the temperature even when the grill is hot, making it the winner in this category.
Heat Retention
Both of these Weber models come with a porcelain-enameled bowl and lid, which allows them to hold heat for a long time. However, the Master Touch is fully porcelain enameled, while the Premium is "just" coated with it – while both do very well in this category, the Master Touch does seem to perform better in long-term cooking applications, making it the winner in this category. 
Grilling Grates
Both grills come with plated stainless steel grates, which conduct heat well and give your food a great sear. The Master Touch grates, however, are compatible with several accessories that the Premium can't use (this is due to the GBS – note that accessories are sold separately). This added versatility gives it the extra bit to make it the winner in this category.
Cooking Surface
Both grills have a 22-inch diameter and offer the same primary grilling space of 363 square inches. The Master Touch also comes with a warming rack that provides an additional 80 square inches of space. While the warming rack is not always necessary, it gives the Master Touch an edge in this category.
Ash Management System
Both grills have removable ash catchers, making it easy to clean up. The ash management systems are similar, so I declare a tie in this category.
Temperature Gauge
Both grills come with built-in lid thermometers, which are reliable, but according to reviews, the Premium is more consistent. This category is won by the Premium, (despite having a slightly more limited temperature range).
Standout Features
The Master Touch comes with a tuck-away lid holder, warming rack, and hinged cooking grate that is compatible with many Gourmet BBQ Systems (GBS) inserts. 
The Premium, on the other hand, has an angled lid hook, which gives you a place to hang the lid while cooking. 
Because the Master Touch has more standout features, giving it the win in this category. 
Master Touch grill beats Weber Premium in most categories like ventilation, heat retention, grilling grates, cooking surface, and standout features. Premium is cheaper and has a more consistent temperature gauge. The choice depends on preferences and budget – Master Touch is ideal for versatility and long-term use, while Premium is a reliable and affordable option.